Tips for making the coming holiday less stressful (maybe even fun!), more organized and efficient, and profitable beyond your wildest imagination.
By Nita Robertson, AIFD, CFD
According to the Society of American Florists (SAF), Mother's Day is the third-largest holiday for cut flower and plant purchases—behind Valentine's Day (No. 1) and Christmas/Hanukkah (No. 2). So, how do you stay sane between now and the moment you click off the "Open" sign on Mother's Day Sunday? Well, as all florists know, it takes detailed planning and preparation; therefore, as you prepare for Mother's Day (on May 8 this year—only a short three weeks after Easter, which falls on April 17), we are sharing tips and reminders for not only surviving this major holiday but also for making it one of your most efficient and profitable ever.
Preparation
Order your flowers and supplies well in advance—if you have not already. Work with your favorite suppliers to book your fresh flowers and negotiate prices. Be ready to meet any supply challenges that may befall you, and have a back-up plan (or two!). Stock up on all needed containers and other supplies, as well as giftware. Also pull out last year's leftover Mother's Day and other seasonal containers that need to be used. Paint old containers, to give them a fresh new look. The weeks leading up to Mother's Day is also time for spring cleaning, so not only clean and reset your shop for the season/holiday but also rethink how you organize things—in both the showroom and the workroom.
Schedule any extra help you will need as well as training sessions for them a week or two before the holiday to go over the job details. Make sure they are familiar with not only your routine and policies but also your menu of offerings, and clearly explain everything that will be expected of them.
Cooler space during a holiday can be a real challenge for many florists. Consider additional refrigeration alternatives such as renting a refrigerated truck in which to store your large volume arrangements and flowers (be cognizant of the humidity levels that flowers require with this and other options). Refrigerated trucks not only free up space in the shop but also keep delivery drivers in their own work zone—and they are well worth the expense if you have limited cooler space. The goal is to deliver superb product and gain future customers, so make sure you do everything in your power to ensure your product stays as fresh as possible.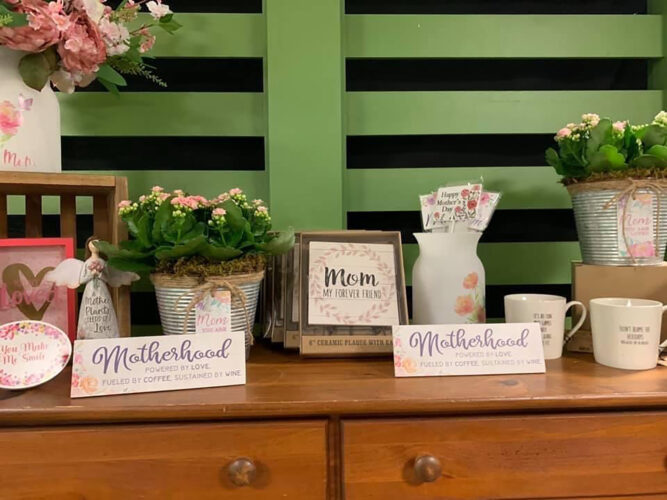 Marketing
Create and schedule all of your holiday social media marketing content two to four weeks before the holiday hits—sometime between April 10 and 24. Encourage customers to order early by offering creative and enticing incentives, and promote beautiful "Designer Choice" arrangements in addition to your holiday menu designs.
One advantage Mother's Day provides is that many customers are somewhat flexible on the delivery date. As long as their moms have flowers by Mother's Day, customers are typically happy. You can also offer incentives—like free or discounted add-on items or reduced delivery fees—for items delivered on Thursday or Friday—or even earlier in the week. Use this to your advantage and spread out the deliveries as much as possible. Explain to customers that their mothers will be delightfully surprised by early deliveries and thrilled to know their children are thinking of them early. (This also enables those moms to brag and show off to their friends a bit early!) Remember: It's Mother's Day Week, not just Mother's Day!
Mother's Day is the perfect opportunity to let your customers and other consumers know you are social media. Consider launching an Instagram contest. Ask each customer to Instagram a picture of their loved one with her bouquet designed by your shop, and have them tag you (choose a random winner of a prize from your shop from among those who tag you). This is an easy way to create some engagement on social media platforms.
Another marketing idea is to promote flower subscriptions as "The gift that keeps on giving." Offer a variety of packages—for example, three-month, six-month and full-year subscriptions. The recipient receives flowers every month, and you gain future sales. It is a perfect Mother's Day gift! Promote this idea on your website, social media platforms and in your store.
Offer a Curated Menu of Designs, and Sell Color Palettes
It is highly recommended that you offer a curated menu of creative flower designs, in a range of price points and color palettes, at a big holiday like Mother's Day. ("Menu" designs do not have to be—and should not be—traditional and boring!) Such a menu will not only make the sales process easier and quicker (especially for temporary holiday staff) but also make buying and designing more efficient and profitable.
As many florists do with weddings, sell by color palette instead of particular flower types. Get your customers excited about your selection of color schemes: for example, soft and pastel or bold and vibrant. You can also sell by style, offering modern, traditional, tropical or wildflower looks. In addition, offer a "Designer's Choice" seasonal mix in each color palette and price point, explaining to your customers that you will use the freshest and best flowers available and providing them with the greatest value. This will also allow you more flexibility when sourcing flowers.
Production Design
Always work ahead. Start designing Mother's Day arrangements one or two ahead of the requested delivery date, and place them into a cooler—categorized by delivery area and/or driver name. You can begin greening vases and other containers even sooner.
Designing arrangements in multiples is a huge time-saver and is the most labor- and cost-efficient way to design. Create five to 10 of the same arrangement at a time, depending on your space availability. Not only is production designing the best way to get through a large number of orders in a short period of time but it also provides maximum cost control and enables you to use less-experienced (and lower-wage) people to create the designs.
Of course, develop a recipe for each menu design, accompanied by a photo of what each finished design should look like, and have an experienced designer involved with or overseeing the production of each arrangement. Place all the flowers and supplies needed in each recipe by the design station for better efficiency. Arrange one flower type at a time into each design in the production line, and then move on to the next flower type in the design—and so on.
Add-on Items
It is important to offer a selection of add-on items to make each arrangement extra special—and, generally, they are easy sales, appealing to many customers. Traditional options include greeting cards, candles, chocolates, balloons and plush items, or choose a selection of unusual locally made gifts, "spa" items, small windchimes and so on that will provide a "keepsake" value. Get creative, and make your offerings exciting and irresistible to consumers, and choose items that will set you apart from your competition and, possibly, support your community. Train your sales staff to mention these add-on items with every sale, and incentivize them with a small reward (cash, time off, etc.) for every add-on sale they make. Even create a contest among employees, rewarding the employee who sells the most (dollars or items). You'll be doing your customers a favor by offering special add-on gifts, but if you don't tell them about the possibilities, you will lose out on potential additional sales.
Plants
Mother's Day is a perfect time of year to have a full stock of foliage and flowering houseplants—and, perhaps, even outdoor hanging baskets and/or bedding plants. Popular options are European gardens, orchids, succulents and herb gardens. These are great sellers and require little work. Plants are great grab-and-go items for cash and carry as well as great alternatives for last-minute delivery orders.
Caring for Your Staff and Yourself
It is vital that you take good care of yourself and your team during a major holiday. Having a super positive attitude at all times—regardless of what is going on or how chaotic things get—is contagious and good for moral. It's critically important! Also, wear comfortable but supportive shoes, and have plenty of healthy snacks and drinks on hand to get through those long hours. Keep everyone going strong with regular breaks as well as lunches and/or dinners. You are a team, and without your team, your Mother's Day won't work. (Just try getting along without them!) And remember to give a heartfelt thank-you to each employee, not only at the end of the holiday but also throughout each day and/or at the end of each day. They all deserve it!
HOLIDAY TIPS FROM PATRICIA FOWLER, AIFD, CFD, PFCI
Patricia Fowler, AIFD, CFD, PFCI, owner of Flowerama in Pittsburgh, Pa., shares her tips for a successful Mother's Day. First, she offers a limited, specially designed menu of flower designs for all the major holidays, and she has her staff work in production mode to meet the demand. "Designing in multiples is a must! We design anywhere from 10 to 20 of the same arrangement at a time, to be most efficient," Fowler shares.
Second, Fowler sells by color rather than by bloom type whenever possible. "Offer color palettes instead of specific blooms so that you can create the most beautiful arrangements with what is available."
Third, Fowler has adopted new ideas like using DoorDash to help with deliveries and developing chop-and-drop designs to keep up with the volume of orders. "To be successful in today's world, you have to pivot and change to meet today's challenges," Fowler says.
Fourth, Fowler also expresses the importance of pushing add-on sales to increase your bottom line. "Staff are 'incentivized' to offer add-ons with every sale, Fowler notes. "Let your customers know what you have to offer and increase your chance of making another sale." Flowerama sells lots of chocolates, balloons, greeting cards and local gifts. The store even has its own candy kitchen, in which the staff produces—among many other things—chocolate-covered strawberries.