Contracts are essential for professional florists, to prevent potential misunderstandings and conflicts with clients, as well as to protect their businesses if something unexpected happens.
By Corrine Heck and Myranda Sauls
Details Flowers Software
Have you ever had a nightmare client who makes the job so difficult that you wished you'd never agreed to work with him or her? Or perhaps you've stumbled upon a train-wreck post about this very topic on a floral Facebook group.
Thankfully, this is not a normal circumstance in the flower world, but it does happen. The most-asked questions are, "How can you avoid conflicts with clients" and "What is the best way to make sure these experiences never happen (again) in your business?" The simple answer: Your contract terms!
Seasoned event professionals have learned over time that the best way to avoid such disasters is to address them in their contract terms. Contract terms a vital aspect of business, and they should be discussed at the first meeting with a client—and prior to taking any monies for service.
At Details Flowers Software, we believe that educating your clients about your processes and outlining your terms clearly will identify you as a professional and help circumvent any negligence by either party. Easy-to-understand terms will immediately set the tone for every transaction and give you the upper hand in providing exceptional service to every client.
While contract terms might not be a creative topic or the most entertaining part of your job, they are the most necessary tools to address the gray areas that exist in event service. Having purposeful terms not only protects your business from difficult clients but also paves the way for repeat transparent business opportunities that are clearly outlined between both parties.
Often, we add new clauses after something unpleasant occurs. That's the wrong way. The best way to protect yourself is to get your terms right before something goes wrong!
With that being said, there is a balance between adequately covering the needs of your business and not intimidating your clients. It's up to you (and your legal counsel) to decide what clauses need to be included, what your flexibility is, how you plan to enforce the terms when and if something goes wrong, and the best way to say it.
Last year, we conducted a survey throughout the floral community to determine the most crucial features of a contract. Here are the top seven terms that most professional florists include in their event contracts. If you haven't added these terms yet, we suggest you do (of course, talk to an attorney about the exact language that works best for you).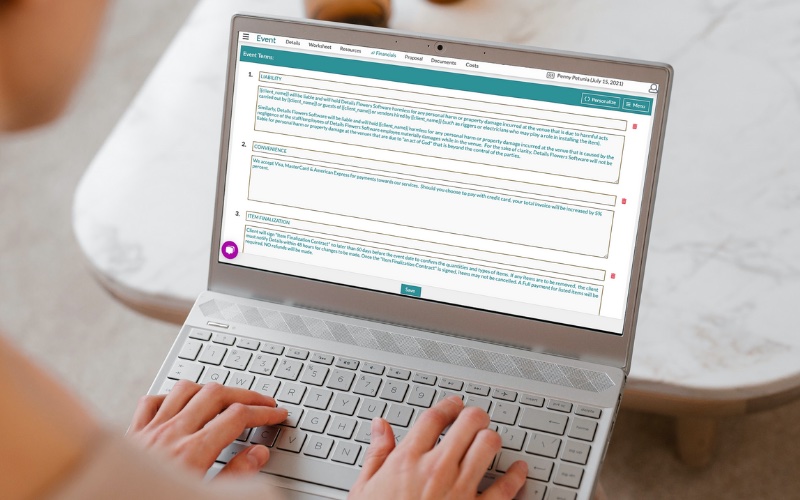 1. SUBSTITUTIONS
This clause outlines the way you will handle flower substitutions if and when you cannot get the blooms that were selected, whatever the reason may be. Educating your brides on the perishable nature of flowers and their dependence on ideal weather conditions is important, and most florists convey upfront that some flowers may be difficult to obtain, for a variety of reasons. Given that the floral industry has experienced a few setbacks during the pandemic, this is the most important clause to include. Also, make sure to address that weather in certain flower-growing regions is unpredictable and can be turbulent, which can affect the production of certain blooms. Unforeseen conditions, like supply-chain challenges and labor shortages, also can necessitate substitutions of specific flowers.
Keep these factors in mind when consulting with every client. In Details Flowers Software, there is a "substitution" option that showcases specific blooms that will be comparable to your clients' choices, if and when a substitution becomes necessary. Let each client know that you will make the best attempt to deliver exactly what is in the contract but that you may be forced to make substitutions—and that you won't know that until closer to the event date.
2. RENTAL ITEMS
Similarly, this clause should outline how you will handle rental items and your expectations of the clients who will be using them at their events. Will the clients need to leave the rental items in a specific location for pickup? Are clients allowed to purchase a rental item if they desire? What happens when a rental item is damaged?
These are all good questions about your business, and you need to specify your policies regarding such situations. An attorney can help you add language to your contract that highlights these scenarios before you encounter them. It is essential to charge for any labor associated with the delivery, setup, pickup and cleanup of rental items, so make sure these items are addressed in your contract, as well.
3. PHOTOGRAPHY
An issue we see happen time and again is florists (and photographers, too) not adequately being tagged on social media platforms in photos of the flowers at events. This could be important to your business, especially while building your portfolio. If you plan to photograph your work at an event, make sure your client knows your intentions. Building a portfolio of your floral design work is important, and how and where you can post images is a topic of conversation that you need to have with clients if you intend to share photos of their events.
4. PAYMENTS AND ADDITIONAL FEES
Payment terms and the payment schedule should be clearly outlined in your contract, along with retainers and other fees. This includes amounts, due dates and forms of payment you accept. Reviewing your fees for delivery, setup, pickup and cleanup; additions and other changes to original orders; credit card processing fees and any terms related to the handling of money need to be clearly outlined. Some florists offer discounts if payments are made by check and/or in advance, or late charges if payments aren't received by the dates specified. It's important to outline these expectations, as well as the steps your company will take if the conditions are not met.
5. TERMINATION BY THE CLIENT
How can clients cancel their events with you, or can they? If you haven't addressed this issue in your contract, it can become a contentious situation when and if it happens. This contract term outlines your guidelines and expectations should an event be canceled or postponed. Your terms should address what is (or is not) refundable, as well as the steps required for clients to provide notice to you. The same goes for how you will handle terminating an event on your end and how you will provide notice to clients, should this scenario occur.
6. ARTISTIC LICENSE
We found that most florists do not include an "Artistic License" clause, and we think that every florist should have one woven into their terms. This clause covers your freedom of expression to design events with a client's vision but in your style. There is nothing worse than a client not liking the designs you create, and this clause will cover you as the artist that the client is hiring and states that each client has reviewed your body of work and agrees to the way you interpret the design.
7. FORCE MAJEURE CLAUSE
What about terms that cover things like liability, unexpected happenings and extenuating circumstances—things that cannot be reasonably anticipated or controlled? During the pandemic, we have learned that there are unforeseen closures that no one can anticipate. A "Force Majeure" clause will protect your business in the event that a shutdown or any other unexpected occurrence happens.
Fewer than half of the florists we surveyed use force majeure clauses. If you don't have one, add one. This clause should protect you from "act of God" situations that no one could have predicted.
OTHER TERMS TO KEEP IN MIND
According to our survey findings, the following terms are not used by those involved in the retail flower industry (or by only a tiny percentage). Even though these clauses are unusual, they provide insight into other problems that florists have faced in the past. If they address things that you think would never happen in your business, guess again. We think it's a good idea to include them, to protect yourself.
• Use of Electrical Circuitry: Covers any requirement for safe and sufficient power.
• Children and Pets: Removes liability if a child or pet ingests any botanical materials that may result in illness.
• Licensing and Insurance: Outlines that you are licensed to do business and insured, including what your insurance covers.
• Cake Flowers: Protects you from liability if you're asked to decorate a cake (or anything else that may be eaten) with flowers.
• Structures: Not all event florists construct and install structures, but if you do, you need a clause that protects you from liability if a floral design installation "fails" due to guest misbehavior, severe weather, etc., and includes guidelines for how, where and when the design will be installed and removed.
• Health and Safety: Set requirements for safe on-site working environments for you and your team. Outline operational guidelines that are consistent with rules that may be in place due to COVID-19.
• Venue Restrictions: Let your clients know they are responsible for passing along any venue rules and policies to you, and set the expectation that you will follow those rules/policies regardless of what the client asks you to do.
The contract terms you provide are your best defense against the unexpected. Always consult with an attorney about what is best for your business.
If you would like more information about the florist survey we conducted or to receive a sample contract with 16 of the most-used terms for a retail flower business, email us at hello@detailsflowers.com. Our goal is to help florists build and grow successful businesses, and the best way to start is to have a great contract.