Content is King: Unleash Your Instagram Genius
As an early adopter of Instagram, I began honing my social media obsession on behalf of business clients in the early twenty-teens. Back then, it was all about who had the most followers, the most likes and the most unreal images. To my delight, much has changed since then. Gone are the days of chasing global reach to unlock personal success. It has been my experience in operating a small business that less is so much more: more engagement, more referrals, more walk-ins and more sales. For those who may still be holding out on joining or fully embracing Instagram as part of their business strategy, I want to challenge you in this article to make 2021 the year you bloom.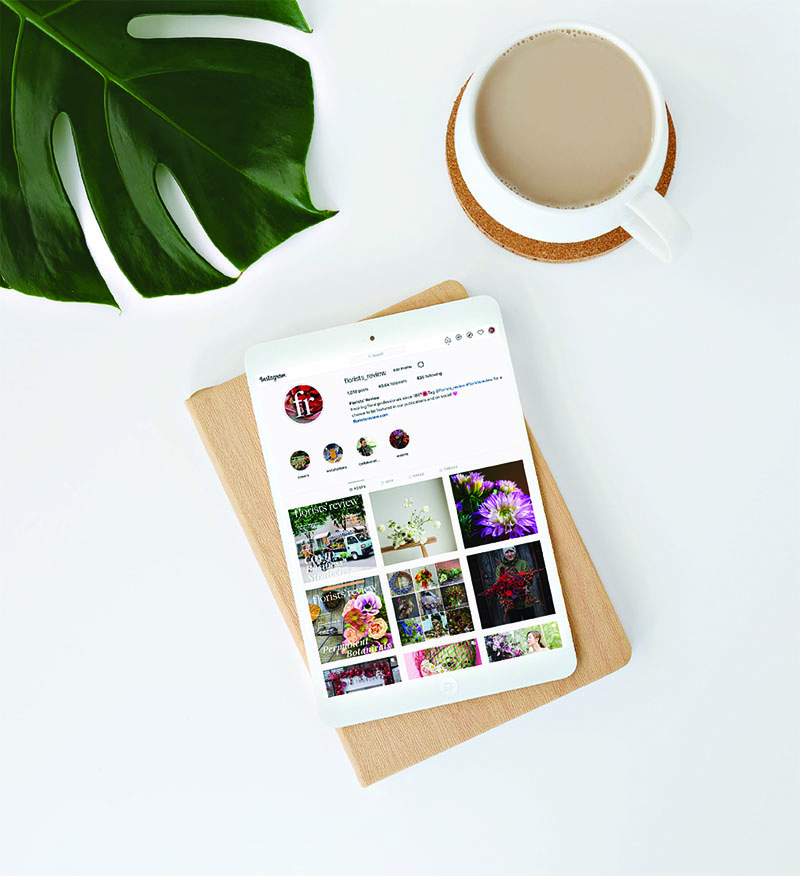 SIX TYPES OF CONTENT
Before we get started with the Q&A that follows, we need to break down the six distinct types of content formatting options from which florists can now choose for sharing their work on Instagram.
1. POSTS
These are the main feature of Instagram and can include single images; single videos up to 60 seconds in length; and "carousel" slide shows of up 10 images or videos, accompanied by captions. Posts are most often cropped in a square shape. This is where your most polished portfolio style work should go.
2. STORIES
This is the place to share your friendlier and less-polished side. "Stories" are slideshows comprising photos and video segments up to 15 seconds each that disappear after 24 hours, unless saved to a "highlight" section. Their temporary nature makes them a wonderful place to share real-life moments. Flower cooler walk-through tours perform especially well here. Users visiting "Stories" often want to see "behind the scenes" or special info, like discounts. This feature also adds the ability to layer your content with popular songs and animated stickers.
3. IGTV
Videos posted here can be up to 10 minutes each and are usually of a higher production quality than those in "Stories." Th is is a lovely place to share in-depth product reveals and design tutorials.3. IGTV Videos posted here can be up to 10 minutes each and are usually of a higher production quality than those in "Stories." This is a lovely place to share in-depth product reveals and design tutorials.
4. LIVE
This feature can be used through both "Stories" and "IGTV"; it is the best to way communicate directly and "in the moment" with your followers. Going "live" is often one of the most intimidating but rewarding forms of social media content.
5. SHOP
Among Instagram's very newest and most powerful features, "Shop" allows business users to sell directly to consumers within the app. Customers no longer need to leave the app to purchase from you, so adopting this tool can instantly translate potential customer interest into sales.
6. REELS
Harnessing the power of high-tech video editing, "Reels" allows users to make magical and often lighthearted 15-second videos. For those looking to reach new customers or grow quickly, adopting this new feature can help reach a wider audience than traditional posts because the algorithm currently favors this content.

GETTING TO KNOW INSTAGRAM
Here are several of social media marketing's biggest secrets and misconceptions.
What should go in my captions?
There is, with complete certainty, no right or wrong answer to this question, but a good "best practice" is to open your captions with a "call to action," like "Tag someone who would love these flowers," or, on a carousel of images, "Which do you like best?" Captions can be directly "advertorial," stating what a product is and its price. Alternatively, captions can also be a place to pour out your heart and soul in long-winded stories. Finding the right voice for your business takes time and experimentation.
Do I have to use hashtags?
In short, no. However, embracing hashtags that are authentic to each individual image or video you share will ensure they remain easy to find for your future customers. Here's an example: Searching for a way to send flowers to your ailing cousin in Tulsa? Try searching "#tulsaflorist" under the magnifying glass icon. A process that would have been a wild guess, such as searching for flowers in an unfamiliar city, becomes easy and tailor-made to the customers' aesthetic choices by visually cataloging yourself in the phrases they are most likely to search by.
Where should I place my #hashtags on a post?
There are two preferred ways to add hashtags to your posts on Instagram: 1) Immediately following your caption text, and 2) In a single comment on your own work immediately following the post. To many viewers, hashtags are distracting, so try using this trick favored by the pros: Before adding your hashtags, type a single period followed by entering (no spaces), repeat this step five times, and then tag away using up to 30 hashtags.
What is a user tag?
User tags are one of my favorite ways to build business relationships. In each post or story, you have an opportunity to "tag" other users. This can take many forms, from tagging your favorite suppliers to score a dream sponsorship, to giving local clients a way to reshare your work with their followers. (Spoiler alert: This is an effective way to get free advertising!) Tagging is also a terrific way to show gratitude to your staff, supporters, and inspirations.
What is a geotag, and do they matter?
Geotags can help make your image searchable by location, and, astoundingly, yes, they do matter. Thoughtful geotagging can play much like a game of chess. Let's say that you are looking to break into a new customer base such as the growing number of elopement-style small weddings. By geotagging your flowers at locations such as popular landmarks or that adorable historic courthouse, you will unlock a whole new way for customers to stumble across your work.
Tips for creating and marketing a bespoke collection of enticing holiday gifts. By Nita Robertson, AIFD, CFD With the holidays just around the corner, many consumers are already searching for (and buying!) perfect gifts for those on their shopping lists—especially...
read more