Tips for creating and marketing a bespoke collection of enticing holiday gifts.
By Nita Robertson, AIFD, CFD
With the holidays just around the corner, many consumers are already searching for (and buying!) perfect gifts for those on their shopping lists—especially corporate customers needing client gifts. Here are some enlightening statistics about when U.S. consumers who celebrate Christmas start their holiday shopping and when they do the majority of it (remember, though, that business clients typically plan their holiday gift giving much earlier).
• 15 percent of Americans who celebrate Christmas do their holiday shopping year-round.
• 6 percent start shopping in September.
• 19 percent start shopping in October.
• 32 percent start shopping in late November/early December, around Black Friday and Cyber Monday.
• 23 percent start shopping in December, after Black Friday and Cyber Monday.
• 9 percent start shopping the week before Christmas.
• 2 percent start shopping on Christmas Eve.
• 79 percent of Americans buy some gifts within two weeks of Christmas; 16 percent do the majority of their holiday shopping during this time period.
If you don't already offer gift baskets, this article will give you many reasons to consider adding them to your product selection, as well as ideas for creating a collection and marketing it. These festive and well-received gift options, with or without flowers or plants, are certain to increase your holiday sales, and they also offer you another way to showcase your talents and distinguish your business from all others.
Although gift baskets have been around for a long time, they are still popular gifts; however, for flower shops, they must be thoughtfully conceived, creatively designed and different from those of the myriad competitors already in the space. By offering a unique collection of gift baskets comprising specialty items curated just for your marketplace and client base (or even with specific clients in mind), you can provide shoppers with the perfect gifts for everyone on their lists. And, by the way, gift baskets are not just for the holidays; they are perfect year-round for thank yous, birthdays, anniversaries, get well, sympathy, new babies and just because. That opens up many possibilities for sales and really makes the investment and effort involved worthwhile (i.e., profitable).
Gift baskets are typically designed around specific themes, which enables them to be tailored for specific occasions, tastes, interests and personalities. And the variety of items contained in them assures the delight of everyone who receives them.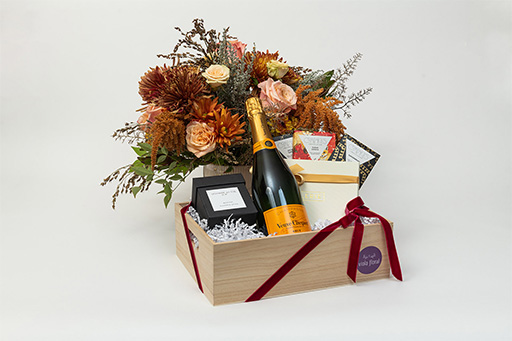 One of the most common and popular themes for holiday gift baskets is food/gourmet, from edibles to drinkables, but the possibilities are limitless. Other top-selling themes include local/regional products; spa/relaxation; beauty/pampering; health/wellness; "addictions" (coffee, tea, ice cream, etc.); family game night or family activity; sports teams; and all manner of hobbies from barbecue to gardening, golf to yoga, reading to cooking or baking; movies to gaming—and the list goes on ad infinitum.
Then, within each theme, curate an assortment of useful gift items. Try to create themes that incorporate products that you either already sell—like gourmet, spa, health or fragrance products—or can procure in relatively small quantities and at wholesale prices. For example, DIY kits, such as terrarium gift kits could include all the elements needed to create an enclosed miniature garden: glass container, plants, soil, miniature tools, etc. A "Plant Parenthood" gift basket, for plant lovers, could be built around a potted plant in a decorative container and include a decorative mister bottle, an automatic plant waterer, plant-specific fertilizer and so on.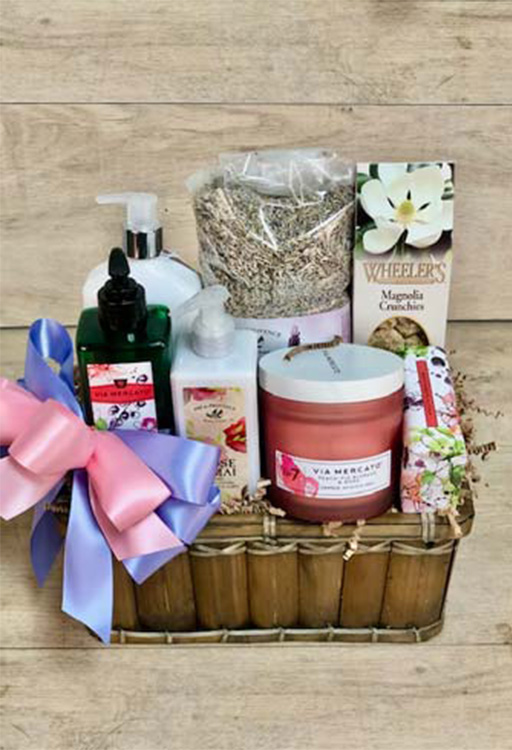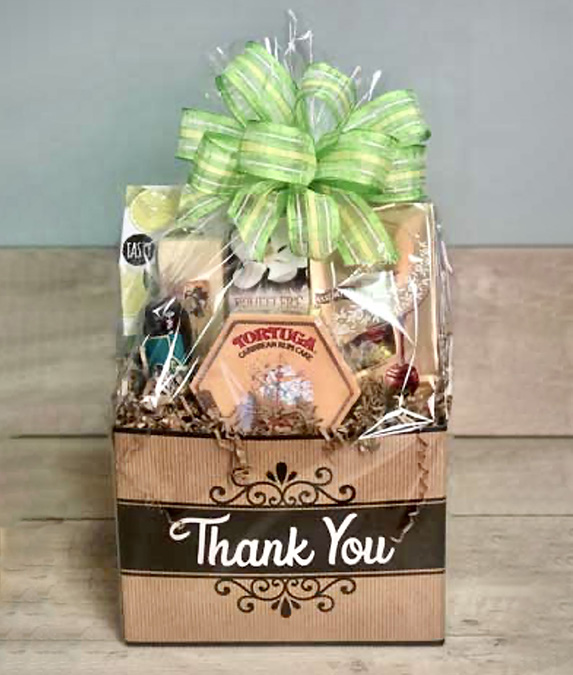 Other ideas to get your creative juices flowing include a "Coffee (or Tea) Addicts Anonymous" basket could include a stylish mug or teacup, assortments of ground coffees or teas, stirring spoons, and cookies or scones. A "Seasonal Serenity" spa/relaxation or beauty/pampering basket could feature scented lotions, bath sachets and/or artisanal soap, candles and other room fragrances, a crocheted washcloth or loofah, a mani/pedi kit, stress balls, etc. The point is that you want to offer creative collections of high-quality, high-end items that your clients will love and find useful.
And when it comes to containers, think outside the basket. Florists often approach the issue from one of two perspectives. One is having a standard "signature" container (or two) in which all of their gift baskets are designed, such as hat boxes, fabric totes, clay flower pots, cylinder vases, wood boxes or crates—you get the idea; something distinctive. The second approach is to select vessels that are usable, keepsake items that coordinate with the basket theme. Ideas include a colander or ceramic pasta serving bowl for a "Taste of Italy" basket; a small insulated cooler for a "Game Day" basket; a metal or crystal wine cooler for a "Wine Connoisseur" basket; a garden trug, flower pot or cachepot for a "Green Thumbs" basket; a charcoal chimney starter or mini hibachi grill for a "Barbecue King" basket. Brainstorm with your staff about creative containers for your holiday collection. Are you getting the sense that the term "gift basket" might be a bit of a misnomer, inadequate or just unworthy?
With gift baskets, presentation is nearly as important as the gifts inside. For the winter holidays, dress your gift baskets with fresh evergreens and pine cones, faux berries, cinnamon sticks, ornaments or even tiny twinkling lights (battery pack, of course).
It is important to research and explore gift-basket suppliers to find products that speak to your target market—and there are many great ones. For example, burton + BURTON, in Bogart, Ga., carries baskets and gifts, mugs, "shelf-sitters" for practically any occasion and holiday, and much more. They also sell hundreds of items to create gift baskets, such as shred, basket bags, cellophane and ribbon. "Our most popular items to include in gift baskets are mugs, figurines and shelf-sitters with sentiments for different occasions," shares Kacie Carswell, marketing manager at burton + BURTON.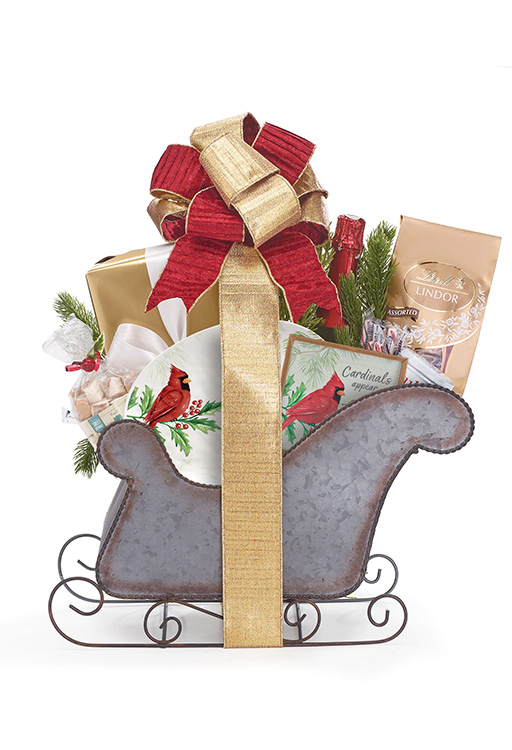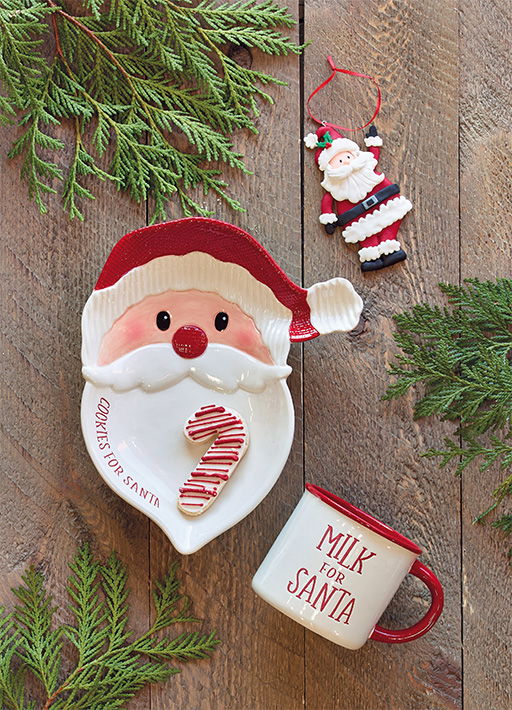 Also search for local and regional-themed or produced products. "Local/regional" gift assortments are always winners. Look to local artists, soap makers, candle makers, chocolatiers; the list goes on. Look for products that are unusual and distinctive and that will differentiate you from the national gift-basket companies.

One Florist's Foray into Gift Baskets
"How I started offering gift baskets is an interesting story," says Elaine Ousley-Nevarez, owner of Elaine's Florist & Gift Baskets, in Houston, Texas. "I opened Elaine's Florist in 1992, after taking classes from the late, great Frankie Shelton, AIFD, CFD, AAF, PFCI, at the Shelton School of Floral Design in Houston. After that, I would often call Frankie with business questions. After a few years in business, the owner of a gift-basket business near my shop called and asked if I would be interested in purchasing her company, so I called Frankie. I told her of the offer, and she said "Don't buy it; just change your business name to Elaine's Florist & Gift Baskets, and let your current customers know that you now offer gift baskets. I followed her recommendation and went to the gift market in Dallas, where I met several vendors for my gift basket inventory. I even took a class on designing gift baskets that was being offered.
"Today, we offer gourmet food baskets, baby gift baskets and spa baskets. Our gift baskets account for about 15 percent of our annual sales, and our clients love having the additional gift options, especially during the holiday season. Two of our best sellers are our "Howdy Pard'ner" Texas-themed basket, which includes gourmet product made in Texas, and our "Party in a Box" birthday basket, which includes flowers, gourmet food and balloons. We purchase the boxes we use from BoxCo, and our primary gourmet suppliers are SAKSCO Gourmet Basket Supplies, JDW Distributors and Redstone Foods."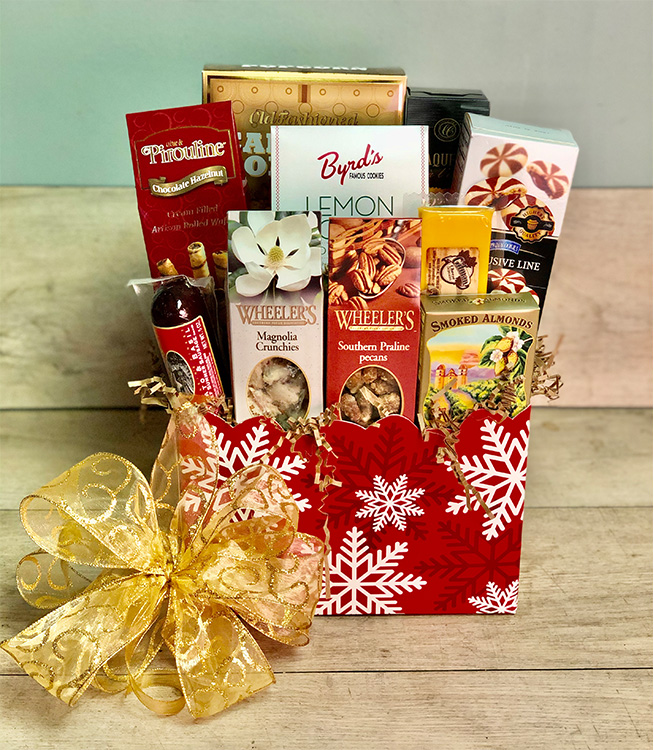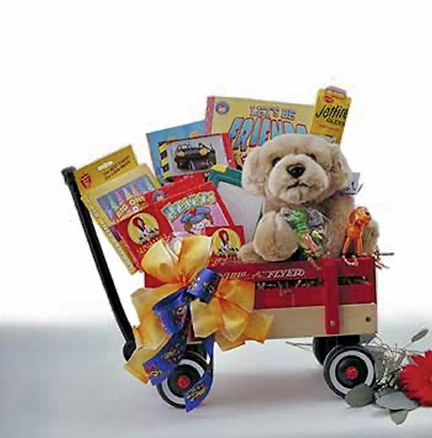 Marketing Gift Baskets
It is important to let customers know that you offer these special, highly personalized gifts, and constant, consistent marketing is the key to success in this category.
Make it easy for customers to shop online, by phone and in store by showcasing all the options you offer in both your store and on your website and social media. Be sure to display samples of all your baskets in a dedicated area in your store, and create a section on your website featuring beautiful photos and descriptions of your collection. Do the same for your social media and email marketing.
Be sure to highlight customization options and upgrades, to increase your sales, and offer multiple price points for each basket in your collection, to attract shoppers of all budgets. Showcase bundles that pair a holiday arrangement or plant with a gift basket. Show consumers what is possible because most won't know until you show them!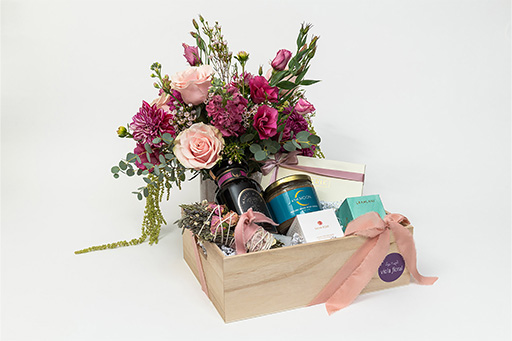 Research the demographics of existing customer base as well as clients to whom you would like to sell. That means identifying the types of people, organizations and businesses in your area that have the strongest potential to buy your gift baskets, as well as their lifestyles, preferences and discretionary spending ability. Large companies are great targets because they often have a consistent need for gifts year-round, for both employees and clients. The trick is to get your foot in the door with them. Schedule in-person sales calls, and take printed materials and samples of your gift basket collection (leaving a food or snack basket behind for employees to enjoy. Also, don't miss the opportunity to showcase your flower and plant gift options as well as your weekly office flowers program and holiday decorating services during these sales call.
Customers love customization—business customers, especially, so during your presentation, offer to design custom gift baskets for each company that coordinate with the company's identity—gift selection, colors and so on. Offer to tag the baskets with the company's logo and, suggest that the company provide branded items for you to include in the baskets you will be creating for them, such as drinkware, apparel items, small tech devices or novelty items. You could even suggest that a company supply branded tote bags, cooler totes, or small backpacks or duffel bags for you to use as the "baskets."
With a professional approach and presentation, you will likely get a few orders from at least some of the companies you visit—which will give you the opportunity to build their trust and, hopefully, become their preferred provider of gifts.