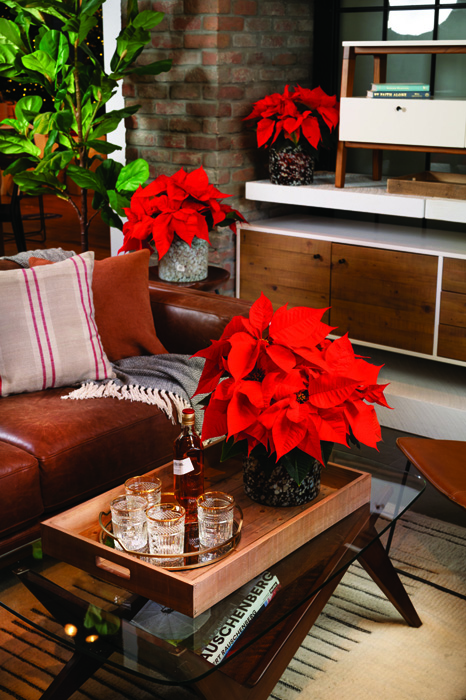 Marketing Houseplants for the Holidays
By: Brenda Silva
As the gold standard among plants for holiday home décor, poinsettias have earned a well-deserved reputation as traditional gifts that many people still rely on today. However, the growing interest in houseplants—both foliage and flowering— among consumers, particularly the younger crowd, provides floral retailers with an opportunity to market appealing gift-giving options that they may have previously overlooked—not to mention the opportunity for increased holiday sales (a Christmas gift for themselves!).
Inspired Lifestyles and Home Gatherings
According to industry experts, houseplant sales are expected to continue growing well into the 2021 gift-giving season.
Lauren Alsina, content manager at LiveTrends Design Group in Apopka, Fla., explains that LiveTrends focuses on "cultivating inspired lifestyles and creates unique and trend- forward designs that are accessible to everyone— so upscale décor and elevated living spaces become achievable."
For Holiday Gifts
CONSUMERS' CONTINUING OBSESSION WITH HOUSEPLANTS OFFERS OPPORTUNITIES FOR GROWING HOLIDAY SALES, WITH PLANTS AS VIABLE GIFTS
"Our 2021 line of winter and seasonal items are designed to be statement pieces in the home and to serve as functional décor as much as they do as planters, Alsina explains. "We anticipate that this holiday season will see a spike in home gatherings and celebrations to make up for lost time in 2020. So, we designed pieces to honor these celebrations—think tabletop décor for dinner parties, designs for kids and comforting creations."
On using plants as seasonal décor, Alsina points out, "A benefit of foliage plants for seasonal décor is that one can still incorporate seasonal colors with foliage but keep it around after the holidays are over, without looking like Christmas year-round—not to mention that your clients' décor will be distinctive because not everyone will decorate with plants."
Alsina shares that new hybrid broad-leaf Philodendron varieties, like 'Prince of Orange' (new leaves open in a bright glossy copper-orange hue and mature to a soft green) and 'Congo Rojo' (new leaves unfurl in a glossy deep-red/burgundy hue that fades to a burgundy-green color as the leaves mature), provide an array of multicolored foliage, adding bright colors to the home. Other plants that Alsina offers as appealing options for holiday décor and gifts include Christmas cacti (Schlumbergera), angel-wing Begonia with spotted reddish leaves, pink/green and white/green Fittonia, "red" and variegated Peperomia, and patterned-foliage Calathea.
"The greatest thing about gifting a plant or 'dish' garden is that its lifespan goes beyond that of a holiday, becoming a gift that keeps on giving," Alsina sums up. "Flowering plants will continue to bloom, and foliage plants can be propagated into new plants to grow one's collection or gift to others. It facilitates interaction with plants and individuals, and the fruits of one's labors are readily apparent."
Traditional Products and Consistent Sales
While gifting unusual houseplants and flowering plants (or using them as holiday décor) presents viable options for holiday sales, the consistency of sales of traditional holiday plants cannot be ignored or disregarded. New colors and varieties of traditional plants are always emerging, and they, too, present intriguing options for plant lovers.
Such is the case with the new orange 'Norwin' poinsettia from Dümmen Orange, which was named in honor of Norwin Heimos, founder of N.G. Heimos Greenhouses and Millstadt Young Plants and operator of Micky's Minis, and a legendary leader in poinsettia breeding and growing, who passed away earlier this year.
The 'Norwin' poinsettia is described as a variety that has "the most vibrant and glowing orange color of any poinsettia on the market … [with] dark, charcoal-green foliage for a dramatic contrast.
'Norwin' also comes into color early in the season, allowing it to be retailed for holidays beginning in early November," according to
QiuXia Chen
, poinsettia product manager at Dümmen Orange North America, located in Columbus, Ohio.
Looking to the 2021 holiday season, the 'Norwin' variety is forecast to become as popular as other premium poinsettia varieties, such as Dümmen Orange's 'Grande Italia', a dark red variety perfect for late-season sales. While the 'Norwin' and 'Grande Italia' varieties are appealing colors for any holiday décor, Dümmen Orange also offers poinsettias in a range of nontraditional colors such as yellow ('Golden Glo'), chartreuse ('Envy') and peach ('Autumn Leaves'), which also offer awe-inspiring décor and gift-giving options from October through December.
Chris Berg, director of marketing at Dümmen Orange North America, suggests that retailers also consider the 'J'Adore' series, particularly the exquisite 'J'Adore Soft Pink', all of which can easily be marketed as décor for New Year's Eve events.
Options Beyond Poinsettias

Orchids are among the many flowering houseplant alternatives to poinsettias for holiday décor and gift giving, points out
Marta Maria Garcia
, retail director for Dümmen Orange North America. "Orchids continue to be items that do really well as a gifts during the holidays," she says. "They're easy grab-and-go gift items that have a lot of value. When you compare the bloom life of
Phalaenopsis
orchids, for instance, to other floral items, they hold their blooms for a long period of time, plus consumers can continue to nurture the plants after they drop their blooms because they will re-flower. Miniature and multi-stem
Phalaenopsis
plants continue to grow in popularity within the category."
Andrew Konicki, director of tropicals for Dümmen Orange North America, adds, "Anthurium are among the easiest plants to take care of in a home, and they are more 'true red' than other more traditional holiday options. Offered in many sizes and colors, every Anthurium leaf creates a new flower, leading to a stunning year- round display, and each flower can live up to six months. Anthurium are often undervalued but never duplicated as blooming indoor houseplants."
Retailers looking to offer distinctive holiday plants should also consider the many types of easy-to-care-for houseplants and succulents that will appeal to a wide range of consumers.
Justin
Hancock
, brand marketing manager at
Costa
Farms
, in Miami, Fla., reports, "Our biggest indoor crop for the holiday time frame is the Norfolk Island pine (
Araucaraia heterophylla
). This is a traditional season crop that a lot of consumers have come to look forward to seeing at holiday time, but unlike poinsettias, these plants can be enjoyed by the recipients for years. They remain popular partially due to their reputation as being good air purifiers, thanks to studies from NASA on these plants' ability to remove VOCs (volatile organic compounds) from the air."
Succulents are also highly coveted plant gifts, Hancock continues. "While they're not as trendy as they were a few years ago, these low-maintenance plants are still seen by consumers as a great entry into live plants" he notes. "Plus, some succulents, such as Echeveria, have something of a star/rosette shape that makes them fit in with holiday décor themes—and they make fabulous hostess gifts for holiday parties.
In addition, there are a variety of ways for retailers to market and merchandise them, including presenting ideas for using them as living centerpieces and even vertically, as living wall art."
Hancock also suggests that retailers look "outside the box," to other unusual plants that make affordable and delightful gifts and décor. "While they might not be for everyone, colorful tinted cacti, like Costa Farms' "Desert Gems" line, are also great items to stock for the holidays,' he suggests. "'Desert Gems' cacti have artificially colored spines, giving them a bold look, and they don't need to be put away after the holidays, so consumers can enjoy them all year long."
While many floral retailers already market houseplants as holiday gift- giving and décor options, relying on the same products every year can limit excitement among consumers—and inhibit sales. Floral industry experts agree that retailers who offer modern alternatives, presented with creative marketing and merchandising, will find increased holiday sales in their own Christmas stockings.
Merchandising Tips for Increased Holiday Houseplant Sales
As a way to capitalize on the houseplant boom, retailers should utilize innovative merchandising techniques in their efforts to market houseplants ( foliage and flowering) as both viable and desired holiday gift items for houseplant-loving consumers. Here are four design and display ideas, courtesy of Marta Maria Garcia, retail director for Dümmen Orange North America.
Color-block Merchandising: We suggest that retailers develop vignettes that have similar- color blooms and floral arrangements, creating a presentation that is clean and impactful. During the holiday, red is predominant, but we always suggest including other secondary colors that will definitely enhance consumers' shopping experiences. Some other color suggestions for the 2021 holiday season include white, silver, gold and blue.
'Tis the Season for Bling: The holidays are all about sparkle, and this gives retailers a great opportunity to add bling to their floral offerings. Consumers love added value, and we've seen great ideas done with poinsettias when retailers add decorative tinsel or glitter-dust spray. Also, foliage plants can benefit from the addition of decorative picks, to give them a holiday spin.
Create Anticipation: Another great idea is to decorate a section of the store early on—as early as July or August—to give walk-in customers a preview of new holiday items and design ideas and to get them thinking of plants as holiday gifts (and your store and offerings, in particular).
Don't Forget Your Digital Storefront: Consumer buying habits continue to shift to online purchases during the holiday season, so don't forget to update your digital storefront, as well. A retailer's online homepage should reflect the change in season, and all holiday offerings should be at the top of the shopping gallery.
Tips for creating and marketing a bespoke collection of enticing holiday gifts. By Nita Robertson, AIFD, CFD With the holidays just around the corner, many consumers are already searching for (and buying!) perfect gifts for those on their shopping lists—especially...
read more