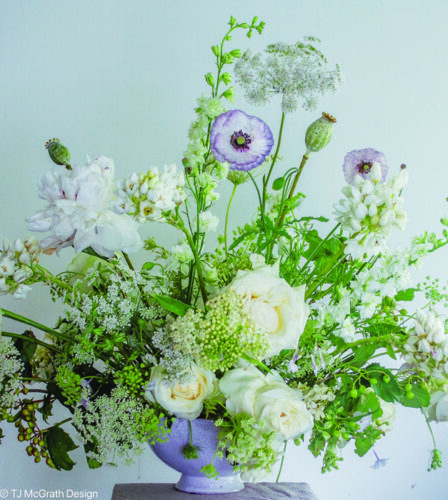 As celebrations with family resume, here's a fun Christmas-in-July-themed tablescape to liven up a midsummer party.
Floral design, photos and text by TJ McGrath @TGMcGrathDesigns
Fresh botanicals courtesy of  The Floral Source and Ferris Brothers Wholesale Florist Confections courtesy of  The Peasant Baker
I grew up in a large family with eight siblings, and on Christmas morning, our family room was so packed with gifts that there was hardly a place for all of us to sit and unwrap presents. Because of my experience, I like to create "fantasy" tablescapes  that are packed full, like our family room was, and deeply layered, to create a feeling of abundant bounty, with hardly an open spot for people to sit and enjoy all the goodies.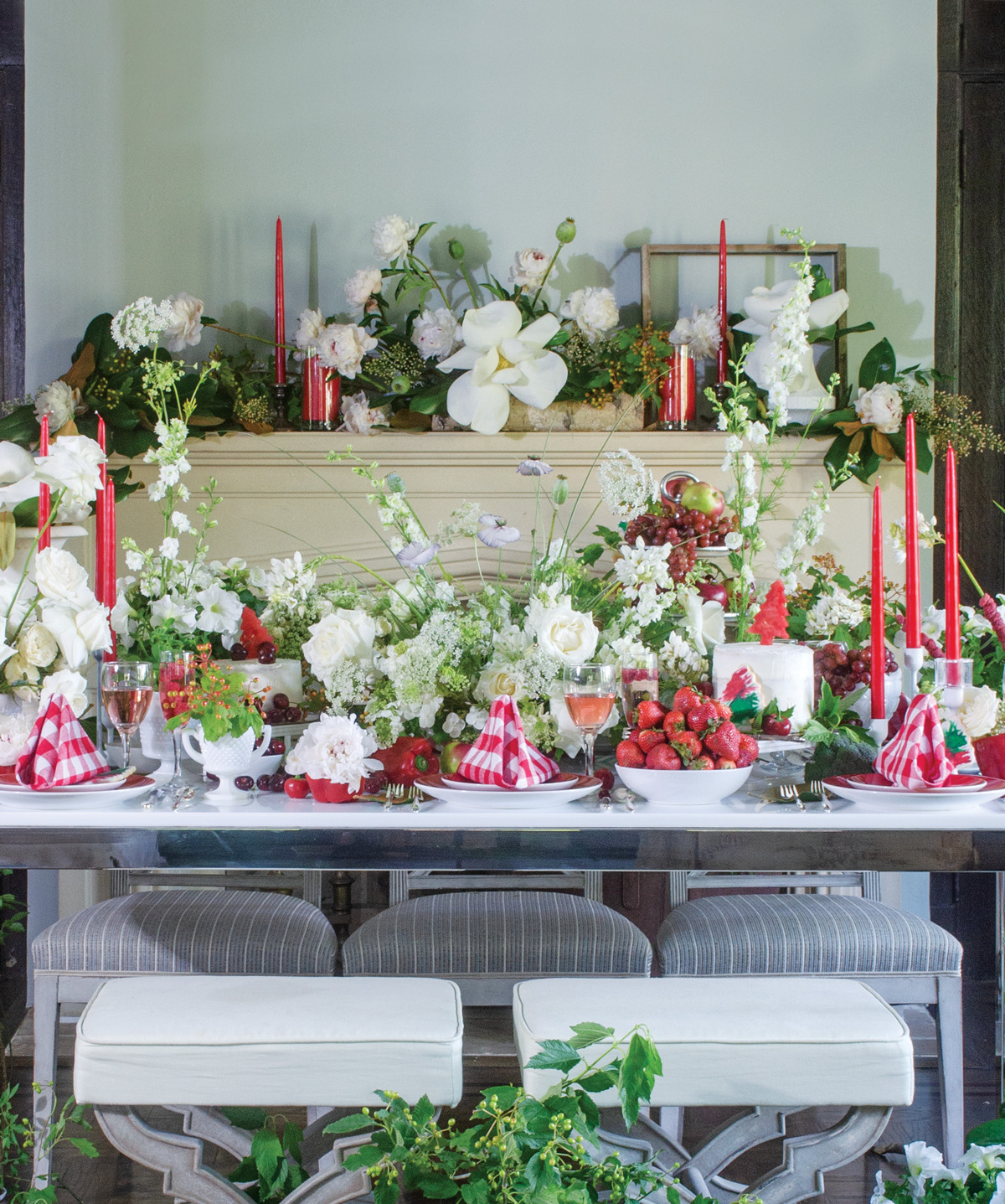 To create this fantasy holiday tablescape, I curated a collection of vintage milk-glass containers and mixed them with more contemporary vessels. For my traditional red-and-white color palette, I selected all white flowers; red-and-white place settings; and red fruits and veggies, including 'Bing' cherries, strawberries, raspberries, grapes, apples, bell and cherry peppers, pears, and even watermelon, to make Christmas-tree-shaped cake toppers. Bell peppers, when sliced in half horizontally, can serve as great vessels for miniature arrangements or single blooms.
Step – By – Step
Step 1
Choose a large milk-glass container to create the main centerpiece for the center of the table and/or buffet. Secure a hairpin holder into the container with adhesive clay, and arrange a varied selection of flowers into the container.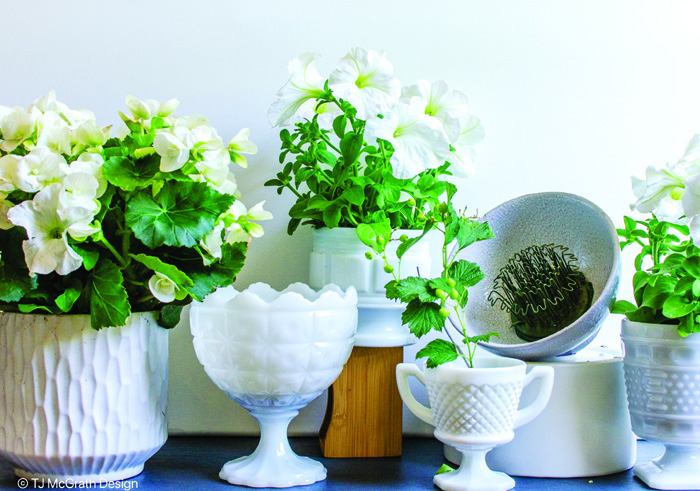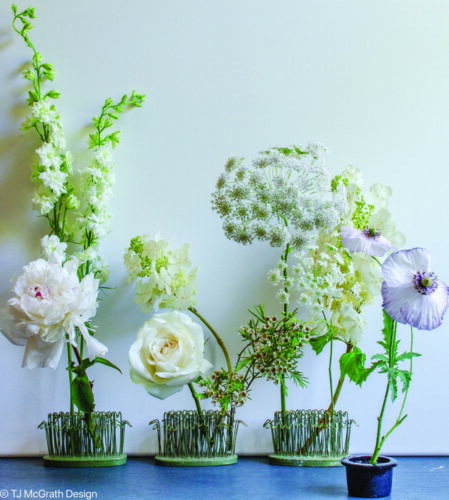 Step 2
Choose additional smaller containers and vases—or even bell peppers—and create monobotanical designs in some of them and fill others with flowering plants. Place them to accessorize the main centerpiece.
Step 3
Mix into the collection tiered serving stands filled with a variety of fresh fruit and confections, like cakes, cookies and candies.
Lay stems of seasonal foliages and a few pieces of fruit on the table and/or buffet.
Finish accessorizing with taper and pillar candles.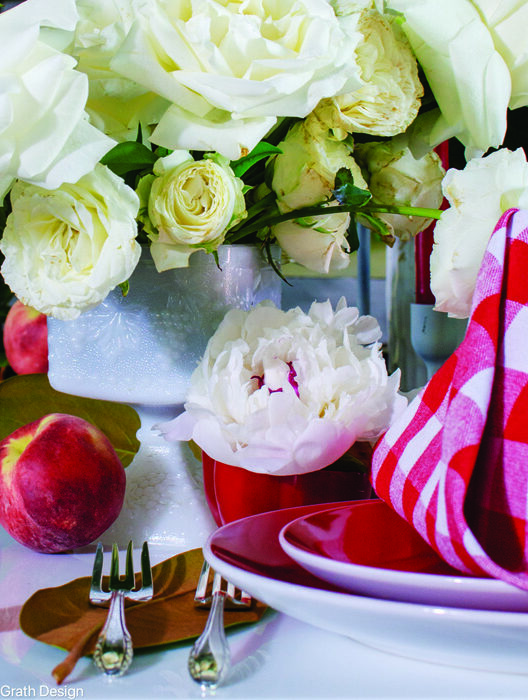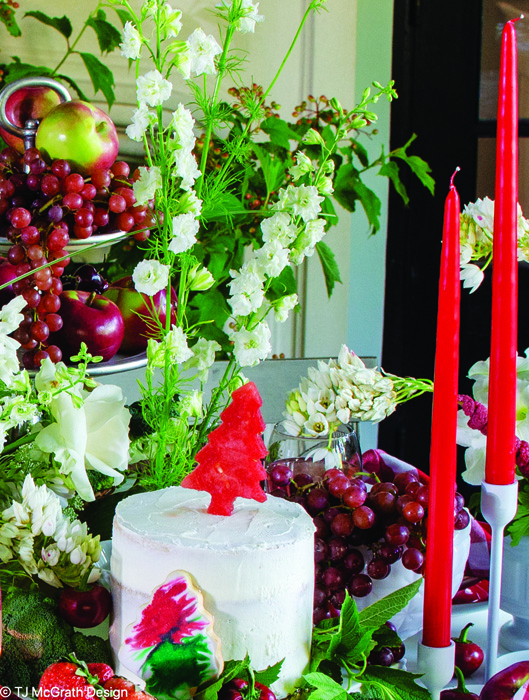 Materials
BOTANICALS
Papaver rhoeas 'Amazing Grey' (corn poppy, field poppy, Flanders poppy, Shirley poppy)
Papaver seedpod (poppy pod)
Paeonia lactiflora (Chinese peony, garden peony)
Rosa 'Alabaster' (garden rose)
Rosa (spray garden rose)
Hydrangea quercifolia (oak-leaf hortensia, oak-leaf Hydrangea)
Consolida ajacis/C. ambigua (larkspur, rocket larkspur, doubtful knight's spur)
Ornithogalum thyrsoides (chincherinchee, star-of-Bethlehem)
Daucus carota (Queen Anne's lace, wild carrot)
Chamelaucium uncinatum (waxflower, Geraldton waxflower)
Magnolia grandiflora, blooms and foliage (bull bay, Southern Magnolia)
Viburnum , berried
Petunia x hybrida, potted (common garden Petunia)
Begonia spp. , potted
HARD GOODS
Hairpin Holders (round and oval) from Floral Genius
FloraLife® SURE-STIK® Floral Adhesive from Oasis Floral Products
Taper candles and candleholders
Pillar candles and hurricane holders
Assorted vintage milk-glass
How to design a cascade-style bouquet with a sustainable approach Floral design, photos, video and text by Beth O'Reilly, AIFD, CFD, TMF Presented by Alexandra Farms Design mechanics for hand-tied cascade-style bouquets can be tricky, especially when taking a...
read more