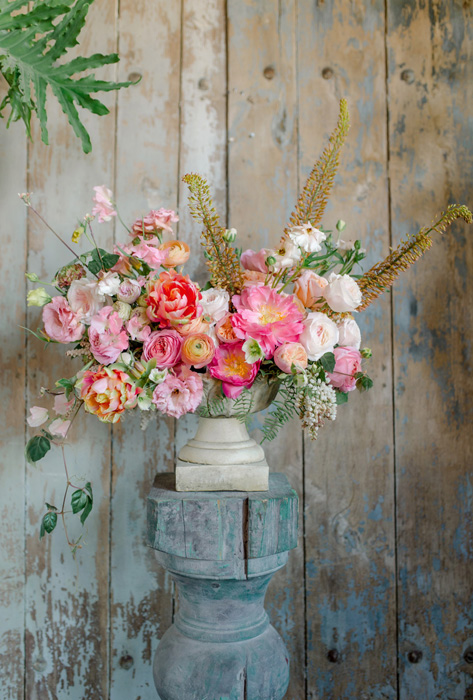 Holiday Gift and Planning Guide
​PRODUCT IDEAS AND TIPS FOR MERCHANDISING, MARKETING, STAFFING AND MORE, TO HELP MAKE THE COMING WINTER HOLIDAY SEASON YOUR BEST EVER
By Jennifer Howard
2021 is poised to bring holiday celebrations back in earnest, and consumers will be amped up for renewed holiday celebrations and gift-giving occasions. But holiday sales success starts with advance planning. If you are thinking of adding or expanding gift options this year, here's your guide.
STOCK WHAT'S UNIQUELY YOU
Be true to your style to attract a passionate fan base. Don't chase every product segment or style. Stick with what suits your style.
"Our store is patterned after a French flower shop," explains Sandra Sigman, owner of Les Fleurs in Andover, Mass. "I go to gift shows in France and the U.S. looking for our specific style. I also visit antique fairs, craft shows and even Etsy, to find artisanal vendors."
BE A YEAR-ROUND RESOURCE FOR CONSUMERS
Educate your customers to increase their engagement with you. "Our customers love to walk with our employees to pick out loose stems and elements to design their own wreaths," reports Patrick Wages, of Porterfield's Flowers & Gifts in Topeka, Kan. "They want to be part of the design process but aren't always confident in their choices. We show them what looks good together and what will suit their homes. At the holidays, they come back with pictures of their mantels or dining tables. We try to be a resource for them."
Sigman agrees. "People love to see you take a product and explain how to use it—on Instagram "Stories," blogs, YouTube … whatever. They love interacting, even virtually, with products. We've done tutorials on tying bows, potting bulbs and artfully packaging gifts. We strive to make 80 percent of our content informational."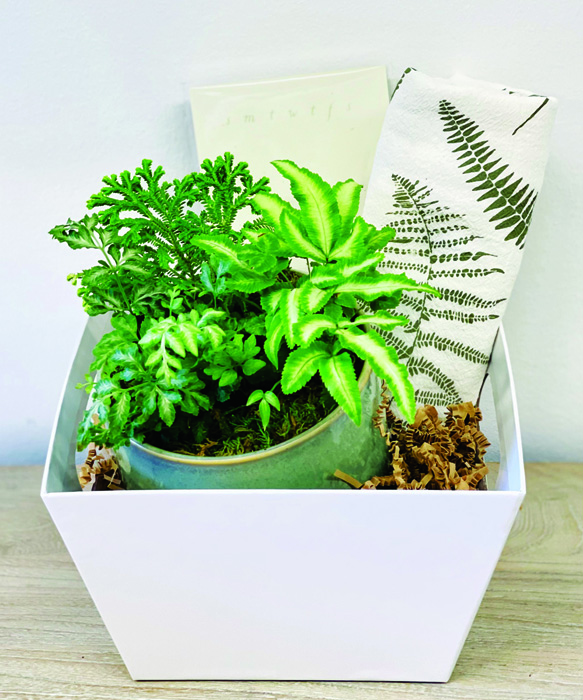 WHAT SELLS WELL WITH FLOWERS?
Seasonal arrangements are strong sellers during the holiday season. But what pairs easily with a gift of flowers? Here's what three retailers say are top-sellers for them and what are they stocking up on for the coming holiday season.
Porterfield's Flowers & Gifts:
Tea towels, candles and high-end chocolates. Adding: seasonal picks, berries and greens for wreaths.
Rusted Window:
Baby items, Camp Craft Cocktails and candles. Adding: recipe books and kitchen accessories for gift baskets.
Les Fleurs:
Winter-colored taper candles; tea-and-mug bundles; and gifts that travel well like candles in tins, flowering plants and potted bulbs. Adding: more gorgeous ribbon.
ORGANIZE GIFTS THEMATICALLY
Online retailers are forced to do this with navigation menus, but in-store bundling of items or suggesting pairings is equally important, especially for last-minute shoppers or those searching for ideas. Here are some of the top gift categories expected for this season. Think of the great combinations for custom gift sets.
COMFORT: warm beverages, mugs, baskets, snacks, cozy textiles or apparel, pillows
WELLNESS: loose tea, geodes/crystals, seeds/bulbs, plants/succulents, garden- ing accessories, yoga, bonsai, workshop gift certificates
HOME: quirky kitchen accessories, indoor herbs, bright and sassy kitchen towels/textiles, spices or flavored oils, aprons
RELAXATION: spa gifts, aromatherapy, meditation, candles, cocktail and wine accessories, puzzles, kits
LOCALLY MADE: unique art, artisan jewelry, handcrafted pottery, items with a story or cause
PERSONALIZED: items with initials/ birthstones/zodiac signs, pet image items, hometown/colloquial items
NATURAL: carved wood vessels, faux or live wreaths/greenery, nature-inspired jewelry, pressed flower cards, natural soaps/hand creams/lip balms, bird and insect-themed accessories
Immerse some of these items into your store style. Think of how to incorpo- rate cut flowers or plants in with these groups. Are there botanical colors, scents or sentiments that would enhance or pair well with these gifts?
Finding the right products is half the journey, but displaying them in a way that invites customers into an experience changes holiday sales from "ho-hum" to "ho-ho."
THINK BEYOND CHRISTMAS
Christmas is the heavy hitter, but there are a multitude of other holidays that are celebrated in November, December and January. Make your holiday customer experience inclusive by offering a range of floral and gift options appropriate for all holidays. Use social media promotions to highlight other date-specific offers or celebration-specific arrangements or gift items. You may attract an entirely new customer segment.
GET IT ONLINE
While many shoppers are ready to return to stores, we've all spent a year shopping remotely, and that conditioning may stick. To capture every sales opportunity, put your inventory online. Post those beautifully packaged gift sets and other styled images to inspire ideas. Look for platform plug-ins that provide purchase add-on inquiries, suggested items and pop-up offers. An online shopper ready to checkout may be ready to add or upgrade items.
THE PRICE IS RIGHT
To appeal to the broadest audience, offer a range of price options. Lower-priced items are great add-ons to gift baskets or floral purchases. Be sure to mention these items at checkout. Assemble styled gift combinations as samples for customer thought-starters. "We offer simple, tasteful things that no one else has," Wages shares. "And we offer all price ranges. We want everyone to feel welcome and be able to find something for within their budgets."
MAKE THE REGISTER A DESTINATION
For impulse buyers and time-poor shoppers, consider a seasonal gift display at checkout—something new that customers will notice. Organize items by price range, recipient, style or theme. Make the display easy to shop, with clear signage and pricing. And be sure to assign a staff member to keep it neat and replenished. Set up gift-wrapping or custom boxing close by so buyers can preview a finished gift product.
MAKE MERCHANDISING AN
Experience
Finding the right products is half the journey, but displaying them in a way that invites customers into an experience changes holiday sales from "ho-hum" to "ho-ho."
"I create highly curated displays based on themes I choose," Sigman states. "I start working on ideas in June and July and look for products that complement my themes," After Halloween, she closes her store for four days to completely empty the store, paint and reset for the holidays. She even keeps photos of previous years' displays to make sure they are always changing.
Stacy Molander , of co-owner and creative director of Rusted Window in Carmel, Ind., merchandises to lead customers through the store, starting at the front door. "We invite customers in with our home décor vignettes," she explains. "As they progress through the store, we have a thoughtfully curated gift selection that concludes in our robust plant-and-flower 'oasis.'"
Holidays are a sentimental time. Despite trends, nostalgia reigns. Scents are emotional triggers of memory and can be used to set a mood in a display. Balance your store layout as you would a floral design. Twinkling lights and sporadic color repetitions add highlights and rhythm to your layout.
"You don't want a visual clash of colors in your design," Sigman advises. "So, I plan the color flow in our shop. I make notes of where red appears each year and distribute it around the store. And I break it up with plenty of neutrals."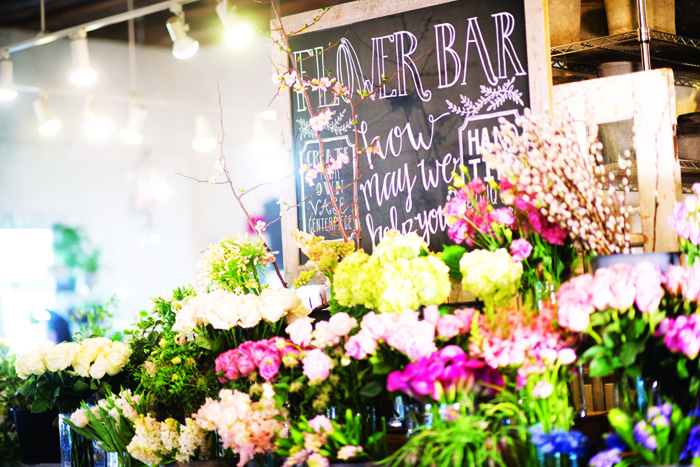 EXCEEDING EXPECTATIONS
2021's holiday season could be your financial restart. Spend time planning your merchandising and browsing virtual or in-person markets to be ready for the shop- ping resurgence. Know that floral designing can consume you during the holidays, but Wages advises that you stay focused on customer service to cement those sales.
"You have to make time to talk to customers," he says. "One thing our customers know that they can get here is interaction with a designer. That personal experience builds relationships that equal repeat business. It's rewarding but hard work; however, exceeding customers' expectations should be the goal of all florists."
By Nita Robertson, AIFD, CFD The wreath business is big business. But has your company fully tapped into this popular niche? Consumers are shopping for creative fresh, permanent and dried wreaths all year long, but especially for the fall and winter seasons. So, if...
read more