By Tonneli Grüetter
A vital part of many traditional flower businesses, sympathy flowers are floral designs or installations specifically commissioned to express condolences and offer comfort to those who have experienced a loss during their time of grief. These flowers serve as a gesture of support for the bereaved and respect the deceased. Sympathy flowers are typically sent directly to funeral, memorial and celebration-of-life services, but they are also sent to the homes of surviving loved ones.
For new florists, breaking into the world of sympathy flowers can feel both foreign and emotionally challenging. In this article, we will share with you wisdom from practicing sympathy florists and why this vocation is not only worthwhile but also among the most personal and rewarding work one may take on as a professional floral designer. Across the world, flowers hold great cultural significance in funeral ceremonies and last rites, and throughout many countries and cultures, the relationship between flowers and mortality is understood as a metaphor to describe the beauty of life.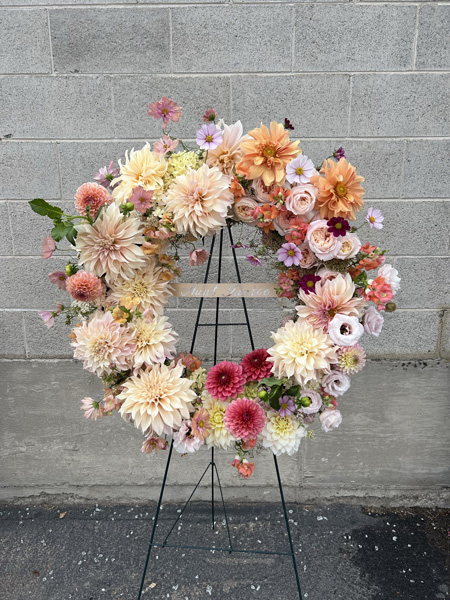 As with the rest of the floral industry, the world of sympathy flowers is currently undergoing a radical shift in consumer tastes as new generations come of age, and although traditional white lilies and rigid floral stands remain popular for funeral rites, there is an increasing demand for floral tributes of a more personal (and often luxurious) nature. Before the physical design process can begin, it is important to start sympathy work with a commitment to exemplary customer service. To learn more about unlocking the true potential of grief work, I spoke with Heather Tombs, founder of Winnie & Olive Blooms in the beautiful village of Kinver, in central England.
"I always take time with the families, to hear about their loved ones," Tombs says. "We often cry together. I find out what the deceased liked to do, maybe his or her favorite flower, food, hobby. etc. I once designed an arrangement in a pair of vintage football boots for the service of a gentleman who loved football. I also made an edible tribute for horses, for the service of a lady who loved horses. I don't have a catalog of floral designs because each family is unique. Once I have an idea, I speak with local flower farmers to source the right flowers. I will also pick from a family's garden should they wish to include blooms grown by their loved one. I've included chili peppers and garlic in a casket spray for a man who loved those items. It smelled amazing and made everyone smile at his funeral. Each sympathy tribute is a joy to work on, and I ensure that I authentically represent the person making his or her final journey."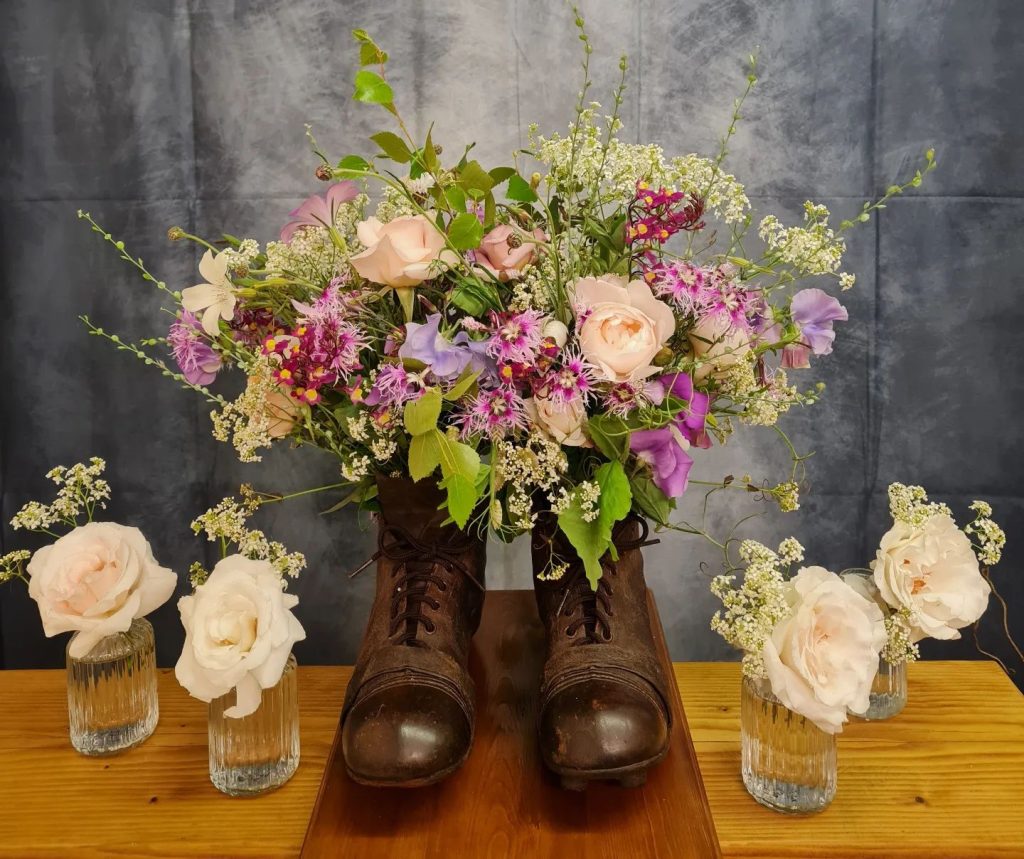 For florists willing to take on the weight of this work, rewards are easy to see. Changing traditions and moods around end-of-life celebrations have been emboldened by the blossoming death-positivity movement and led to a growth in the demand for highly personal memorial services, which can be creatively freeing for designers with a desire to push their skills. These new-age funeral trends can take many forms but often include the following themes:
• Personal Narrative The choice of flowers in sympathy arrangements often carries symbolic meanings. Common flowers used in sympathy arrangements include lilies, roses, carnations, Chrysanthemum, Gladiolus, and orchids. White flowers are often chosen for their association with purity, peace and innocence, for example, and pastel-hued flowers are commonly used to express gentleness and comfort. For modern funeral, memorial and celebration-of-life services, however, it is important to look beyond these basic definitions of what a sympathy flower may or may not be. Flower designs for these events should include blooms symbolic of life's triumphs and happiest moments. This may take the form of unexpected colors, flower types and varieties, and/or even personal belongings incorporated into the designs directly or used as a general theme to create cohesive bespoke designs.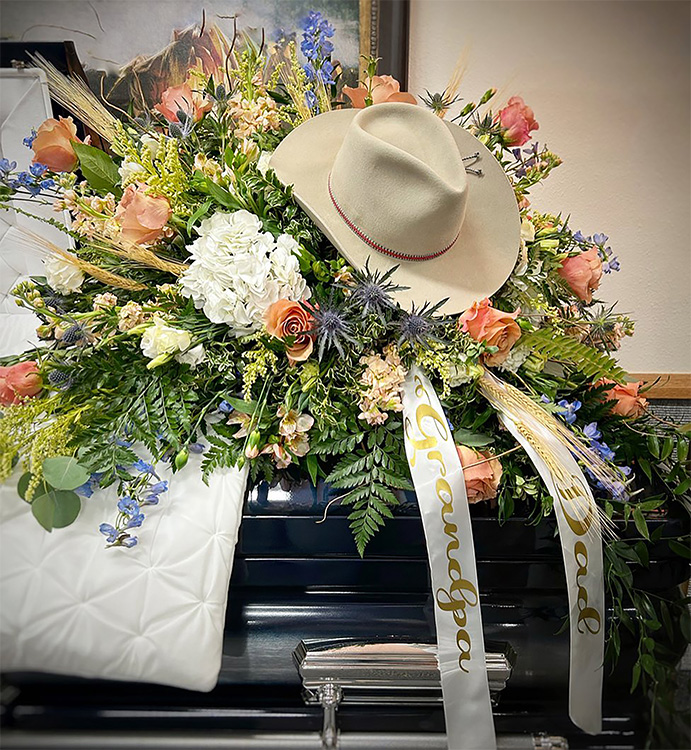 • Mood When designing any sympathy tribute, it is important to gauge the mood your flowers should set. As mourners approach a celebration of life and take their seats, it is flowers that will greet them first before speeches begin. What should your flowers tell the mourners? Will they set a mood of relief from suffering, of quiet meditation or, perhaps, celebration of a full life well lived? Considering the mood which you should set is a vital duty and responsibility in sympathy work.
• Artistry Trends in luxury sympathy flowers are influenced by contemporary aesthetics made possible through the hands of skilled designers. Bereaved customers are seeking bespoke floral designs that reflect the personality and interests of the deceased in unexpected ways. These custom arrangements require a great eye for detail and technical ability to incorporate specific flowers, colors and/or symbols that hold special meaning to the individual being honored, in a tasteful way. To achieve this vision, floral designers are creating sculptural arrangements that are visually striking and unique. These installations may feature intricate shapes, asymmetrical designs and/or contemporary elements, adding a modern touch to traditional sympathy flower displays. In attracting these customers, it is important to show, in your business marketing, that your floral artistry is not reserved only for life's happiest occasions.
The inclusion of modern and bespoke sympathy flowers in a flower design business brings numerous benefits. By embracing new trends in sympathy flowers and understanding the cultural significance of flowers in funeral services, flower-business owners can expand market opportunities beyond the seasonality of other event-based work, distinguish themselves as a trusted source for flowers, build lasting customer relationships and support the healing process for grieving families. Sympathy flowers not only provide comfort during times of loss but also offer a meaningful way to express oneself creatively.
To learn more about this work and why it is so rewarding, I spoke with Melissa Comito-Aakre, a florist who began her professional journey crafting sympathy flowers for Glendale, California's iconic Forest Lawn Memorial Park, where celebrities such as Elizabeth Taylor and Michael Jackson are laid to rest. In recent years, Comito-Aakre uprooted her floral practice, moving from San Francisco, Calif., to Sandnes, Norway, to open her own flower shop, Umulig Bukett, which translates in English to "impossible bouquet."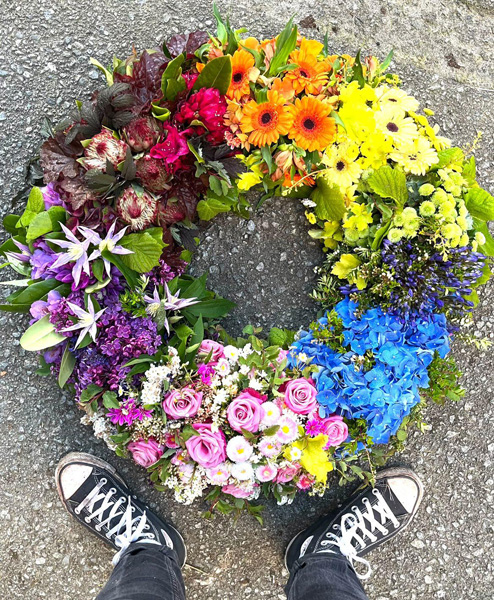 Comito-Aakre shares that upon landing in Norway she had a hard time convincing locals in her small town that she could do sympathy flowers despite having a wealth of experience in the category. Like so many florists, she sometimes struggles to document and share her best sympathy work because of the deeply personal and private nature of this work. With time and experience, she has been able to overcome this challenge and is now distinguished as a trusted source for unique sympathy flowers in her region.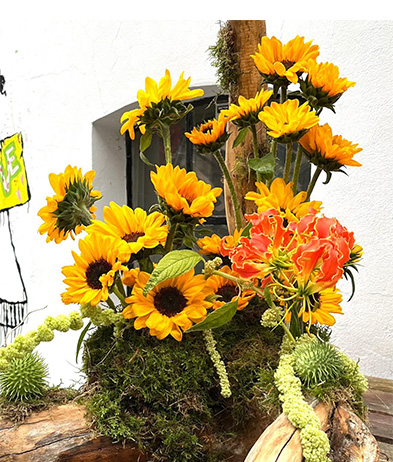 When I asked what inspires her passion for creating personalized sympathy flowers, she shares from her own experience: "My sister was one of the people I was closest to in my life. She got brain cancer and died 18 months after being diagnosed. She was 42. I wanted her funeral to be a joy, to celebrate what she loved, and I try to do the same for other people. Many people have told me that they made it through the funerals of their loved ones by looking at the flowers I designed. Each felt his or her loved one was there."