By Nita Robertson AIFD, CFD
Tablescapes are wonderful ways to decorate tables for any special occasion, especially the holidays. But exactly what are tablescapes? Tablescapes are artistic arrangements of multiple articles on a table to create a dramatic table décor experience. These component designs can also be used on buffet tables and even mantels. They are fabulous because they create a greater and grander impact than a single centerpiece, and they extend the flowers, plants, candles and other accessories throughout the table instead of just in the center. They also offer floral designers and their clients a greater versatility in developing a theme or motif, as well as spacing. It enables the designers to tell a story that flows throughout the entire table setting. And, because there are multiple components, tablescapes offer event hosts the opportunity to gift individual items to departing guests.
To create a great tablescape, you must ensure that all the elements on the table complement each other. All décor details, including florals, props, china, linens and silverware, are a part of this process. Your choice of colors in the flowers can bring out the colors in the china or linens, for example. Napkin adornments are also a must—something simple on each napkin can help tie the whole experience together. Remember to incorporate the elements of floral design into each masterpiece—line, color, form, space, pattern, fragrance, size and texture.
Leatal Cohen, owner of Pic and Petal in Brooklyn, N.Y., is a master of designing tablescapes that bring to life an event's theme or motif. "When we create tablescapes, we work with a theme or motif, and tablescapes allow us greater opportunities to be creative and curate a cohesive look, to create memorable floral sensory experiences for the event guests," she says.
"We frequently incorporate accessories with the flowers, like fruits, herbs and candles so that the table has a lot of dimension, fragrance and texture. Mood boards are also a must!" Cohen remarks.
At Pic and Petal, the farm-to-table theme is among the designers' favorites to create. "We love incorporating food into tablescapes, so we love to design farm-to-table/market-themed tablescapes," Cohen shares.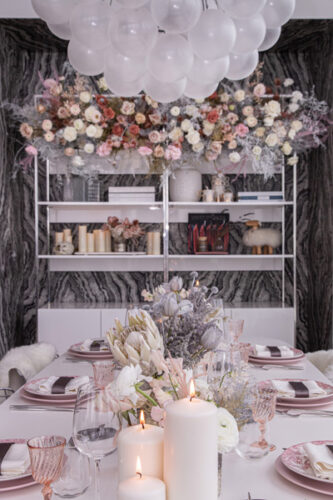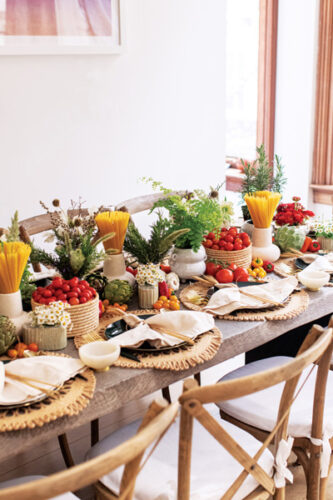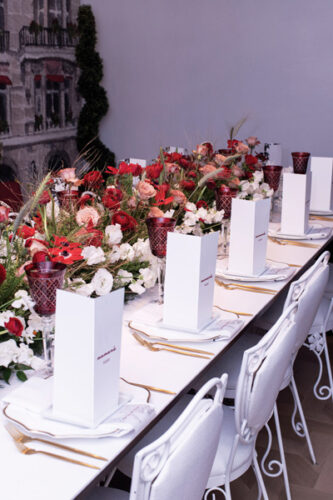 Taylor Ferry, director of sales at Robertson's Flowers & Events in Philadelphia, Pa. (and a fifth- generation Robertson), says that tablescapes have been growing in popularity among Robertson's exclusive clientele for a few years. "Everyone wants those 'Instagrammable' moments, and we can create those with thoughtfully curated, themed botanical tablescapes" he says.
At Robertson's, the tablescape trend started with weddings and farm-to-table looks, but Ferry says they have evolved to be much more than that; today, Robertson's designers create tablescapes in all themes and motifs and for all types of events and occasions. Ferry informs that Robertson's even offers basic tablescape packages on its website, including linens, candles and more. The company offers an extensive line of rental items to create its magical tablescapes. "It is important to educate our customers on the wide range of possibilities for table décor," Ferry concludes.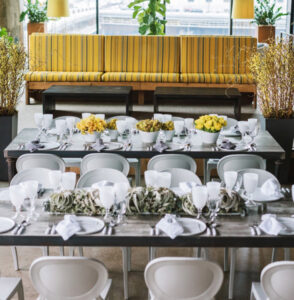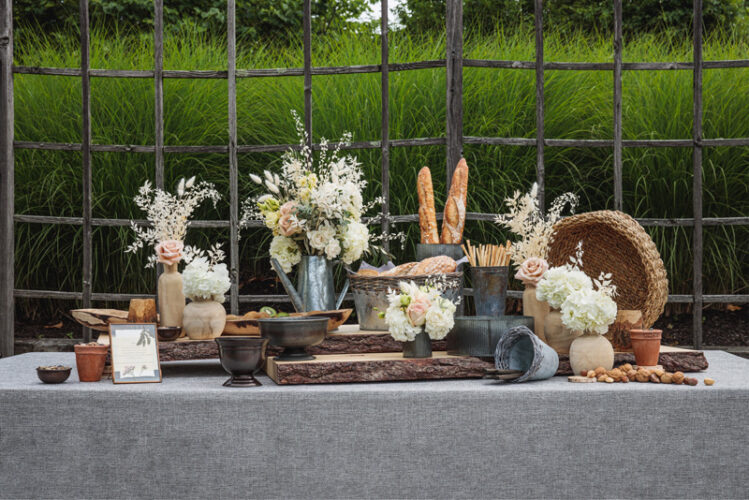 Gilberto Espinoza-Friehoff , creative director at Dogwood & Fir in San Diego, Calif., shared his inspiration about the wedding tablescape featured in this article: "We envisioned a wedding as white as snow, with accents of gold and ivory to give that feeling that winter is coming with all its joy and whimsy. Our tablescape was inspired by the texture of a frosty winter forest, freshly blanketed with snow. We incorporated bleached dried flowers and preserved foliage in white and cream hues. For the table runner, we selected a delicate lace overlay, which added a dose of intricacy among the other whitish neutrals in our overall look. We placed gold candelabra with tall white candles throughout the tablescape to set the ambiance for the night. Perhaps our favorite piece of the tablescape was the glass cloches encasing white fairy lights that lit up the evening with magic."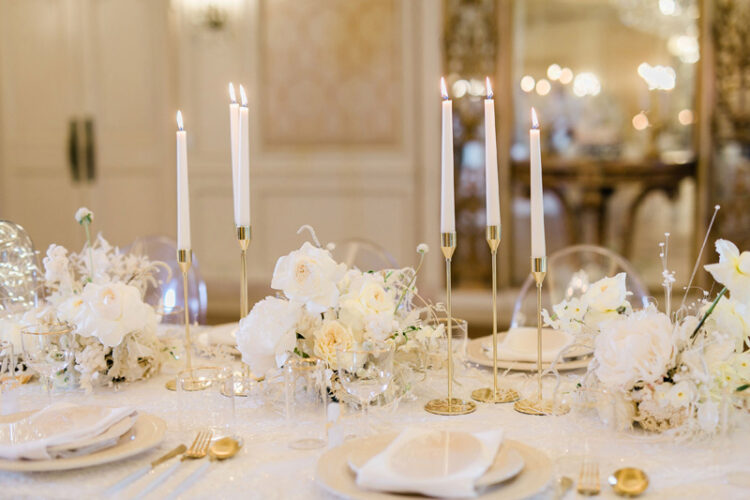 Regina Gust, owner of Regina GustDesigns, one of Houston's premier commercial and residential holiday décor design firms, incorporates trending colors with traditional favorites and European influences into her work, which often features garland tablescapes. Known as the "Queen of Christmas" in the Houston area, Gust often incorporates fresh Magnolia leaves, pine and cedar, perhaps accented with clear glass ornaments and soft white twinkle lights into her garland tablescapes, which generally also comprise fresh flowers.
She can transition her clients' tablescapes from Thanksgiving to Christmas to New Year's and beyond by simply changing out the fresh botanicals. "Ornaments, glittery trees and other holiday props really complement holiday table décor and gets everyone in the holiday spirit.