By Nita Robertson, AIFD, CFD
Colorful and exotic tropical cut flowers transport the admirer to a tropical place with blue skies, warm sand and bright sunshine. Because of their fascinating beauty and charm, tropical flowers hold a special place in the hearts of people who love flowers. Tropical flowers are those that are native to tropical locations, typically those that are located in the equatorial region, from the Tropic of Cancer to the north to the Tropic of Capricorn on the south. Cut-flower producing states and countries in the equatorial region include Hawaii, Colombia, Ecuador, Costa Rica, Mexico, Kenya, Thailand, Indonesia and New Zealand, among others.
Tropical flowers brighten the mood as well as any indoor space or garden in a distinctive way—unlike any other flowers. You can choose varieties that complement any color scheme because the blooms range from hot, vibrant hues like yellow, orange and red to cool and pastel hues like pink, green, purple, lavender and white.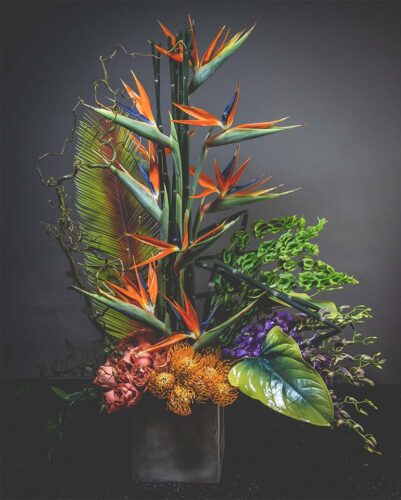 Orchids from Thailand
Thailand, among other things, is known as the land of the orchids or "Gluay Mhai." The export of cut orchids was initiated in 1963 with a few hundred-thousand sprays of mostly Dendrobium sent to European markets. It took off from there, and Thailand became the largest exporter of cut orchids. Orchids rank highest among the several tropical ornamental crops that are important to the Thai agriculture and economy. Asia has the widest variety of orchids of any part of the globe and, therefore, has the greatest potential for creating the modern hybrids that outshine their wild parents in beauty and value. Many of popular orchids we see nowadays are cultivated from wild Thai orchids, including Vanda, Phalaenopsis, Dendrobium and Paphiopedilum, among many other genera. Dendrobium 'Pompadour' is one of Thailand's most famous orchid cultivars and is responsible for the country becoming the world's leading producer and exporter of orchids since 1979.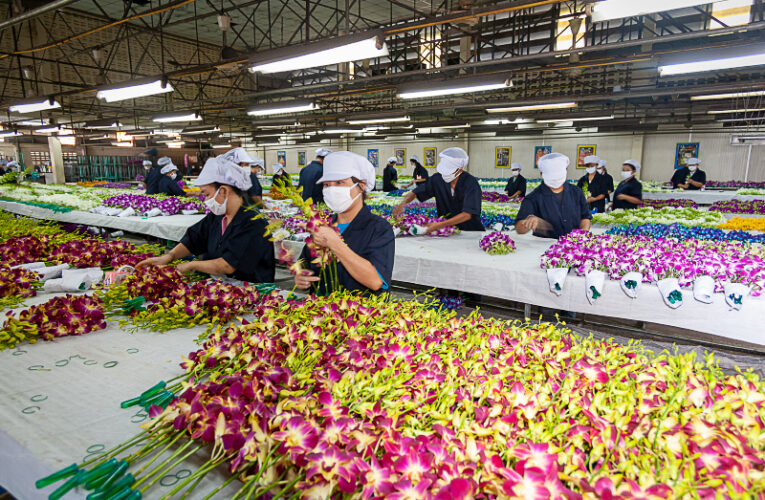 The Aloha Spirit
Hawaii is where beautiful tropical flowers of the world bloom under ideal conditions, including soil, rainfall, temperature, humidity, sunshine and fresh air. Hawaii is a state blessed with a rich and diverse environment of varied climate and altitudes, which makes the land ideal for growing tropical flowers of all kinds.
I spoke with Eric Tanouye, president of Green Point Nurseries in Hilo, Hawaii, and he was excited to share about Hawaiian tropical flowers. "We are most known for our beautiful Anthurium, which are available in a multitude of colors and sizes, and also grow a large selection of tropical flowers, foliage and ornamentals," he remarks. "We ship within the state of Hawaii, to the mainland [Continental U.S.], Canada and Japan. Tanouye is also the current president of the Hawaiian Floriculture and Nursery Association (HFNA), which promotes the growing and export of Hawaiian flowers and plants.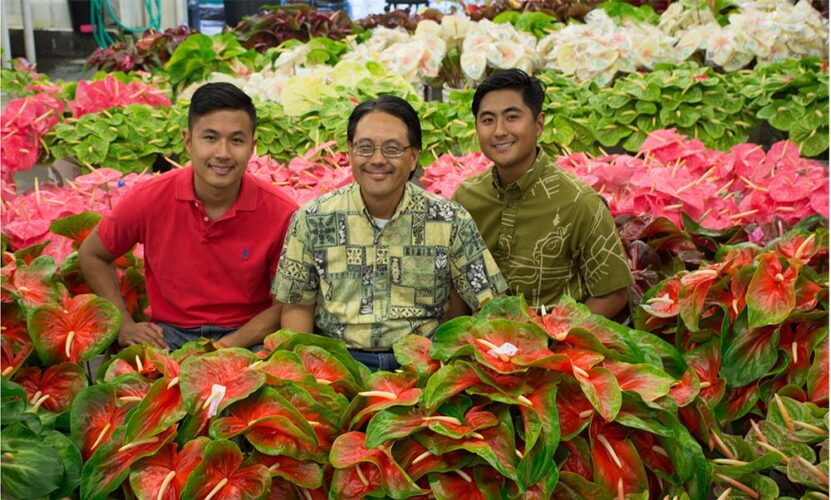 "Flowers run deep in the Hawaiian culture," Tanouye explains. "They are a big part of legends and folklore throughout the island's history." Flowers have important cultural meanings to the Hawaiian people. For example, the custom of adorning visitors to Hawaii with leis was introduced to the Hawaiian Islands by early Polynesian voyagers. A lei is a symbol of love, friendship, celebration, honor and greeting. In other words, leis are a symbol of Aloha. Natives would gather flowers from their yards and make leis or haku leis (traditional Hawaiian flower crowns) to celebrate all of life's milestones.
The Story of the Anthurium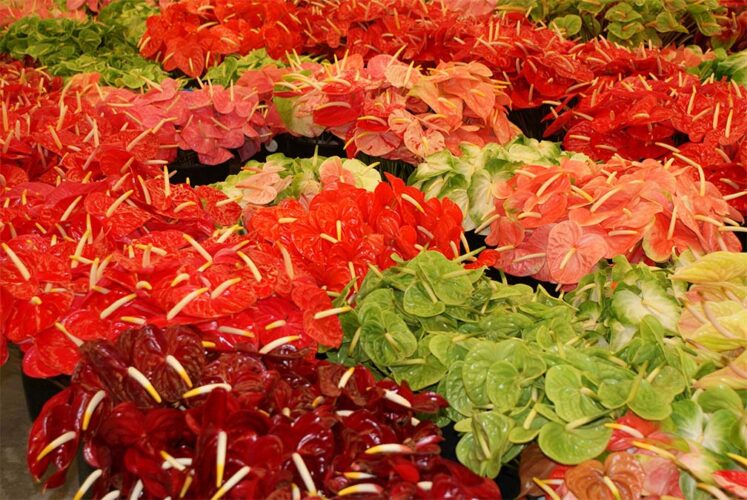 Anthurium are unique heart-shaped flowers. Surprisingly, the colorful heart-shaped portion of an Anthurium, called the spathe, is actually a leaf, and the actual "flowers" are on the spadix—the spike that protrudes the center. Anthurium andraeanum was discovered by Jose J. Triana, a Colombian botanist and explorer, in 1876. It grew wild in the rainforests of South America. It was then introduced to the Hawaiian Islands in 1889 by Samuel Damon. From Damon's gardens, these plants were introduced to other people, who also started growing them in their gardens. These plants eventually spread throughout the islands, filling people's backyards with beauty. A big breakthrough occurred a few years later when breeders learned to propagate these plants by seeds rather than cuttings. Seed propagation allowed breeders to selectively create flowers with the best traits and resulted in new colors and shapes of Anthurium.
In the 1940s, florists in Hawaii began carrying Anthurium in their shops. These flowers became quite popular with locals and tourists alike. It became popular for military personnel, tourists and even local residents to send cut Anthurium to friends and family on the mainland as gifts. "Early on, people were using shoe boxes and wrapping balloons filled with water around the stems to ship Anthurium," Tanouye shares.
Harold Tanouye, Eric's Father and founder of Green Point Nurseries, started in the flower business when he returned to Hawaii after attending college. The year was 1957, and Hilo's economy had not yet recovered from the impact of WWII. He recognized the demand for Anthurium and then realized what his life's work would be.
The University of Hawaii has a strong agriculture department that is, and has been, instrumental in the growth of the cut-flower industry in Hawaii. The university, along with several active hybridizers on the islands and premier growers continue to develop new and exciting varieties, to keep Hawaii in the forefront of Anthurium culture. Today there are thousands of Hawaii-bred varieties of Anthurium in cultivation, and the number of varieties, shapes, sizes and colors amazes and overwhelms.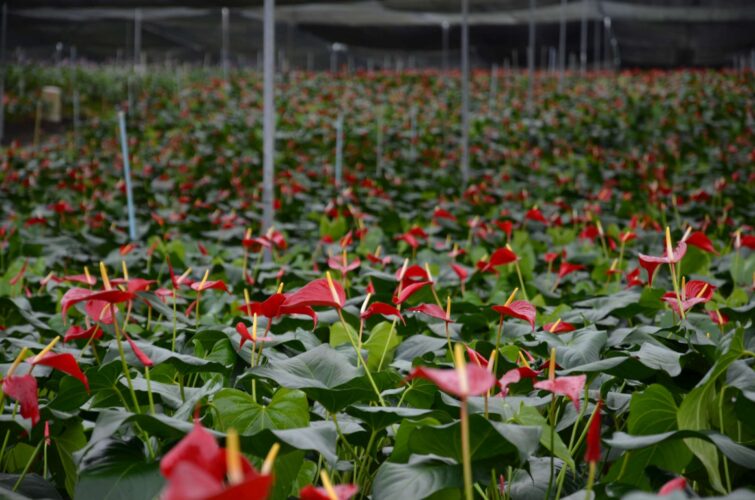 The Aloha State is best known for its Anthurium and orchids, but it also produces a plethora of other cut-flower types. Neotropica Hawaii is a great resource for any floral designer and wholesaler who wants to get intimately familiar with all the Hawaii-grown flowers and foliages. The third edition of Neotropica Hawaii, sponsored by HFNA, is in the works and will be released in 2023.

Designing with Tropical Flowers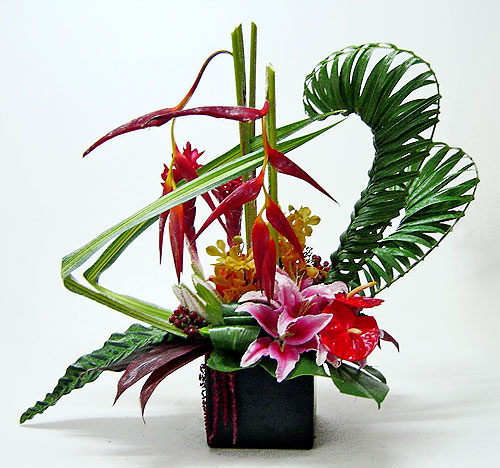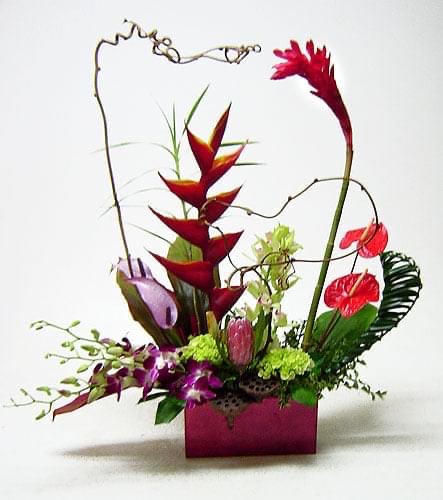 Many people love all things exotic, and with tropical cut flowers, they don't have to take an expensive trip to get a taste of the exotic. The sheer size of some of the flower types makes them the perfect choice for bold and exquisite event design, and the myriad colors and varieties limitless and versatile options. Tropicals are thought of as being vibrant and bold in color, but don't forget that many types are available in paste-hued varieties, too.
Tropical blooms are such fun to work with. I recently spoke with Phil Rulloda, AIFD, CFD, AAF, PFCI, the internationally renowned "King of Tropical Flowers," floral designer, educator and author. Known for his inspiring floral design style and foliage-weaving techniques, Rulloda encourages all designers to present tropical flower designs to their clients on a regular basis.
"If you show consumers what is possible and available, they will fall in love with the magic of tropical flowers," Rulloda says. "Go beyond the more common types and varieties because there are so many interesting ones to explore. The characteristics of tropicals are so unusual, distinctive and special, so give tropical flowers space in your designs, showcasing these premium products in their fullest glory."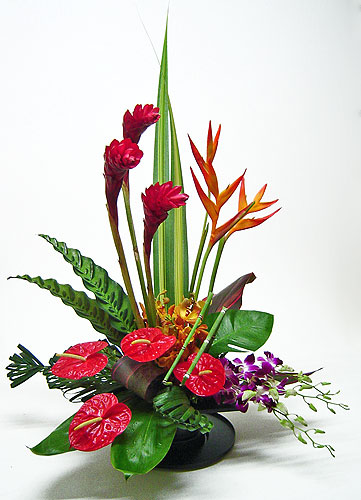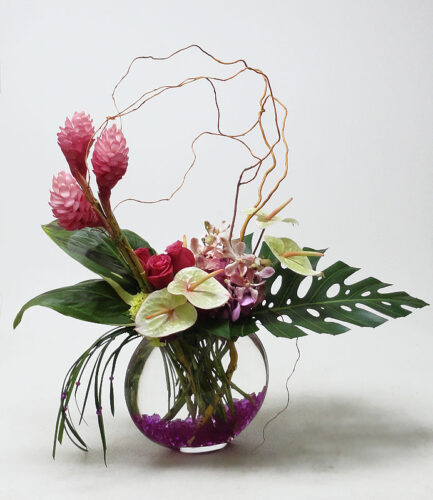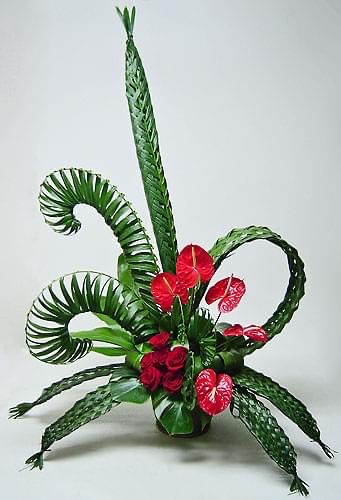 A newer design concept is "Tropical Nouveau"—the blending tropical flowers with temperate and even locally grown flowers, to create softer looks. The color and textural blending make for designs that are even more intriguing daring and unusual.
Explore all the possibilities tropical flowers have to offer!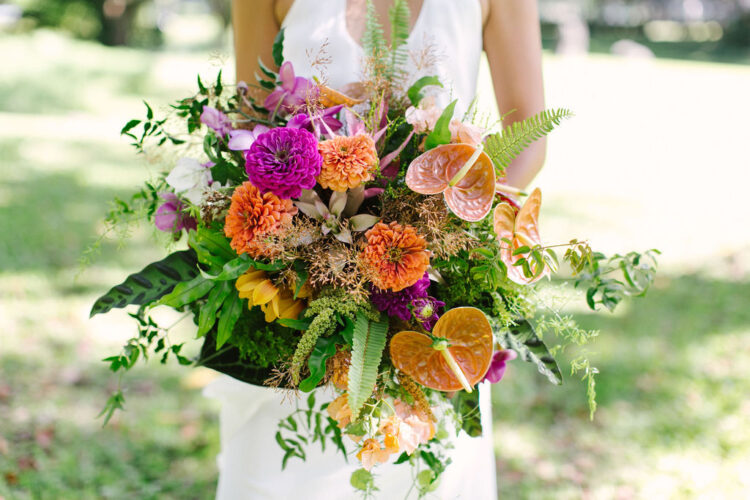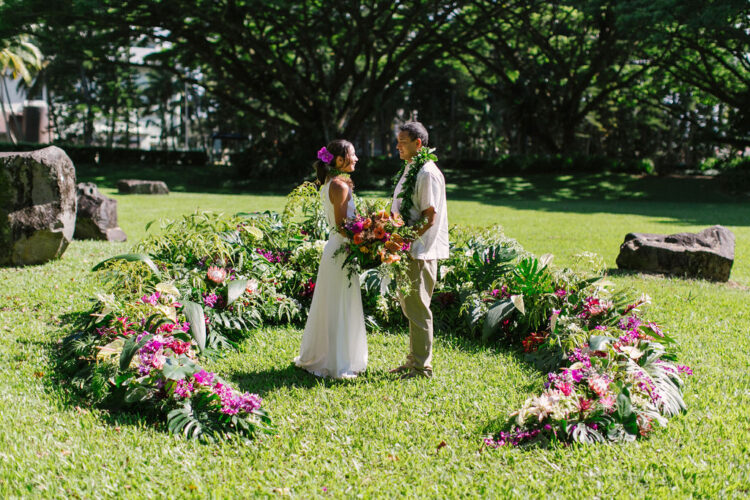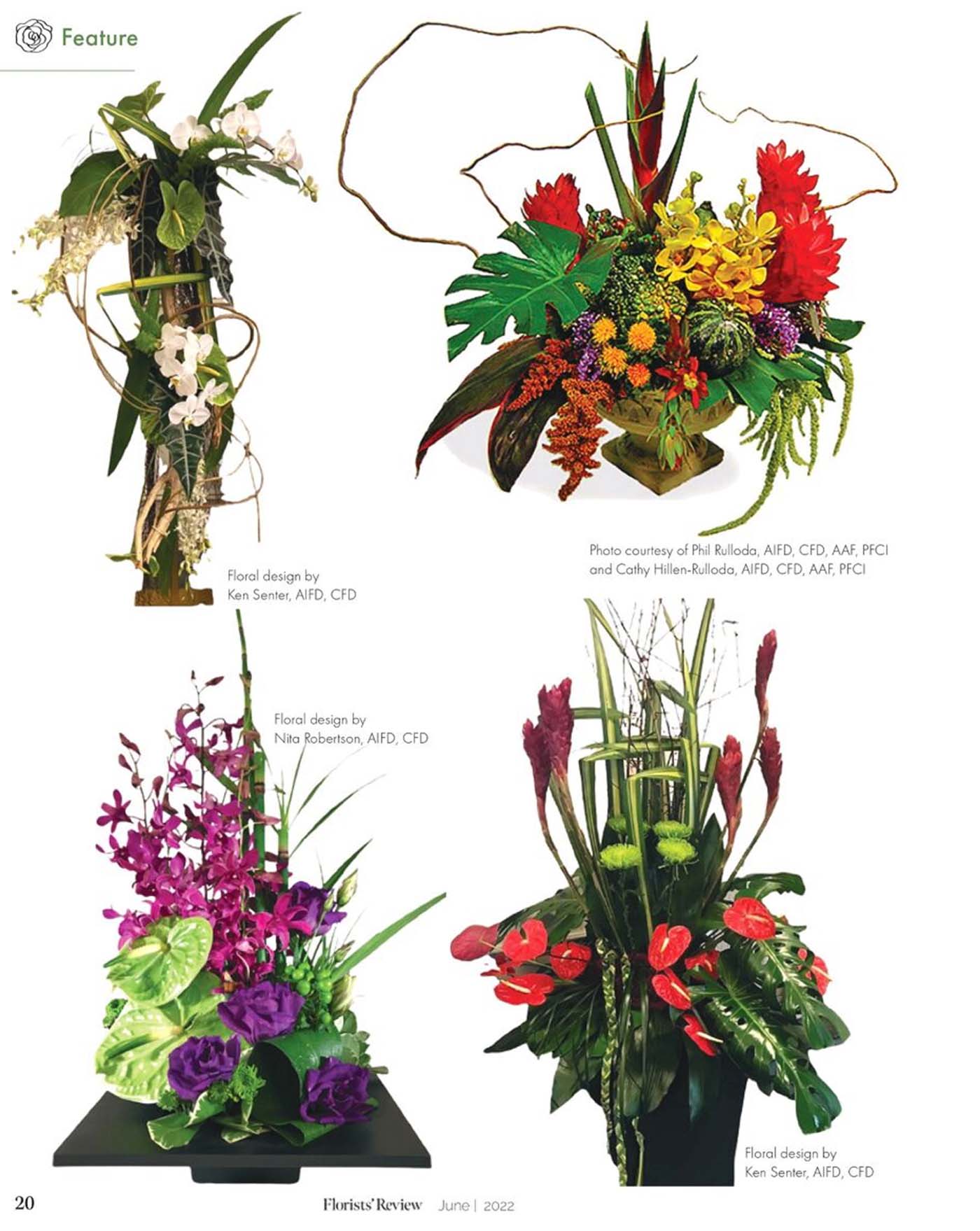 Care Instructions for Tropical Flowers
• Cut stem ends, removing at least 1 inch of stem.
• Immediately after cutting, place stems into a container partially filled with room-temperature flower nutrient solution.
• Store most tropical flowers in a flower cooler, at temperatures between 50 F and 55 F.
• Lightly mist blooms and foliage with room-temperature water daily (tropical flowers love high humidity, and many absorb moisture through their blooms).
• Change the flower nutrient solution and recut the stem ends every two or three days. Advise customers and recipients of tropical flowers to do the same.
• Keep blooms away from hot or cold drafts.