By Tonneli Grüetter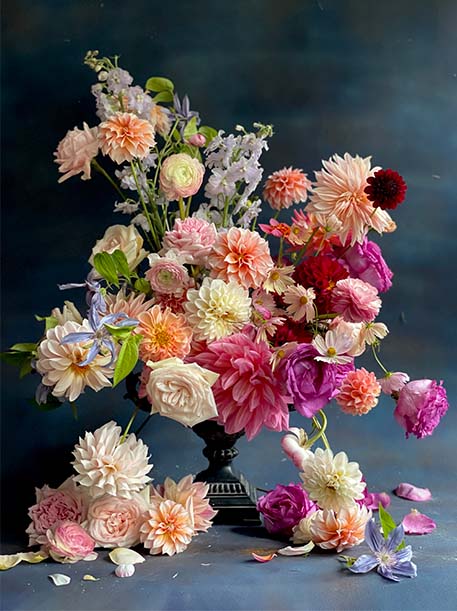 The time to rejoice is here! Dahlia season has returned to the Northern Hemisphere (typically mid-July through early to mid-fall), delighting flower designers and consumers alike.
Pulitzer Prize-winning author and renowned newspaper editor William Allen White once said, "My advice to the women of America is to raise more hell and fewer dahlias." Savvy florists, however, can agree that there are few flowers more radically diverse, colorful and expressive than the Dahlia. In the language of flowers, the Dahlia is free agent, setting the rules as it goes. You would be hard-pressed to find a florist who has not attempted to challenge the obstinate stem of a dinner-plate Dahlia or gleefully welcomed the versatility of an easygoing miniature ball Dahlia, with its long vase life and pliability.
Originally cultivated in Mexico by the Aztecs as an important root vegetable, the Dahlia has a long, vibrant history worthy of an edition all its own. To this day, Dahlia tubers are still enjoyed by epicurious chefs as a potato substitute. Despite this interesting factoid, it should come as no shock to Dahlia lovers that although these fabulous flowers are valuable in the kitchen, it was through their ability to quickly hybridize that they earned their place on the main stage of global floristry and worked their way into the vases of flower buyers across America. The rapid adoption of the Dahlia as a preferred cut flower was made possible in two main ways: availability and diversity.
A longtime favorite of farmer-florists, Dahlia can grow in Plant Hardiness Zones 3 through 11, meaning that consumers can enjoy local Dahlia sourced from every state in our union (not to mention many other regions around the world). From the southern corners of Alaska to the highlands of Hawaii, one can find Dahlia growing in a dizzying array of colors and forms. There are currently more than 57,000 registered cultivars—and counting. According to The American Dahlia Society, Dahlia flowers are available in 18 forms but can also be further classified by a series of nine size ratings and 16 officially recognized colors. Some of the most popular of the forms include Anemone, Ball, Cactus, Peony, Single and Waterlily.
Adding fuel to the fire of biodiversity is the ability of the Dahlia to procreate rapidly from a single tuber to many plants, clone via cutting, or grow by seed, throwing off unique traits from one generation to the next as new and exciting mutations appear. Breeding and collecting Dahlia is a hobby more accessible to beginners than most of the plants in the horticultural world. Every year, flower farmers, hobby growers and florists alike clamor for the newest varieties, with a fashion "it girl"-like fandom. In honor of the exhilarating pace of change made possible by the Dahlia, we present six varieties that will bring radical beauty to your flower shop this year.
• 'Miss Amara': Featuring 4-inch peachy-yellow-colored blossoms, in a Formal Decorative form
• 'Kelgai Ann': Featuring 4-inch pink-white-yellow color-transforming blossoms, in a Waterlily form
• 'Castle Drive': Featuring 4-inch pink-blush-colored blossoms, in a Formal Decorative form
• 'KA's Khaleesi': Featuring 11-inch cool-white-colored blossoms, in an Informal Decorative form
• 'Linda's Baby': Featuring 4.5-inch peach-colored blossoms, in a Ball form
• 'Sandia Isa': Featuring 5-inch warm-white-colored blossoms, in an upturned Waterlily form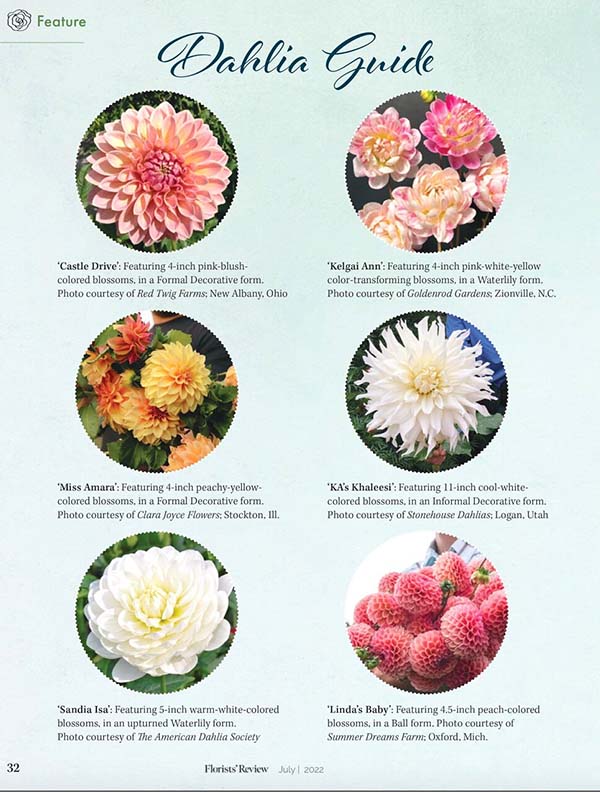 Dahlia 'Castle Drive'
Photo courtesy of Red Twig Farms; New Albany, Ohio
Dahlia 'KA's Khaleesi'
Photo courtesy of Stonehouse Dahlias; Logan, Utah
Dahlia 'Kelgai Ann'
Photo courtesy of Goldenrod Gardens; Zionville, N.C.
Dahlia 'Linda's Baby'
Photo courtesy of Summer Dreams Farm; Oxford, Mich.
Dahlia 'Miss Amara'
Photo courtesy of Clara Joyce Flowers; Stockton, Ill.
Dahlia 'Sandia Isa'
Photo courtesy of The American Dahlia Society