Tips for landing exciting design jobs—both big and small—outside of your market area.
By Jill Brooke
The sun! The sand! The glamour! The creative opportunities! The Instagram moments!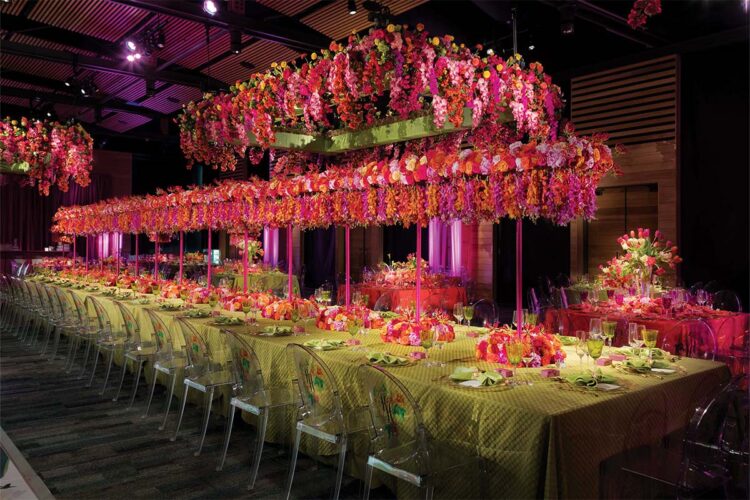 Creating the floral décor for a destination wedding or event is many a florist's dream—whether it's designing a party on a beautiful Caribbean beach overlooking pristine water or in a glamorous gilded hotel in an exotic locale. However, the reality can be quite nightmarish unless expectations and realistic skill levels are managed.
Let's look at some of the experiences of Bill Schaffer, AIFD, CFD, AAF, PFCI, and his wife Kristine Kratt, AIFD, CFD, PFCI, owners of Schaffer Designs in Philadelphia, Pa. This dynamic duo are among the most award-winning floral artists in the world as well as the maestros of mega extravaganzas around the world.
There was the time a truckload of 13,000 Delphinium, garden roses, Ranunculus and spray roses froze because the van's temperature switch was accidentally set at 30 degrees. Or, another time, 40,000 orchids and peonies wouldn't be released in Puerto Vallarta, Mexico, delaying the job by 24 hours as Schaffer and Kratt scrambled to find local officials to release the shipment. The lost day required the Schaffer Designs team to pack into two days what they had planned to accomplish in three days.
"This is where having a loyal team of experienced experts you know really well counts," says Schaffer. "Yes, it pays well. But it's long hours and working in unfamiliar places. I can have only professionals on my team who are speed demons and creatives because these types of weddings and events require a lot of work."
Furthermore, despite hours of meticulous planning and preparation, the unexpected can happen, and you need people who can easily pivot. In fact, Schaffer now has an "Act of Nature" (Force Majeure) clause in his contracts. "Wherever I am, the client must cover expenses when unforeseen things happens, including the cost of new flowers," Schaffer says. "Thankfully, I have Jet Fresh Flower Distributors, in Miami, to call because they ship direct, anywhere in the world, overnight. You always need backup plans with destination events because you are dealing with perishable materials, transportation issues and customs."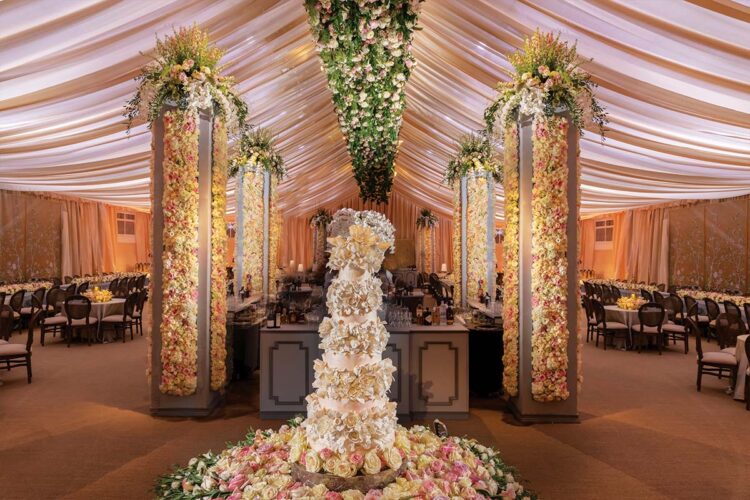 So how do florists get this type of work—if you're still interested? Here are the steps, along with realistic expectations.
1. Become known to an event planner or two.
Okay, the fact is that event planners are often the gatekeepers. Destination event clients often contact an experienced, recognized and trusted event planner such as JZ Events, in New York City; Marcy Blum Events, in Brooklyn, N.Y. and West Palm Beach, Fla.; Victoria Dubin Events, in Purchase, N.Y.; and Wilkinson Rhodes, in Dallas, San Antonio and Austin, Texas; to handle all the details of their big-budget events.
"When planning a destination wedding weekend with events that range from a welcome cocktail reception to a rehearsal dinner, then the wedding day and a farewell brunch the morning after, we look for a design partner/floral team that has the unique ability to transform each event and celebration into a themed, one-of-a-kind, bespoke experience for our clients and their guests," says Victoria Dubin. "We look for the floral designer who is the most familiar with working at a specific venue or location and who has the greatest resources and ability to bring the creative flavor and personality of the destination into all that he or she does."
Dubin is now producing an event in Como, Italy, and she chose Vincenzo Dascanio, a floral and event designer extraordinaire in Milan to do the flowers. Why? "His pure love of flowers and the unique style he brings to an event sets him apart from others in terms of completely transforming an environment," she says.
You may know that Kiana Underwood, founder of Tulipina, in Stone Ridge, N.Y., is now producing eye-catching extravaganzas in Como, as well. While Dascanio is a floral wizard, Underwood's events are big, bold and colorful. A definite difference in style.
Event planners have so many details to juggle that they tend to feel comfortable with who they know versus those unknown and untested. So how do you get on event planners' radars?
To establish relationships with event planners, send examples of your work and communicate your desire to accomplish their visions. Alternatively, offer to assist people who have existing relationships with an event planner, allowing you build, over time, an expertise of that event planner's style and, most important, his or her trust. They need to see your work up close and personal. Also, follow them on Instagram, and comment on their events to raise your profile with them. Go to conferences where event planners convene and introduce yourself. (One such event, "The Special Event 2022" conference and tradeshow, is scheduled for May 2-5, in Anaheim, Calif. Also check out the National Association for Catering & Events, NACE, at nace.net). Which brings us to the next step.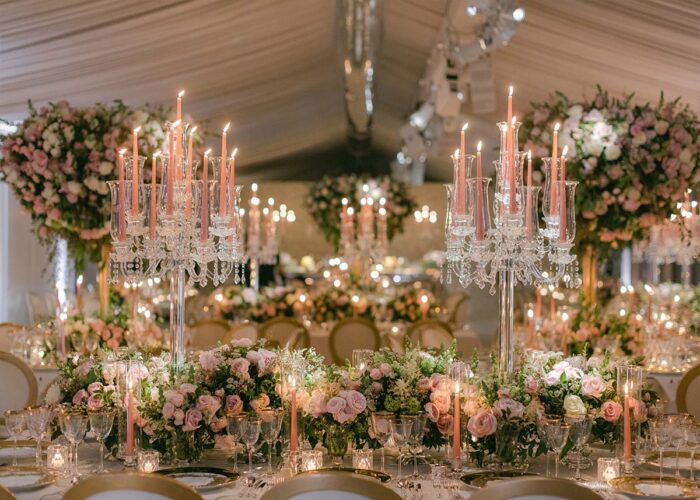 2. Open doors other than those of event planners.
Other gatekeepers are the people who run events at luxury hotels, resorts and country clubs. Brides inevitably call them for recommendations, and, in many cases, these venues will allow only their vendors—including florists—to work on site.
David Beahm, owner of David Beahm Experiences in New York City and one of America's top event designers, early on made a fortuitous and smart decision: He reached out to hotel venues and developed personal relationships. (He was the impresario behind Catherine Zeta-Jones and Michael Douglas' wedding at The Plaza Hotel in New York City.) Often, a personal relationship can lead to an opportunity to showcase your talents that gives you images and status for these types of affairs. You have to create the cred that you can pull it off.
For destination weddings and events, planners also often have to delegate to people who are locally known and connected. Hotel owners and managers, for example, like people who know the inner workings of their properties. So, if you are in a smaller market, make yourself known to boutique hotels and their staff. Think of all types of venues in your area with which you can create collaborations.
Many florists realize that to get this type of work, they also have to create shingles that identify them as not only a florist but also a florist that specializes in events. They have to be able to create detailed outlines of their flower visions and how they will be executed and by who. This gives event planners comfort when they are delegating work.
Note: Event planners typically try to get their clients to use their favored florists, but when clients insist on using their favorite florists, the planners will often work with those florists, to keep the jobs.
In Miami, Fla., Jose Solorzano Jr., owner of J. Adan Event, is the king of country club parties. He regularly creates sumptuous installations for venues ranging from The Boca Raton to The Polo Club of Boca Raton. His events are known for his use of super premium 'Crème de la Crème' and 'Playa Blanca' roses, white Phalaenopsis orchids, white Hydrangea and white stocks in classic, beautiful designs.
How did he start? Solorzano worked for another company when an astute hotel manager realized that his creativity surpassed that of other florists. Pulling Solorzano aside, the manager offered him the opportunity to create exclusively for The Polo Club. "Fifteen years later, I am now also doing flowers for all the members' personal events, as well," Solorzano confides.
Solorzano advises that a florist must be willing to work extremely hard with a budget and care less about profits the first year and more about creativity, in order to impress the clients. Plus, you are building a portfolio.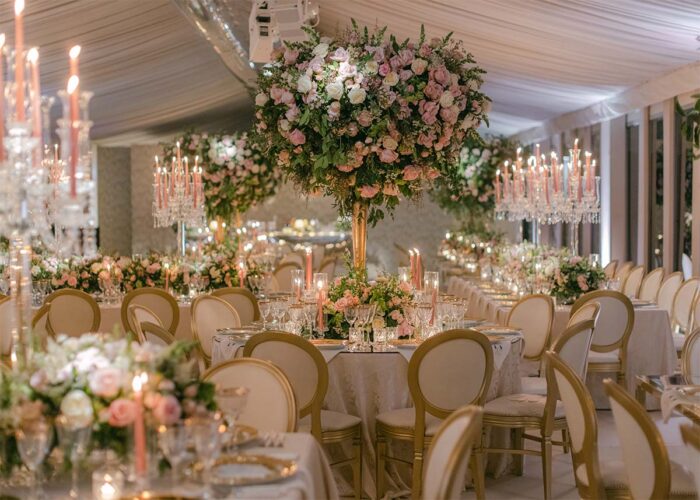 3. Take master classes with great florists to showcase your work.
Bill Schaffer thinks this is an ideal opportunity for an aspiring florist to get hired. "The pros can identify talents and want to hire them," he says. Plus, it gives budding florists opportunities to enhance and hone their skills in an unfamiliar territory, as well.
4. Insist on meeting the event planners' clients.
Typically, the lead florist is asked to submit design ideas, with the color schemes and styles, to be presented to the client by the event planner. In addition, many floral designers working on a job are expected to be anonymous—especially on big jobs for famous people where photos are not allowed to be shared with the public. However, the community of freelance floral designers is still small enough that creative work is identified quickly.
Over time, and with the artistry of floral design on the public's radar, "celebrity" florists are offered as a valued commodity and status symbol by event planners to their clients. "Some event planners want me to meet with a bride right away," Schaffer says, because of his global name recognition.
Holly Heider Chapple, owner of Holly Chapple Flowers in Leesburg, Va., says she insists on it. "When meeting with a bride, I learn exactly what she wants instead of her desires and vision being communicated through a third party," Chapple says.
As Chapple and others confirm, this inevitably helps the event planners, as well, by reflecting well on them. And if you don't ask, you don't get.
Once, when at the home of a celebrity he met through an event planner, Solorzano started creating a small arrangement that differed from the one already on the main table. The celebrity immediately noticed the difference and said, "Why can't all flowers be just like that!" Today, Solorzano now works with the celebrity to customize the celebrity's home events, and the event planner in still involved, as well.
Smart event planners will realize that it is in their best interest to trust the talents of the floral designers they hire and give them a bit of free rein. But this doesn't happen until a designer is a proven talent.
5. Visit the venue where you will work more than once, if possible.
Larry Walshe, owner of Larry Walshe Studios in Mitcham (London), England, has a devoted international clientele who hire the award-winning florist months and years in advance. Just this year, he will be producing weddings in Italy, Ireland, Turkey, Saudi Arabia and the U.S.
He, like others, says it is important for a florist to ask to visit a venue or location several times to understand the infrastructure, priorities and logistics for advance planning. What if a beam can't weather a floral installation? What if a floor isn't level? How much time do you have to prepare for the event?
Here are Walshe's dos and don'ts:
• Don't underestimate the challenge of working in an area with which you are not familiar. Understanding cultural differences and working with different staff, different wholesalers, etc., require that you be able to adapt, in order to be successful.
• Always build in contingency time because nothing ever runs as smoothly or efficiently as it does on home turf. You will likely also have established relationships with suppliers, which means they will likely drop whatever they are doing to help you when you need it; abroad, those relationships won't exist, so be prepared to stand at the back of the queue.
• Flower prices around the world vary hugely, as does the complexity of having them delivered to your desired location. Thoroughly research this before you undertake a project so that you will be able to quote correctly and end up with a profitable event.
• Always bring an extra pair of hands with you; however many helpers you think you will need, add one more. An extra person will be invaluable because you will inevitably end up running around searching for something, no matter how meticulously you plan.
6. Establish a network of floral designers whose talent you respect and whose work you trust.
Kelly Shore, owner of Petals by the Shore in Damascus, Md., emphasizes the importance of getting knowing florists from other areas. "Having great industry connections across the country and the world is vital for doing destination weddings," she emphasizes. You can meet them via Instagram or at flower shows and conferences, but get to know people outside your neighborhood.
In the same way flowers grow, so will you as the florist experiencing a destination wedding or event.