Celebrating Día de los Muertos, "Day of the Dead" provides an opportunity to reach out to a new base of clients and create a new revenue stream for your flower shop.
By Tonneli Gruetter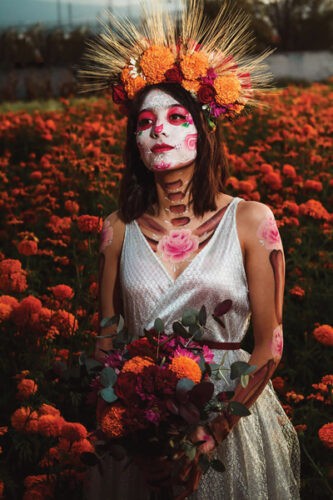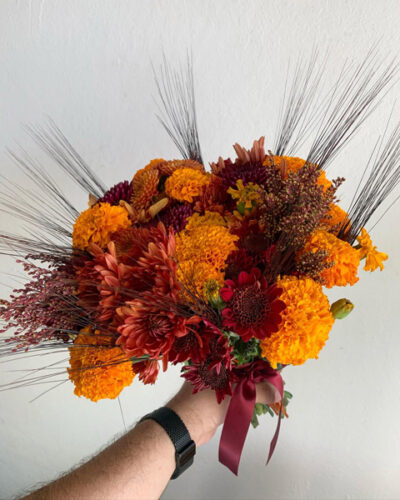 Día de los Muertos ("Day of the Dead") is a traditional family-centric Mexican "holiday" that unfolds over two days, beginning at 12 a.m. (midnight) on Nov. 1. During these celebrations, families welcome back the souls of their deceased relatives for a brief reunion that includes food, drink and festivity. Often mistakenly associated with Halloween, Día de los Muertos is actually associated with the Catholic celebrations of All Saints' Day and All Souls' Day. Nov. 1 is Día de los Inocentes ("Day of the Children" and All Saints' Day), and November 2 is Día de los Muertos and All Souls' Day. According to tradition, the gates of heaven open at 12 a.m. (midnight) on Nov. 1 to enable the spirits of children to rejoin their families for 24 hours; the spirits of adults can do the same on Nov. 2.
One thing that sets Día de los Muertos apart from other days of remembrance is its celebratory mood. Instead of remembering lost loved ones in somber sadness, Día de los Muertos revelers embrace the full energy of life. Sure, the theme is death, but the point is to demonstrate love
and respect for deceased family members. Families across Mexico—and beyond—gather to pay their respects, donning funky makeup and costumes, holding parades and parties, singing and dancing, and making offerings to lost loved ones. Nov. 1 and 2 have also become popular days for weddings, for a number of spirited and fun-loving couples.
Día de los Muertos celebrations are typically held at grave sites or in homes, with living and loving family members placing marigolds, food and other offerings—including calaveras (edible or decorative skulls made usually by hand from either sugar or clay—on makeshift altars called ofrendas. The iconic orange Mexican marigold, Tagetes erecta, is commonly known as "flor de muerto" or "flower of the dead," and the intensely pungent and brightly hued blooms are believed to attract the spirits of lost loved ones to the ofrendas created by their families. Additional traditions and variations on Día de los Muertos may vary from family to family, based on their specific regions.
In recent years, the celebration of Día de los Muertos has bloomed outside of Mexico, as well. The holiday has gained wide interest, starring in blockbuster movies like Pixar Animation Studio's Coco (pixar.com/feature-films/coco).
If any part of your shop's clientele is of Mexican descent, promote the celebration by stocking lots of specially priced marigolds in your cooler this month, as well as other festive offerings such as the iconic calaveras. You can also research public Día de los Muertos celebrations in your region to learn more and experience this flower filled day for yourself.