Sponsored by Ball SB | BallSB.com
A contemporary wreath-style bridal bouquet is the perfect canvas showcasing today's popular chrysanthemums—and your design creativity, as well.
Floral design, photos and text by Nita Robertson, AIFD, CFD

Chrysanthemums—like carnations, houseplants and dried botanicals—are becoming chic again. (Everything old is new again—thanks to a new generation!)
With this distinctive bridal bouquet, I want to share my inspiration for utilizing chrysanthemums in a contemporary way.
This versatile bouquet style can be carried by brides, bridesmaids or flower girls, and it can be designed in any color palette and for any season and style of ceremony. It is fun, modern and full of texture, and, best of all, it provides an opportunity for you to showcase your creativity to your bridal clients—and all of their guests.
STEP 1
Cover the plastic ring (from the center of a roll of stem wrap) with Spanish moss. Tightly wrap the moss-covered ring with bullion wire to secure the moss to the ring. This ring with be the handle for carrying the wreath bouquet.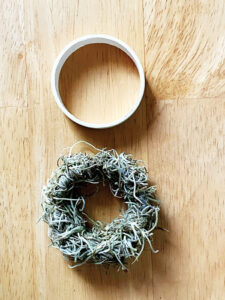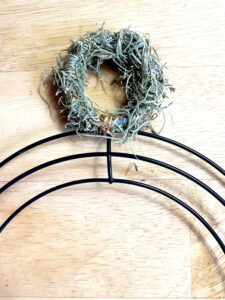 STEP 2
Attach the moss-covered ring handle to the 8" wire wreath form with paper-covered wire. Cover any exposed mechanics with an adhesive dash and more Spanish moss.
STEP 3
Cover an 8-inch-diameter wire wreath form with Spanish moss by wrapping the moss around the form. Then wrap with bullion wire to secure the moss to the wreath form.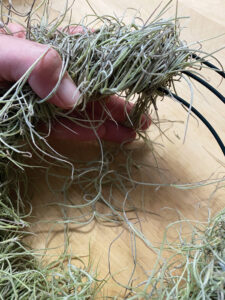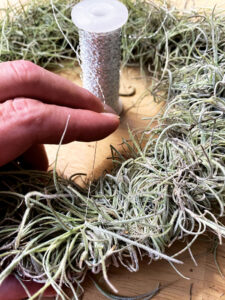 STEP 4
Wrap bullion wire around and across the wreath form, over and over, in a random pattern, to create a "dream catcher" structure.
STEP 5
Cut two 2-foot lengths of bullion wire. Fold each piece of bullion wire in half to create four 1-foot-long strands. Secure two daisy spray mum blooms to each of the four strands of bullion wire by gently weaving the bullion wire through the petals and over the center of each daisy mum bloom twice. Apply an adhesive dash to the back of each bloom and cover with a bit of Spanish moss, to hide any mechanics.
STEP 6
Glue individual daisy and cushion spray mums, spray rose blooms, tufts of Dianthus 'Green Trick' and Schefflera leaves into the moss- covered wreath, in groupings, with liquid floral adhesive. Secure a single bloom in the center of the "dream catcher" with an adhesive dash.
STEP 7
Wire the flower strands (from Step 5) to the bottom of the wreath, to dangle below the wreath. These create wonderful movement and extend the shape and dimension of the design as well as the visual line of the flowers.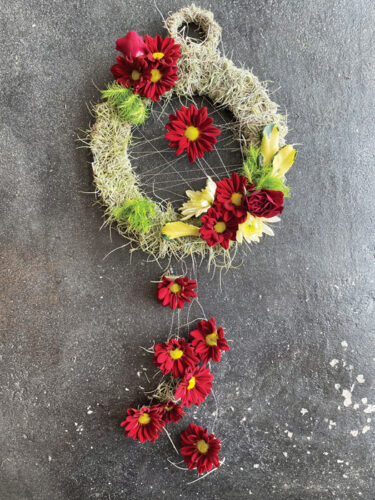 BOTANICALS
• Chrysanthemum x morifolium 'Piglet' (daisy spray mum) from Ball SB
• Chrysanthemum x morifolium 'Sirio' (cushion spray mum) from Ball SB
• Dianthus barbatus 'Green Ball' (hybrid nonflowering sweet William)
• Rosa spp. (spray rose)
• Schefflera arboricola leaves
(dwarf umbrella plant, Hawaiian umbrella plant) • Tillandsia usneoides (Spanish moss, graybeard)
HARD GOODS
• 8" wire wreath form
•OASIS BindWire(Natural)
•OASIS BullionWire(Silver)
• OASIS UGLU Adhesive Dashes®
•OASIS Floral Adhesive
• Ring from the center of a roll of stem wrap
(a great way to recycle!)