Exploring the career of J. Schwanke, flower expert, fourth generation florist and creator of Ubloom.com. His most significant contribution is that he created and launched the first national television show that specifically features cut flowers. Interesting article about the life of J. Schwanke and his infulence on the floral industry.
Full Article Below Source
Celebrating 35 Years — Vanguards Who Made a Difference: J. SCHWANKE
Over the course of the year, we pay tribute to 35 living Vanguards and 12 departed heroes. This month's featured Vanguard is J. Schwanke of Ubloom.com.
Originally printed in the September 2021 issue of Produce Business.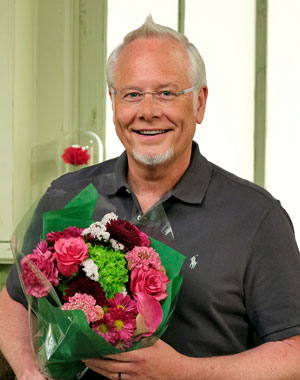 Reaching more than 96 million households with his television show, this most trusted voice in the floral industry, J. Schwanke, shines as he continues to enlighten consumers about the power of flowers.
Examining the career of J Schwanke, flower expert, fourth generation florist and creator of Ubloom.com, it is not difficult to pinpoint his most significant contribution that admirably moves the floral industry forward: He created and launched the first national television show that specifically features cut flowers. The show, J Schwanke's Life in Bloom, also extolls the health and wellness benefits cut flowers provide to people of all ages.
Gardening shows on television have been around for a while but never has there been a gardening/lifestyle show with an exclusive focus on cut flowers. To indicate the program's impressive level of acceptance with viewers, Life in Bloom has been airing continuously since its premiere in 2019. For more than 100 weeks on more than 300 channels, Life in Bloom has aired on Create TV's national schedule without interruption.
The show first aired in April 2019 and is now premiering its season of 13 episodes with a commitment from its distributor, American Public Television, for seasons four and five, now in planning and production. J Schwanke's Life in Bloom reaches 93.46% of television sets in the USA with an estimated audience of 96+ million households. The show currently airs on 377 stations, in 167 markets, in 46 states (Trac Media results – May 14, 2021).
FLORAL TRAILBLAZER
Schwanke has taken his role as an industry educator seriously from the start. He built his reputation by sharing his insight and expertise with the professional florist at multitudes of educational industry events including State, Regional and National Association Flower Shows, as well as wholesale florist events. At every show, he shared his personal business card to all attendees, encouraging them to call (and later e-mail) him with questions and concerns. These connections built bridges and continued to solidify Schwanke's credibility within the industry.
It may sound old fashioned in today's digital world but Schwanke is known for answering each and every inquiry personally and with candor, in an effort to help florists grow professionally. His quick wit and passion for listening and learning during his seminars and presentations endear him to audience members. Schwanke is looked up to for expert advice and this is why he is known as the most trusted voice in the flower industry.
ADVOCATE OF FLOWER POWER
A genuine believer and advocate for the power of flowers, Schwanke has represented dozens of flower industry leaders and companies in his live speaking demonstrations. He takes great care to accurately share products and information — educating audiences on product uses, innovation, and especially creativity.
J Schwanke is curious by nature and therefore is always interested in learning what's new — especially (but not exclusively) with regards to the flower industry. His interest is not only part of his job — it's his hobby and his passion. His passion for flowers is infectious, and you may notice the glimmer in his eye when he's at a flower event, looking at everything, interacting with everyone, and discovering the next new thing. He's soaking it all in.
FLORAL VISION
In 2005, Schwanke observed flower industry events were beginning to suffer declining attendance. Audiences were dwindling, personal time had become precious and people needed to learn on their own schedule. As the internet became more prevalent, Schwanke envisioned floral education via "Sliver Casting" – targeted broadcasting of flower lessons (on the internet) to a sliver of the population. In 2006, he created "JTV"– the first online, educational weekly series of videos demonstrating floral techniques. These videos delivered his signature flower education skills, creativity, and trustworthy expertise to audiences, via the internet, on their schedule.
"JTV," as seen on the Community of Flower Fans website called uBloom.com, spawned a new format in flower related videos. The documentary series "The California Grown Experience" introduced fans to the beauty and hard work of the California Flower Farms. Soon after, "JTV" segments evolved into "Fun with Flowers & J" with a cleaner and shorter presentation as Schwanke adapted to the new social media forces that were already re-shaping the internet.
Today a third generation of Schwanke's web series on floral education called "At Home with FLOWERS," is dedicated to the flower consumer — responding to the expanded audience who watch J Schwanke's Life In Bloom on public television. These videos provide inspiration, empowerment and instruction for everyone, encouraging them to include flowers in their life, every day.
But wait, there's more. He also produces "Behind the Bloom," a behind-the-scenes, web-exclusive series, including follow-up to segments featured on J Schwanke's Life in Bloom. These segments include additional information about flowers, farmers, and subject matter not seen in the Public Television series.
INCREASING ACCESS TO INFO
By 2010, with the proliferation of Facebook and other social media platforms — uBloom evolved to a subscription based website that gives uBloom.com subscribers access to hundreds of online Floral Educational Videos. By current standards, this measure of availability is akin to a streaming service where videos can be watched at any time – and as often as desired. Many use these videos as refresher courses or as training for staff and new hires.
Since its early days, uBloom.com has provided complimentary subscriptions to Educators at all levels — elementary, middle school, and high school, ag teachers, and FFA sponsors — for use in teaching floristry to their students. Many teachers have limited or no budget for educational materials and the uBloom.com content archive provides a tremendous resource for these teachers at no expense. Schwanke believes providing the educational material so instructors and students can easily access it is a way to ensure the future of the flower industry.
Steve Dionne, executive director of CalFlowers in Fallbrook, believes Schwanke is a genuine treasure to the floral industry. "J's contributions to industry education started long ago and are well-documented. What's been especially rewarding is watching J's focused transition to reaching more consumers and enlightening them about enjoying, arranging and sharing cut flowers more often." Dionne adds, "The entire industry benefits from J's talent, dedication, creativity, and his floral vision."