Spring is around the corner and the flower fields in Carlsbad, California will be in full bloom. For just two months each year, a large swath of land in Carlsbad, California, bursts with color as thousands of ranunculus blossom at The Flower Fields. There is nothing like the beauty of a colorful flower field. The article below has tips on planning a trip to see these beautiful fields this spring.
Full Article Below Source
9 Tips For Visiting Carlsbad, California's Gorgeous Flower Fields This Spring
For just 2 months each year, a large swath of land in Carlsbad, California, bursts with color as thousands of ranunculus blossom at The Flower Fields. It's a joy to see the flowers from the car while speeding along on Interstate 5, but the best way to enjoy them is to purchase tickets and roam the fields where they are planted. 
85 years of cultivation has resulted in the many-layered ranunculus in 13 different colors that visitors see today. All of it was made possible thanks to a long-standing friendship and partnership of two flower farmers, Edwin Frazee and Paul Ecke. Over time they expanded a basic growing operation into a much-beloved spring destination for locals and tourists alike.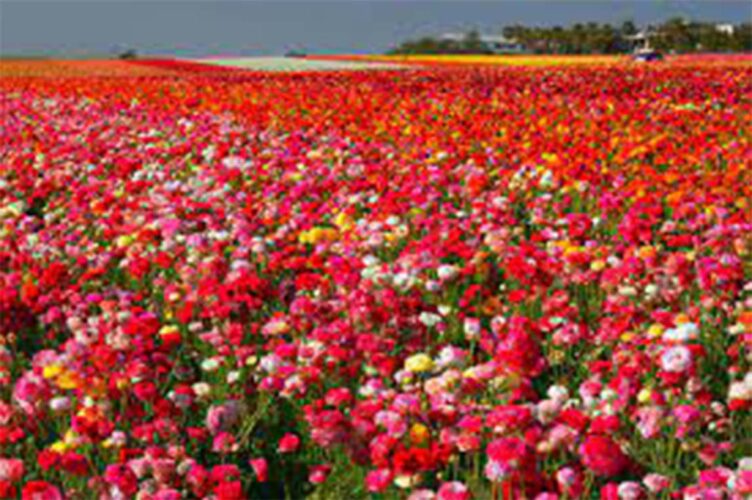 1. Getting To The Flower Fields
Located about 30 minutes north of San Diego and 90 minutes south of Los Angeles, the Flower Fields are best accessed by car since public transportation is limited in this area. The entrance is just a short distance off Interstate 5, next to the Carlsbad Premium Outlets.
Open For Just Two Months
Ranunculus are in bloom for just 2 months each year – typically March and April – so if you want to see them, be sure to check the opening dates on The Flower Fields website and snag your tickets. If you're looking for a really special way to celebrate Mother's Day, consider visiting on the closing day and browse the many acres of flowers with mom.
Pro Tip: If you want to keep track of exactly when the flowers will bloom, head to the website and click on the "Bloom Status" button in the upper right-hand corner.
2. Buy Your Tickets In Advance
Tickets must be purchased in advance online. Those who have visited in past years will remember the many ticket booths at the entrance, but during the pandemic, The Flower Fields changed to online sales only to control the number of guests. Hours are 9 a.m. to 5 p.m. and tickets are sold for a specific time. Visitors should allow about 2 hours for a visit.
3. Be Prepared To Walk
Planted over 50 acres on a gentle slope, appreciating the flower fields will require walking. Come prepared with comfortable shoes and clothing. Walkers, strollers, and wheelchairs will have a difficult time navigating the uphill, dirt pathways. 
If you have limited mobility, consider purchasing a ticket for the tractor wagon ride. The open-air wagon, pulled by a John Deere tractor, is a fun way to see the flowers from a slightly elevated vantage point. An audio recording tells the story of The Flower Fields. Boarding ramps are available for anyone needing assistance entering the wagon. Tickets can be purchased on site.
Pro Tip: Your walking will likely begin after parking. While there is no charge to park, the lot is large and on busy weekends you may have a 5 to 10-minute walk to the front gate.
4. How To Avoid Crowds
Fields of flowers in pink, orange, red, yellow, and white are sure to attract large numbers of visitors. In fact, over 100,000 people visit each year. Anyone wanting to avoid the busiest times should plan to come Monday through Thursday, preferably at opening time.
Take Some Flowers Home
While you can't pick the flowers, you can purchase them after your visit at the adjacent Armstrong Garden Center. This popular Southern California gardening store sells small bouquets of ranunculus in all the available colors. They also have a large selection of plants, garden supplies, and home decor.
5. Look For The Photo Opportunities
One of the best reasons to visit The Flower Fields is for the photos. It's hard to imagine a better backdrop than thousands of colorful and delicate ranunculus. Fortunately, dozens of sites have been set up for visitors to pose. Wait your turn in line and then strike a pose. 
It's important to know that walking through the fields is not allowed. Visitors must observe all roped-off areas in order to protect the flowers.
Pro Tip: If getting the perfect photo is important to you, be sure to arrive early. Lines for the photo sites can get long, especially on weekends.
6. So Much To See After The Flower Fields
Don't stop after exploring the fields of ranunculus, but be sure to stay for all the other attractions. 
A great photo opportunity is the Fountain Garden, a collection of colorful blooms surrounding a circular water fountain. The Sweet Pea Maze is a one-of-a-kind floral labyrinth that surrounds participants with the aroma of flowers. If you're visiting with children, be sure to explore Santa's Playground, which is filled with whimsical playhouses. New this year is a 5-acre patch of sunflowers of all colors.
Poinsettia lovers won't want to miss the Historic Poinsettia Display, a 1,500 square foot greenhouse filled with the world-famous Paul Ecke poinsettias including 20 rare varieties.
7. Take A Snack Break
If you get hungry, choose from among several food vendors including Pizza Trolley, Sweet Swirls Ice Cream, Rollin' Beans Coffee Company, and Kettle Kernels Popcorn.
For something extra special head to Strawberry Shack of Carlsbad for award-winning strawberry shakes, strawberry shortcake sundaes, and chocolate-dipped strawberries. 
8. Attend An Event
Each year The Flower Fields hosts a variety of public events making it possible to experience the venue from a different perspective. This year will include Tea In The Garden, Flower Flow Yoga, Sunset Wine Tasting & Music, Kid's Day, and Girl Scout Day. Details about each offering are available on the website.
9. Explore Carlsbad Village
If you've driven a distance to visit The Flower Fields, why not extend your day and explore the nearby Carlsbad Village. This charming part of town borders the beach and offers boutique shops, cafes, and restaurants. It's perfectly flat, making it easy to walk anywhere.