Whether worn as a boutonnière or attached to a purse, the versatile flower design is more easily secured to a garment or accessory with magnets.
Floral design, text and photos by Nita Robertson, AIFD, CFD
Sponsored by BoutStix™ Floral Magnets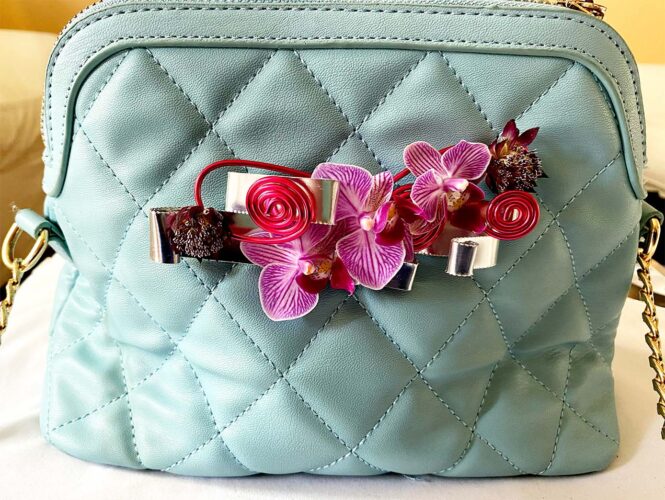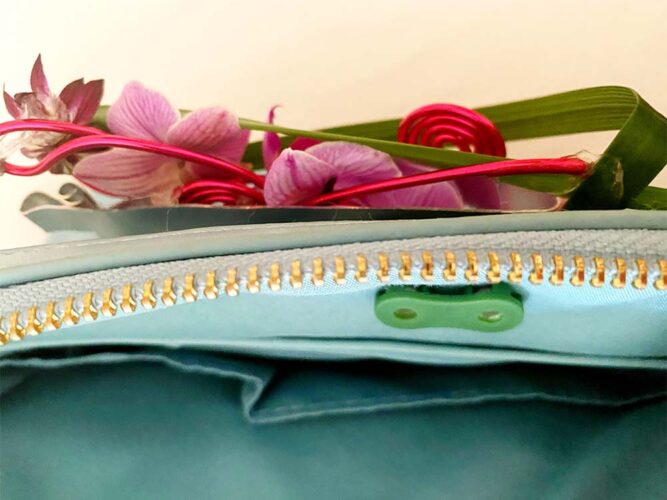 Wearable flowers are such a great accent to many of the upcoming special occasions and holidays, including proms, graduations, weddings and —like in the old days—Mother's Day. Many modern wearable flower designs are made with magnets as the attachment feature, such as BoutStix™ Floral Magnets instead of the often clumsy and ineffective corsage and boutonnière pins.
Magnets make it so much quicker and easier to attach a floral design to a garment while providing a strong hold, and they won't leave holes or tears in fine fabrics. They work great for not only corsages and boutonnières but also for floral accents for hats, purses and more.
This versatile design idea can be replicated in any size and has multiple applications, including as a boutonnière and a purse adornment.
NOTE: Magnets are not recommended for use on any floral design that will be worn or carried by a person with a pacemaker or ICD (implantable cardioverter defibrillator).
BoutStix™ Floral Magnets are available at your favorite wholesaler or at BoutStix.com.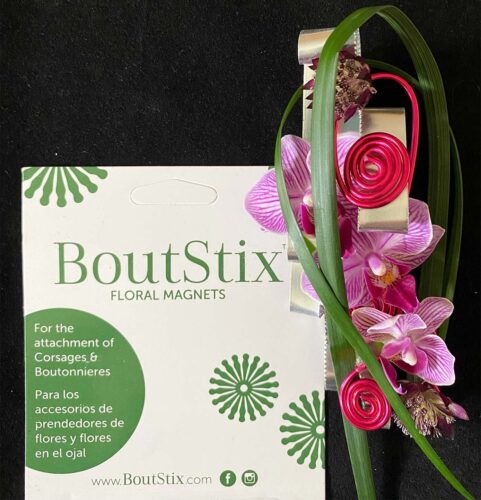 STEP BY STEP
Step 1
Cut a 10-inch length of 1-inch-wide decorative flat aluminum wire; this will be the base for the design. Beginning at one end of the length of flat wire, cut three equal-width strips into the wire, each about halfway into the length of the wire (approximately 5 inches). Use serrated scissors to create textural edges. Bend each strip forward, and curl the ends, both under and over, creating varying-length strips, using needle-nose or jewelry pliers.
Next, beginning at the opposite end of the length of flat wire, cut inward into the center of the wire, to create two strips. Bend one strip over, to create a "shelter," and curl the end of the other strip.

Step 2
Cut two or three long lengths of aluminum wire, and curl both ends of each piece to create organic, free-form coils and swirls. Attach the aluminum wire accents to the flat-wire base with adhesive dashes. Fashion the aluminum wire accents to organically and artfully wend over, under, around and through the flat-wire base.

Step 3
Place adhesive dashes onto the flat-wire base where you want to position the botanical materials. Gently yet firmly press individual blooms onto the adhesive dashes. NOTE: This technique works well with delicate and lightweight botanicals and is less messy than liquid floral adhesive.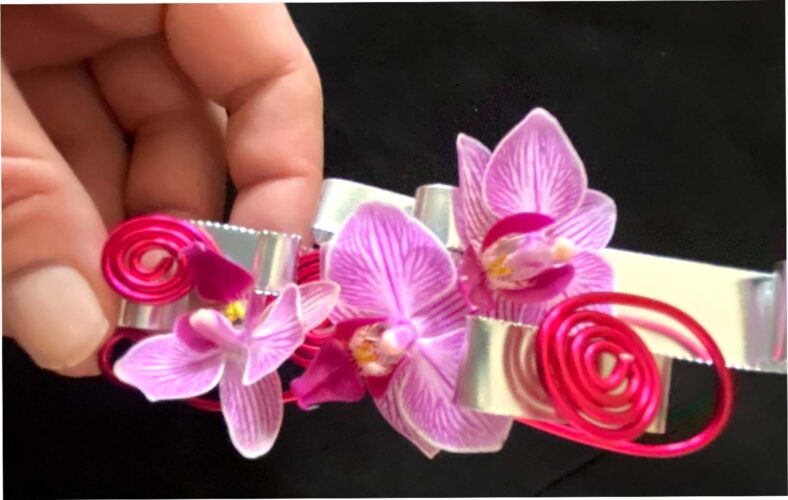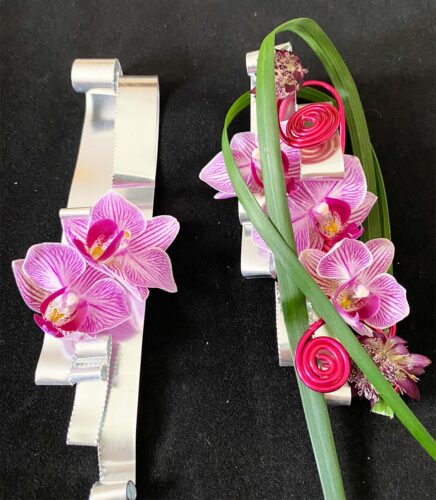 Step 4
Artfully arrange blades of lily grass to create movement and dimension. Attach the lily grass to the flat-wire base, where desired, with adhesive dashes.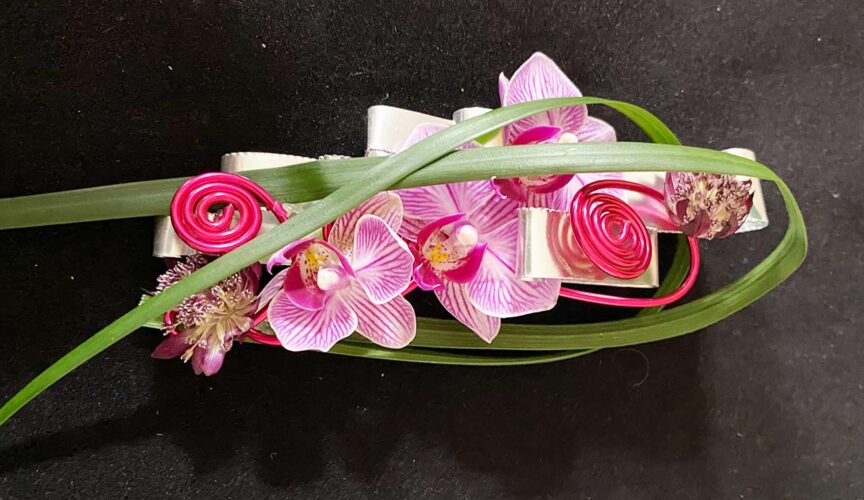 Step 5
Attach a BoutStix™ Floral Magnet to the backside of the flat-wire base with adhesive dashes.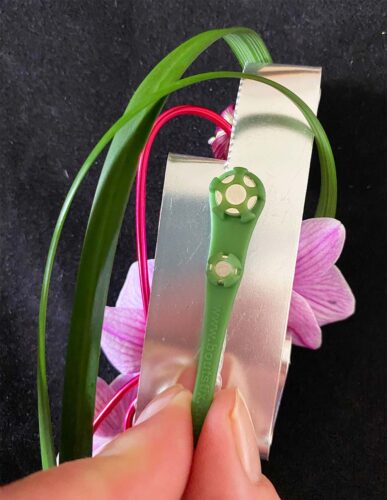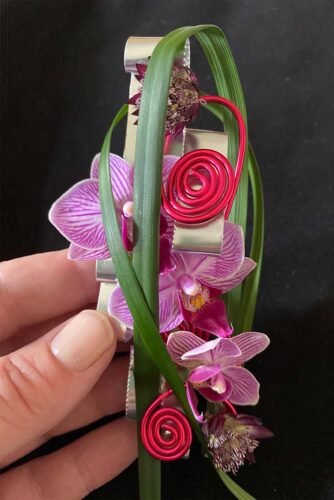 MATERIALS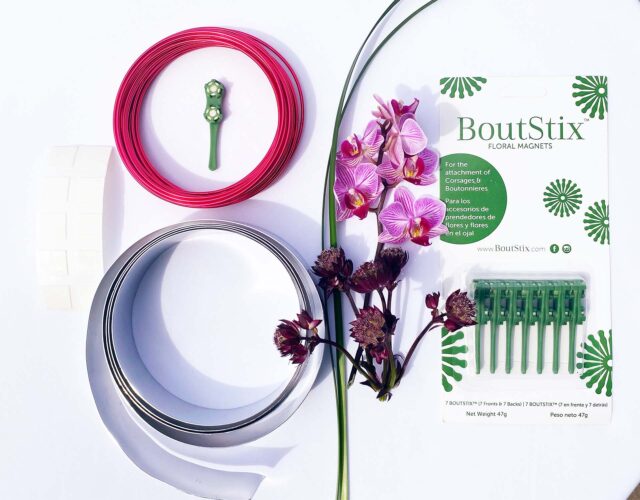 BOTANICALS
• Phalaenopsis amabilis, miniature (moth orchid)
• Astrantia major (masterwort, great masterwort)
• Liriope muscari (lily grass)
HARD GOODS
• BoutStix™ Floral Magnets
• OASIS® 1" Flat Wire, Silver
• OASIS® Aluminum Wire, Red
• OASIS® UGLU™ Adhesive Dashes