The importance of transporting your floral products and getting them to their destination safely
By Nita Robertson, AIFD, CFD
Safely and securely transporting your flower arrangements and plants is a crucial part of the flower business, and until recently, florists were one of the few businesses that provided low-cost same-day delivery of their products. My, how times have changed!
So, to compete with all manner of other retailers offering same-day—and, in some cases, one-hour—delivery, how can you deliver your flowers and plants quickly and efficiently—and so that they arrive at their destination in the same shape as when they left your shop? Here, we explore three leading delivery systems for florists that assist in keeping your flowers and plants safe during transport, as well as delivery tips and tricks from florists around the country.
DELIVERY SYSTEMS FOR FLORISTS
Seminole Floral Delivery System
Sanford, Fla.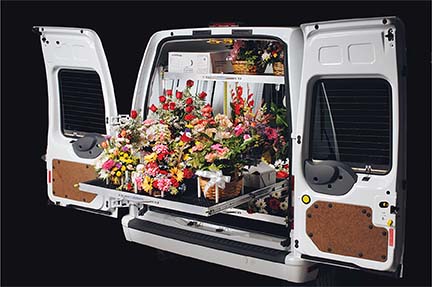 The Seminole Floral Delivery System features a series of durable interlocking plastic grid sections, which form the base structure, with multiple sizes of plastic pins and clips that lock in flower vases and containers and plant pots to prevent turnovers when transporting. This versatile customizable system accommodates virtually any size vase, arrangement or plant; everything fits, no matter the shape or shape.
Seminole's starter kit includes 48 6-inch-by-8-inch sections of plastic grid and 72 plastic pins in five lengths, from 4 inches to 12 inches. Additional grids, pins and bud vase clips are available for purchase separately.
FEATURES
• Versatile and easily customizable, for securing any size and type of container
• Fits all types of vehicles
• Durable, with long product life
Floral DeliverEase
St. Louis, Mo.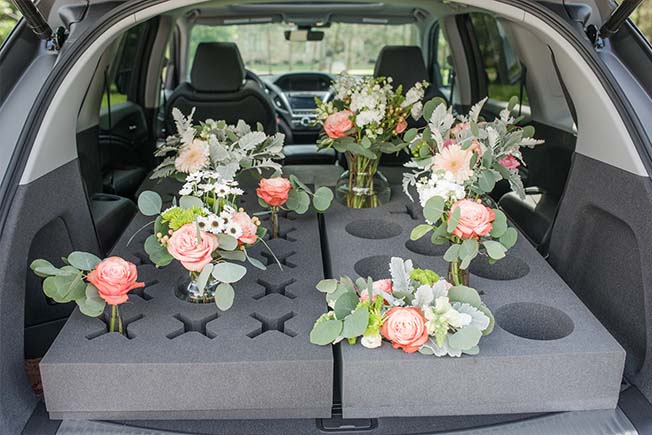 Floral DeliverEase was invented in 1986 in St. Louis, Mo., by an engineer whose wife owned a flower shop. While making deliveries one holiday, he noticed several flower arrangements had been damaged during delivery, and he knew there had to be a better way. Floral DeliverEase's foam delivery stabilizer system enables you to transport floral designs to homes, businesses, weddings and special events safely and securely, helping prevent broken stems, cracked containers and spilled water. The foam stabilizers are made of durable polyurethane foam; water and skid resistant; and designed to provide the perfect amount of space between arrangements, to avoid damage during loading, unloading and delivery. They are also easily transferable from one vehicle to another, which is especially convenient during holidays and other busy times when contract drivers are often employed. In addition, the Floral DeliverEase system is designed to fit any vehicle and to accommodate a variety of container sizes, with 4-inch, 5-inch and 6-inch round, square and "X"-shaped "holes."
"Our foam transport system makes flower delivery stress free," says Sharon Henning, owner of Floral DeliverEase. "Floral designers can finally design in their shops without having to redesign arrangements on site. You'll find immense peace of mind knowing your deliveries will reach their final destinations looking as fabulous as they did on your design table."
FEATURES
• 100 percent made in the U.S.A.
• Made of durable, lightweight and flexible polyurethane foam
• Accommodate a variety of container sizes and shapes
• Water resistant
• Skid resistant
• Easy to use in all types and sizes of vehicles
• Easily transferable from one vehicle to another
TRANSPORTER 10® by Chrysal
Miami, Fla.
http://www.chrysalflowerfood.com/transporter-10-the-only-way-to-deliver-floral-arrangements/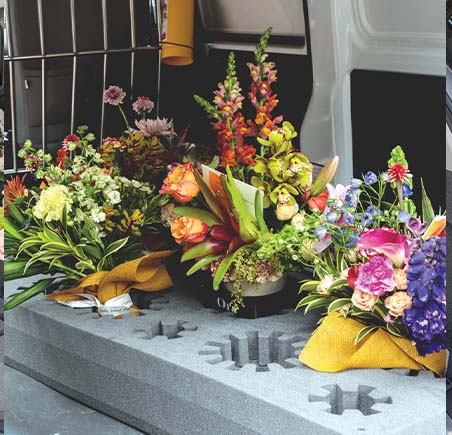 The TRANSPORTER 10® All-in-One Delivery System ensures that flower arrangements and plants arrive at their destinations looking as good as they did on your design table. Engineered with graduated sizes of openings, TRANSPORTER 10®'s sturdy and durable blocks securely hold containers of all sizes and types, up to 10 inches in diameter at their bases. With three styles and sizes of floral vase blocks to choose from (5 Hole, 6 Hole and 8 Hole), there is a size to fit every need. They also feature nonskid bottoms and handles embedded in the base for easy carrying. And the blocks can be configured to maximize space in any type of vehicle, from cars and SUVs to vans and box trucks.
"These are hot items; we sell out of them every holiday," says Mimi Martinez-Pacheco, marketing director for Chrysal. "What makes them different are the graduated openings that fit any size and type of container. They have nonslip bottoms that keep them from sliding, and they have side slits that enable the delivery person to carry them."
FEATURES
• Suitable for any size container
• Fits all types of vehicles
• Will not slide when loaded
• Absorbs road shock
• Handles embedded in base for easy carrying
• Resists mold and mildew
• Lightweight and easy to clean
• Durably designed for years of service
Delivery Tips and Tricks for Florists
Start with great design mechanics when creating your arrangements, to give them as much durability and stability as possible. Load and unload your arrangements and plants carefully into your delivery vehicle, and use your choice of floral delivery systems, to give your flower arrangements and plants a safe ride to their destinations.
In lieu of the professional floral delivery systems highlighted in this article, many florists use old-school methods to secure and stabilize arrangements and plants in their delivery vehicles, including tube sandbags and bungee cords. While these items can be effective, they also can be cumbersome.
It is also important to keep a small tool kit in your vehicle, with a knife or snips, zip ties, wire, etc., so you can make any needed repairs on site. Some florists also load a small bucket of extra flowers in their vehicles so they can make replacements, when needed. This is especially helpful for weddings and event work. Most important, though, is training your drivers how to handle, load and unload flower arrangements and plants properly—and stressing the importance of doing so.
Paulina Nieliwocki, owner of Blue Jasmine Floral in Berkeley Heights, N.J., shares her tips for transporting floral designs. "Waxed tissue in a snug box is a must when packing for retail deliveries because the waxed tissue can withstand a little water drip," she recommends. "As for events, footed vessels need a lot of packing at their bases to make sure they don't tip or shift during transport. Also, save all of the paper and packing that comes with your flowers and hard goods. Reusing these materials is a great money-saver and a great way to reduce your paper consumption."
The boxes that your flowers come in also can be reused to help transport flowers. They are good for packing personal flowers, like corsages and boutonnières, and they are great for garlands. In a pinch, you can cut "X"s in the lid of a flower box, to create a transport for vase arrangements. You can reinforce the box by applying duct tape around and between each "X" cut.
Valen Ibarra, owner of Blumenhaus in Denver, Colo., shares her deliver processes. "I don't have a delivery van; I usually transport in my car. I buckle in the flowers, literally like toddler. Also I keep a few bottles of water in my car, in case any water spills, as well as a bottle of FloraLife® Crowning Glory®."
Event and wedding designer Nicole Gilbride, owner of Beholden Blooms in Frankfort, Ky., shares, "I'm an event florist who does only a handful of events each year, so I don't need to invest in a delivery van or trailer; I simply rent the vehicles I need for my large events. I advise considering the frequency of use before investing in a vehicle, as well as calculating the costs of buying versus renting."
Gilbride also offers these pieces of advice, based on her experiences with weddings and events.
1. Consider your stabilizing and support structures. I use the Seminole Floral Delivery System for my event delivery, but be sure to investigate, and invest in a system that works for you. Ask other florists what they use, or take notes when you're freelancing."
2. Consider creating vertical designs if you have limited space in your vehicle. Just be sure to adequately stabilize them.
3. For event work, hire and train extra hands for loading and unloading vehicles. Having a team of people who know how to properly secure things for delivery and can load and unload vehicles rapidly is key.
4. Plan for product loss during transport. I always take a bucket containing two of each bloom used in the designs, in case anything breaks during transport. I also carry an extra container or two. Having the right supplies and a few extra flowers will enable you to solve problems if an emergency arises.