Floral Design and Text by Jasmine Corzo Bath
OFFER YOUR CUSTOMERS FRESH, MODERN AND UNEXPECTED DESIGNS THIS AUTUMN SEASON.
When we think of traditional colors and flower arrangement styles for the fall season, we typically gravitate toward hues of oranges, yellows and browns, designed as a centerpiece or in a cornucopia style. Most customers will be satisfied with arrangements in that palette and those styles for celebrating fall because they will be just what most people expect. This fall, however, consider offering your custom- ers a new way to enjoy the season's bounty with a fun, modern alternative to traditional fall designs. Using pinks, purples and beiges, with yellows added in for a bright contrast, an oversized hand- tied bouquet incorporating seasonal items such as colorful Indian corn and persimmons will make a delightful—and unexpected—presentation for multiple occasions throughout the season.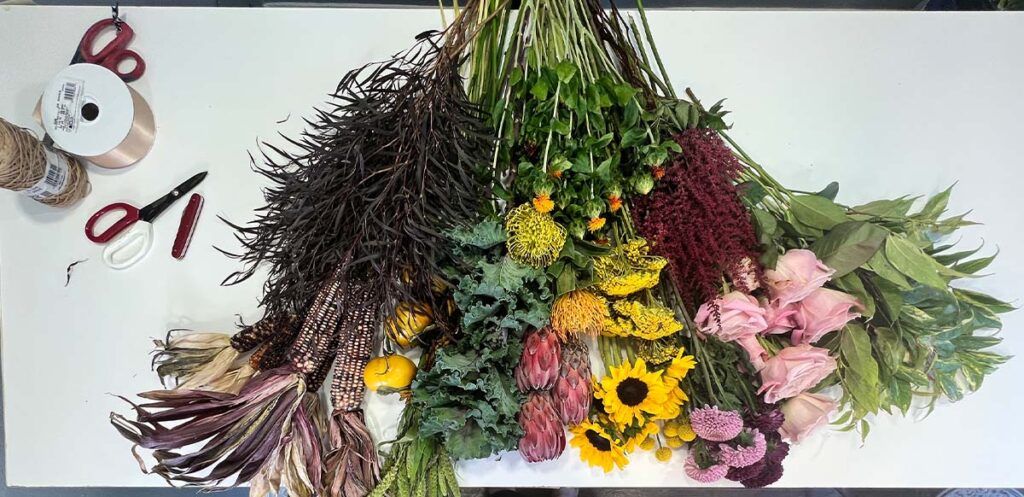 Step by Step
STEP 1 GATHER THE BOUNTY
As with any bounty, there is an abundance of seasonal and fresh items in this bouquet. Using a soft color palette of pinks, purples, beiges and yellows, select 10 to 14 types of botanicals, including focal flowers, filler/ accent flowers and greenery. Make sure there is a nice balance of colors and plenty of variety in textures. Also include two or three interesting seasonal vegetable or fruit items to complement the flowers you've selected.
STEP 2 PREP THE FRUITS AND VEGETABLES
Using a hot-glue gun, wood skewers and florist wire, secure the fruits and/or vegetable items in place. Bundle three ears of Indian corn, and hot-glue them together
at the bottom, making sure you can see all three from one angle. Wrap the bottom of the ears of corn with paper-covered wire, for additional security. Tape three skewers together with the waterproof tape or stem wrap, and hot-glue the skewer bundle to the bottom of the corn bundle, to give it a strong stem. For smaller items like persimmons, attach a single skewer wrapped with waterproof tape or stem wrap, and secure with hot glue.
STEP 3 PREP THE STEMS
Once you have selected all of your materials, clean the stems you plan to use, leaving the topmost leaves in place, which will add volume and texture to the bouquet. Lay
out all of the stems on your design table by color and type; this will allow you to easily select the stems you wish to use as you design the bouquet.
STEP 4 BEGIN THE DESIGN
Begin designing by selecting a tall floral material to start with, and place it in your hand, with the top facing away from you. Select another tall item next, with the top facing you, and cross the stem in front of the first stem. Continue adding the taller materials, placing each subsequent item behind the previous stem. Continue to crisscross stems from front to back, making sure the stems form a circular spiral. Holding the stems loosely, to allow the design to be organic. Continue with the same technique as you get to the smaller items. Once you have arranged most of the flowers and foliages, add the vegetables and fruits in through the top, making sure to give them prime placement.
STEP 5 ADD FINISHING TOUCHES
Once you are happy with the design, wrap the stems with paper-covered wire (or a binding material of your choice) multiple times, to ensure they are secure. Next, cut the stems to the longest length possible, making sure most of the stems are the same length. Cut them straight across so the bouquet can stand on its own, if needed. Finally, wrap the binding point with double-face satin ribbon in a complementary color, covering the binding wire or tape, and tie a loose bow.
HARD GOODS
Double-face Satin Ribbon (No. 9, Oyster) from Offray
OASISTM Bind Wire from Oasis Floral Products
OASISTM Florist Wire from Oasis Floral Products
OASIS® Waterproof Tape or Floratape® StemWrap from Oasis Floral Products
OASIS® All-temperature Glue Sticksfrom Oasis Floral Products
Wood skewers
BOTANICALS
Rosa spp. 'Nautica' (hybrid tea rose)
Helianthus annuus (sunflower)
Leucospermum spp. (pincushion)
Protea susannae 'Pink Ice' (stink-leaf sugarbush)
Chrysanthemum x morifolium (disbud mum)
Pycnosorus globosus [formerly Craspedia globosa] (billy button, drumstick)
Achillea millefolium (common yarrow, cottage yarrow, Western yarrow, milfoil, devil's nettle)• Anigozanthos flavidus (kangaroo paw) • Astilbe japonica (false goat's beard,false spirea/Spiraea, florist's spirea/Spiraea) • Carthamus tinctorius (safflower)
• Brassica oleraceae Acephala Group(ornamental kale)
• Zea mays subsp. mays(maize, Indian corn, calico corn) • Diospyros kaki(Japanese persimmon, Oriental persimmon) • Setaria italica (foxtail millet)
• Ficus benjamina 'Variegata' (weeping fig) • Agonis flexuosa 'Burgundy'(peppermint willow, Australian willow myrtle)