Featuring spectacular genetically modified "purple" flowers from Suntory Flowers, this flower installation is stunning for weddings and events of all kinds.
Floral design, photos and text by Nita Robertson, AIFD, CFD
Presented by Suntory Flowers Limited
The broken arch and pillar styles of floral installations have been exploding in popularity over the past few wedding seasons. These trendy structures are stunning for not only wedding ceremonies but also backdrops, selfie photo stations and other uses, at events of all kinds. While there are many ways to make broken arches and flower pillars, including commercially available metal frames designed especially for these purposes, I created this hybrid structure using versatile pipe-and-drape upright poles and base plates, which provide the stability and strength necessary for these types of designs, particularly when they are installed outdoors.
In addition, this design showcases the spectacular new BluOcean® collection of violet-blue spray-type Chrysanthemum from Suntory Flowers Ltd., which was launched in fall of 2022. The five varieties, which range in hue from deep purple to lavender-blue, were developed by Suntory Flowers, in collaboration with Japan's National Agriculture and Food Research Organization (NARO).
Scientists at Suntory and NARO incorporated delphinidin genes—a plant pigment found in naturally blue flowers such as Delphinium, Campanula and Viola—into mums' genetic blueprint. This is the same process that Suntory used to create the "blue" Florigene® 'Moon' series of standard and spray carnations as well as the 'Suntory Blue Rose Applause™', which are also featured in this design.
STEP BY STEP
Step 1
Set up two pipe-and-drape upright/vertical poles (one shorter than the other) and metal base plates, making sure the poles and bases are sturdy enough to support the weight and height of the design. If setting up outdoors, make sure the base plates are on level, stable ground and that the poles are perfectly vertical. Consider placing a cinder block or a concrete block atop each base plate for additional weight and stability.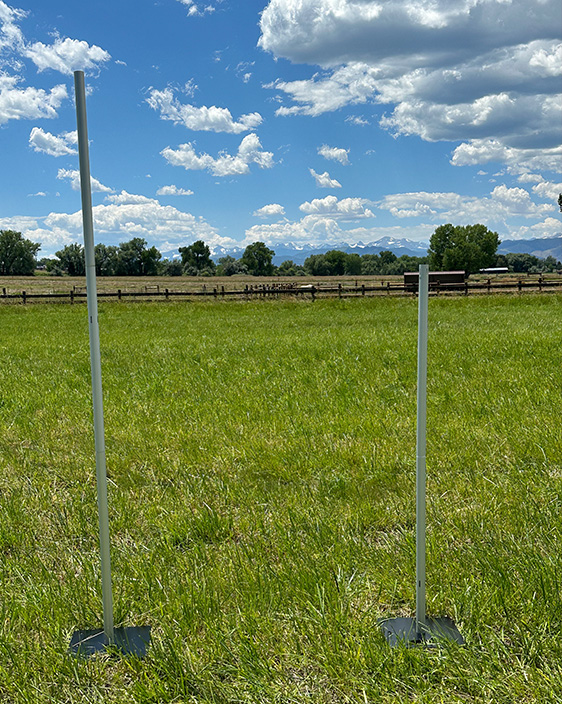 Step 2
Attach pieces of PVC grip-type drawer/shelf liner to each pole with cable/zip ties, at the points where you want to position the floral-foam cages. This will create nonslip surfaces that will prevent the floral-foam cages from sliding down the poles.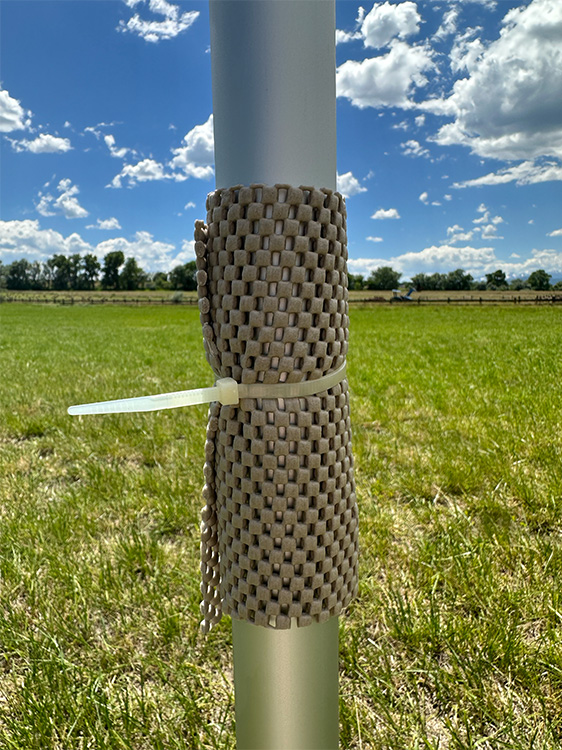 Step 3
Thoroughly soak floral-foam cages in properly proportioned flower-food solution, and then attach them to the poles with cable/zip ties, threading the ties through the attachment eyelets at both ends of the cages. Tighten the ties firmly around the liner pieces. For a freestanding structure, attach cages facing all directions around the poles, to create all-sided designs; if the installation will be close to or against a wall, attach the cages facing primarily forward. Also, if you use foliages that can withstand being out of water, consider attaching pieces of chicken wire between the cages, for arranging stems of foliages to camouflage the poles.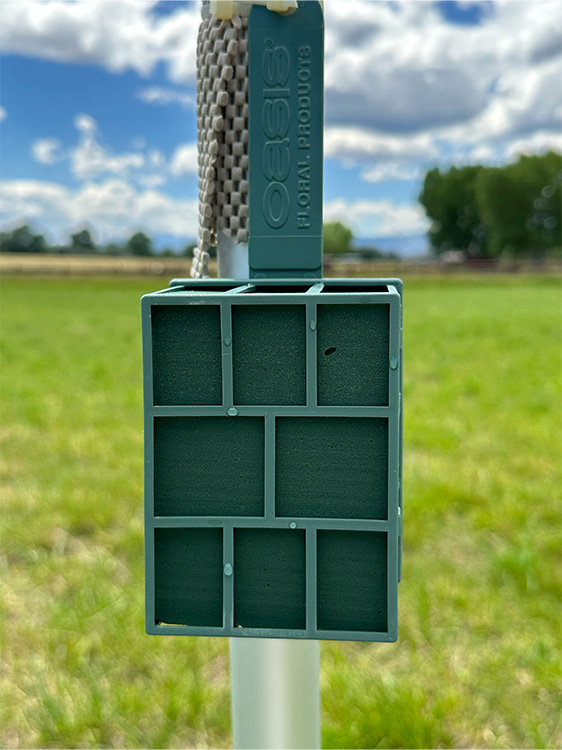 NOTE: Other options for mechanics include OASIS® Sealed Brick Garlands and OASIS® Floral Foam Garlands, which can be placed to hang downward or wound around the poles.
Step 4
Start arranging foliages to establish the shape and dimension of the designs and to cover some sections of the poles. Items that can withstand being out of water can be arranged into the chicken wire.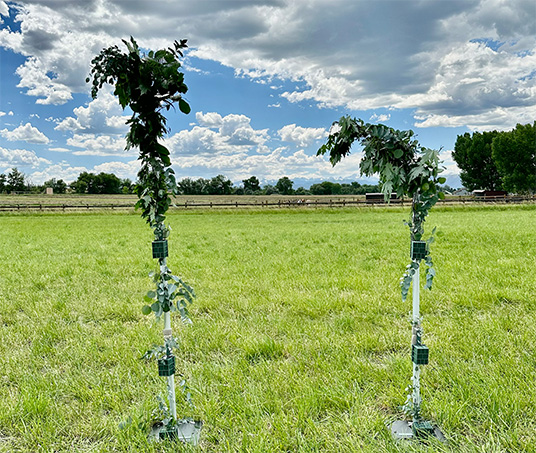 Step 5
Arrange flowers into the floral-foam cages. Create dimension and depth within the designs by arranging flowers at varying levels. Finish the designs by filling any open spaces and covering all exposed mechanics with additional flowers and foliages.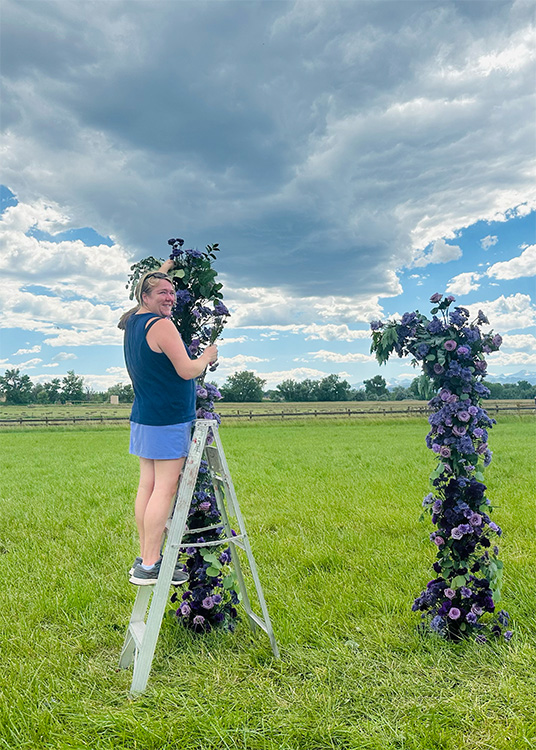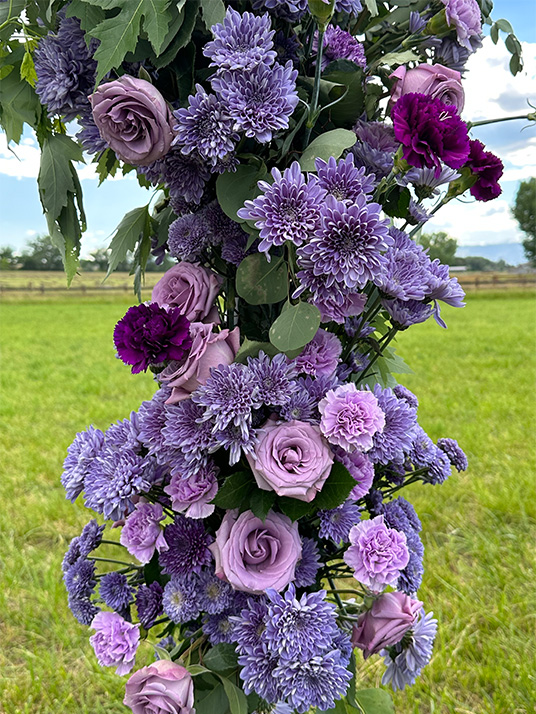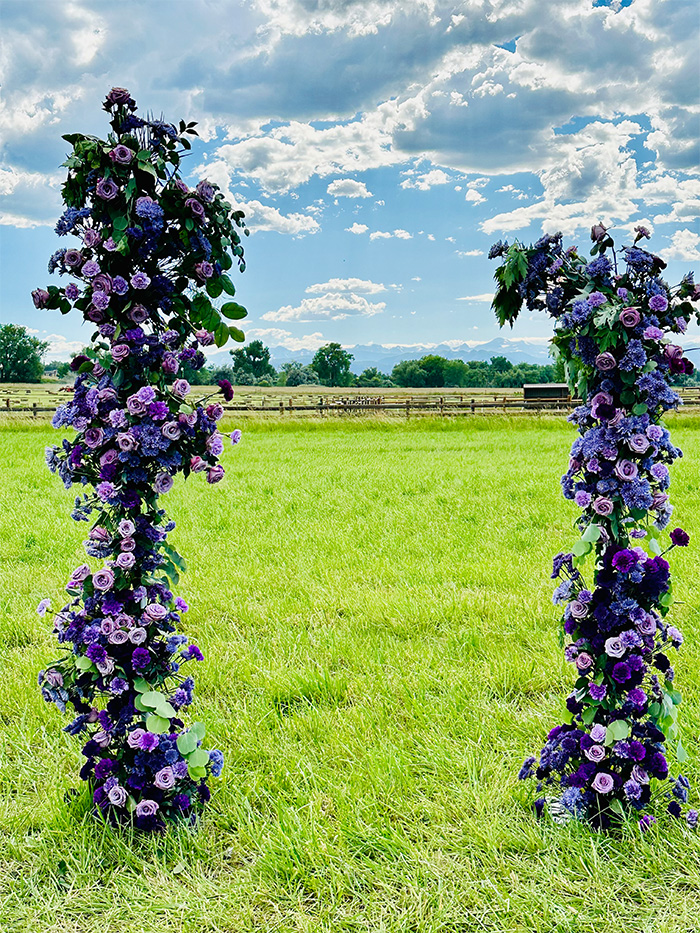 Materials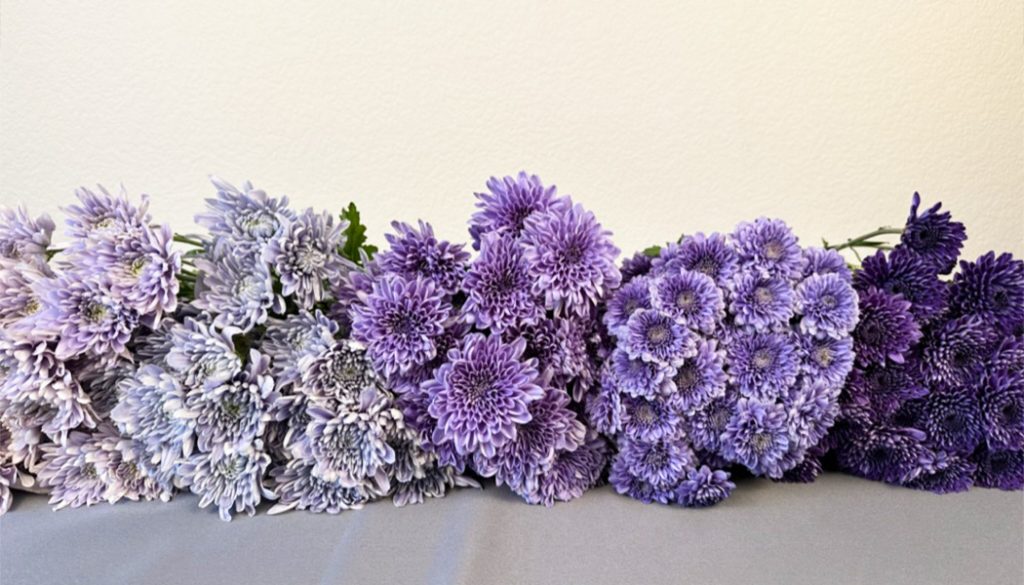 BOTANICALS from Suntory Flowers Ltd./Florigene Flowers
• Chrysanthemum × morifolium 'BluOcean® Purple Coral' (spray mum—decorative novelty pompon bloom type)
• Chrysanthemum × morifolium 'BluOcean® Purple Jade' (spray mum—decorative novelty bloom type)
• Chrysanthemum × morifolium 'BluOcean® Purple Sapphire' (spray mum—cushion pompon bloom type)
• Chrysanthemum × morifolium 'BluOcean® Sapphire' (spray mum—cushion novelty semidouble bloom type)
• Chrysanthemum × morifolium 'BluOcean® Opal' (spray mum— cushion novelty semidouble bloom type)
• Dianthus caryophyllus 'Moonaqua™' (carnation)
• Dianthus caryophyllus 'Moonshade™' (carnation)
• Dianthus caryophyllus 'Moonvista™' (carnation)
• Rosa spp. 'Suntory Blue Rose Applause™' (hybrid tea rose)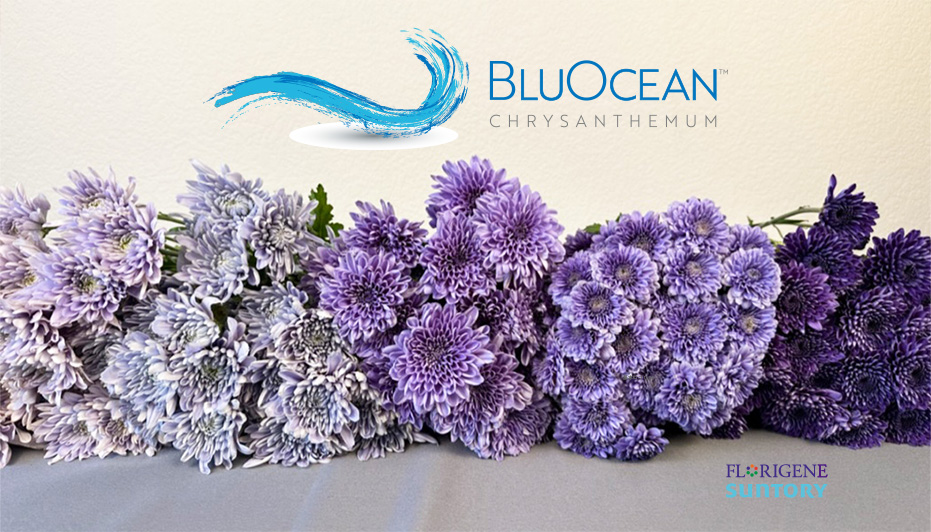 OTHER BOTANICALS
• Eucalyptus polyanthemos (silver-dollar gum, silver-dollar tree, red box)
• Asparagus virgatus (tree fern, tiki fern, broom fern)
• Acer macrophyllum (big-leaf maple, Oregon maple)
HARD GOODS
• Floracage® Holder from Smithers-Oasis
• OASIS™ Florist Netting
• Pipe-and-drape upright/vertical poles and base plates
• PVC strong grip drawer/shelf liner
• Nylon cable ties/zip ties
• Cinder blocks or concrete blocks (optional)