By Nita Robertson AIFD, CFD
The theme of Fleurs de Villes' Hudson Yards Show in New York City was "Voyage" and what a voyage it has been for "Best in Show" winning florist, Serbio Uzcategui.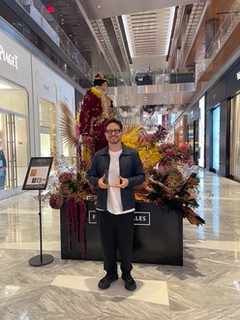 The owner of a thriving eyeglass store in Venezuela, he fled the South American country and got political asylum in the United States five years ago in 2017. Like many legal immigrants in New York, he got a job as a waiter at restaurants. He also supplemented that income by working as a waiter for catering companies where he noticed so many leftover flowers from weddings and corporate events.
"I would take the ones that were going to be thrown out and make my own arrangements," he recalls. "I had never worked with flowers before but found myself so drawn to them." He then also started learning about floral arrangements.
His bosses at Mercado Little Spain at Hudson Yards noticed his talent too – and gave him a flower concession store. Another person who noticed his talent when dining at the restaurant was Jill Brooke, Flowerpowerdaily's founder and Florists' Review contributor.
Talking to him at the restaurant last winter, Brooke offered to connect him to Fleurs de Villes' owner Tina Barkley who was auditioning NYC florists for the 2023 Hudson Yards October show. Uzcategui had mentioned to Brooke that he would love to do artistic floral installations. Brooke recognized his talent and wanted to help.
She made the email contact and never thought about it again. Imagine the surprise when months later, Brooke, who was one of the judges along with Corrine Heck of Details Flowers Software, learned that the top winner for the Fleurs de Villes show was Serbio who now owns Piropo Flowers.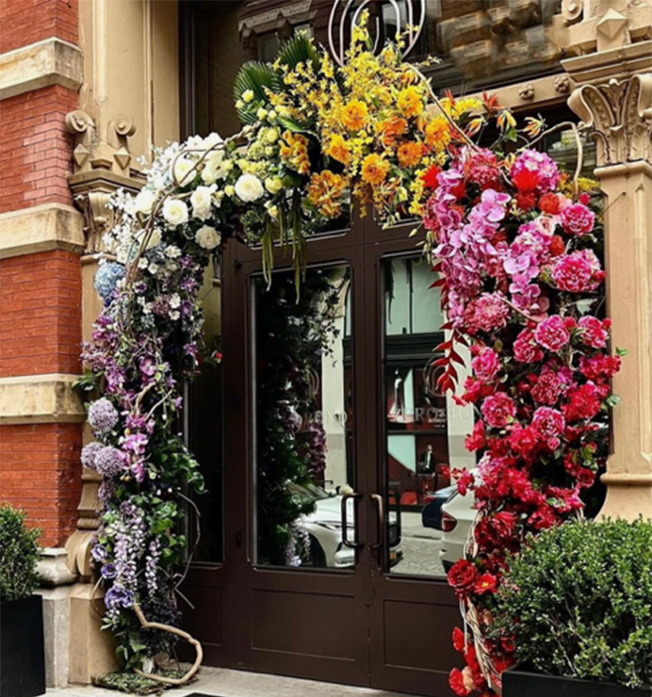 "I love this country," says Serbio, noting that this win was a combination of the kindness of strangers and hard work as well as the willingness to try something different.
As Serbio gratefully says, his life is now "blooming" with clients that also include Rolex, Baccarat, Piaget and St. Patrick's Cathedral. Plus the Best in Show Fleurs de Villes award will attract even more opportunities.
For his Fluers de Villes installation Serbio created a fresh floral bullfighter blending historical heritage and artistic prowess, celebrating both the bold and the beautiful. Carnations were used very effectively on the pants, explained Serbio Uzcategui, noting the flower's staying power.
Inspired by the iconic imagery of the bullfighter and the famous sculpture "Mujer y Pajaro," this vibrant floral mannequin melds the passion of the matador with the artistic spirit of the painting. He used yellow crespedia on the shoulder pads.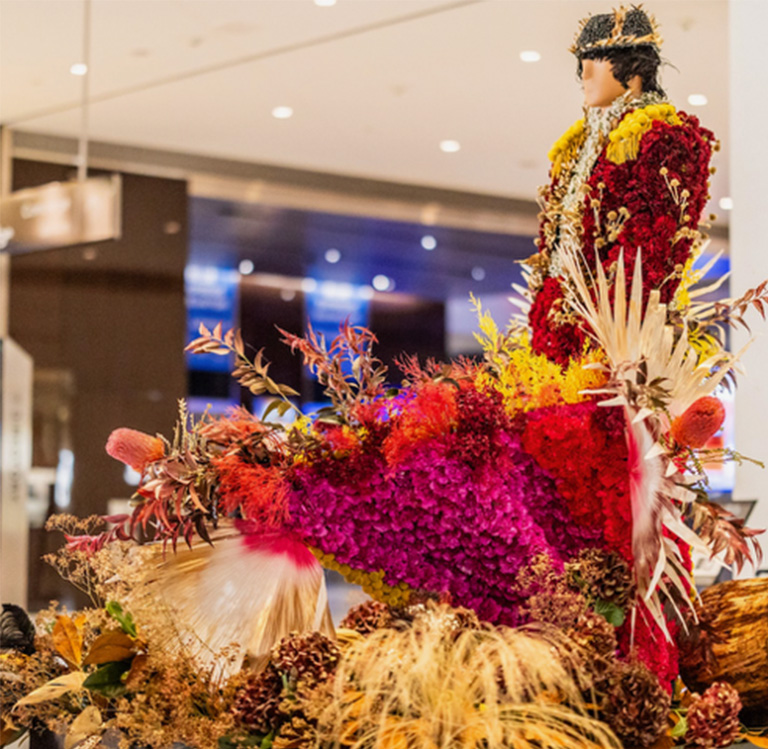 To help others, he also started a non-profit which distributes flowers monthly to those who need "a little hope.
Don't miss the next show at Prudential Center this November for the Boston premiere of Fleurs de Villes VOYAGE and embark on a floral journey of discovery to destinations around the world.
Here are other fabulous entries from the recent Fleurs de Villes show. See the full article covering the show at Flowerpowerdaily