By Nita Robertson AIFD, CFD
For florists, "fall" foliages and fruit-bearing branches can provide a rich and diverse palette of colors, textures and shapes to incorporate into flower arrangements, bouquets and other decorative creations. They also add depth and character to floral designs that capture the essence of the autumn season that few other botanical materials can. There are so many fabulous options available these days, so visit your favorite wholesale supplier to see all they have to offer. Here are our top fall foliages and fruited branches for 2023.
Color-turning Foliages
Nothing screams fall more than fresh-cut foliages that are undergoing pigment changes due to the loss of chlorophyll during the autumn season. Offering vibrant hues of red, orange, yellow, gold, bronze/copper, purple, brick red and brown, seasonal stunners include oaks (Quercus spp.); maples (Acer spp.); sweet gums (Liquidambar spp.); and beeches (Fagus sylvatica), with leaf colors ranging from copper/bronze to dark purple—to name just a few.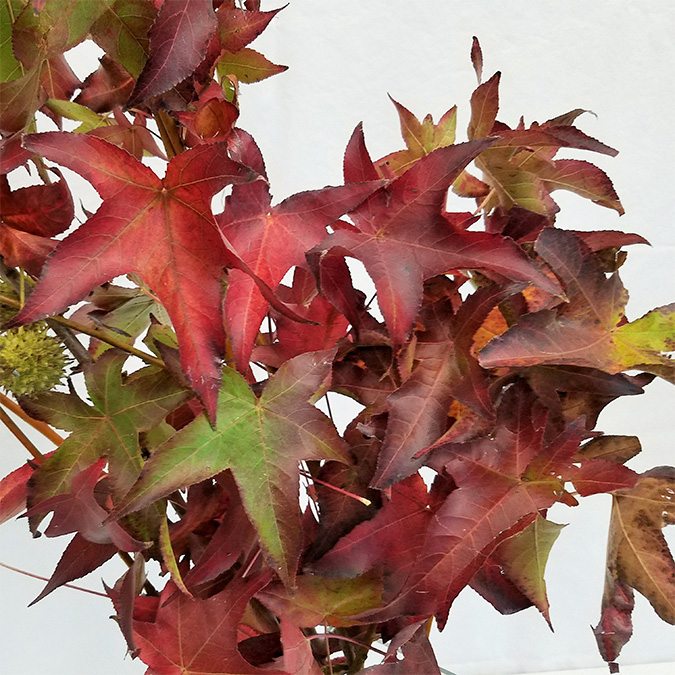 Eucalyptus (Eucalypt, Gum Tree)
The myriad varieties of Eucalyptus—from the "silver dollar" eucalypts (E. cinerea, E. polyanthemos and E. pulverulenta) to the narrow-leaved "willow" gum trees (E. nicholii and E. pulchella) to the daintier E. gunnii (cider gum) and E. parvula (small-leaved gum)—offer floral designers a range of fragrant, colorful (gray-green to blue-gray) and textural foliage options. An exciting new and increasingly available variety is E. stuartiana/E. bridgesiana (apple box, marlock), which changes color in the fall. Most varieties of Eucalyptus also lend themselves well to color enhancement via spray colorants, tints and stem dyes.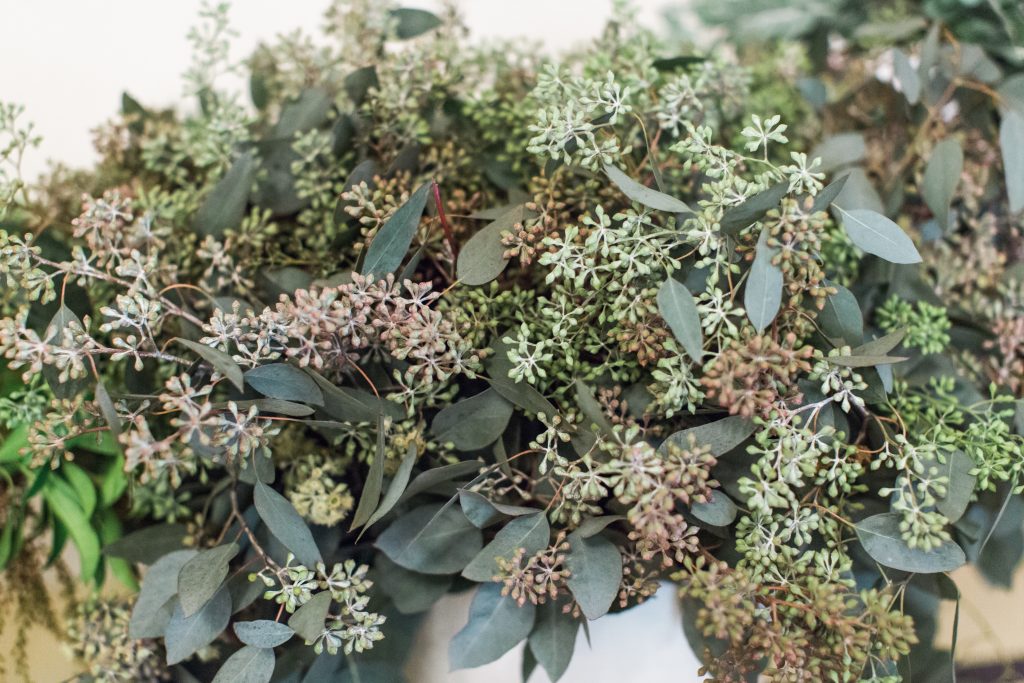 So-called "seeded" varieties of Eucalyptus also add a textural seasonal aesthetic to floral designs. (We say "so-called" because the "operculum," a.k.a. "calyptra," are actually flower buds, not seeds.) Finally, for spectacular season flair, don't forget about the small silver seedpods of E. pleurocarpa (formerly E. tetragona); deciduous branches of blue-gum Eucalyptus seedpods (a.k.a. silver bells, E. globulus); and Eucalyptus gumnuts, which are the woody fruit capsules of gum trees—in particular, E. calophylla (which has been recently reclassified as Corymbia calophylla).
Grevillea (Silky Oak)
Grevillea foliage is an attractive, long-lasting and highly textural greenery that captures the essence of late autumn. This foliage features long, narrow leaves with deeply-toothed edges that range start out in hues that embrace the season ranging from bright yellow-green to coppery red and then age to a glossy green. Grevillea foliage is also ideal for tinting.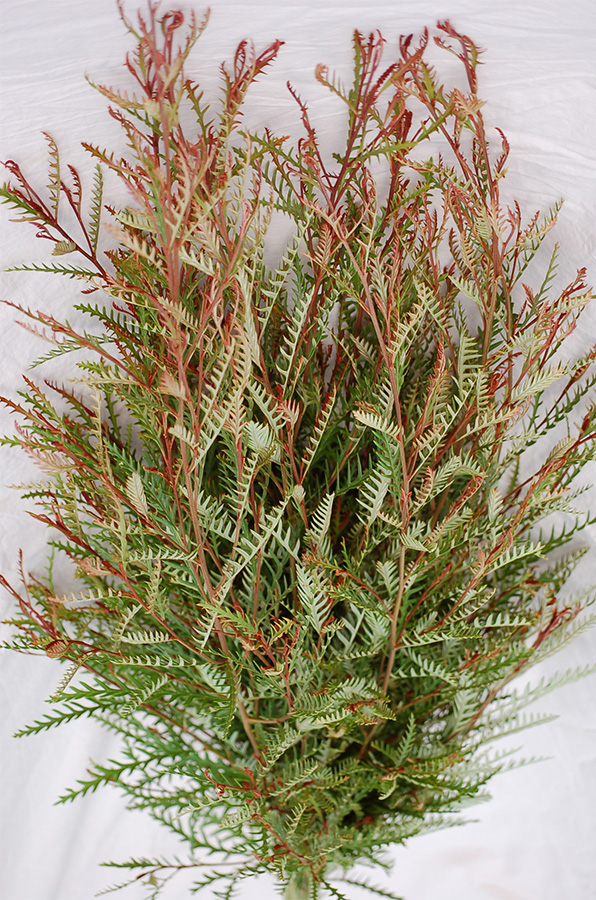 "We sell Grevillea foliage year-round, but fall is when we ship the most, both natural and color enhanced," says Diana Roy, marketing manager for Resendiz Brothers Protea Growers in Fallbrook, Calif. "The most popular variety is the 'Ivanhoe' [a hybrid of G. longifolia and G. caleyi] but the hookeriana species [a.k.a. Grevillea 'Robin Hood'], also a hybrid, does well, too."
Magnolia (Bull Bay, Southern Magnolia)
Magnolia grandiflora is a lush fall foliage, with its large glossy vibrant green leaves and golden brown suede undersides. It's a lovely addition to almost any floral arrangement, and it can be a showstopper by itself or in wreaths and garlands.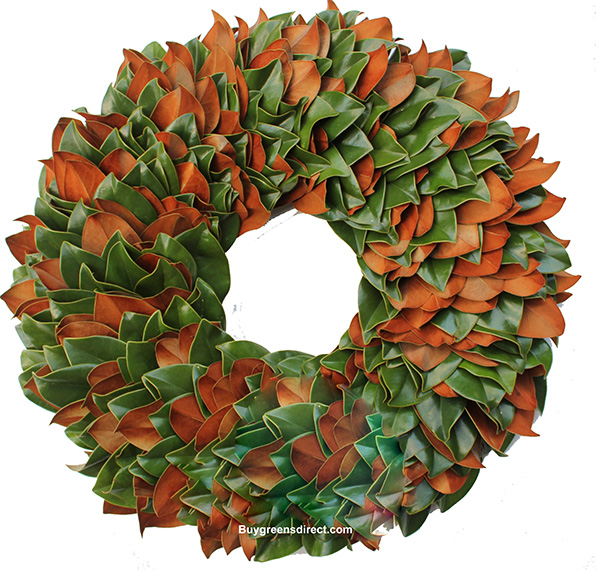 Erik Hagstrom, of Albin Hagstrom & Son in Pierson, Fla., one of the nation's top producers of cut foliages, says, "Magnolia is our No, 1 seller for the fall, from bunches to wreaths and garlands. We start cutting in late September. Magnolia is also one of top foliages for fall at FernTrust, a cooperative of quality foliage growers in Seville, Fla., shares Victoria Register Hunter, FernTrust's director of marketing.
Nandina (Heavenly Bamboo, Sacred Bamboo)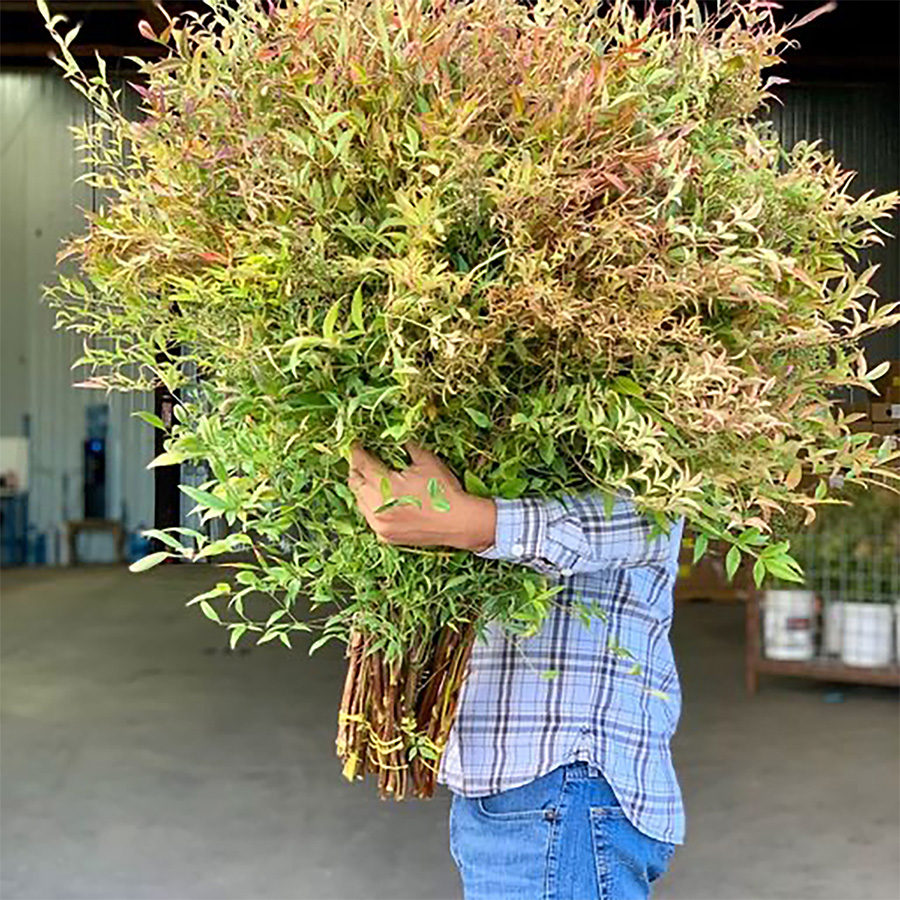 Nandina domestica is characterized by slender green leaves that gradually turn scarlet in the fall, as well as red or white berries, depending on variety and time of the year. It's a vibrant addition to bouquets and arrangements from summer through winter, adding gorgeous color and texture.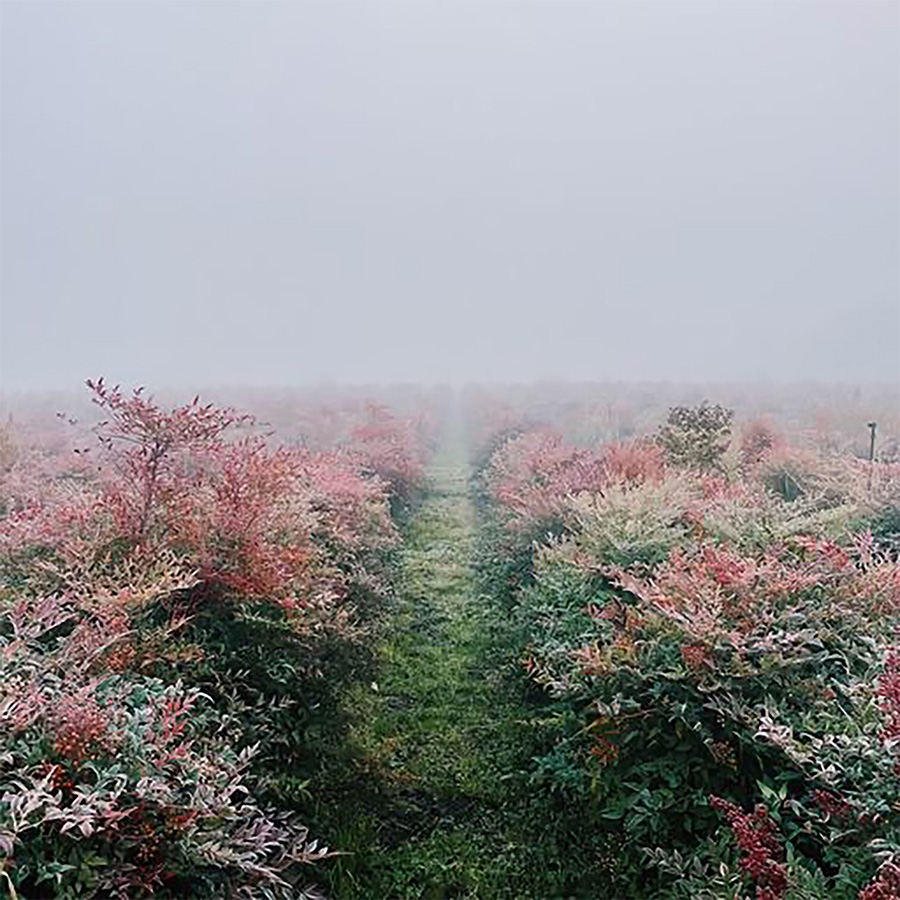 Madison Milgard, marketing assistant at Continental Floral Greens (CFG), which operates foliage farms in California, Oregon, Washington and Florida, says that Nandina is a fall favorite at CFG.

Fruited Branches
Fruit-bearing branches add a seasonal appeal to fall floral designs in spectacular ways. Whether the fruit is large, such as pomegranates and persimmons, or small, like berries, these branches—deciduous or foliated—offer color, texture, form and interest different from other botanical materials. Here is a short list of fruited branches to consider, all of which are grown commercially and available from various growers and wholesale suppliers across the U.S.
• Beautyberry, French mulberry (Callicarpa americana)
• Blackberry (Rubus allegheniensis, R. fruticosus)
• Calamondin orange (Citrus × microcarpa)
• Chinaberry (Melia azedarach)
• Cotoneaster spp.
• Fig (Ficus carica)
• Fire thorn (Pyracantha coccinea)
• Kumquat (Citrus japonica)
• Olive (Olea europaea)
• Persimmon (Diospyros virginiana)
• Pomegranate (Punica granatum)
• Privet (Ligustrum spp.)
• Pumpkins on a stick, Pumpkin tree (Solanum aethiopicum)
• Red raspberry (Rubus idaeus)
• Snowberry, Waxberry (Symphoricarpos albus)
• Tallow berry (Triadica sebifera)
• Toyon, Christmas berry (Heteromeles arbutifolia)
• Viburnum spp.
• Winterberry (Ilex verticillata)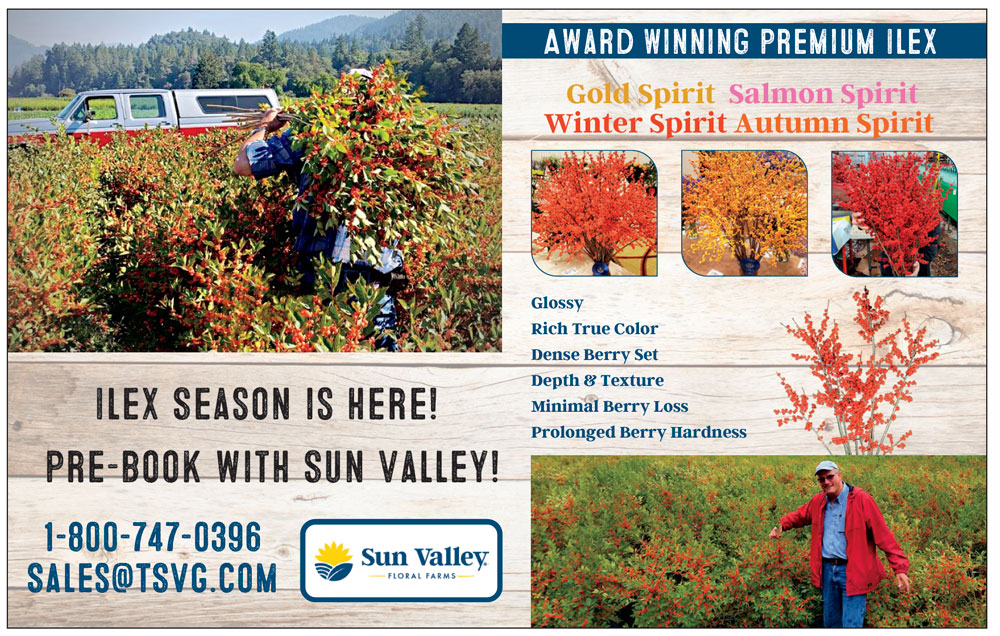 DESIGNING WITH FALL FOLIAGES
When working with fall foliages and fruit-bearing branches, it's important to consider the longevity of the leaves and the fruit; some are more delicate and prone to wilting, so proper care and handling techniques must be employed to ensure that arrangements remain fresh and visually appealing. Ultimately, fall foliages and fruited branches offer florists a wealth of creative opportunities to craft captivating arrangements that celebrate the beauty and spirit of the autumn season.
Color Contrast: The warm, earthy tones of fall foliages, including tints, tones and shades of red, orange, yellow, gold, bronze/copper/rust, purple, brick red, brown and more, can be paired with a variety of flower colors to create striking contrasts.
Texture and Depth: The varied textures of different types of leaves and fruits can add dimension to floral designs. Incorporating leaves with textural surfaces, glossy or matte finishes, multiple colors and interesting patterns can also add visually appealing contrasts. They can also provide a natural background that highlights the beauty of the blooms.
Garlands and Wreaths: Fall foliages and fruited branches can provide a wow factor in seasonal garlands and wreaths whether the composition is monobotanical or features a wide range of products .
Dried Arrangements: Many types of fall foliages, such as maple leaves and oak leaves, can be dried and preserved for use in dried floral arrangements. Dried foliages often retain their color and texture, enabling the creation of long-lasting designs that capture the beauty of the season.
Fall Arrangements, Centerpieces and Tablescapes: Fall foliages and fruited branches can be combined with other seasonal elements, such as pumpkins and gourds, seedpods and cones, deciduous branches and vines, and even evergreens, to create arrangements that evoke the cozy and nostalgic feeling of autumn.
Bridal Bouquets: Fall foliages can add just the right seasonal touches to bridal bouquets, as well as other wedding floral décor.