In this captivating interview, you'll uncover Amber's aspirations to uplift fellow florists, foster a supportive community, and push the boundaries of her craft.
Full Article Below Source
FLORIST INTERVIEW: AMBER LYNN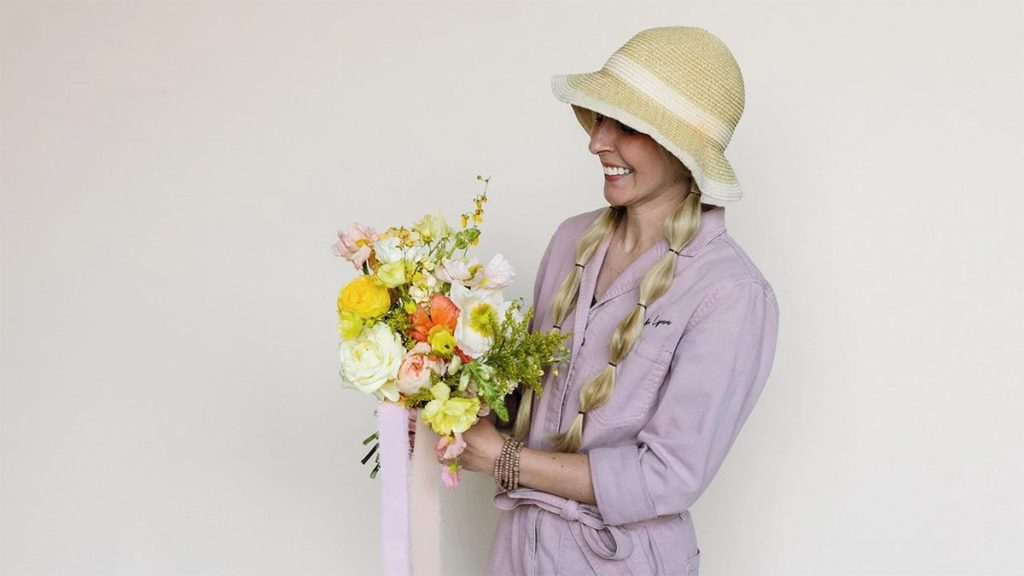 In this captivating interview, you'll uncover Amber's aspirations to uplift fellow florists, foster a supportive community, and push the boundaries of her craft. She shares her secrets to finding inspiration in nature, staying motivated, and navigating creative blocks. Join us as we delve into her dreams of scaling her business, creating breathtaking wedding flowers, and even exploring the captivating Isola Bella garden in Italy.  Prepare to be inspired as you enter the captivating world of Snapdragon Bloom Bar and the incredible floral journey that awaits.
Step into the enchanting story of the floral designer and entrepreneur behind Snapdragon Bloom Bar, where sunshine and blooms collide to create unforgettable moments. Growing up on farmland in Tennessee, Amber Lynn's journey as a floral designer blossomed amidst the vibrant gardens of her grandmother and aunt. It was there that she discovered a deep connection to nature, sparking a passion for flowers that would shape her life's work. From nurturing her own garden to braving the challenges of a new climate, Amber's love for flowers has become a healing force, inspiring her to launch Snapdragon Bloom Bar —a dream business dedicated to spreading joy and "sunshine" through the artistry of floral design. But that's just the beginning…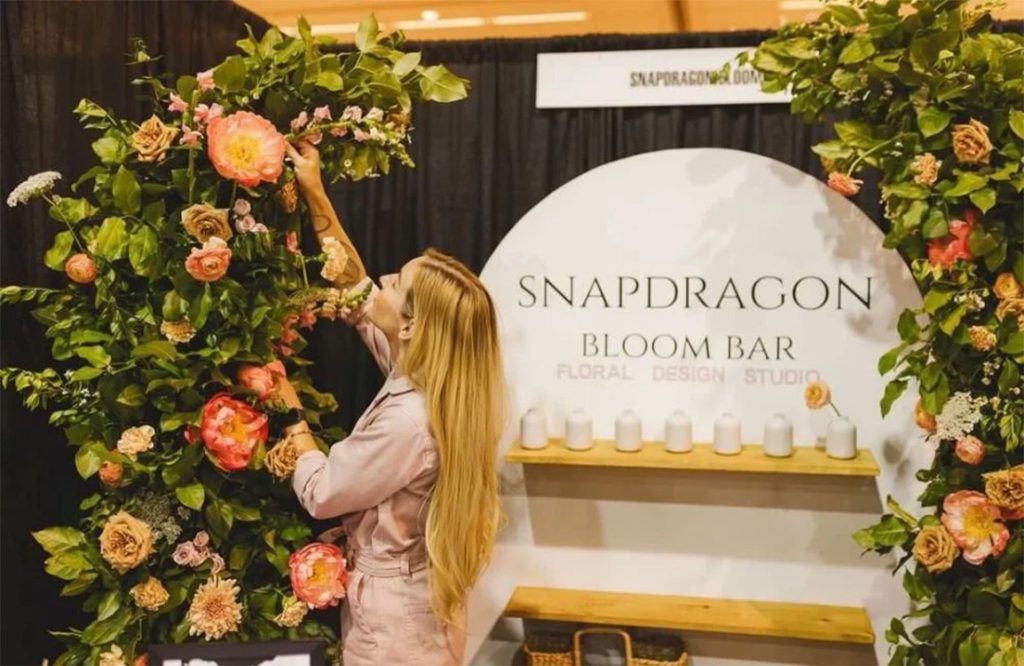 Can you tell us about your journey as a floral designer and how you discovered your passion for flowers?
My journey as a floral designer started in childhood, growing up on farmland in Tennessee. Exploring my Grandmother Martha's garden and my Aunt Rosemary's flower beds, almost my entire family played a part influencing gardening cut-flowers and herbal healing lifestyles. It was then that I realized connecting to nature felt more like home than anything else. As my mother would say, "you're a sunshine for others," but understanding how to share that rooted gift was my ultimate journey. Over the last decade, I have continued my passion for flowers by growing them in my Nashville, TN home garden, including big snowball hydrangea bushes, Queen's Anne lace, and many roses. Moving to Phoenix, Arizona a few years ago has been a wild ride, challenging myself to continue my love for growing seasonal cut flowers in this climate while keeping my florist skills sharp holistically. This passion is not only from a place of love, but it's healing and supports mental health in everyday life. This inspired me to launch my dream business, Snapdragon Bloom Bar, to give "sunshine" to couples on their special day through the medium of flowers.
2. As a floral designer, what do you hope to achieve through Snapdragon Bloom Bar?
As a floral designer, I hope to achieve smiles from every couple when they see their wedding flowers on their special day. I aspire to uplift other florists in our industry by fostering a community of support and positivity, rather than competition.

3. How do you foster relationships with other florists and local suppliers to support and uplift the floral community? 
In a social media driven world, it's very easy to find yourself in a negative headspace, whether it be in your personal or professional life. It's so important for those in our community to uplift each other, whether it be by connecting on social media in positive ways or supporting further education by connecting with peers, so that we can all find ways to grow together.
4. How do you stay motivated and continue to push boundaries in your floral designs, and what advice do you have for other florists who may be seeking inspiration or facing creative blocks?
I stay motivated as a creative by grounding myself in nature. In my garden, I find unfiltered inspiration from dancing flowers in the wind and its overall ecosystem. I push boundaries in floral design by starting with the foundation of understanding the blooming stages of each flower, and relating this to my own journey, as we are not always in full bloom during our evolution. Cosmos, for example, are just as beautiful in their lush and leggy stage, where the buds are just beginning to evolve from a 3 ft ethereal stem that looks organic and free in a bouquet or Ikebana design. My advice for florists who may be facing a creative block is to disconnect and spend time outside at sunrise around wildly growing plants or flowers. Let our instruments of work speak to us. The magic from observing nature in person, its unusual textures, and various stages of bloom, while sitting still can bring mindful inspiration that social media or a good book sometimes can't.
5. Looking ahead, what are your future goals and ambitions as a floral designer? Are there any specific projects or dreams that you hope to fulfill in the coming years?
As an ambitious dreamer and mother, I will continue to teach my nine-year-old son the importance of providing service to all beating hearts, while scaling the business to bring intentionally designed wedding flowers throughout Arizona, Southern California, and the Southwest Region. My goal is to do what I love every day while maximizing my time with my family while we have it on this earth, and enjoy the love stories along the way. Wedding flowers are my niche, but one of my dreams is to visit Italy (not just because I love pasta) and the opportunity to explore Isola Bella. This Italian style baroque garden and old-world architectural elements set my soul on fire.
6. Can you share a success story where our wholesale flowers played a significant role in your designs?
As a luxury florist, I'm only as good as my local wholesaler. My success starts and ends with the Mayesh team, including my lovely sales representative Sarah Lindsey, who has supported me with grace and plenty of pretty pivots. I rely on Mayesh CRM* for floral planning, education, and their team to provide quality and variety in each season. Every time I pick up my preorder for a couple's wedding, that is a success story of its own. Mayesh is family and family always support each other.
7. How do you stay updated with the latest trends and floral styles, and how does our wholesale business support you in staying ahead in the industry?
I stay up-to-date on the latest trends and styles by attending in-person continuing education workshops that align with my brand's niche. Regardless of how many years a florist has under their belt, there are always new techniques and floral innovations to learn for elevating a trendy or timeless style. Mayesh supports florists by offering workshops and bringing in inspirational voices from all around to share their ideas and create a safe space to network with fellow florists. For example, in Spring of 2023, I attended "The Floral Coach, Bouquet Boot Camp" workshop in hopes of diving deeper into color harmony and building more cohesive bouquets while meeting other flower friends. I also had the chance to meet Amy, which was one of my favorite florist fan girl moments, and my color harmony skills have advanced my clients' color palettes ever since!
8. How would you describe the synergy between your creative vision and the quality and variety of flowers we provide as a wholesale supplier?
The synergy between my creative heart and the combination of quality and variety of flowers at Mayesh is an orchestrated dance. Using the Mayesh CRM florist portal planning [Product Planner] is always a positive experience. There are times in seasons when certain colors of a particular flower species are not available, as this is just mother nature doing her thing, but there are always enough varieties and "sister flowers" to leverage!
9. Can you describe how Mayesh has supported your growth and helped you achieve your professional goals as a floral designer?
Mayesh has supported my growth as a luxury wedding florist by delivering quality product, strong communication, and following through on their expectations. My business is thriving, scaling in the last three quarters by reaching sales goals and hitting milestones that wouldn't have been possible without my Mayesh relationships to source the high-end products that my clients are expecting.
10. What is your overall experience with Mayesh? Thoughts, opinions, etc : )
My overall experience with Mayesh has evolved into family. Sometimes I like to visit the team just to say hello and give them gratitude for what they do for florists every day. The best part is when you have the opportunity to buy flowers honoring yourself because florists deserve gorgeous flowers too!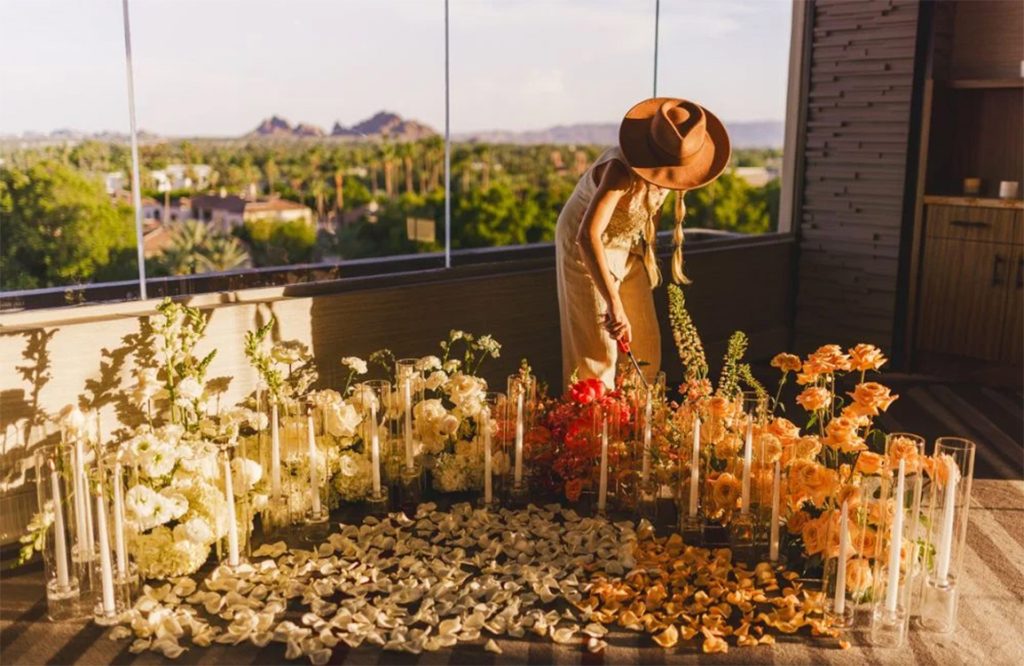 Connect with Amber!
Published by Ana Romero on October 16, 2023