The 6 Flower Trends at the annual Lyndhurst Mansion Garden Show included the use of electric orange gloriosa lilies, lots of moss, unexpected vases, plenty of veggies, and broken floral arches.
Full Article Below Source
The 6 Flower Trends Seen at Lyndhurst Mansion's Flower Show
Article By Jill Brooke FlowerPowerDaily
The 6 Flower Trends planted at the annual Lyndhurst Mansion Garden Show included the use of electric orange gloriosa lilies, lots of moss, unexpected vases, plenty of veggies, and broken floral arches. Also fresh flowers in clothes and hats are also popular.
Each year, Lyndhurst Mansion, where HBO's "The Gilden Age" is filmed, asks the best florists in Westchester to create floral experiences for each room. This popular event raises money for the mansion, which was owned by railroad tycoon Jay Gould in 1880.
Overlooking the Hudson River in Tarrytown, New York, Lyndhurst is one of America's finest Gothic Revival mansions. Designed in 1838 by Alexander Jackson Davis (1803-1892), the mansion's architectural brilliance is complemented by its comprehensive collection of original decorative arts and the estate's park-like landscape.
So what were the trends?
1. Gloriosa Lilies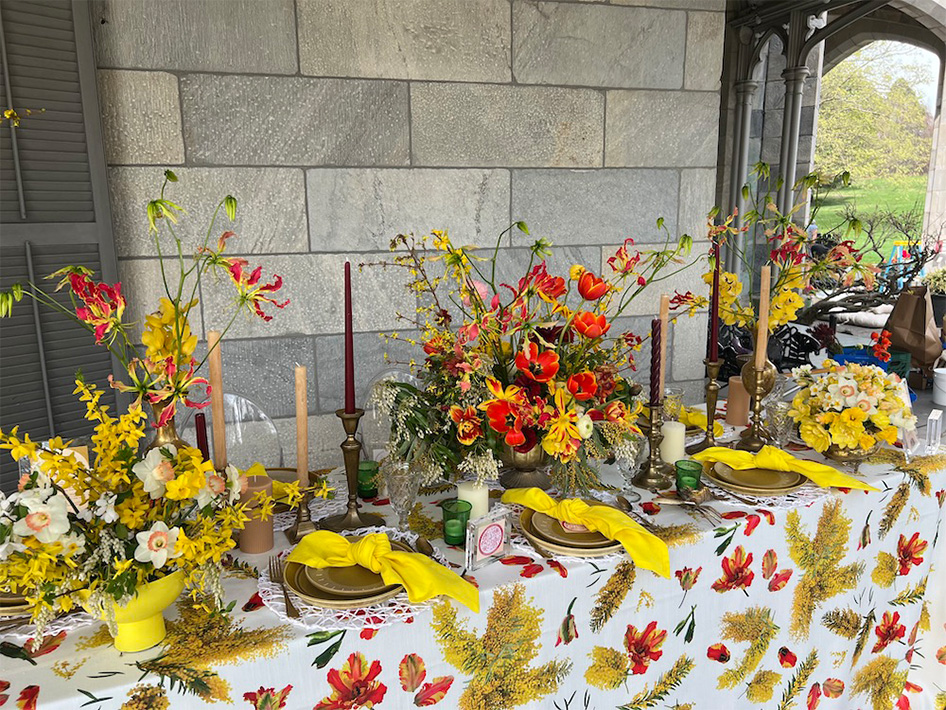 Gloriosa Lilies with their spidery leaves have become uber popular in floral design. Not only for its bright orange and yellow tones but how it creates a statement while also being airy. It also mixes well with greenery and branches, which is a good thing. Gloriosa lilies are over $8 wholesale so are ideal accent pieces.
Sylvia Lukach of Cape Lily Flowers chose gloriosa lilies for a special reason. When designing her lovely floral tablecloth line, she brought her young daughter along for the fun. Lukach's daughter wanted her mom to use the reddish-orange parrot tulip. "I don't even love red and yellow so much but this inspired me," she recalls. And who can refuse your child's request? Lucky us.
Mixing red parrot tulips in perfect bloom along with a variety of daffodils, forsythia, and gloriosa lilies, Lukach worked her magic as she often does. The entry table was a feast for the eyes. Notice the different sizes of the flower vases and how she used alternating colored candles. Just so beautiful.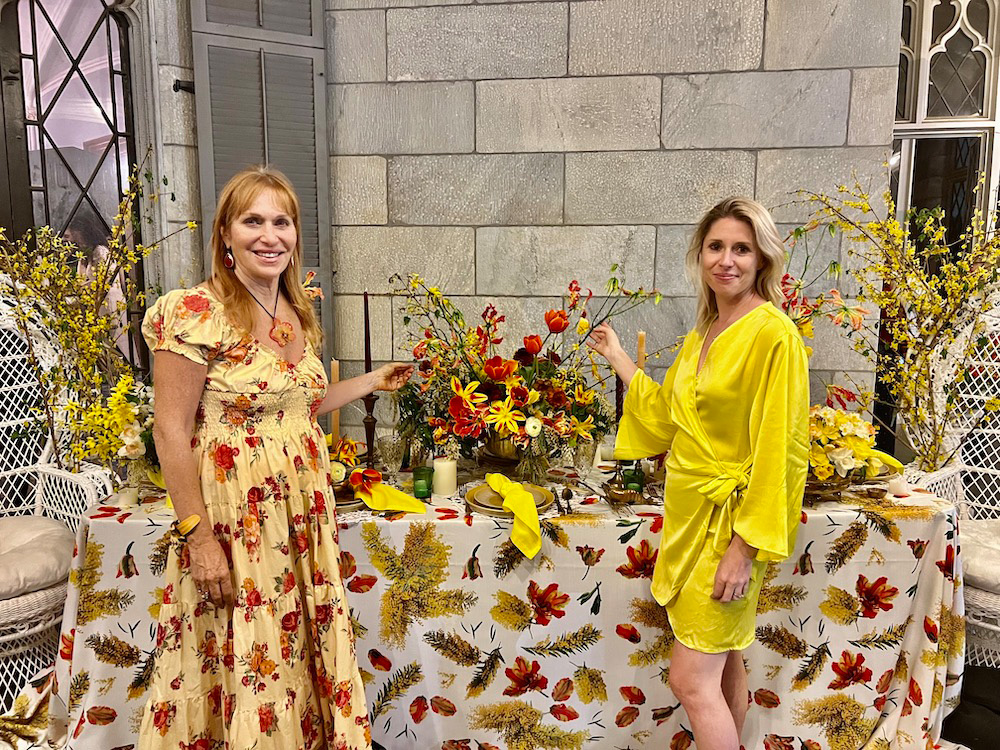 In fact, Sylvia let me work on one of the arrangements and is a teacher to many as well as a coveted floral events designer.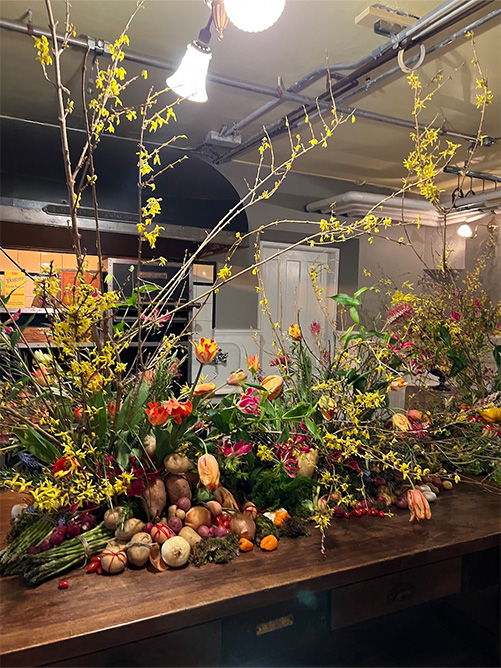 Penny Kouvanis also used gloriosa lilies. Look at how she mixed these flowers with lots of branches. You don't need a lot to make an impact.
2. Interesting Vases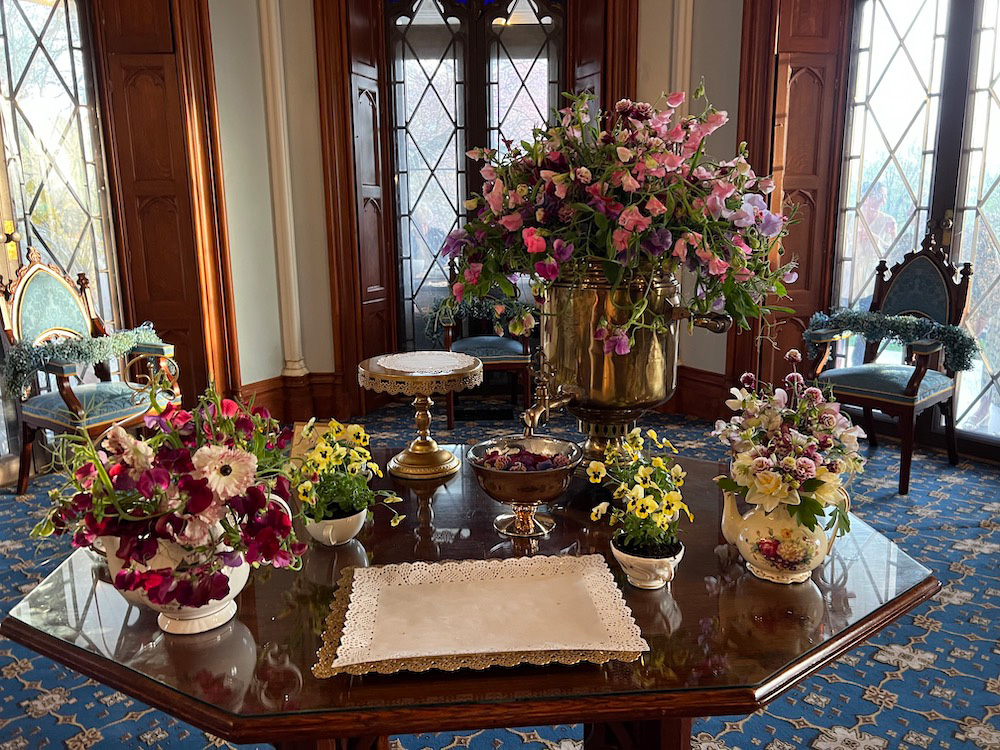 Au Ciel under the leadership of Minoo Hersini is known for creating delicate masterpieces that allow the flowers to breathe and co-exist as though choreographed into a Balanchine ballet.
Notice how she used dainty teacups to house pansies.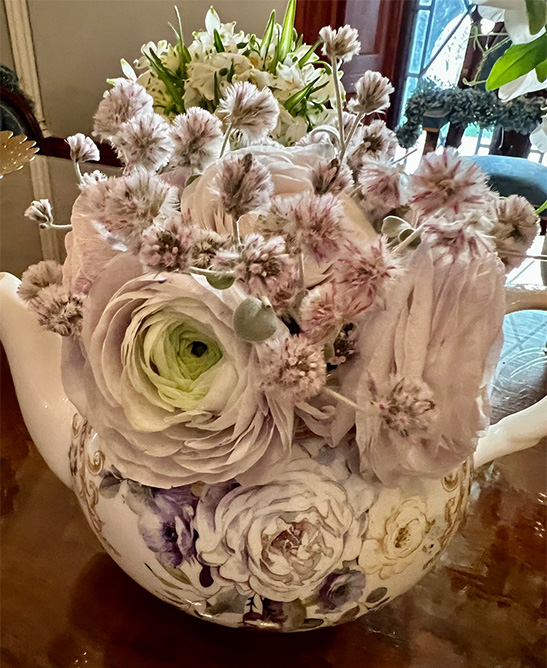 Oh and weren't this lilac ranunculus – one of her favorite flowers – just lovely mixed with snipped wispy greenery from the garden? She used a big teapot for this stunner.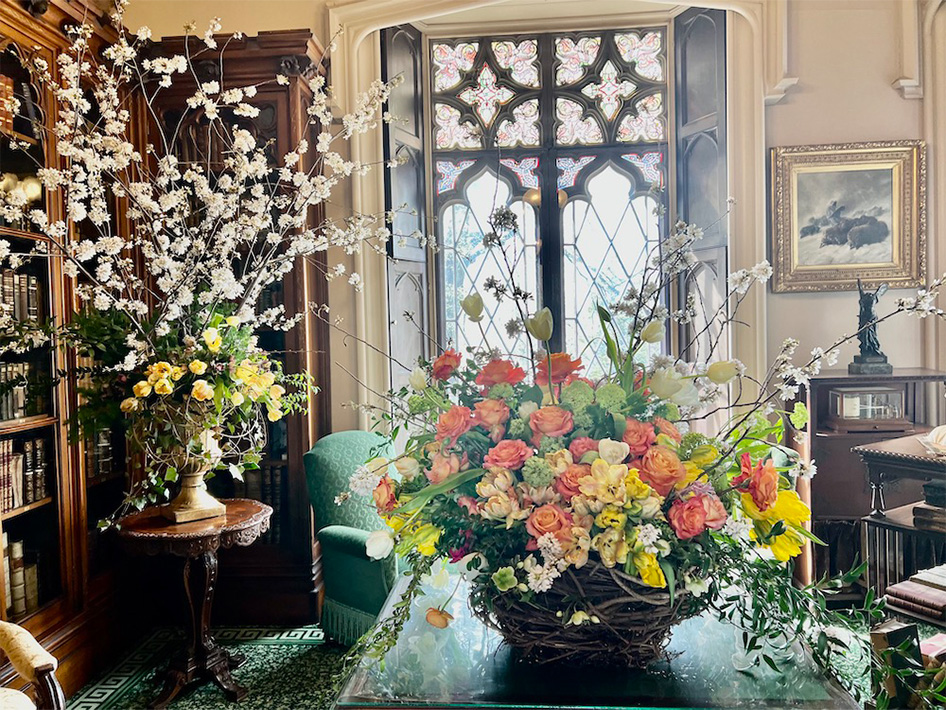 Ned Kelly showed how by using a classic English lush design clustered together, it will have a less formal feeling when put in a basket vase.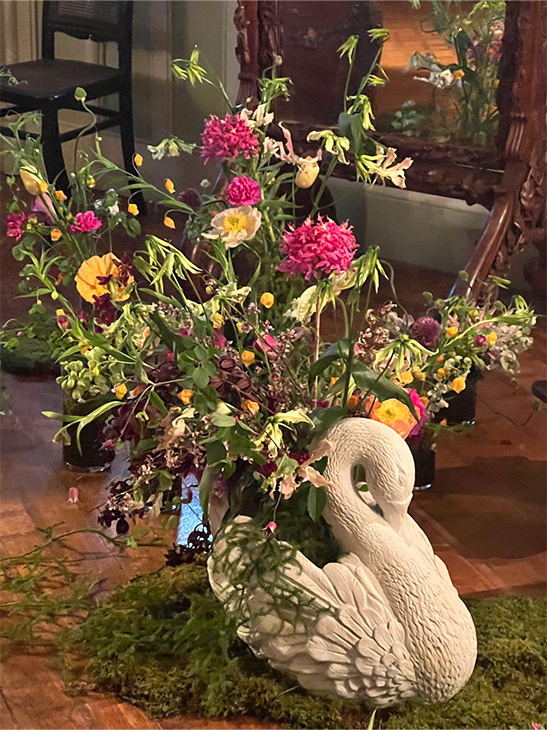 Animal vases evoke charm, don't they? Really liked how Amanda Flanagan put this swan vase on moss. Just so pretty. When you have a pretty vase, options are endless and this one could be brought inside.
3. Moss and More Moss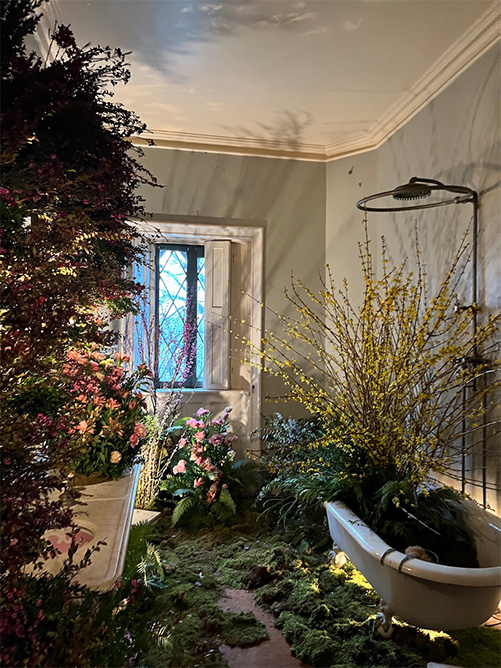 Not only did Lemon Terrace Florals line pots with a variety of mosses, but Haston Floral lined a bathroom with moss. Hmmm, a new bathmat idea?
Amanda Flanagan Floral also scattered moss on the floor to bring that nature vibe into an older room above with the swan. She used both moss and an interesting vase to create beauty. It's all about layering in design. So many details collectively dance to create that good feeling flowers convey.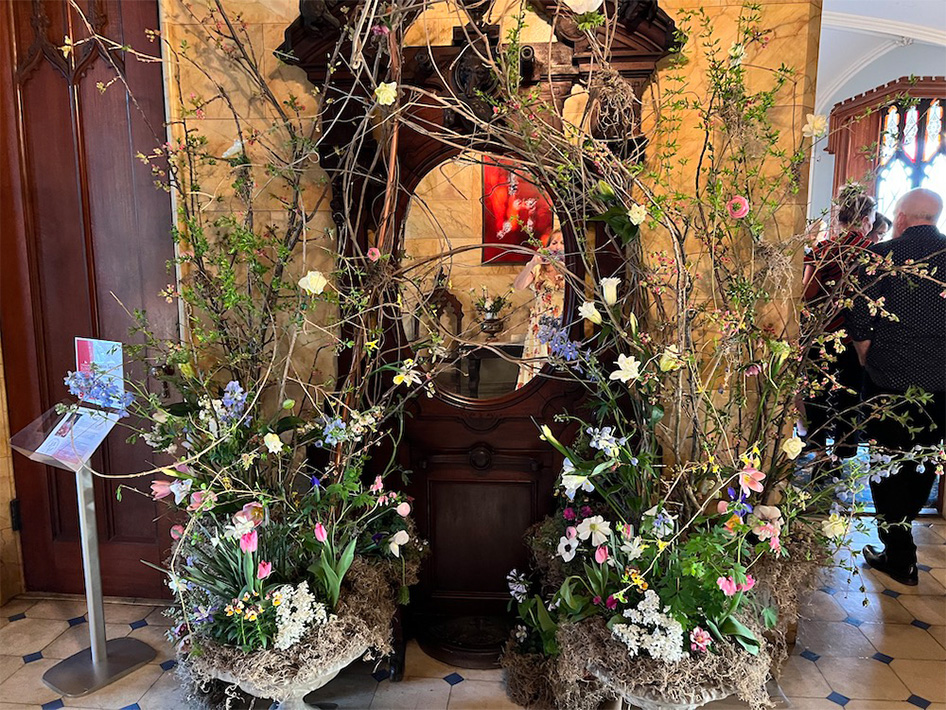 4. Veggie and More Veggies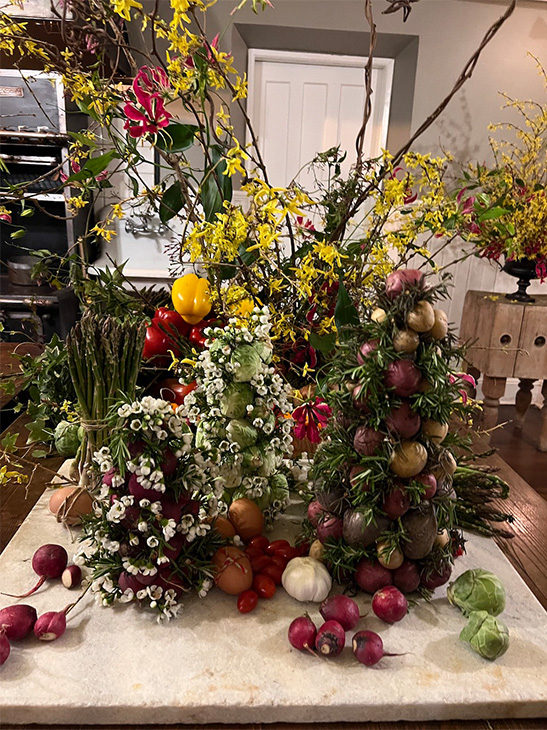 So many visitors commented on the veggie display on Penny Kouvanis' creation. Last year, she used a lot of lemons. This year it was more earthy vegetables. My favorite touch was how she built a pyramid out of potatoes and then inserted fragrant rosemary in between.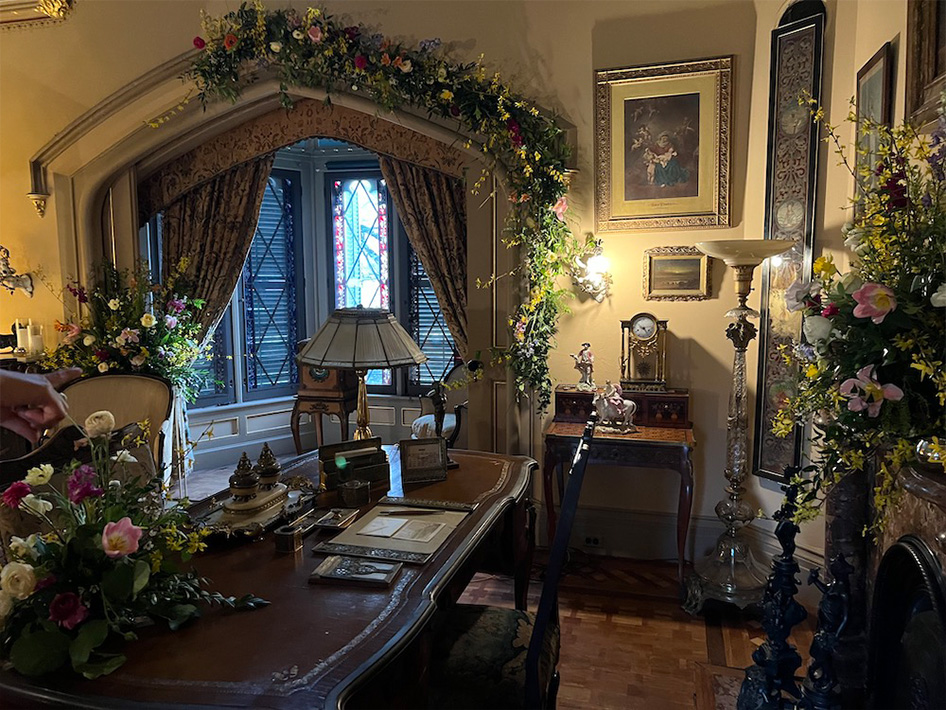 5. Floral Arches
What bride doesn't want something different? Broken arches are trending now and Maple Field Florals did a nice job in a bedroom to instinctively not have a perfect arc of flowers. They balanced this architectural touch by adding flower arrangements on the other side. Makes it all so much more interesting.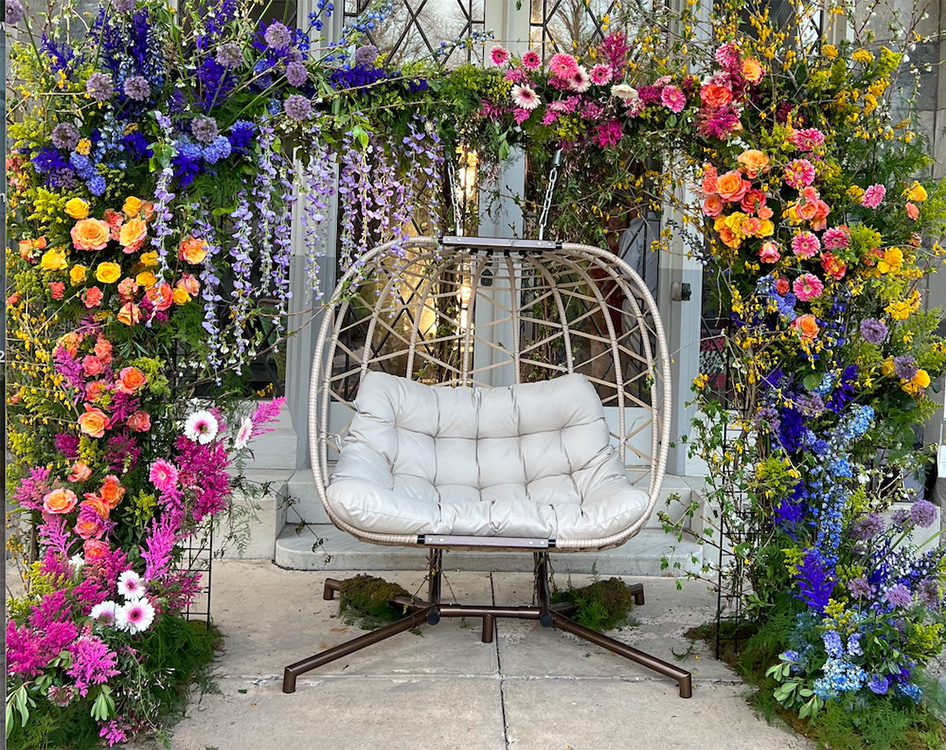 I still love full flower arches and sometimes they are needed. Especially under a swing as Michelle Edgemont did here. To make it more compelling, she changed up the color palette very effectively to make you want to just sit down with a cocktail in a sea of soothing but happy colors. And special kudos for painting the solidago that awesome violet. Vividly fun.
Maple Field Florals also draped a lounge chair with roses and tulips- but did not complete the full circle. The artists explained that they envisioned the fashionable Edith Gould contemplating her next gown and gala event lying there, surrounded by fragrance and beauty.
6. Using Fresh Flowers in Hats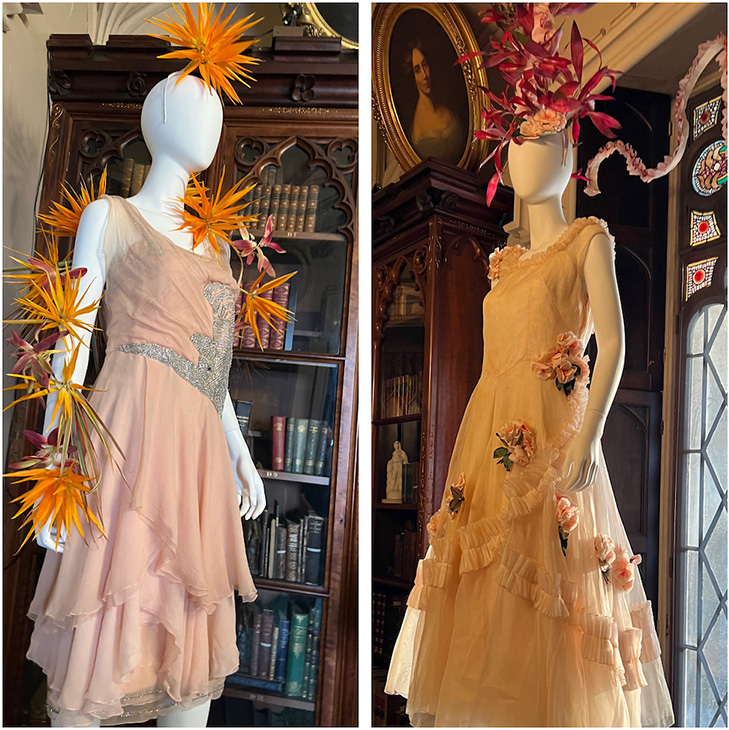 Last but not least, a shout-out to Joshua Werber who was inspired by Edith Gould's 1880's vintage clothes. What is also trending as the spring season ushers in hat parties – whether the Kentucky Derby, Martha Stewart's hat party for the Bedford Riding Lane Association. or the Central Park Conservancy hat luncheon – is using fresh flowers. Of course, Werber was creating fresh floral hats before it was cool. It is why he is a New York Times favorite. Werber is like a mad green plant scientist who is also an architect and cares about balance and precision. A great combo. Among the flowers he crafted into sashes and hats were sage palm, Liriope, Nerine, Stelitzia, Dracena, and leucadendron.
Hope this inspires you flower lovers and look forward to next year's show.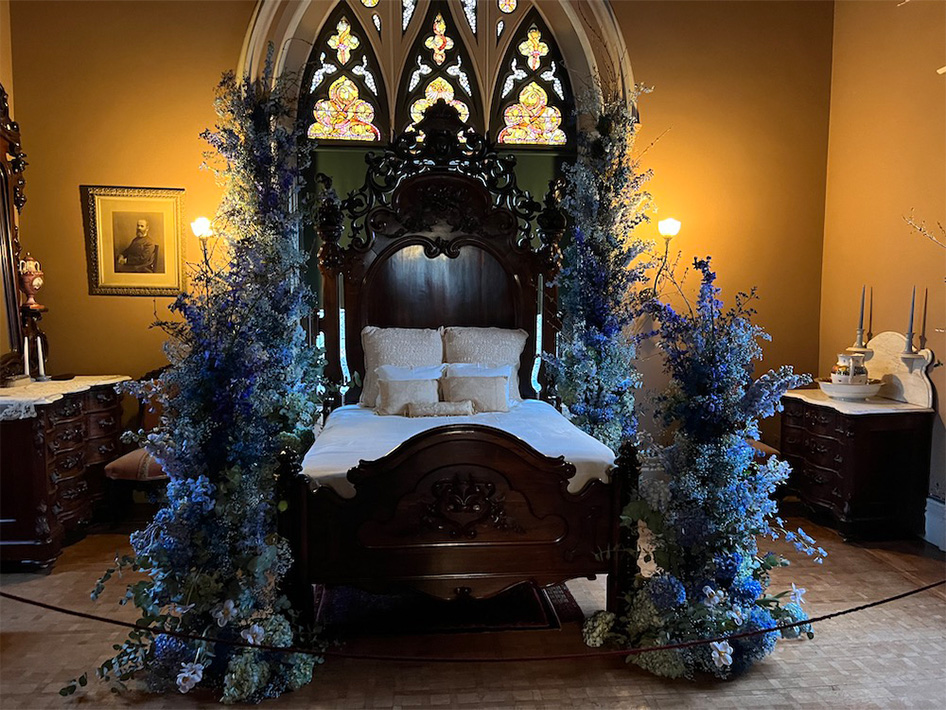 Jill Brooke is a former CNN correspondent, Post columnist and editor-in-chief of Avenue and Travel Savvy magazine. She is an author and the editorial director of FPD and a contributor to Florists Review magazine.