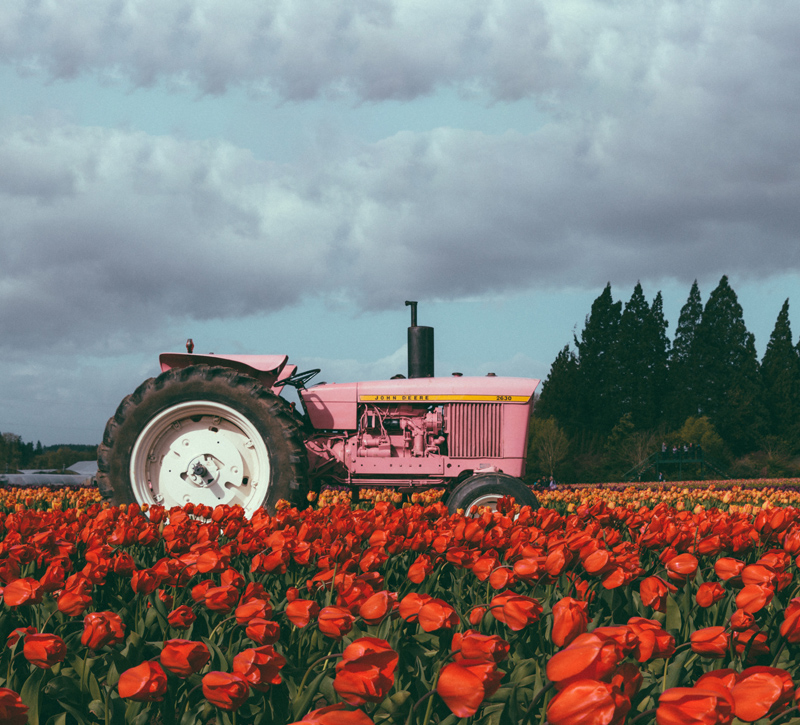 Global Trends in Floristry 2021
These top trends in the floral industry worldwide can provide inspiration for modifying your business and staying relevant to today's consumers.
By Kat Castagnoli, AIFD, CFD, CCF
---
When you're in the business of creativity, staying current on the latest trends can give you an edge over your competitors. From adopting a sustainable mindset in your shop to discovering new products that elevate your designs, the trends we're seeing around the globe are having a definite impact on the flower industry worldwide.
trend one
SUSTAINABILIT Y
Taking care of the same environment that provides our lifeblood—flowers and plants— and reducing our carbon footprint has become a huge focus throughout the flower industry. Sustainability in the form of incorporating dried flowers and materials, reusing and repurposing containers, utilizing eco-friendly packaging and products, and even exploring alternatives to floral foam are just a few of the many ways that florists in the U.S., the U.K. and the EU are consciously making an effort to go more "green." Here is a look at several products that are helping them.
​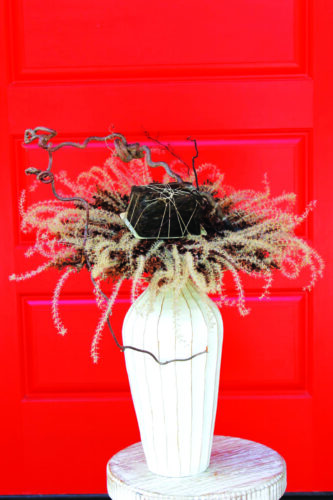 Waxed Hemp Twine
Hemp twine coated with beeswax can tighten against itself and can be a sustainable replacement for paper-covered wire and bowl tape. It is water resistant, compostable and easy to work with, according to floral designer Kirsten VanDijk, who often uses the twine to bind around Agra-Wool bricks to create sustainable floral "cages" in her design work.
​
Bamboo-leaf Bowls and Cones
These 5-inch-square bamboo bowls are seen as an alternative to plastic plates, containers or liners, and they are all natural, biodegradable, compostable and regenerative. The all-natural bamboo cones—7 inches long and 2.5 inches wide at the opening—are seen as a natural alternative to plastic water tubes.
trend two
UNUSUAL ELEMENTS
The use of unusual or textural elements, such as pampas grass; painted greens; and bleached, painted or dyed botanicals also is a huge trend around the globe. Another trend is the use of Japanese natural materials, such as wood, paper, rice and bamboo. Greengabes (greengabes.com) offers products that it says are "meant to be transformed, to inspire creativity and to add a specific taste to floral designs." Here are a few examples.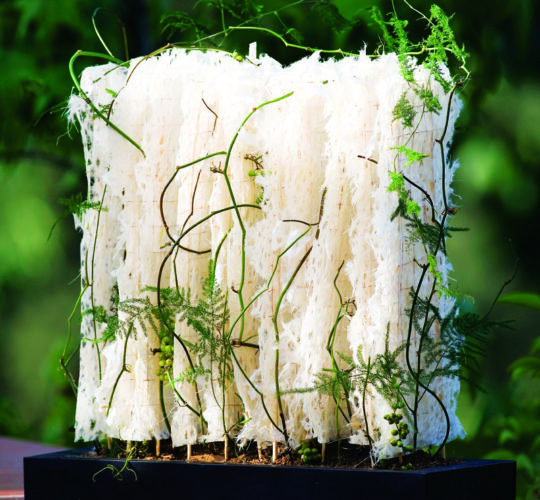 Rakusui (Waterdrop Washi Paper)
Rakusui is made by sprinkling water on the surface of traditional Japanese paper, called "washi," which is made from the long bast fibers from the inner bark of paper mulberry/tapa cloth trees (Broussonetia papyrifera); that is how the "holes" appear. The material comes in a natural ivory hue and eight other colors, and it can be torn into fibers to incorporate into designs, containers, armatures or any other creative elements.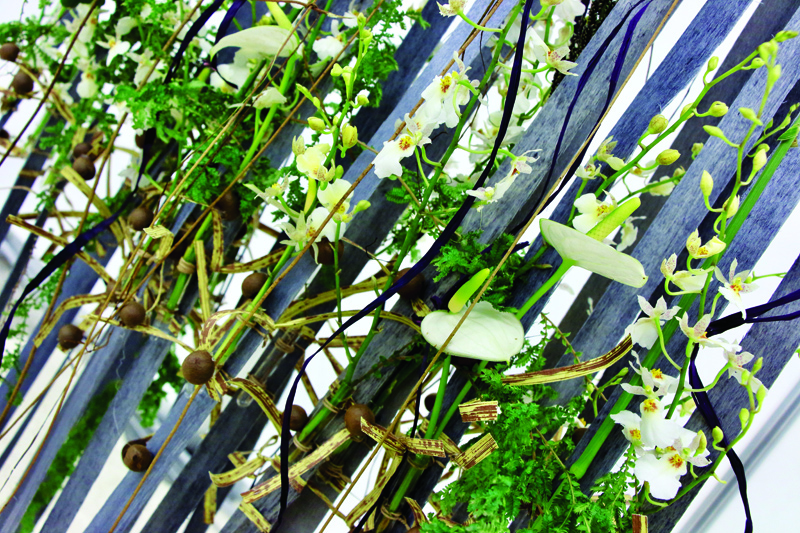 Takehimo (Natural Binding Strips)
These versatile binding strips (10 inches long by ¼ inch wide) are made of Japanese paper with a bamboo print on them, making them appear to be strips of real bamboo. There is a wire running through the center of each strip, which makes the strips applicable for binding and securing structures, and they also serve as a visually appealing alternative to other paper-covered wires.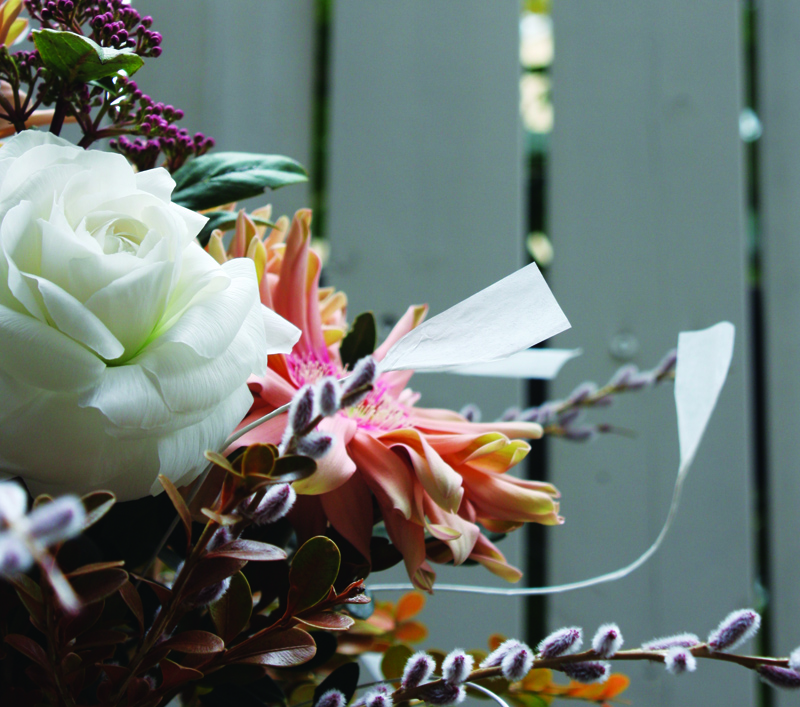 Momigara (Rick Husks)
Momigara rice husks are meant for covering mechanics within a floral design or to be an integral part of a design. They are light, not only in weight but also in color, and fine enough not to block floral stems. Easily recyclable and eco-friendly, Momigara can also be glued on surfaces, creating a natural rough surface in floral design work.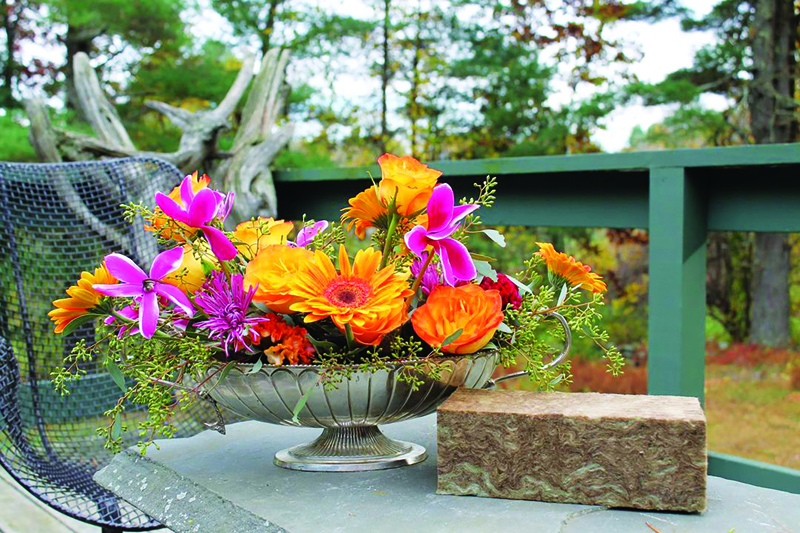 Agra-Wool 100% Natural Floral Foam™
Many florists are choosing to reduce their use of traditional floral foam by using alternative mechanics, like chicken wire, and other newer alternatives, like Agra-Wool International's 100% Natural Floral Foam™ (agra-wool.nl). Agra-Wool 100% Natural Floral Foam products (blocks and sheets) are made from basalt (igneous/volcanic rock) and a type of sucrose (cane or beet sugar), both of which are completely biodegradable. Agra-Wool 100% Natural Floral Foam is reusable, up to four times; can be used both wet and dry (for fresh and silk/dried botanicals); does not need to be soaked in advance, meaning you can add water once the foam is placed; and is easily carved with a serrated knife.
Floral designer Kirsten VanDijk, who is the only U.S. distributor of Agra-Wool through her company, New Age Floral (newagefloral.com), says sales of Agra-Wool, which she sees as a "transitional" product for traditional floral foam, are on the rise. "I'm excited about the interest in it," she says. "Little things can have a huge effect."
Agra-Wool 100% Natural Floral Foam is available in Canada from Florists Supply (floristssupply.com).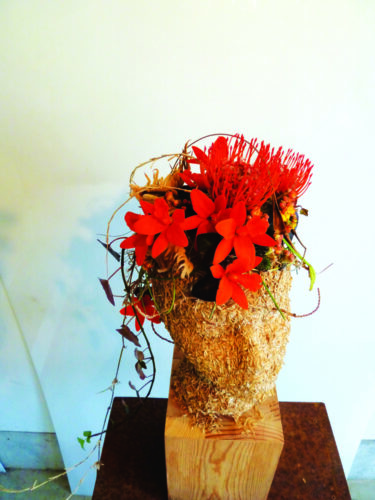 Koyori (Paper Feathers/Flags)
Koyori, or "paper feathers," are handmade in Kyoto, Japan, from thin Japanese paper. The featherlike paper "flags" can be dyed, painted or written on. There are two types: Eggshell Koyori, which have a natural, uneven matte surface, and Wire Koyori, which have a shiny white surface. The wire-core stems can be bent into any shape or formation.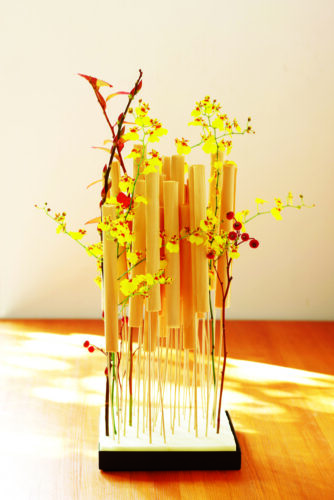 Kyogi (Paper-thin Wood Sheets)
These are 100 percent natural, unbleached, thinly shaved sheets of Japanese red pine (Pinus densiflora), traditionally used for food wrapping. They have a Scandinavian touch with their light wood color and matte surface. Kyogi can be rolled, twisted, cut, torn, stenciled, painted, tinted, dyed, glued and stapled into many shapes. This natural material changes with the seasons; not any bunch is the same—just one more thing that makes the material so appealing.
trend three
BIOPHILIC DESIGN
With so many of us remote working and/or staying at home, biophilic design (the incorporation of nature into our working and living spaces) has become a huge trend in the floral world. From simply adding vases of flowers around the house or on a desktop to the purchase and upkeep of houseplants, biophilia has become increasingly important to our overall health and well-being. Bringing the "outside in" has been a worldwide trend for some time now, even before the pandemic. One only has to look at the huge rise in the purchase of houseplants: Over the last three years, plant sales have increased 50 percent, to $17 billion, according to the National Gardening Association.
Blending plants and technology is another up-and- coming trend. One Sausalito, Calif.-based company, CREO (creodes.com) is using AI (artificial intelligence) to make work and living spaces healthier with its BioBulb™ ecosystem—a network of sensors and processing algorithms that learns the needs of individual plants and sends precise water and nutrients for each plant. The BioBulb system uses three sensors to monitor each plant's vitals: one in the roots, to check temperature, pH level, humidity and nutrients; another that monitors the leaf's surface and light density; and another that measures the ambient environment surrounding the plant. It also has a computer-vision camera that visually detects plant growth. To learn more about BioBulb, visit biobulb.io or creodes.com.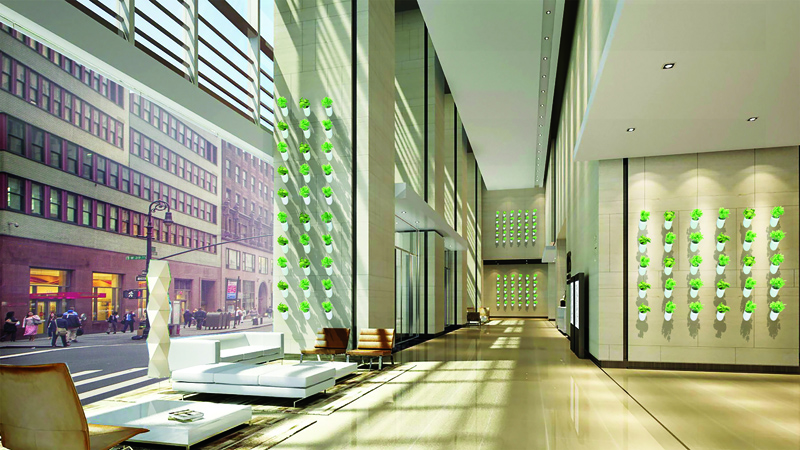 To see three incredible and inspirational bio- philic design plant stores, check out the websites and Instagram accounts of these retail businesses:
Greenery Unlimited in Brooklyn, N.Y. (greeneryunlimited.co and greenerynyc.com, @greeneryunlimited and @greenerynyc)
Plant the Future in Miami, Fla. (plantthefuture.com, @plantthefuture)
Andromeda District Biophilic Design Store in Coral Gables, Fla. (andromedadistrict. com, @andromedadistrict).
These days, plants can even be delivered directly to consumers' doorsteps, thanks to Amazon and other plant delivery sites like The Sill (thesill.com) and Bloomscape (bloomscape.com)
By Nita Robertson, AIFD, CFD For the upcoming Valentine's Day, which, in 2024, will be on a Wednesday, we want to help inspire you to develop artistic unique designs that appeal to your customer base while giving that wow factor. For Florists' Reviews 2023 Valentine's...
read more