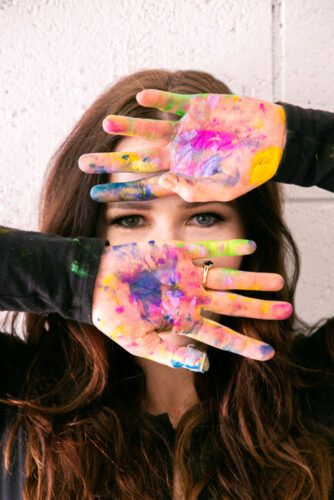 Florist Spotlight – Just add IRIDESCENCE
What exactly is an "Irithurium," you ask?
Let botanical artist Kristen Alpaugh explain it.
By Kat Castagnoli, AIFD, CFD, CCF
It was 3 a.m. on March 24, 2019—a moment Kristen Alpaugh will never forget. Wanting to impress a client who loved anything iridescent, this innovative floral designer purchased a bunch of new materials to test. "Once I went to bed, my mind wouldn't stop racing," recalls Alpaugh, owner and creative mastermind behind the Santa Monica, Calif.-based floral studio FLWR PSTL (@flwrpstl) and her latest venture, Haus of Stems (@hausofstems). "So, I hopped out of bed and went to work in the middle of the night."
No stranger to using flowers as a canvas, Alpaugh mixed iridescent paints and Anthurium blooms—and boom! The "Irithurium" was born. With names like Abalone, Infrared, Mantis, Riverbed and Twilight, these bold, eye-catching stems have taken the flower industry—and floral Instagram feeds—by storm. The shimmery statements have cropped up not only at floral retailers and 
​
wholesalers across the country but also at Oscar parties, art galleries and couture fashion displays—and even in music videos for Katy Perry and Doja Cat.
"I love creating for my clients, but there's a different type of happiness that comes from aiding other florists in their own work," says Alpaugh, who launched Haus of Stems— which provides artisanal blooms to industry professionals—shortly before Valentine's Day this year. "I love seeing the world of 'Irithuriums' through their eyes."
It's all felt a bit surreal for Alpaugh, who started her personal floral business, FLWR PSTL, only four short years ago. Like so many, this New Jersey native didn't start out in the botanical world but, rather, the corporate one.
"My mom worked tirelessly [as a single mom] to make sure my brother and I were taken care of," she shares.
"It was really hard on her, and she did what she had to do to raise us with very little."
As a result, Alpaugh decided to go into a corporate career where she wouldn't have to worry about money. "I wanted to be able to take care of myself," she explains.
After college, Alpaugh landed a job with a consulting firm in Boston. She moved to Los Angeles in 2014 but stayed in the same industry until the end of 2017.
"I loved it for a long time but started feeling restless and unfulfilled."
Alpaugh's boss and mentor always used to ask her what she would you do if she won the lottery and never had to work another day in her life. "I never knew how to answer that," she states. "Then one day, it hit me like a ton of bricks: I wanted to be a florist."
An artist at heart, Alpaugh began using the paints, dyes and art supplies she already had on hand to make something completely unique. "So, I started playing 'mad scientist' in my dining room," she explains. "I wanted to be the Willy Wonka of flowers. And that's shortly after can be summed up in one word: unreal. "I was really anxious about how the floral community would react [to the Irithurium]," she confides. "I sent my flowers to several of my fellow competitors from Full Bloom and a few other friends, and the response was overwhelmingly positive."
Haus of Stems has since launched a retail component, shipping "Irithuriums" nationwide.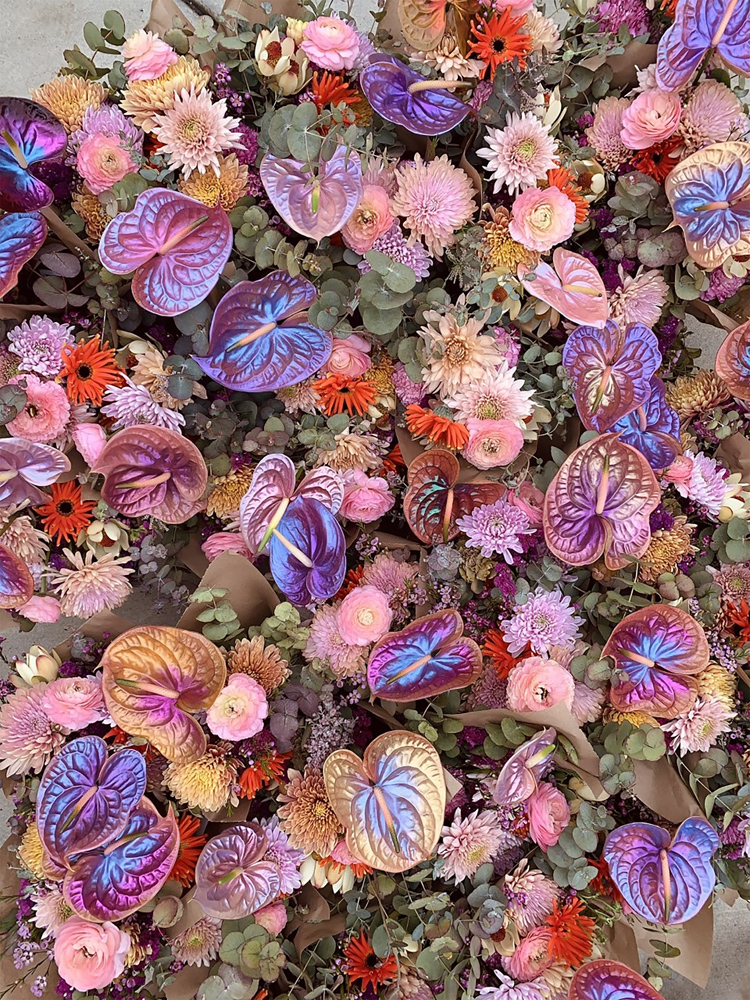 I hope to continue blurring the lines between fine art  and floristry. The possibilities are endless, and I feel like I'm just beginning.
Looking back, Alpaugh says she realized how connected she was to flowers and how they punctuated every important moment in her life, both happy and sad. However, "I hadn't followed a single florist on Instagram before and had no idea what I was doing."
For a year, the new designer struggled to make a profit and spent most of her money learning how to handle and arrange flowers. "I was really distraught and felt like I had failed," she reports. "It wasn't until I was at the bottom of my bank account and, honestly, feeling utterly hopeless that FLWR PSTL was born." when FLWR PSTL started getting noticed."
So much so that a casting director reached out to Alpaugh to see if she would be interested in being on the first season of Full Bloom, HBO Max's flower design competition reality show. "I loved every moment of participating on the show—even the tearful ones," Alpaugh relates. "It made me a much more well- rounded botanical artist. I walked away having done gigantic installations—I'd never worked on a crane before—and I made a ton of new best friends."
For Alpaugh, opening Haus of Stems and Alpaugh has begun the process of patenting her signature Anthurium painting process.
​
So, what's next? "I can tell you that we plan to expand our hand-painted botanical line," she reports. "You will have to stay tuned!"
In the meantime, Alpaugh will continue to push the boundaries of creativity and share her passion with the world. "To me, when happiness is shared, it's doubled.
Art brings joy, and the world can always use more of that."
To learn more about Alpaugh's "Irithuriums" and Haus of Stems, visit the company's website, hausofstems.com, and check out Instagram @hausofstems.
​
Michael Grim and Jim Osburn The Bridgehampton Florist Bridgehampton, N.Y. thebridgehamptonflorist.com @thebridgehamptonflorist Florist Spotlight: The Bridgehampton Florist By Jill Brooke About midway through the Hamptons—a string of tiny seaside towns, villages and...
read more