Michael Grim and Jim Osburn
The Bridgehampton Florist
Bridgehampton, N.Y.
thebridgehamptonflorist.com
@thebridgehamptonflorist
Florist Spotlight: The Bridgehampton Florist
By Jill Brooke
About midway through the Hamptons—a string of tiny seaside towns, villages and hamlets on the eastern end of New York's Long Island, famous for being summer and weekend destinations for affluent New York City residents—lies the notoriously expensive hamlet of Bridgehampton. There, one will find The Bridgehampton Florist, owned for 38 years by Michael Grim and Jim Osburn. Their well-heeled clients prize them for their exquisite taste, calling upon the duo year-round to create fabulous floral décor for their country homes and estates, including decorating those dwellings for Christmas. Here is a glimpse into The Bridgehampton Florist and a look at some of the bucolic holiday environments Grim and Osburn create.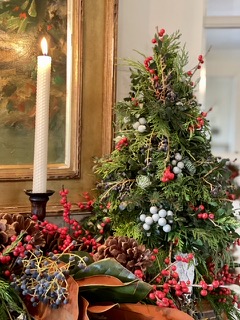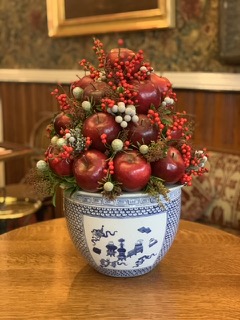 FR: How did you start your career?
MG: I started my career attending a vocational school in the Lehigh Valley, in Pennsylvania. This all came very natural to me. During my senior year, doing a design panel, I met the president of FTD who told me I should move to a metropolitan area. So off to New York City I went, where, with the help of my father, I got a job at the flower shop at The St. Regis Hotel in midtown Manhattan. In New York, I meet Jim, an actor/model in The Hamptons. We fell in love with the area, and because of his love of gardening, we decided to open The Bridgehampton Florist in 1986.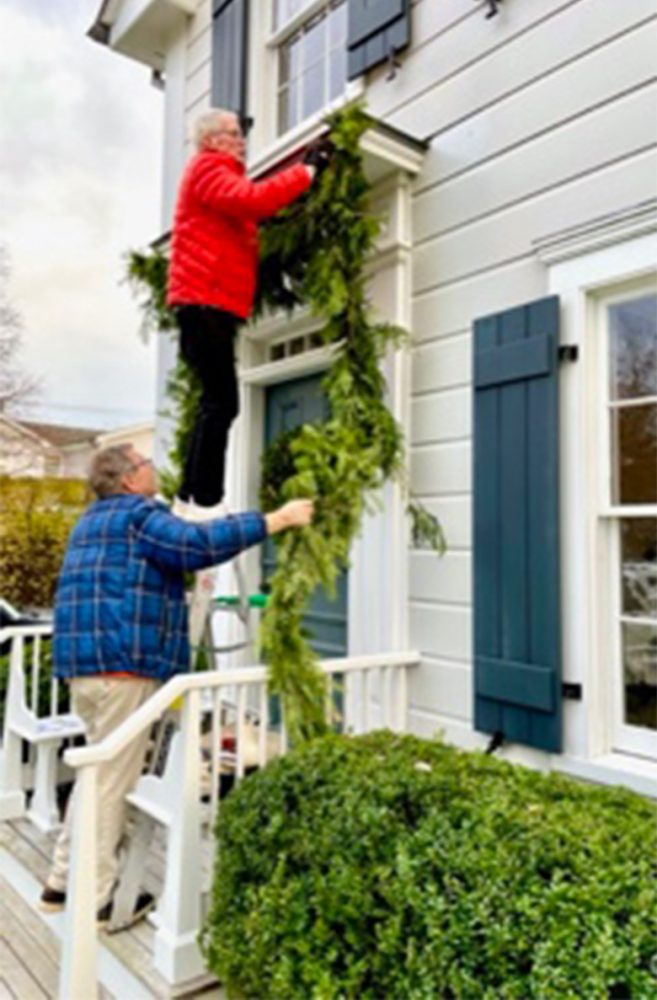 FR: How do you start your day?
MG: Our days typically start very early. I order flowers from Holland and fill in with product from local wholesalers in our area. I spend early mornings also working on proposals and table designs. We get to the shop around 7ish, giving us quiet time to get things done before the phones start ringing and customers start filing into the store. We have a large in-house service, plus we go into our clients' homes weekly and fill them with fresh flowers.
FR: What inspires you?
MG: Everything! The color around me, the sunset, the wildflowers along the beach, color combinations in nature or the colors in what someone is wearing—so many things. Everything around me inspires me.
FR: Of what are you most proud?
MG: Loving a career so much. We've had a flower shop for 38 years, and we love working with incredible our clients, including artists and people in the world of fashion. We love making people happy, and every day is a new adventure and an opportunity to be creative.
FR: What advice would you give to florists just starting out today?
MG: Stay focused, go to the flower markets and learn how they work, learn about flowers, observe likes and dislikes, play with color—and have fun!
FR: What are your goals for the future?
MG: To keep enjoying flowers till I am pushing up daisies!
FR: Does anything about your work scare you?
MG: Putting lights on a 14-foot tree—praying they don't go out on Dec. 24 before guests arrive.
FR: What was one of the biggest challenges you experienced during your years as a florist?
MG: Turning a restaurant into a tropical jungle, with live parrots and tigers—all in less than 18 hours.
FR: How do you manage Christmas?
MG: Christmas décor in the store is generally minimum because we are busy decorating clients' homes until the 24th. In the store, we put up an artificial tree usually the weekend before Thanksgiving—artificial because at that time we cannot use a real tree. The romance of fresh trees is wonderful, but they are very unsafe and dirty. When doing clients' trees, we mostly wear masks because of the dust. Last year, we decorated 12 10-foot-to-14-foot trees. Our tree at home hosts a collection of beautiful jeweled ornaments created by our dear friend Jay Strongwater along with crystal prisms from old chandeliers. When things get too busy, we will have just a big vase of flowering quince, with a few of our favorite ornaments.
FR: What are you most well-known for?
MG: Our wreaths, mantel décor, miniature trees and beautiful miniature wreaths that are great to hang or use as napkin rings or candle rings.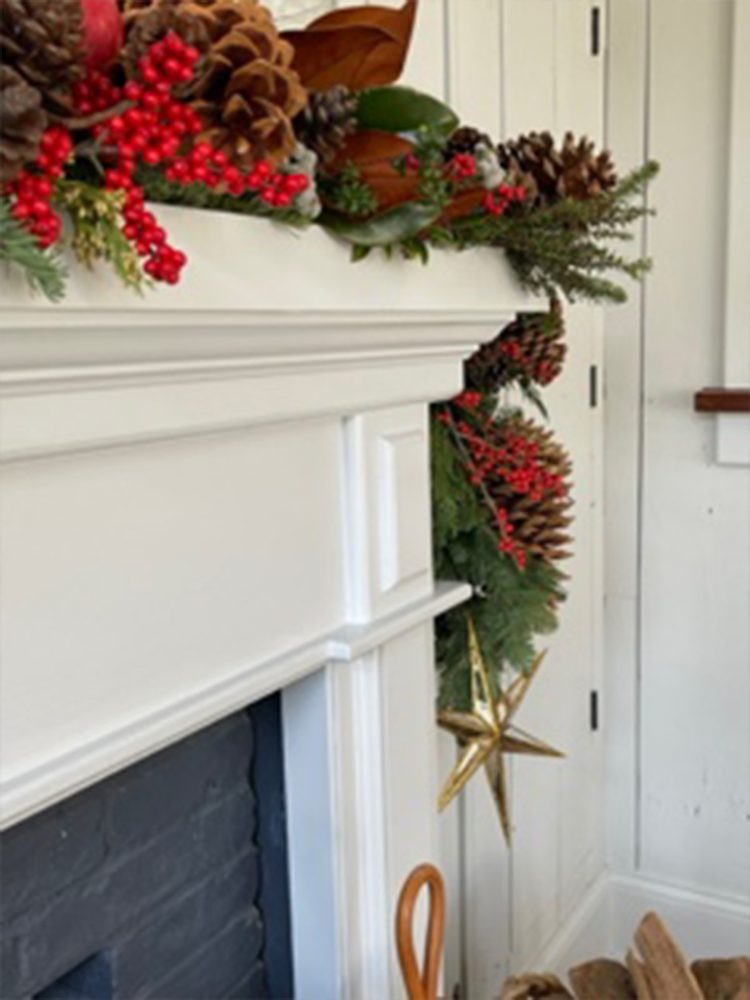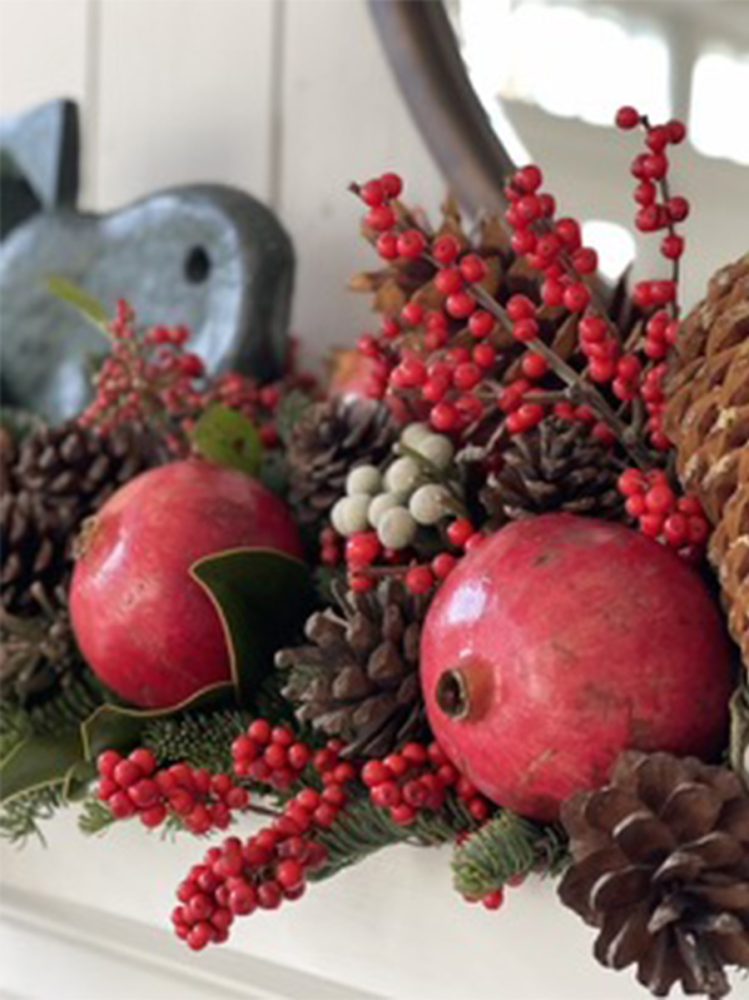 FR: How do you use pine cones?
MG: What don't we do with pine cones? We fill mantels solid with cones of different shapes, sizes and types; we lay evergreen branches on mantels and pick cones into the evergreens; we make wreaths with different sizes and types of cones; and we use them as place-card holders for dinner parties. The possibilities are infinite!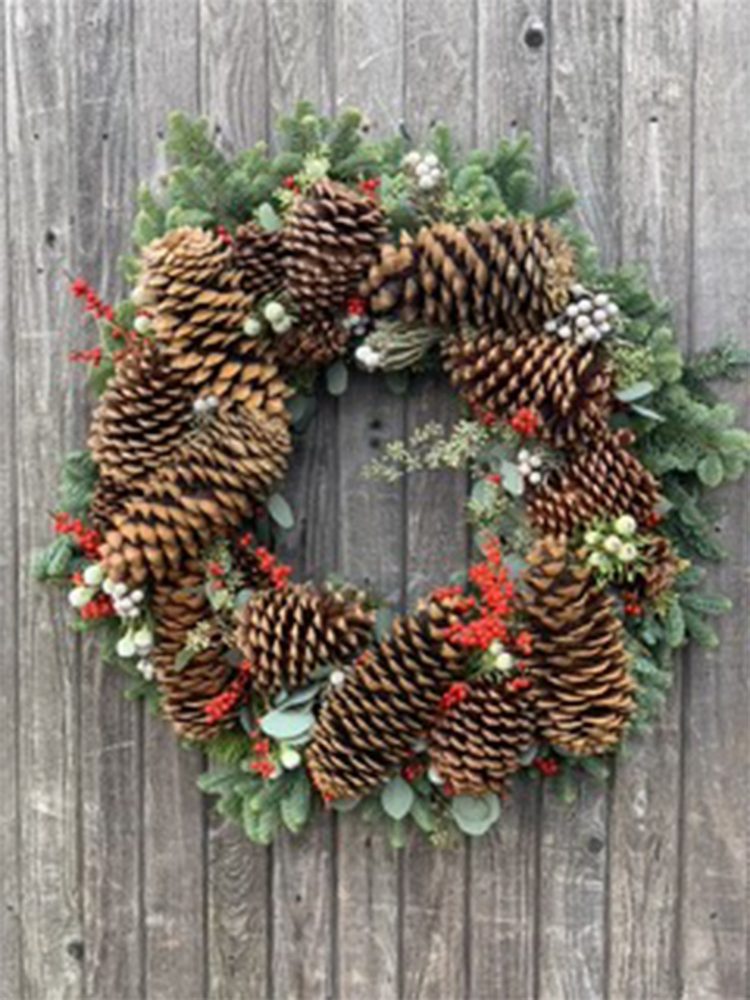 FR: What trends do you currently observe and pay attention to?
MG: This is a difficult question. Most of our clients have beautiful traditional homes, and our style is a very natural country feeling. We stay consistent to that, with surprises within that format.