Leah McLean
The Salted Image
Pittsburgh, Pa.
thesaltedimage.com
@thesaltedimage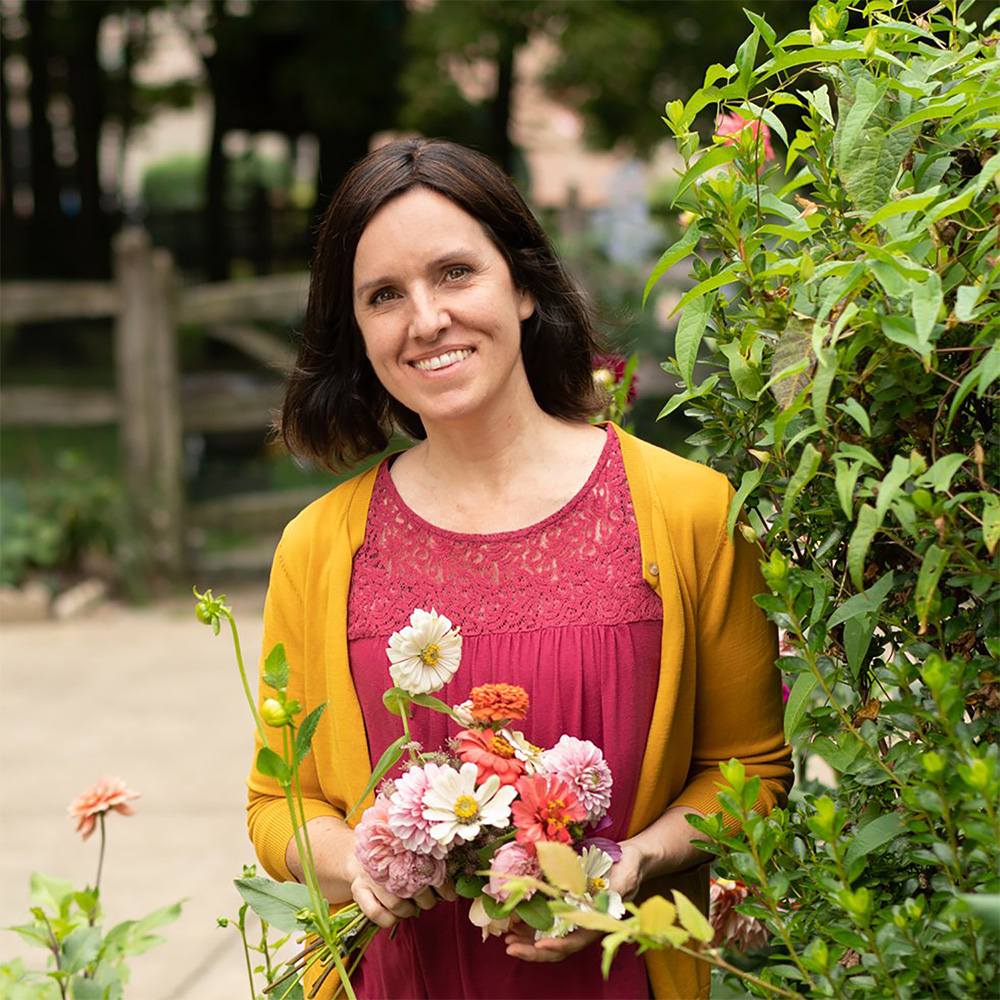 Leah McLean is a still-life and portrait photographer who is obsessed with all things art, light and floral. She is fascinated by the intricate beauty of flowers and the way they evoke emotions in people. McLean was the winner of Florists' Review's July 2022 "American Grown Best in Blooms" design contest. Her love for flowers, combined with her passion for photography, results in amazing work.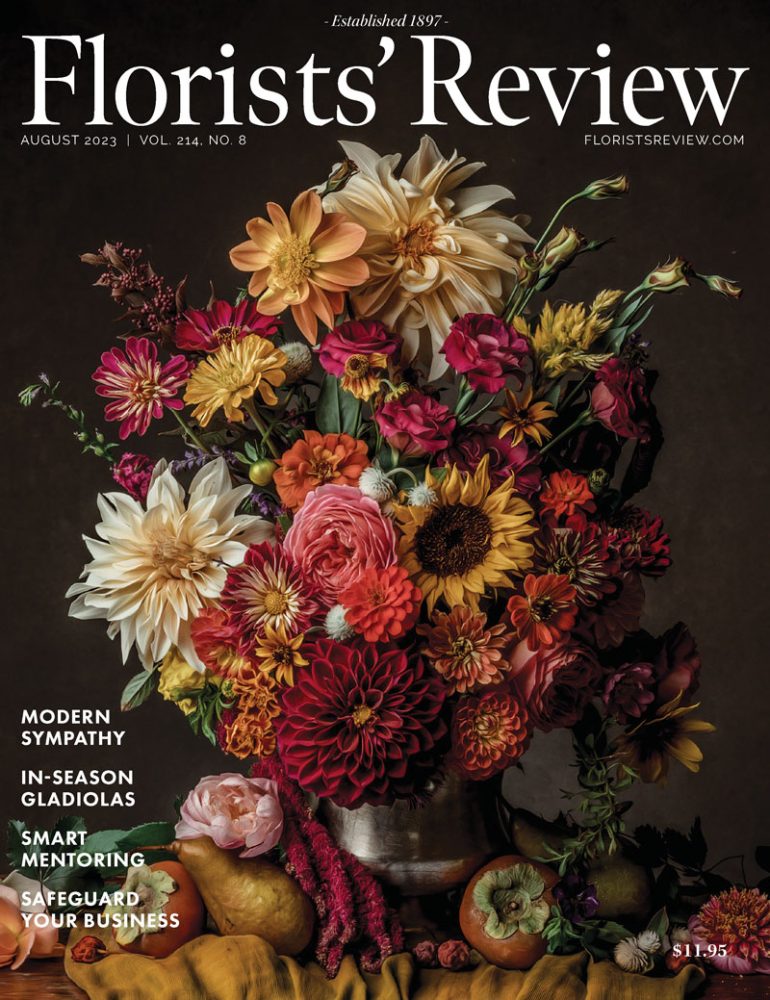 FR: Tell our readers a bit about your career.
LM: I have been a working photographer for almost 20 years. Ever since I entered my first photo contest at the age of 14, I have been hooked on the art of photography. I started as a portrait photographer but moved into flower photography after taking an online workshop. I had to submit a photo for a lesson, and I had some sunflowers in the house that I used as a subject. I was hooked on flowers after that. Then, I met a flower farmer at a local farmers' market, and she asked me to photograph an arrangement she had created. It was there that I fell in love with designing still-life scenes to photograph. I also have a passion for the outdoors and growing flowers, and I love being able to combine these interests to create environmental portraits and floral still-life photographs.
FR: What type of business is The Salted Image?
LM: The Salted Image is a fine art flower photography and prints business. My creative goal with it is to capture the beauty and essence of nature through still-life photography and to inspire others to appreciate even the smallest things in our incredible world.
FR: What and who inspires your photographic art?
LM: I am obsessed with art from the past. I love the Pre-Raphaelite British artists of the Victorian Era, the floral Dutch Masters and the American Golden Age of Illustration artists. I am also especially inspired by the French flower painter Henri Fantin-Latour and the Russian landscape painter Alexei Savrasov—and so many more. I am also always on the hunt for other painters from the past to inspire my work.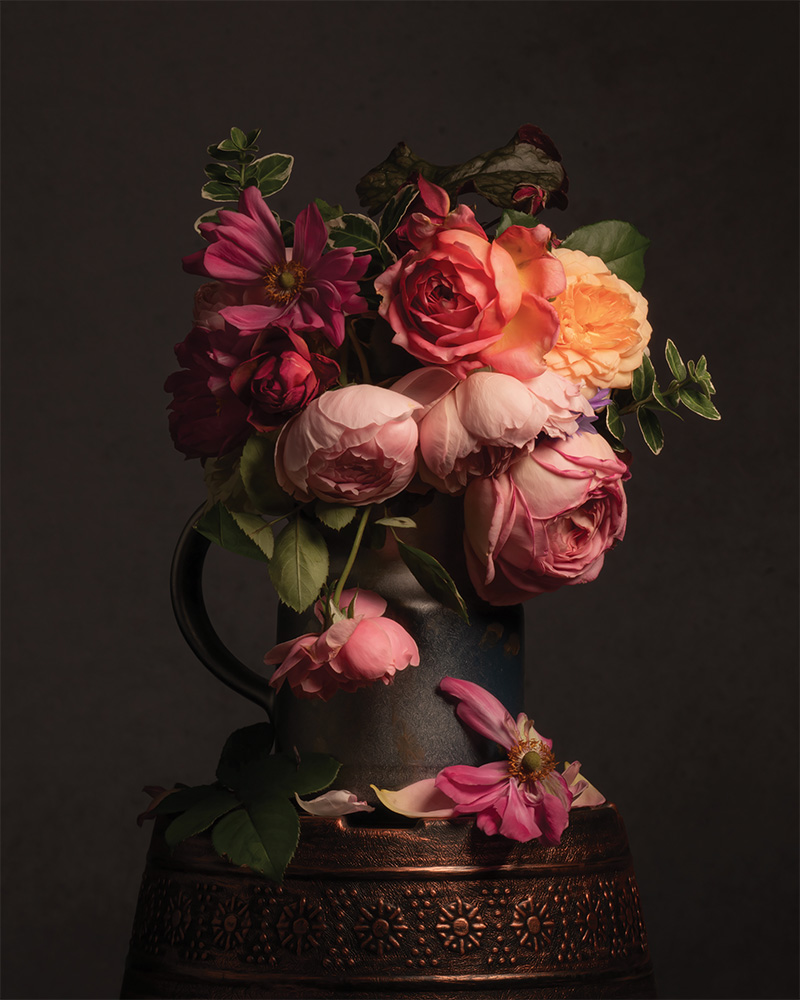 FR: Do you create the flower arrangements that you photograph yourself?
LM: Yes, and I incorporate the colors, compositions and light that I see in these great artists' work. I have always loved art, and I enjoy using my knowledge of the elements and principles of art and design as a basis for my arrangements. I have probably learned the most from trying to re-create arrangements from the paintings of the Dutch Master still-life painter Rachel Ruysch.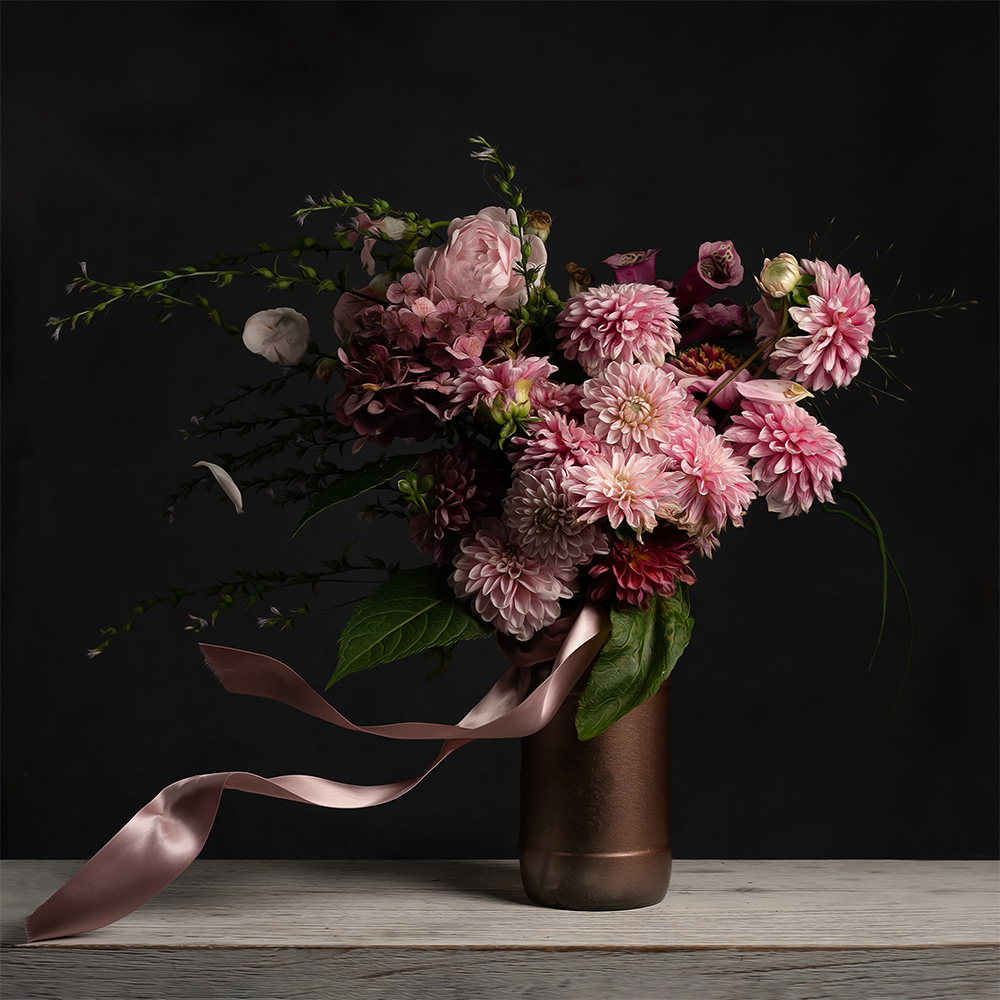 FR: What do you do with your arrangements after you photograph them?
LM: I create arrangements only to photograph, and after that, I rearrange the flowers into new scenes. I can get dozens of looks from the same flowers.
FR: Where do you get the flowers for your photography?
LM: I grow the majority of the flowers in my photos myself. I started doing this several years ago because I could never find the exact flower and/or color that I wanted. I really keep it simple with easy flowers like peonies, Zinnia, Dahlia and Anemone. I have several rose bushes, but they are a challenge for me. I try to plan out my photos a season in advance so that I have the types of flowers and colors I need.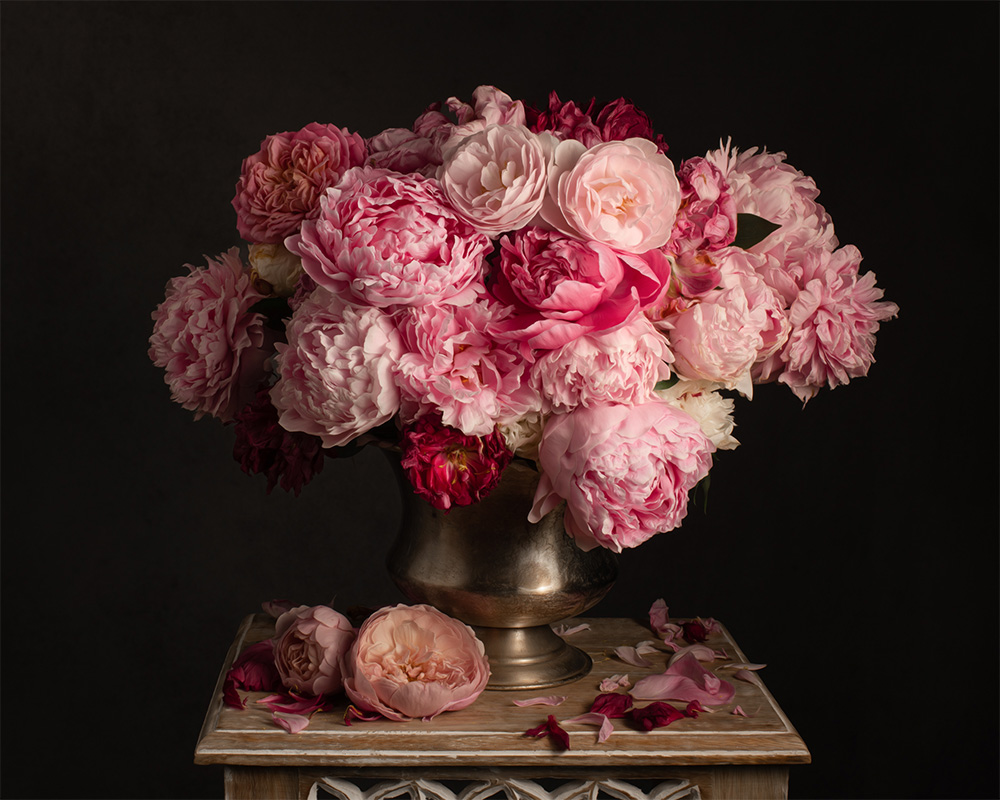 FR: What is it about floral design that fulfills you?
LM: We are a family of six, and my house is almost never quiet. Floral design gives me a chance to step away and take some time by myself, which I need and love. The whole process is a delight for me, and I love how tiny changes in my setup can make such a big impact on the final image. A change of perspective or moving my light just an inch can create an entirely different look.
FR: Please share a few of your tips and tricks for photographing flowers with our readers.
LM: Happily! It is all about the light. Photograph your flowers when the sun is lower in the sky, not midday. Mornings and evenings are great times that offer beautiful light. Natural light is glorious and should be taken full advantage of. I am all for turning off the flash and enjoying the light from the sun. However, using supplemental light like a flash or a strobe provides more control and options, including the ability to create the light you want at any time of the day—or night. Whether using natural or supplemental light, position your arrangements so that the light source is to the side rather than the front; this will highlight details and add depth to your images. Also, remove all clutter from your background so that the focus is entirely on the flowers. Experiment with different perspectives, and get down on the flowers' level.
(See the "Characteristics of Light" sidebar for more information.)
FR: What do you hope to do in the future?
LM: I plan to offer in-person flower photography training, and I would love to see my images on stationery or puzzles in Barnes & Noble!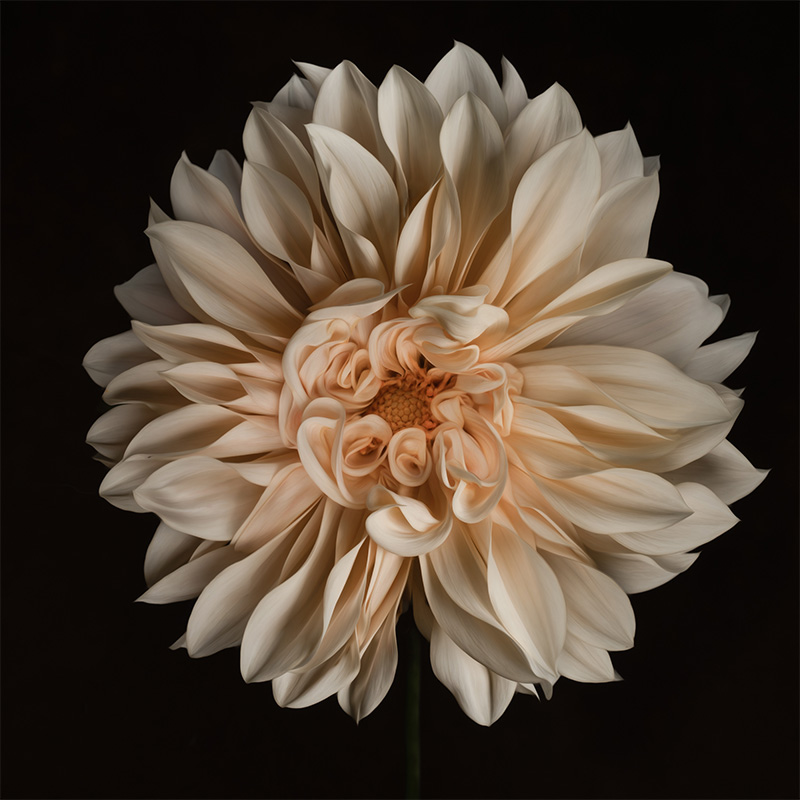 FR: What accomplishments are you most proud of?
LM: I am proud that I learned how to garden and grow flowers. I have also sold some of my prints at Anthropologie.
FR: Do you have a favorite flower?
LM: This question is impossible! I love peonies, especially the 'Coral Charm' variety. They photograph beautifully. The same goes for parrot tulips and David Austin English garden roses.
Characteristics of Light
DIRECTION: This refers to the position of your main light source in comparison to your subject. With a flash, you have precise control of the direction of the light and where shadows fall, which can help you create shape and volume. It can also decrease or increase the texture of your subject.
COLOR: The color of light can have a big impact on images. Color conveys mood and is a big part of storytelling in imagery. With flash, you have the option to use gels (colored cellophane filters) to correct color casts or add creative color.
QUANTITY: This refers to the amount of light in a scene. You can measure this with the meter in your camera, a light meter and even your eyes. The quantity of light plays a huge role in the settings you choose for your images.
QUALITY: The quality of your light can be based on how hard or soft it is. Diffuse light is soft (bright yet balanced and "bathing") creates gradual changes from highlight to shadow. A specular light, like a camera flash, is hard and casts distinct shadows and provides a high-contrast look to your shots, with sharp gradations between light and shadow. OCF (off-camera flash) photography, which involves using a flash unit separate from the camera to illuminate the subject, enables you to control the quality of light with your chosen modifiers.
SIZE: The size of your light source in relation to your subject will have a big impact on the softness/hardness of the light. For example, a tiny light on a large surface will create hard light while a tiny light on a tiny surface will create softer light.
DISTANCE: The distance of your light from your subject plays an important role in flash photography. Positioning a large light modifier, such as a softbox, a scrim or an umbrella, close to your subject will create very soft and diffuse light. The further you move the light modifier away from the subject, the smaller the light source becomes, and the transitions from shadow to light will become more pronounced.
DURATION: This is a characteristic of light that offers so much fun for a strobist—a person who practices OCF (off-camera flash) photography. The duration of your flash can freeze a drop of water with extreme sharpness or show movement when combined with a slow shutter speed. You can even combine constant light with flash for a variety of creative looks.