How to design a cascade-style bouquet with a sustainable approach
Floral design, photos, video and text by Beth O'Reilly, AIFD, CFD, TMF
Presented by Alexandra Farms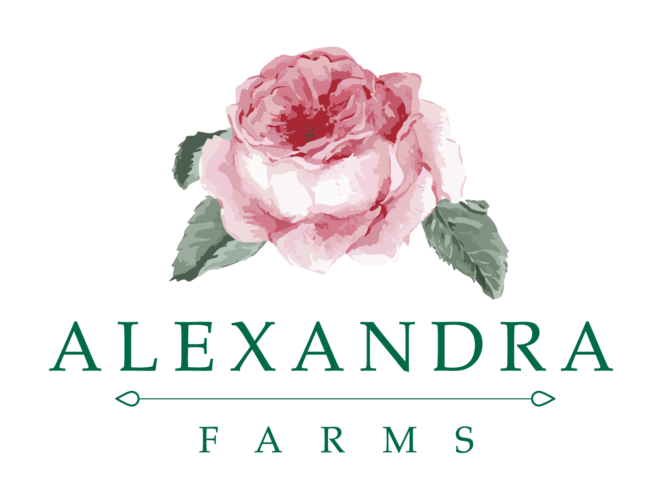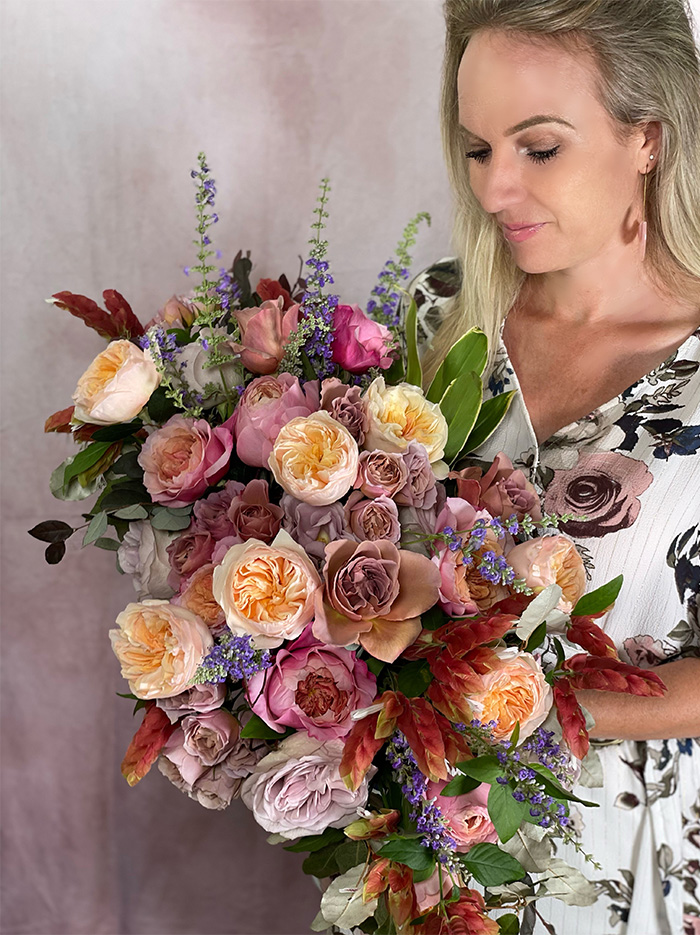 Design mechanics for hand-tied cascade-style bouquets can be tricky, especially when taking a sustainable approach. For this tutorial featuring spectacular garden roses and garden spray roses from Alexandra Farms, I wanted to highlight a beautiful modern color story using biodegradable materials from start to finish. In the spirit of a garden-style design, I also used cuttings from my own cutting garden to bridge the colors and textures in this bouquet.
CARE TIPS
• When designing with garden roses, allow sufficient time—as long as four days—for them to fully hydrate and open, following the instructions on the packaging or online at alexandrafarms.com/careandhandling. Remove the cardboard sleeves, store them with enough room to "breathe" in storage containers.
• Before using garden flowers or foraged materials, test their vase lives. I recommend testing cuttings both in and out of flower-food solution, conditioning them as you would commercial-grown cut flowers and using a finishing spray. Remove any tender new growth on foliages with new growth because it will, most likely, wilt. Also, remove any pests that might be present.
STEP BY STEP
Step 1: Clean and organize stems. Removing foliage from flower stems is a must for the spiral hand-tied technique, enabling the designer to lift and shift stems easily without disrupting the design.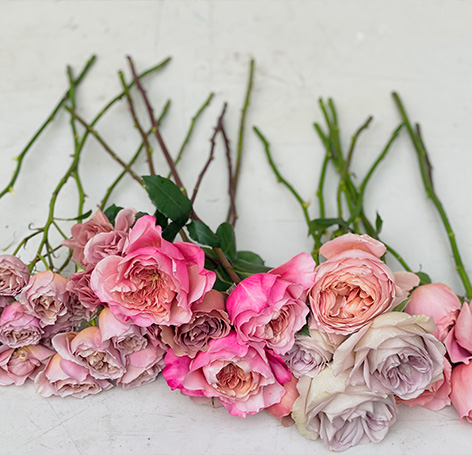 Step 2: Create a crescent-shaped armature from a natural material such as a thin dried vine; I used jasmine vine. Form the vines into the desired size and crescent shape, to serve as a "grid" for designing an elongated hand-tied cascade-style bouquet.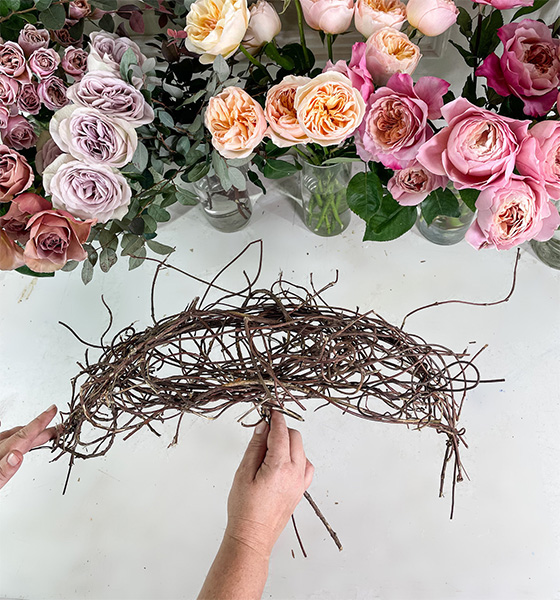 Step 3: First, arrange rose stems diagonally through the center of the vine armature—larger blooms first—rotating the design as you add stems. A spiral stem formation will develop naturally. Create layers and depth as you arrange each stem.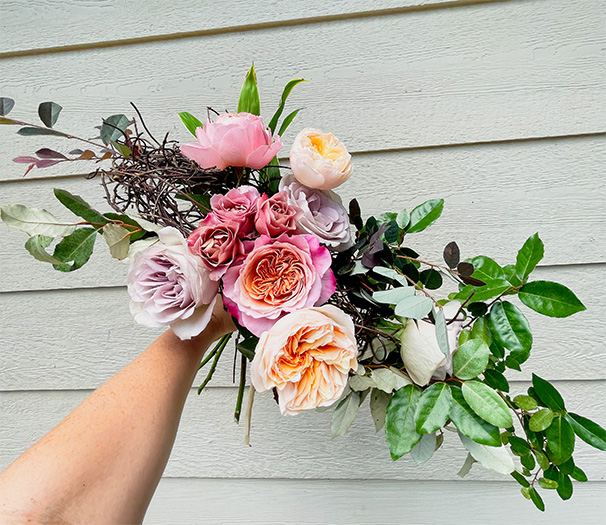 Step 4: Arrange additional flowers and long-stemmed foliages over and through the vine armature, somewhat horizontally, extending to the ends of the armature, to create the elongated "cascade" shape and to camouflage the armature.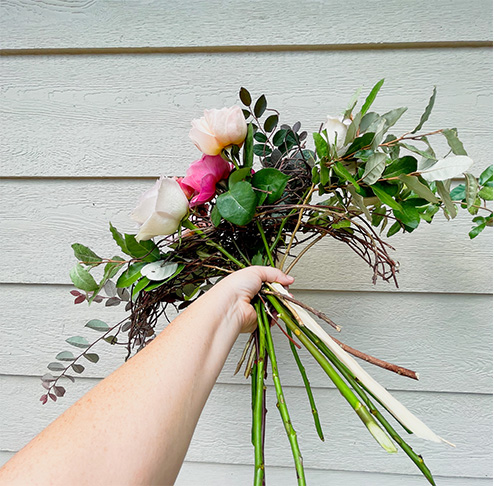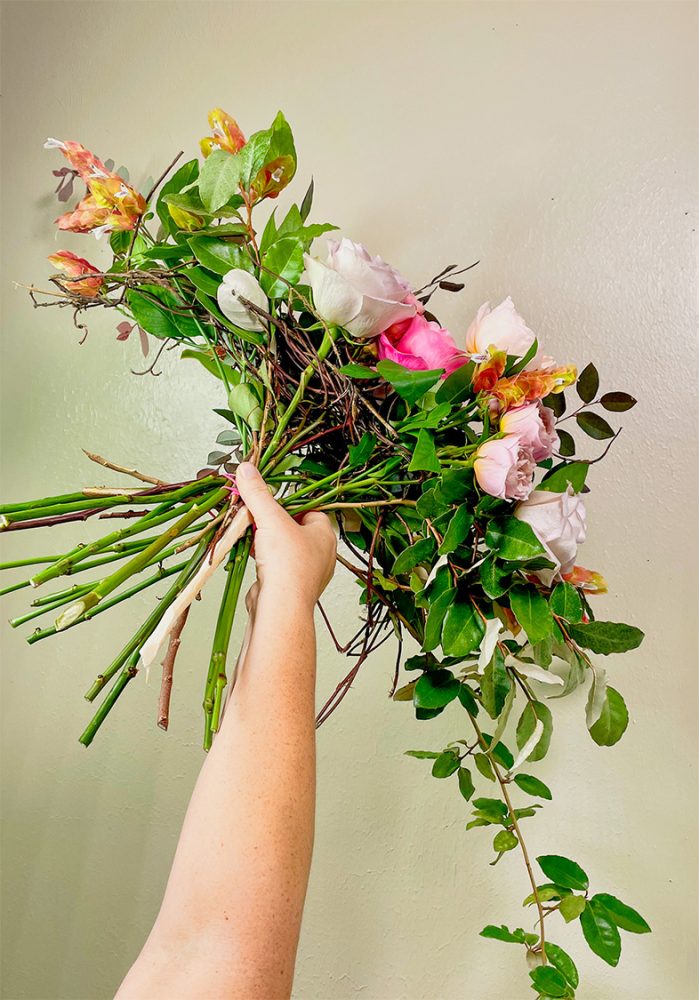 Step 5: Secure the stems at the point where they cross (the binding point) with rubber-bands. Loop a rubber-band over the end of one sturdy stem, and move the rubber-band up to the binding point. Then wrap the rubber-band tightly around the stems, and secure it by looping the "end" of the rubber-band to another sturdy stem. Do this several times, if necessary, as you add materials, positioning the rubber-bands at the same binding point each time.
SUSTAINABLE DESIGN TIP: Natural organic rubber-bands are made from latex sap derived from equatorial Pará rubber trees (Hevea brasiliensis); therefore, they are biodegradable over time. Also consider recycling rubber-bands from commercial flower bunches, and avoid using synthetic-rubber rubber-bands.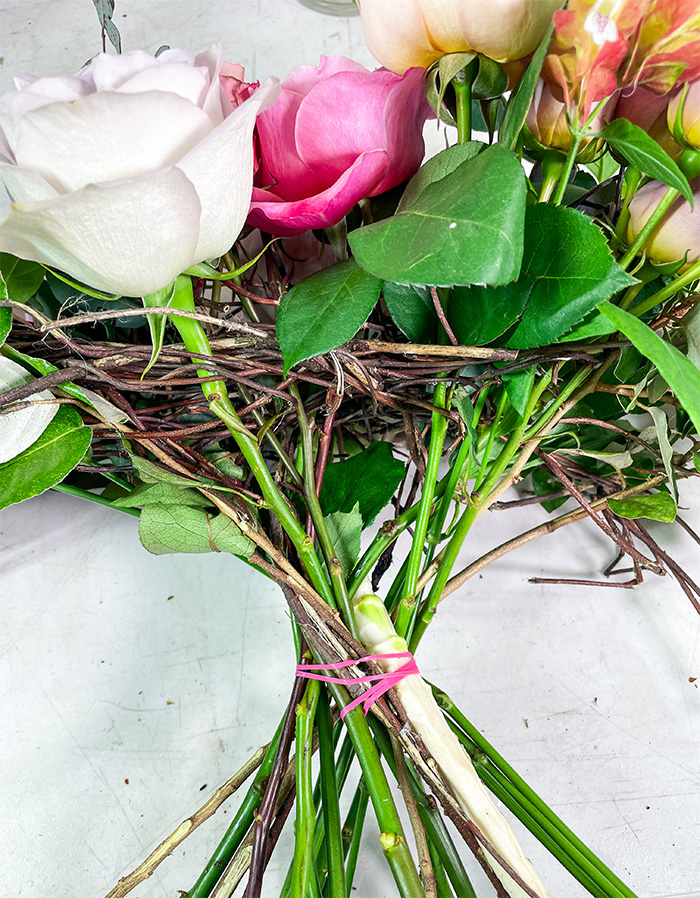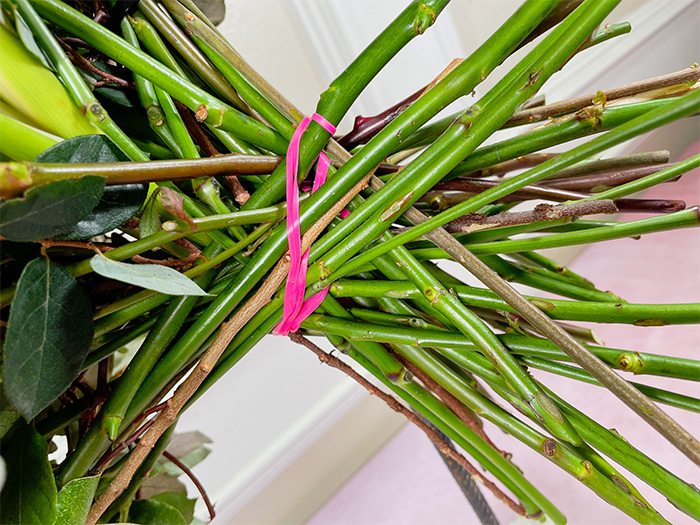 Step 6: Test your spiral technique. A well-balanced spiral bouquet will stand on its own. Cut all stems to an equal length, to extend only about 1 inch below the hand, and then check the balance and spiral stem placement by standing the bouquet on a flat surface.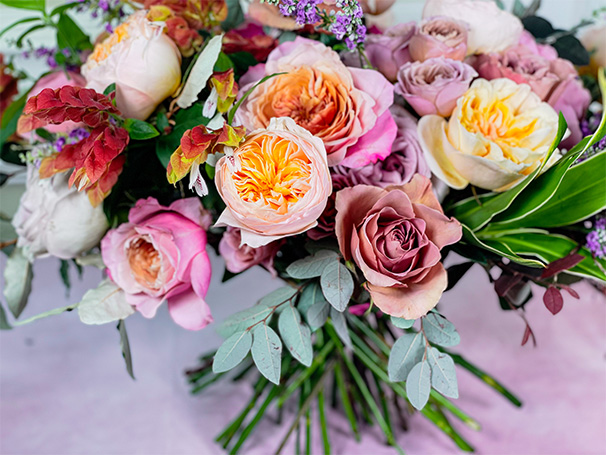 NOTE: Cascade-style bouquets should be held close to the body at the navel area, tilted, with the stems directed inward toward the body. This is another reason that stems in a hand-tied cascade bouquet need to be cut short.
Step 7: Wrap the binding point with satin ribbon, to camouflage the rubber-bands.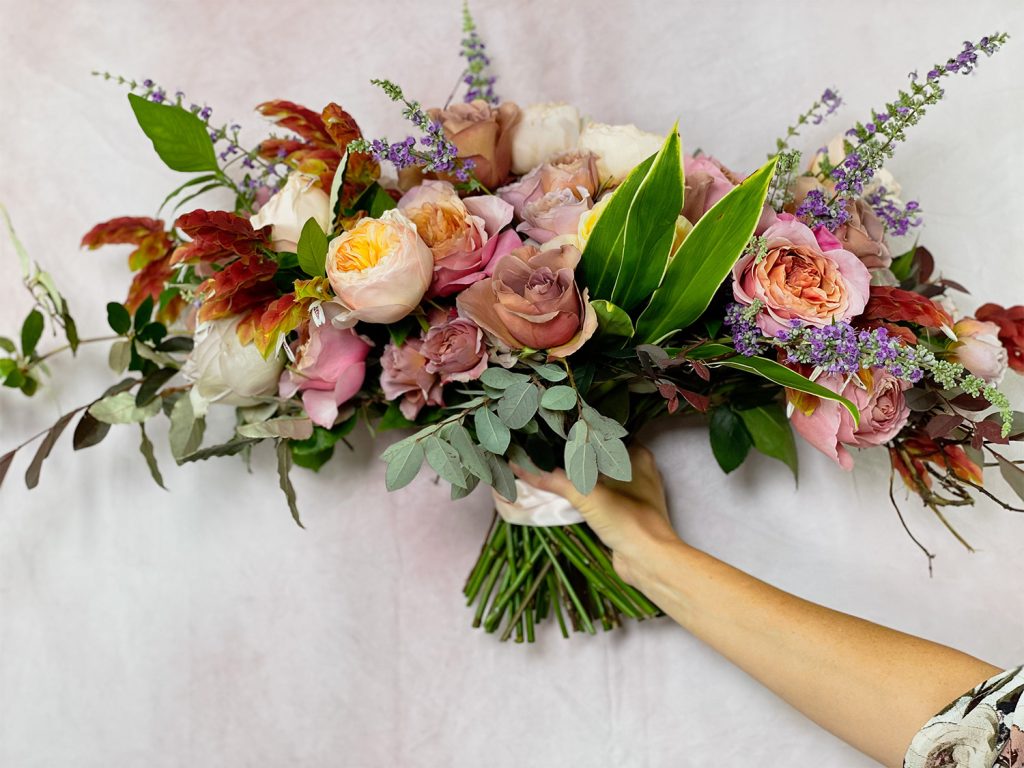 Materials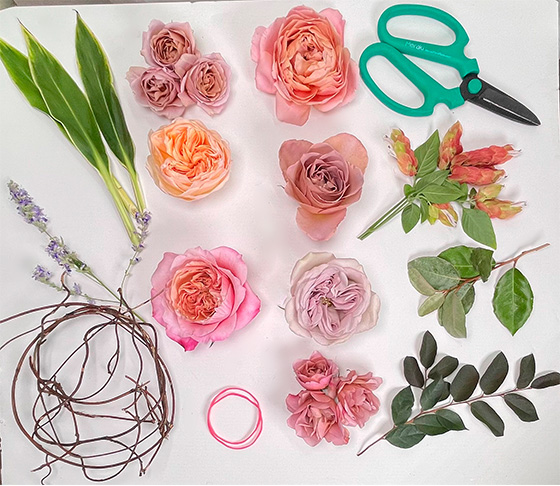 BOTANICALS from Alexandra Farms
• Rosa spp. 'Notre Dame' (Deluxe Dutch hybrid-tea rose)
• Rosa spp. 'Café Latte' (Deluxe Dutch-hybrid garden rose)
• Rosa spp. 'Romantic Antike' (Deluxe cabbage garden rose)
• Rosa spp. 'Juliet' (David Austin Wedding Roses garden rose)
• Rosa spp. 'Miyabi'(Wabara garden rose)
• Rosa spp. 'Loli' (Wabara garden spray rose)
• Rosa spp. 'Sola' (Wabara garden spray rose)
OTHER BOTANICALS
• Justicia brandegeana (shrimp flower, false hop)
• Buddleia/Buddleja davidii (butterfly bush, summer lilac)
• Elaeagnus pungens (thorny olive, silverthorn, spiny oleaster)
• Loropetalum chinense (Chinese fringe flower, Chinese witch-hazel)
• Cordyline fruticosa, formerly C. terminalis (ti plant, good-luck plant)
• Jasminum officinale vine, dried (common jasmine/jessamine, poet's jasmine/jessamine)
HARD GOODS
• Natural latex rubber-bands
• Satin ribbon