Wearable flowers for men have become more dramatic, daring, creative, stylish and personal. It's about time!
By Nita Robertson, AIFD, CFD
Boutonnières have really changed in recent years. Now there are so many ways to make them modern and stylish, personalize them, and make them unique for each customer and occasion. From unusual botanical elements and detailed wire work to contemporary stylings like pocket squares, cuff links and even shoulder epaulets, the options are endless for creative designers.
Today, boutonnières are rife with texture and layers of materials, often comprising a variety of foliages and other distinctive botanical materials—both fresh and dried—as well as a combination of blooms instead of just a single blossom or two. Subtle and traditional are no longer trends in men's flowers, so to help you channel your creative energy, here is our list of looks that are trending.
Personalization
Many florists are asked to incorporate small personal items into men's boutonnières. Bottle caps, jewelry, sports teams paraphernalia and just about anything you can imagine are now being asked to incorporate personal touches into flower wearables for men. For a Star Wars-themed wedding, I was asked to incorporate miniature LEGO® Star Wars™ figures into the boutonnières for the groom and groomsmen.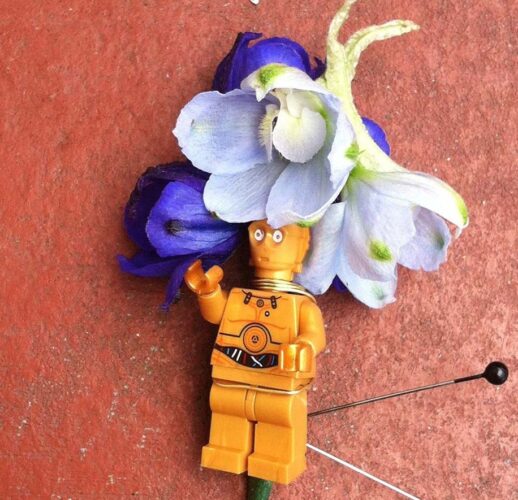 Pocket Squares
Pocket squares are popular again. Created on a small piece of card stock or cardboard, with flowers and other botanical materials attached to the top edge, they slip easily into a jacket pocket, creating memorable, conversation-starting "boutonnières."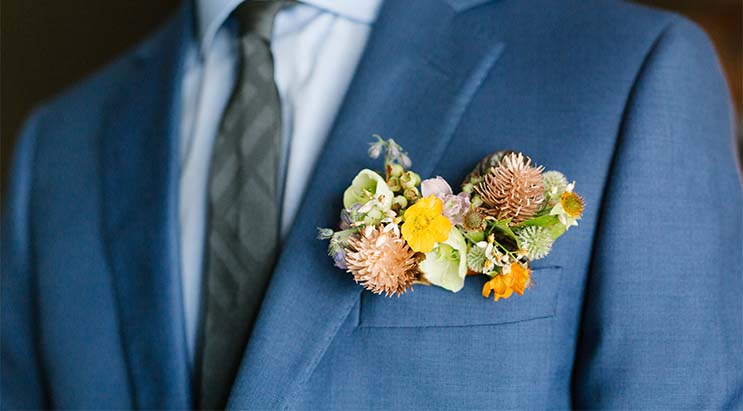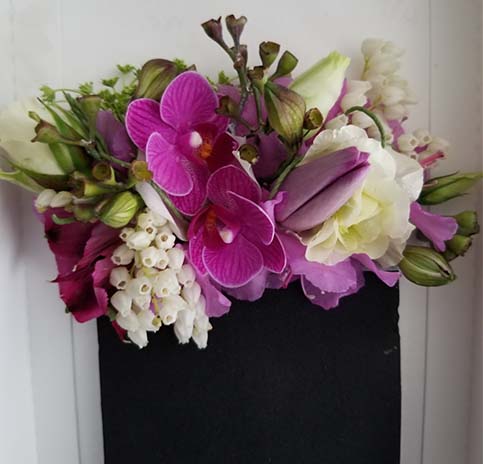 Floral Jewelry
Introducing metallic elements and small jewels into boutonnières has become immensely popular for prom and bridal clients who desire something dramatic and distinctive. Rodrigo Varito Vásquez, AIFD, CFD, FSMD, FPCF, owner of R. Varito Designs and Institute in West Palm Beach, Fla., is well known for the extremely detailed floral jewelry he designs for men, using decorative wire, small jewels and gems, and other materials. And as a bonus for his clients, Vásquez's beautiful pieces of jewelry become memorable keepsakes.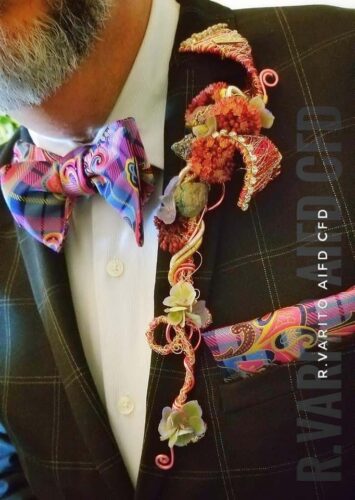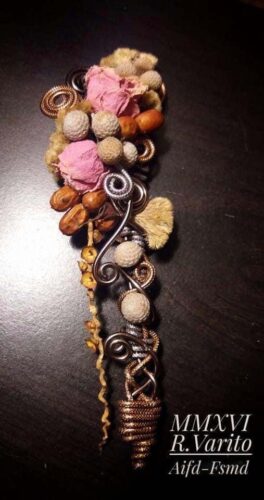 Rustic
For rustic and, perhaps, more masculine looks, floral designers are adding accents of "wildflowers" (often diminutive filler or accent flowers), dried botanicals, miniature succulents, berries, feathers and even bark, often finished off with natural stem wraps such as jute twine, raffia, yarn, paper- or ramie-covered wire—and more.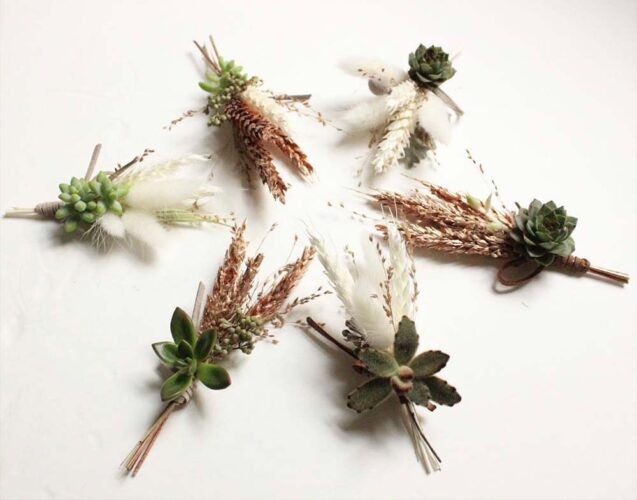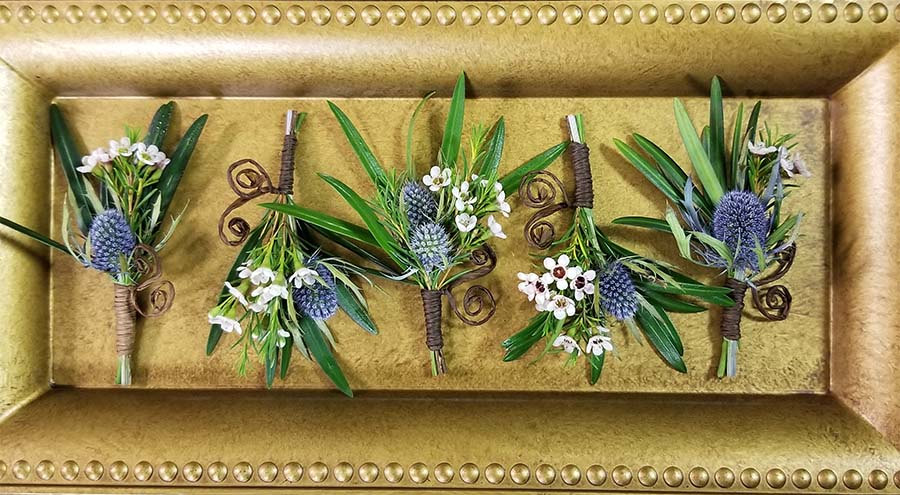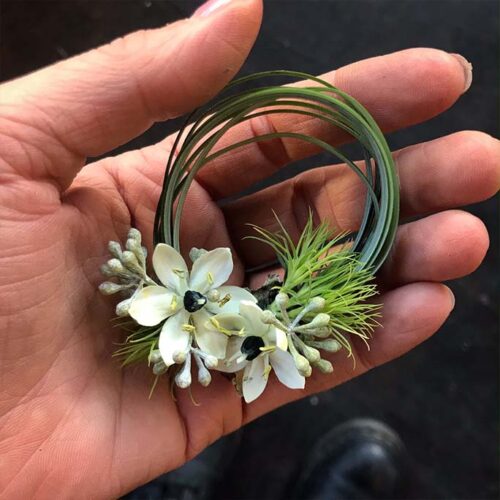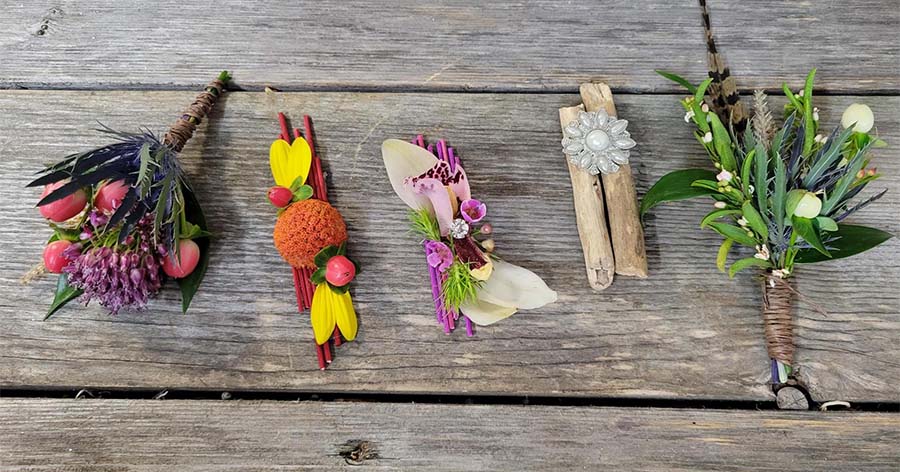 Ribbon Wrapped Stems, etc.
A technique once reserved for women's corsages, wrapping stems of boutonnières with ribbon or other fabrics, as well as creating a small "flag" or ribbon or fabric, has become en vogue in men's flowers, and doing so gives them a sophisticated and professional look. It is also a great way to coordinate boutonnières with other bridal flowers in which ribbon or other fabric is incorporated.