A wonderful recap of design techniques seen in Chicago earlier this month at AIFD Symposium.
Full Article Below Source
5 Modern Design Techniques from AIFD 2023 Symposium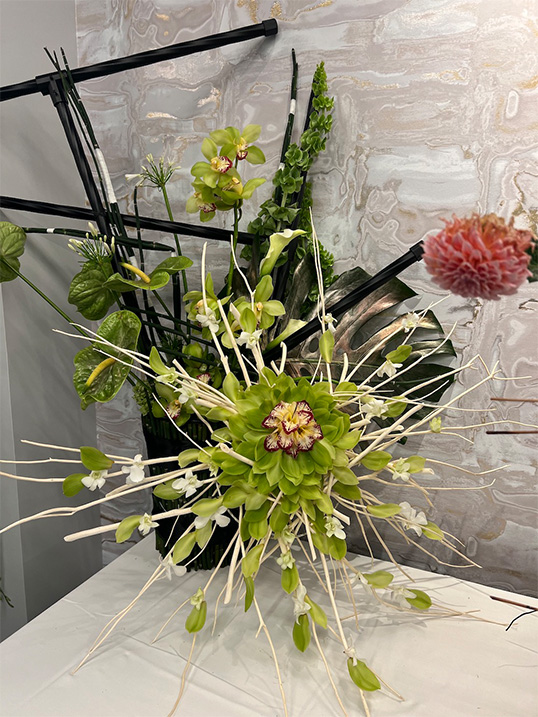 By Jill Brooke
Superstars of the floral world gathered in Chicago this month for the annual week-long AIFD symposium titled "GROW." Established in 1965, the American Institute of Floral Designers is the Harvard for floral designers and a think tank for floral innovation.
Not only is the non-profit organization dedicated to establishing, maintaining, and recognizing the highest standard of professional floral design, its worldwide accredited members present educational design programs. Plus, AIFD designers create flowers for events ranging from the Tournament of Roses Parade to the Academy Awards.
Some of the presenters this year included Charlie Groppetti, former White House florist Laura Dowling, Sweden's Per Benjamin, Germany's Bjorn Kroner, Taiwan's Elly Lin and Jenny Thomasson. Specialty flowers were flown in from around the globe and their aromas were intoxicating. It was a design festival on steroids since these are the premier florists who have special relationships with the world's best growers. You definitely felt "that flower feeling."
Here are some trends I saw at this year's convention. These trends will undoubtedly be planted into interior design and home decor in the next year.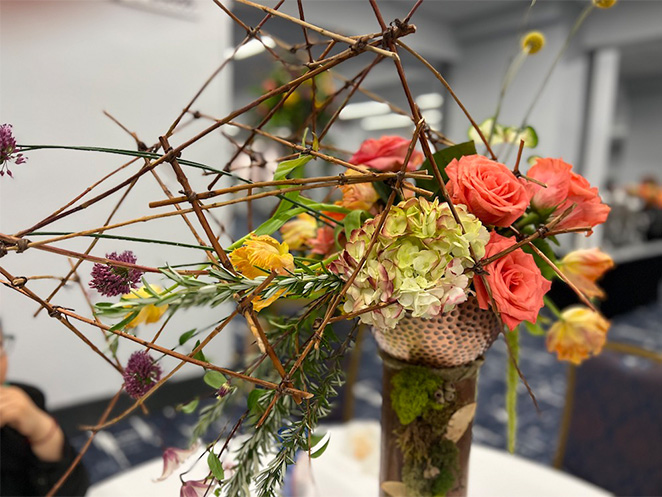 1. Supporting Floral Design with Architectural Structures
We've seen the rustic look take root for years now. Lots of branches, greens and airy local flowers like Queen Anne's lace, roses, amaranthus etc. But how do you update it? Make it fresher?
I was so impressed by what Julie Polter and Cindy Toll created.
Not only did they add moss accents in a vertical line onto the wood vase, so clever right? – but they used twigs in such an innovative way. Organizing them in triangles, they started building like legos. These twigs literally were extended from the structure to create such interesting sculptural elements. And each vase was different but collectively just wowed.
Another advantage is that it doesn't require a lot of flowers to charm and delight. Twisting branches, twigs and greenery meant fewer flowers without losing impact. Many young couples are also choosing this look vs. the tightly clustered English lush designs. With the triangular twig technique, you never wish for more flowers and are just captivated by this structure.
I couldn't stop looking at it. Whimsical and rustic for sure. But this added true modernity and elevated these designs into an art form.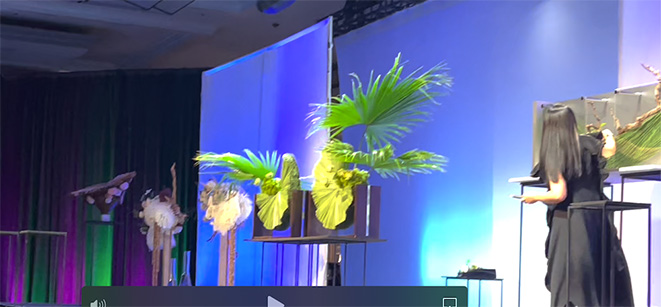 Elly Lin from Taiwan uses box-like structures to create floral art. Self-described lover of "greenery," she looks for interesting shapes and sizes. Then she accents the greenery with sprinkles of flowers. Vines and leaves are her passion. But in these box-like structures, floral design is truly art. Interesting for people who want to go beyond using vases for floral arrangements.
2. Matching floral vases with the flowers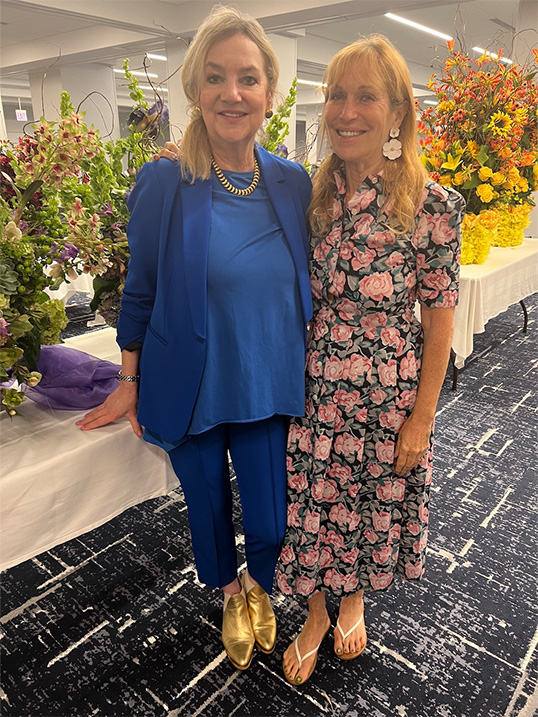 Never doubt the importance of vases when using them. Former White House florist Laura Dowling is a master at creating textures on vases to enhance the flora above. Check out how she even dyed Post-its with gold to match one creation filled with lemon-toned roses and sunflowers. "I came up with the idea because I needed to decorate the vase and saw some Post-its," she says. "You can find many things around you for creativity."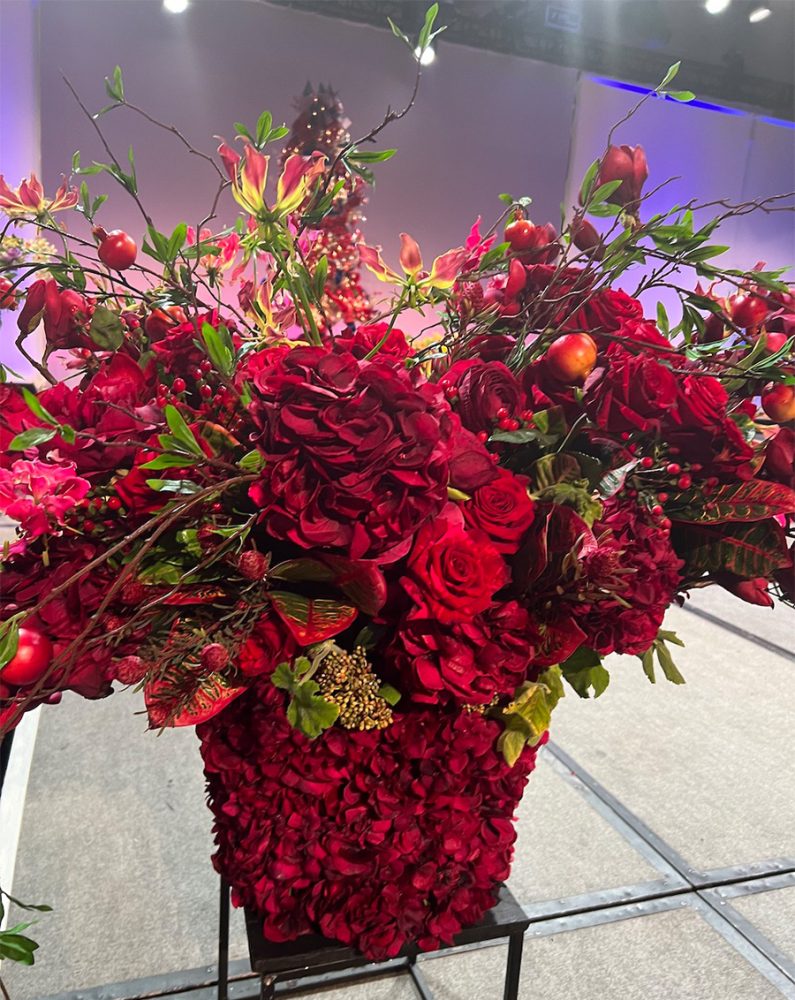 For other vases, she will put faux flowers pasted on the vase to match the color palate.
Here is another example where she used berries and greens to complement a vase filled with peach roses. She also often wraps vases with moss.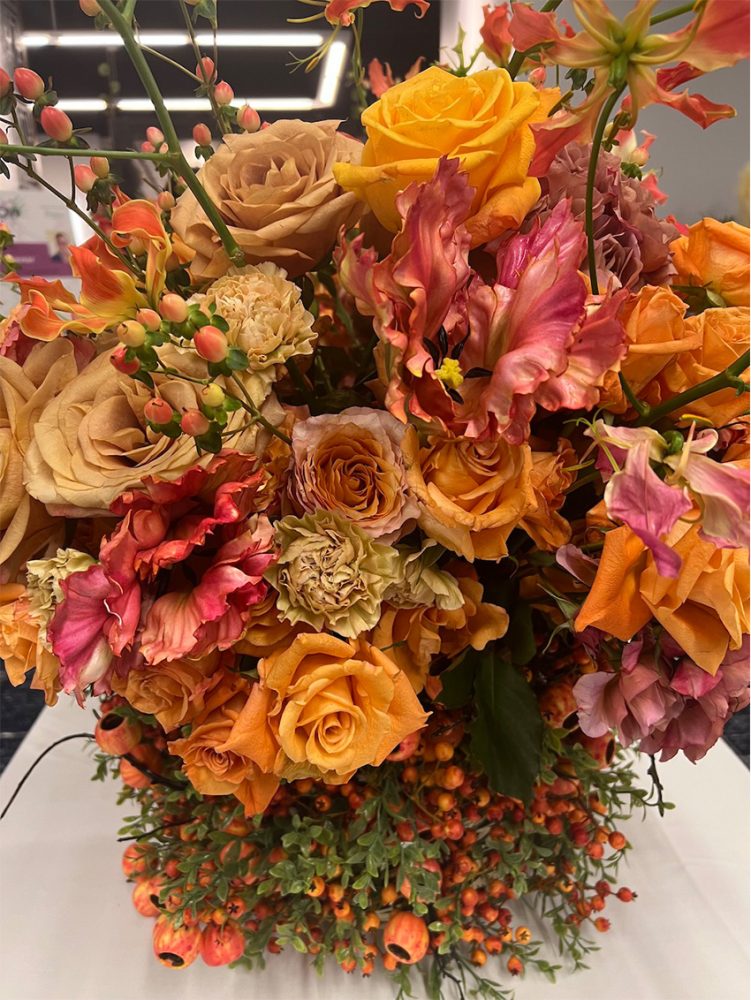 Her mantra is always to think in textures. With this technique, you can really feel like Monet in the garden.
3. Creating More Air in Installations
For years now, we've seen lush flowers drape installations with explosive abundance. These floral arches were the go-to installations for any bride and groom and a picture-perfect memory. They also are used for party events. In recent years, to mix it up a bit, stars including Tulipina and Holly Chapple started creating broken arches for wedding and party installations.
But at this show, Sweden's Per Benjamin and Germany's Bjorn Kroner both created installations that had a lot of air as well as intrigue.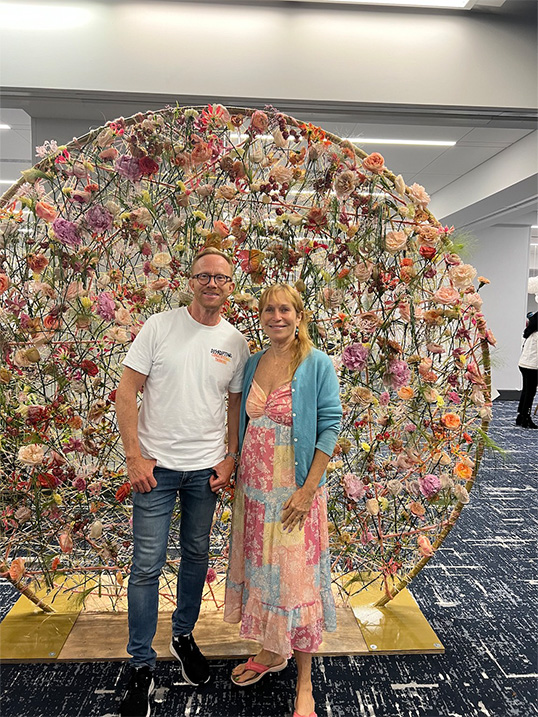 Per Benjamin is all about rivers of color in unexpected waves. When you are from Sweden with little light during parts of the year, flowers help create not only sunshine but cheer. "We love pastel colors but use bold colors when needed," he says. Here he used twine and greenery twisted into a maze and then puts individual flowers in tubes to create complexity as well as charm. For so long, designers didn't want anyone to see the hardware to make designs. Now it becomes part of the design structure in a seamless way.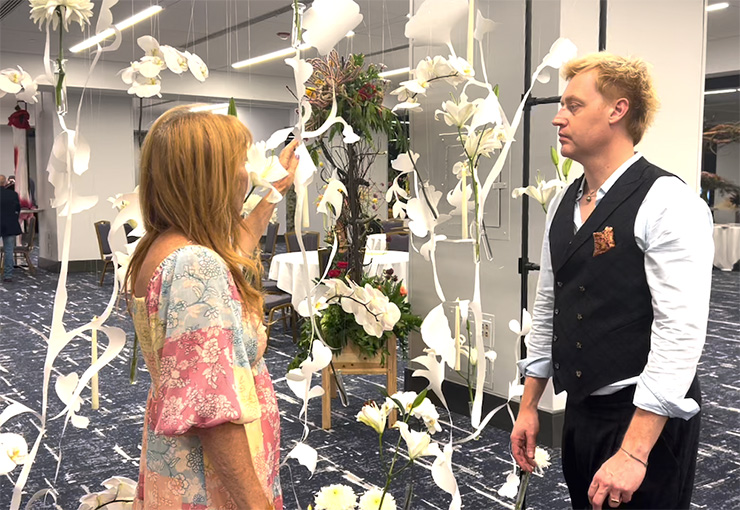 Bjorn Kroner connected to another trend which is a monochromatic look we've seen at Kips Bay Showhouse in New York and elsewhere. The Berliin-based florist showed how using paper – one called typic- could be molded and create moving forms.
"It's nylon strings, glass tubes and a few flowers doing their thing," he said "It can be a beautiful backdrop or entry for a party."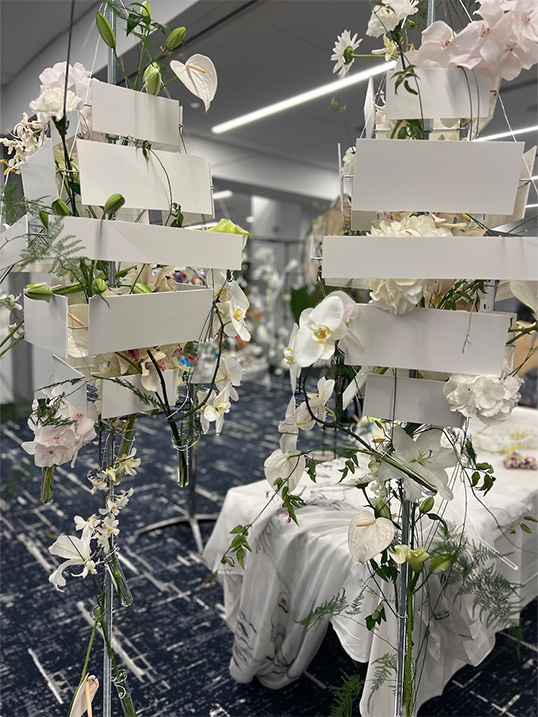 This is especially striking when matched with a garden backdrop or even a painted wall. The white pops and matches anything.
4. Using materials in unconventional ways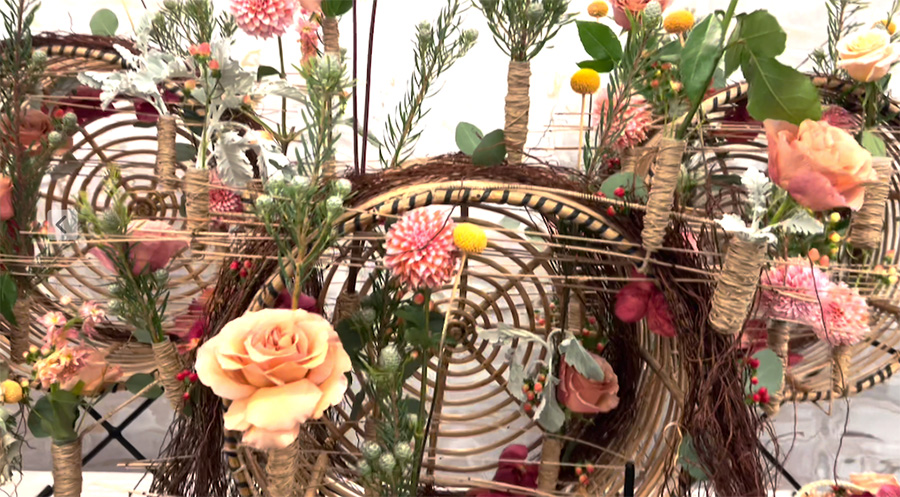 Jenny Thomasson, who will be representing the U.S. in the September World Cup, inverted baskets and vases to create magic.
Given raw materials to play with in a contest, she used them as props to launch creative possibilities. Then she wrapped floral material around it. Against a wall, consider using baskets lined up like a range of mountains and then create flora on it – vs. in it. What an inexpensive way as well to create design pop.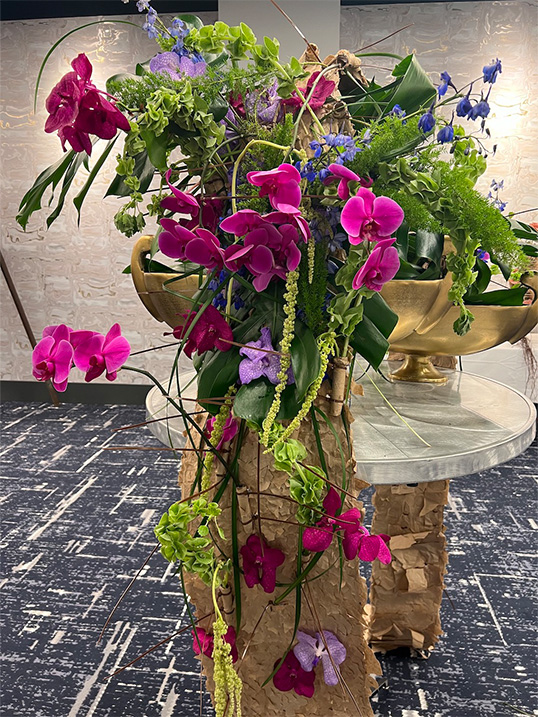 In her hands, vases also became launching pads for draping flowers outside of the vase. A true example of thinking out of the box.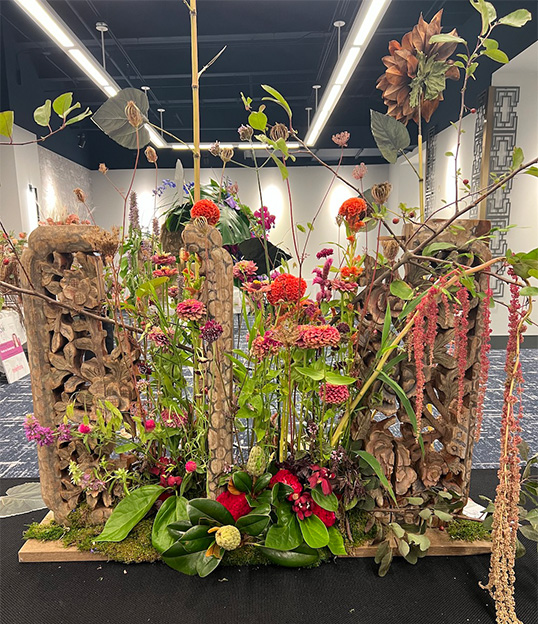 Charlie Groppetti also found inventive ways to reuse existing materials. Here he repurposed a broken sculptural wall. Inside the cracks, he added greenery along with zinnias, celosia and amaranthus. Put moss around it and voila – it becomes a sculptural floral piece for a dining room mantle or even a living room table.
For another creation, he used a bucket and put a sculpture in it. Then he surrounded it with flora and greens. It's matchmaking at a higher level.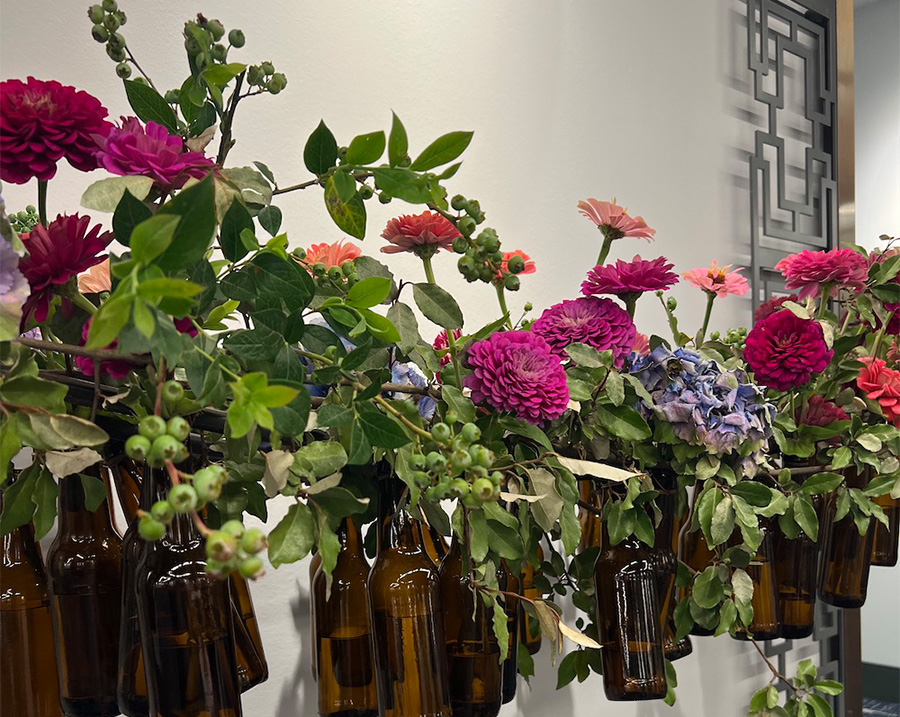 And if you are having a great party one night, and drank a lot of beer, here's an idea.
Look at what Charlie did with used beer bottles. Lined them up – attached them to a rod – and filled them with flowers. Imagine doing that as an anniversary gift. Sentimental isn't it? You can also substitute wine bottles. I am so inspired by this idea that plan on doing it for a future party.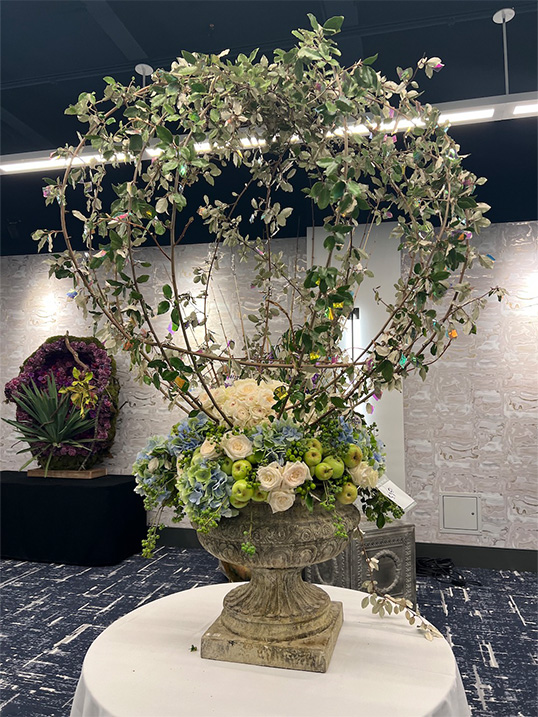 I'm also a big fan of how he added green apples to his design. Pierce them with sticks and add them anywhere for a wonderful added dimension. He also used eggs on one planter with some hay. It immediately sent the vibe of homey.
5.Ribbons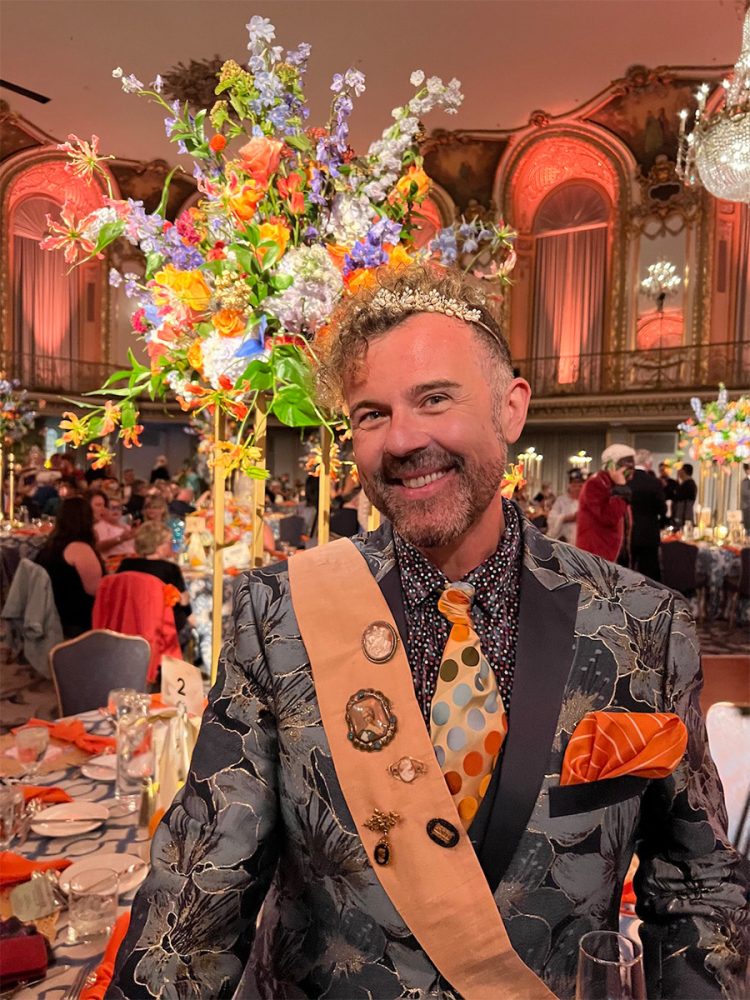 Imagine the pressure on Andy Hopper, creative director for H.E.B.Blooms, to create floral designs for the AIFD closing ball.  But he dazzled using orange gloriosa and blue larkspur, hydrangeas and delphiniums in such fun ways. Changing the heights of various floral arrangements added charm and excitement. But what really caught my eye was how he used a table arrangement and on one side had shooting delphiniums.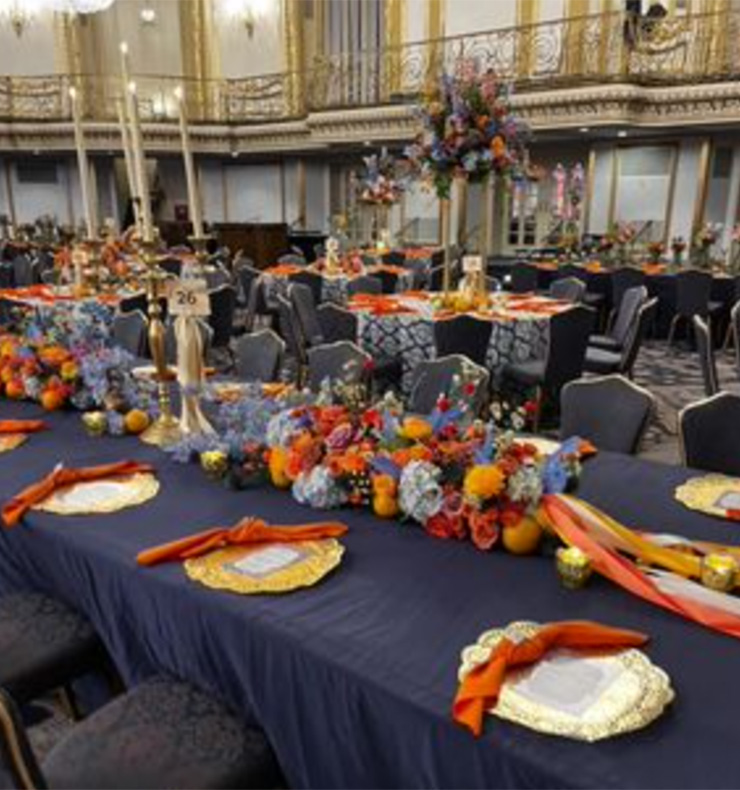 On the other side, he created ribbons. And natch – it matched the napkins. It was the finesse of knowing when to add and when to subtract. If he had used ribbons on both sides of the arrangement, it wouldn't have been as richly dynamic. The shooting delphiniums connected the other vases in a thrilling way. No runners are needed by using the delphiniums. The ribbons in a variety of colors added party flavor. The idea is to create the mood for fun and excitement and that's what his arrangements accomplished with great flair.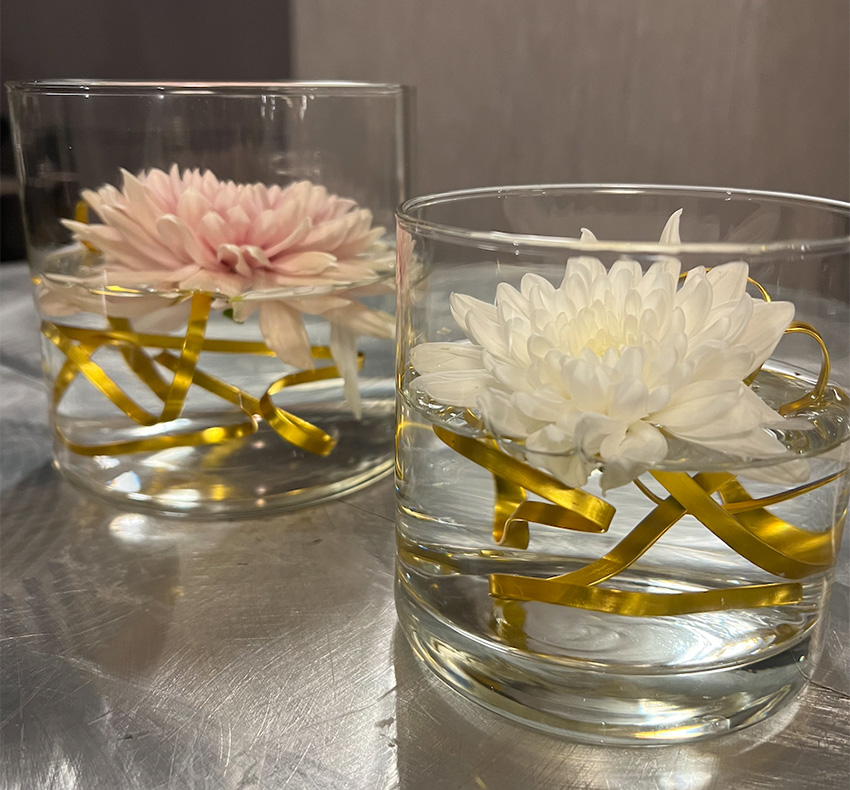 I also just loved how using some gold wire ribbon and adding chrysanthemums could be such a lovely touch to add to a bathroom or foyer. This is especially helpful if you get a bunch of flowers and some stems are broken. Can't you see this lined up on a breakfast table as well? Or on a tray if your mom visits and you serve her tea? It's all about recycling elements.
By all accounts, the AIFD 2023 symposium was a great success and next year will be in Orlando. Can't wait.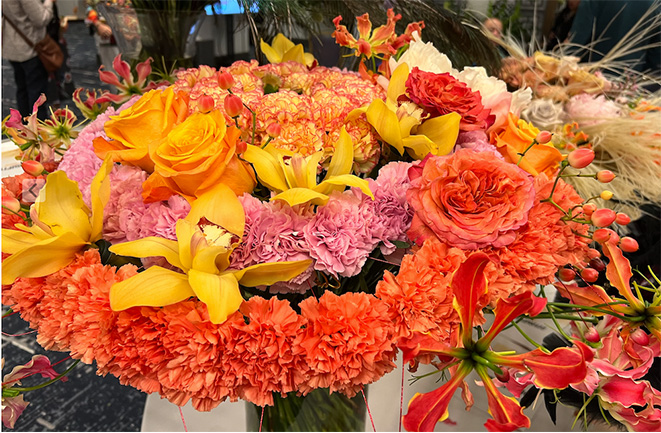 Jill Brooke is a former CNN correspondent, Post columnist and editor-in-chief of Avenue and Travel Savvy magazine. She is an author and the editorial director of FPD and a contributor to Florists Review magazine.
Photo Credit: Jill Brooke, Flower Power Daily