"Blending nontraditional botanicals and hues can create a modern aesthetic for fall and winter weddings" 
Farmer-florist Debbie Bosworth grows as many flowers as possible in 13 4-by-12-foot raised beds at Dandelion House Floral Design in Plymouth, Mass., a boutique backyard farm and floral studio. Come summer, that means Bosworth can harvest hundreds of Dahlias and companion blooms – Zinnias, sweet peas, Celosia, snapdragons and more – to use in her romantic garden-inspired florals for South Shore and Cape Cod weddings.
Bosworth is also the founder of the "New England Farmer Florist Connection," a Facebook community that has more than 500 members. She is part of an expanding hub for florists and growers who want to increase the popularity and availability of local and seasonal flowers in their region.
Hearing from other designers about the importance of good photography prompted Bosworth to produce her first styled shoot last summer.
"I wanted to capture the seasonality of local flowers in my designs, using mostly my backyard flower farm, as a selling point for local flowers with my clients," she explains. By partnering with photographer Shannon Grant, Bosworth planned and organized two days on the beach, documenting an editorial-style fashion shoot, as well as images of boudoir and bridal florals. To complete the narrative, they showcased paper goods, tabletop displays and appetizers provided by local purveyors.
"Not only did I want to create new content for my website and social media use but this project also helped me build community with local wedding industry peers and stretched my creativity to make something that represents my signature style," Bosworth explains.
Her floral brand is associated with Cape Cod coastal weddings, destinations and venues in the area. But Bosworth chose a private shoreline area with personal meaning for the setting of her "Ethereal Beach Wedding" photoshoot. "This beach is part of our family's history because my husband grew up there, in a little community called Saquish. There are 250 residents, and we've been going there for 30 years." 
The beach is home to picturesque symbols of the New England coastline, including the historic Plymouth (Gurnet) Lighthouse, built in 1803, and a Coast Guard station – both of which served as ideal backdrops to the flowers. Bosworth designed two bridal bouquets for the shoot, drawing from her cutting garden's best blooms. Rather than the predictable blue-and-white coastal palette, she opted for warm Mediterranean hues of dusty pink, hot pink, pale peach and dark coral, with touches of sage green from the olive and Eucalyptus foliage. Bosworth supplemented her crops with American-grown varieties sourced from a local wholesale florist, including olive branches, pampas grass, Astilbe, waxflower, sea lavender and Eucalyptus. With her daughter Nicolette Bosworth as her model, and with several wardrobe and accessory options, they arrived at the windswept beach for two days of photography. "It's a remote beach, and we needed a four-wheel-drive vehicle to reach it," the designer laughs.
Bosworth is now able to share the dreamy images with prospective wedding clients to guide their floral choices. She also hopes to inspire other designers to consider growing a portion of their own blooms. "If you can incorporate something from your own garden plot, it's a nice selling point for clients," she says. "It's also a great feeling to use flowers that perhaps other designers aren't choosing. There is so much demand for the 'Café au Lait' Dahlia, which, of course, I also grow and design with. But this photoshoot gave me the opportunity to feature lesser-used Dahlia varieties, including 'Emory Paul' and 'American Dawn,' as well as apricot Lisianthus, Hydrangeas, various Zinnias and Sedum 'Autumn Joy' – all from my backyard flower farm." 
DETAILS
| | |
| --- | --- |
| Floral Design | Dandelion House Floral Design, dandelionhousefloral.com, @dandelion_house |
| Photography | Shannon Grant Weddings, shannongrantweddings.com, @theshannongrant |
| Location | Gurnet Point; Plymouth, Mass. |
| Model | Nicolette Bosworth, @nicolette.bosworth |
| Hair and Makeup | Manda Monium, mandamonium.net, @mandamoniummua |
| Dress and Veil | Flair Boston, flairbridesmaid.com, @flairboston |
| Lingerie | Shop Gossamer, shopgossamer.com, @shopgossamer |
| Silk Ribbon | Hey It's So Pretty, @heyitsohsopretty |
| Paper Suite | Alison Kathleen, allisonkathleen.com, @allisonkthln |
| Wedding Cake and Desserts | Katelin Gellar, @katelingellar |
| Charcuterie Board | Jillian Rivers, @jillianrivers |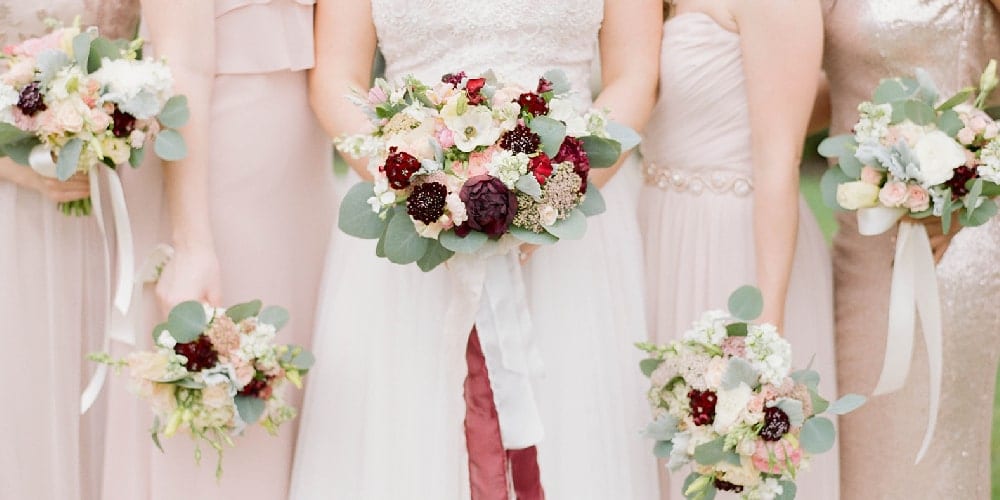 "Designing an American Floral Wedding, Photography by Klaire Dixius" 
Blair Roberts of Sweet Blossoms, a Frederick, Md.-based wedding and event designer, is proactive when sharing her core values, including this statement on her website's home page: "Sweet Blossoms operates with a focus on green and sustainable practices wherever possible. I place a high priority on ordering flowers from domestic farms … and work to cultivate relationships with as many local farmers as I can. I compost all organic waste, recycling at least 90 percent of all materials used in the studio. I do my best to use as little floral foam as possible. Electronic contract systems reduce the use of printing, and when I can, I try to order materials that have been made from recycled materials."
While it is sometimes a seasonal challenge to write a wedding floral recipe with all domestic flowers, Roberts finds that when she designs with that intention, the ingredients are delightful and evoke the best of her aesthetic style.
Last summer, all the details came together for one couple who placed their wedding in the hands of Brielle Davis of Brielle Davis Events, a Gaithersburg, Md.-based planner with whom Roberts often collaborates. Together, florist and planner proposed a design concept using local and domestic botanicals for the couple's personal, ceremony and reception flowers at Stone Manor Country Club, also located in Frederick.
"Like me, Brielle is interested in using sustainable practices and having a lower carbon footprint," Roberts explains. "She thought this was a client whose vision would fit mine."
The timing was perfect. "I told them we were in a perfect season to source pretty much whatever we wanted, especially because this client let me go with a style and a color palette rather than specific flower choices."
The floral palette of cream and blush, with touches of wine, evoked a theme of "rustic elegance." Flowers drawn from local farms and fields coordinated beautifully with the venue's stone manor house and vineyards. Roberts' choice of dark burgundy blooms and accents such as peonies, Scabiosa and Dianthus (sweet William), as well as lighter-hued blossoms including Cosmos and Lisianthus, were offset by the soft Eucalyptus foliage and custom-dyed garnet and ivory ribbons.
Roberts says, "I like to design with what I call 'ins and outs' – with some flowers tucked in and others elevated above the arrangement. When little tiny florals hover above the focal flowers, to me, that feels more rustic."
To achieve her goal of all domestic U.S-grown botanicals, Roberts ordered from multiple sources. "The Frederick area has lots of small farms that don't grow on a large enough scale to sell to wholesalers. I try to go to them first because I want to put my money back into the community that's around me. I like to check on what crops they're growing, especially to find special ingredients. It's more work to contact the farms and pick up from them, but I love having those seasonal blooms – the fragrance, and the just-picked freshness they offer."
For larger quantities and nonlocal product such as Eucalyptus, Roberts also shops with DVFlora, her wholesale florist of choice. "I give my rep instructions to supply American-grow flowers first, when possible," she says.
Roberts feels proud of achieving an all-American "real wedding" with her flower selections. "When I can pull off something like this ceremony, with a beautiful style and a beautiful color palette that is on trend and of the moment, it's so nice to tell the client, 'We did this with American-grown flowers.'"
CREATIVE/VENDORS
| | |
| --- | --- |
| Planner | Brielle Davis Events, brielledavisevents.com, @brielledavisevents |
| Florist | Blair Roberts, Sweet Blossoms, sweetblossomsllc.com, @thesweetblossoms |
| Photography | Klaire Dixius Photography, klairedixius.com, @klairedixiusphoto |
| Wedding Dress | Amanda Ritchey Groom's Suit: Black Tux |
| Rings | McCutcheon Jewelers |
| Hair | PCS Hair Authority |
| Makeup | Makeup by Kevan |
| Venue | Stone Manor Country Club |
| Tent Draping | FORMost Events |
| Boxwood Wall | Brightly Ever After |
| Vintage Rentals | Something Vintage |
| Sequin Linens | LinenHero |
| Caterer | Carriage House Catering Cake and Cupcakes: Sugar Bakers |
| Paper Goods | Artisan Matchmaker |
| Mini Golf Rental | Backyard Inflatables |
| Officiant | Ceremonies by Jeff |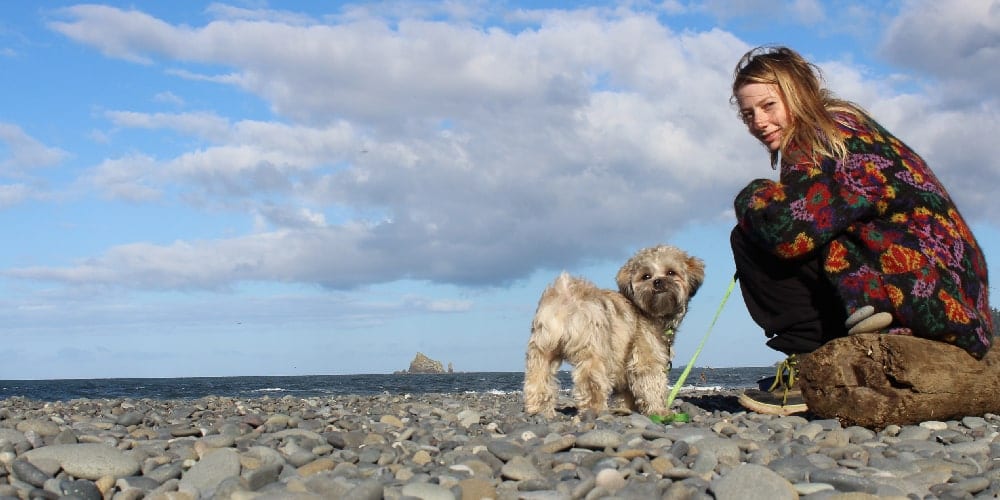 Moonlighting as a florist inspires the colorful botanically styled work of a Seattle artist and illustrator 
Freelancing as a floral designer has influenced Seattle artist Josephine Rice's prints, patterns, illustrations and murals. Her work is playful, graphic and polychromatic, a collection of visually mesmerizing flowers, buds, vines, leaves, pods and petals.
What she sees in a three-dimensional flower inspires her two-dimensional art. Rice's drawings are far from literal, but they convey the unique attributes and personality of familiar flowers. The hundreds of small botanical shapes that appear in her compositions are bold and engaging – and very much dimensional. Fans like me are fascinated with her color sensibility, her use of thin and thick black lines to define each shape, the intricate surface designs created by layered cutouts of plant parts that become a finished composition.
Slow Flowers commissioned Rice to translate her signature style into unique branding for American Flowers Week 2019. Joyous and uplifting, Rice's red-white-and-blue interpretation gives a modern twist to the conventional patriotic palette. In the botanical world, flowers themselves change color throughout a single season, so it's enticing to see how she reimagines traditional flag colors in a new inventive way.
In the lead-up to American Flowers Week (June 28-July 4), floral designers, flower farmers, retailers and wholesalers used several versions of this special campaign branding. Recently, I sat down with Rice for an extended interview.
Here's an excerpt of my conversation with this ingenious artist. You can read the full Q&A at americanflowersweek.com.
DP: How did you start making large-scale murals?
JR: Being a mural artist has always been a fantasy of mine, but I realized there was no way I was ever going to get a mural job unless I had a portfolio of murals. So, I put an ad on Craigslist and said, "I will do a mural for you for free. I will pay for the mural if you have a wall." I got lucky, and a few people wanted me to do murals. They let me do insane rainbow stuff.
DP: What came out of your mural work?
JR: I got this idea, "I love flowers so much; why don't I work in flowers?" That just clicked one day, and because I also love travel, I thought, "If I'm going to go to a workshop, I'm going to travel at the same time." I ended up taking a two-week workshop on "The Business of Flowers" at The Judith Blacklock Flower School in Knightsbridge, London. That was nearly four years ago, and when I came back, I cold-called everybody in Seattle looking for a floral job.
DP: Where did you land?
JR: I went to work for Anne Bradfield of Floressence in Seattle. It worked out wonderfully to be taken under Anne's wing. At least I knew art, and I knew design and what looks good and what doesn't look good.
DP: How did your art change because of working with flowers?
JR: Before I went to the London workshop, I would go to the public hours at the Seattle Wholesale Growers Market. I was drawing flowers, and I needed inspiration, so I would go there and snap a bunch of pictures and buy just one bundle of something. It was so amazing.
I remember being there one day and taking home Iceland poppies, which were, to me, the most special things I'd ever seen. I also ended up working part-time at the Market while also working for Floressence and making art. I was getting so much inspiration at the Market. I was seeing things I'd never seen before. You don't see those flowers on the street. I began to focus on different palettes or whatever was in season at the Market.
DP: Where are you now with your art?
JR: I always did flowers. I somehow can't draw anything else. I have a very specific style, and I can do it only that way. The work I am creating happens when I forget about "How am I going to sell this?" and instead, focus on "I just like drawing." I just like painting on paper and making paper cutouts. I make little pieces of paper, and over time, I have hundreds of them. Then I layer them together. It looks beautiful, and who cares if I sell it or not? Maybe all I care about is that it looks cool and sharing a glimmer of
beauty on the internet.
DP: There's definitely a thread between your large-scale murals and the prints you're creating.
JR: Oh yeah. It's all about the line. That's what I have going for me – my line. Everything starts with a Sharpie. I love Sharpie. I start by sketching flowers with a black Sharpie, which often looks like a doodle. Then I paint the whole page. Then, my favorite part is adding tiny details of the black line and cutting out the shapes.
DP: What else can you share about your process?
JR: I used to think it was really wrong to take photos of a flower and then draw it later. Then I realized that process goes with the way I work because my work is flat, and I've simplified what I'm drawing. The paper cutouts give my work a 3D look. Now, I'm exploring starting my own line, maybe a line of journals.
DP: How do you find sanity as an artist in a commercial setting?
JR: I always wanted to make a tangible piece of art that a person could buy. And I was very concerned with "how am I going to sell this?" I don't know why I cared whom I was going to sell it to. Finally, I put those concerns on the back burner and told myself, "Why don't you just let it be fun? Stop ruining the fun part of this."
DP: That's really good advice for anybody.
JR: There's the level of trying to make it your living, and then also letting go a bit.
DP: Right, and finding your voice in all of that.
JR: Yes, and don't think it's all over the second you start. I have no idea what my art is going to look like in five years. I can't wait to see.
DETAILS
Josephine Rice: josephinerice.com, @josephinerice.flower