Suitable color combinations for a late summer or early fall weddings and events.
Full Article Below Source Brides.com
The 6 Best Color Palettes for a September Wedding
The experts share a range of suitable color combinations for a late summer or early fall affair.
Published on 08/17/23 09:00AM on brides.com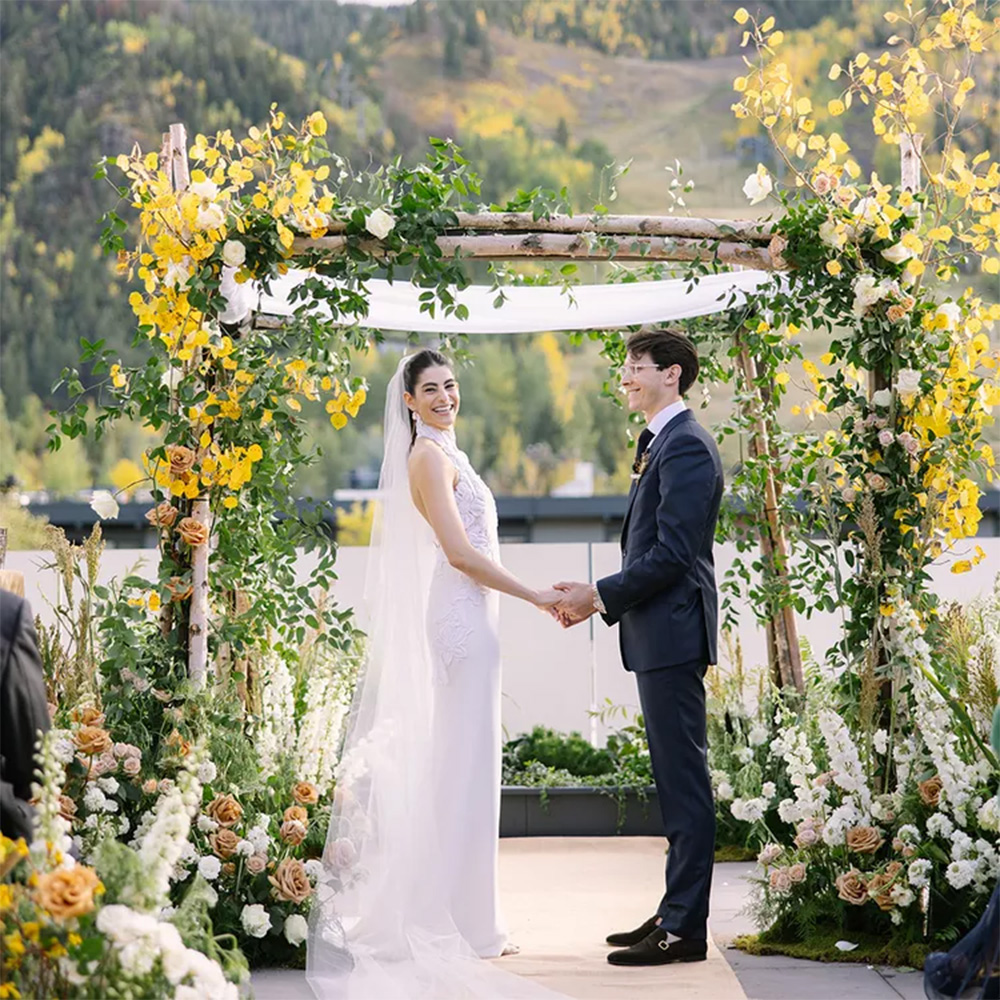 September is one of the most sought-after months to say "I do," and it's easy to see why: In most regions, the weather is balmy and bright, and the local flora and fauna is still teeming with life. Plus, there's a newfound excitement in the air that comes with the anticipation of a start of a new season. Because September marks the transition from summer to fall, this time of the year gives you a lot of leeway in terms of your aesthetic, namely your color palette. Since the shades you use to paint your special day help guide and inform the rest of your wedding's design concept, choosing hues that coordinate with the season will create a more cohesive, visually striking experience.
Depending on your venue and wedding date, your affair could channel all of the bright colors of summer or mirror the rich jewel tones of fall. For instance, Colorado-based wedding planner Lindsey Morgan of Bello & Blue Events explains that the leaves in Aspen transform from green to gold during the third week of the month, which lends inspiration to a foliage-inspired color scheme for a late September wedding, but lighter, warmer hues might better complement a vow exchange set earlier in the month. Meanwhile, nuptials in South Carolina may look green and prolific all month long, so vibrant colors will most likely trump dark and deep tones for an event in September.
MEET THE EXPERTS
Lindsey Morgan is a Colorado and destination wedding planner with 20 years of experience and the owner and creative director of Bello & Blue Events, which she launched a decade ago.
Yodit Gebreyes Endale is the owner and principal planner at Favored by Yodit Events & Design, which serves clients around the world. She has 12 years of experience in the wedding industry.
Adriana Gorman is the owner and lead event designer of Adriana Marie Events based in Annapolis, Maryland. She has been planning weddings since 2012.
The options are truly endless for a September wedding, so to help you make the decision process more seamless, we tapped a handful of wedding planners for some of their favorite color combinations that befit the month. Read on for the best color palettes for a September wedding, according to the experts.
Shades of Purple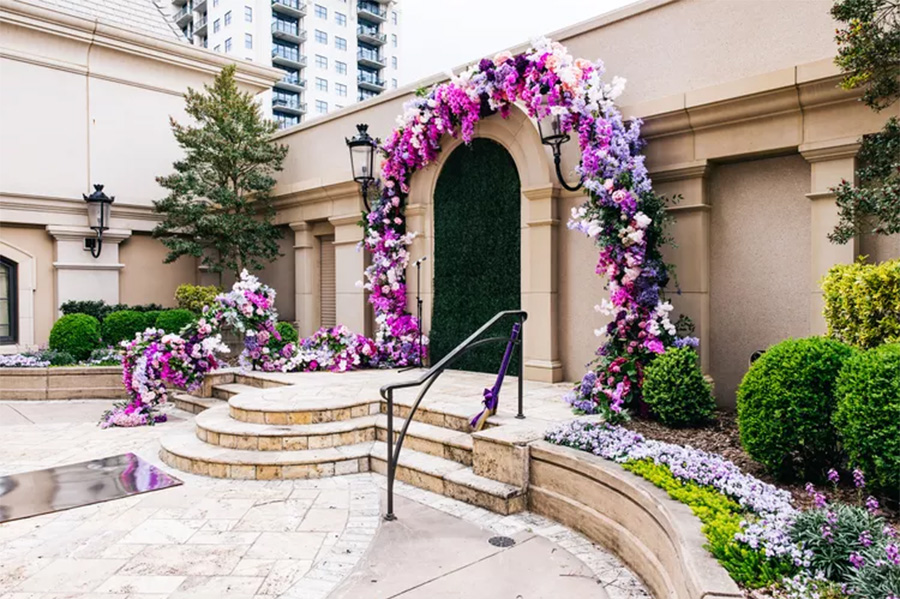 Purple is a versatile hue that works for any day in September. Lighter shades of purple, such as lavender, lilac, and violet, will create the perfect backdrop for a late summer wedding in early September, whereas deeper tones of plum, eggplant, and wine will better commemorate the changing seasons in late September. Although a monochromatic design is a stunning choice, wedding planner Yodit Gebreyes Endale of Favored by Yodit Events & Design recommends pairing the color with harmonious hues to channel a certain aesthetic. "They can be combined with neutrals, like ivory, beige, or gold, to add a touch of elegance or simply paired with green to emphasize a natural and organic ambiance, while bringing the royal and regal feel," she says.
If you're looking for décor ideas, your stationery suite is the best place to start. Share information about your upcoming function on purple cardstock, or include a splash of the color through the use of illustrations on a white background. You can also work the shade into your attire, whether it's a white wedding dress appliquéd with purple flowers or a pair of purple platform wedges to dress up a classic ensemble. Purple gowns for your bridesmaids are also a beautiful and complementary look. Then, douse your ceremony and reception in the shade using seasonal purple flowers, such as dahlias, roses, and hydrangeas. Complete your setup with gold accents for a glamorous wedding or rattan pieces for a bohemian soirée.
Burgundy and Orange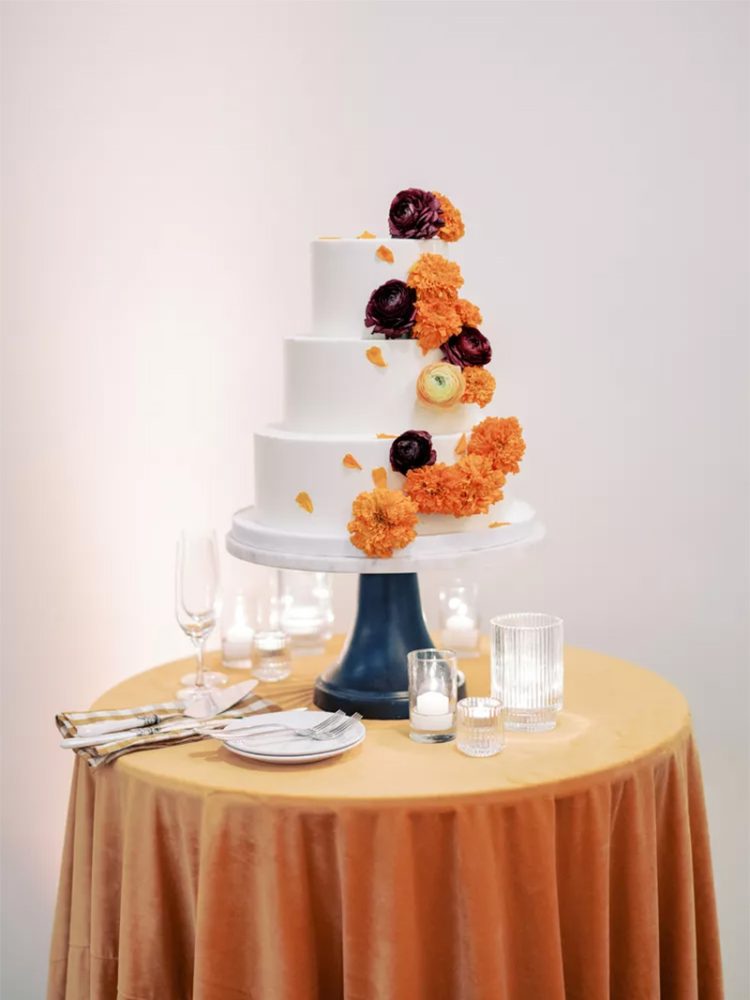 The leaves start to change colors in the Northwest and Midwest in mid-September or near the end of the month. So, if you're throwing a late September wedding in one of these regions, an autumnal color palette with deep tones will augment the season and setting. In particular, Endale loves combining burgundy and orange to mirror the surrounding foliage and produce a cozy, welcoming vibe. Not to mention, these hues have symbolic meanings that are meant for a wedding. "Burgundy, in particular, represents deep love and passion, making it a perfect choice for a wedding celebration," Endale explains. "Orange is often associated with warmth, friendship, and enthusiasm, all of which are sentiments we wish to highlight during this momentous occasion."
Since these bold tones are found in the natural landscape surrounding your vow exchange, using burgundy and orange flowers and leaves is a seamless way to integrate these colors into your design. While you walk down the aisle, carry a bouquet of foliage, anemones, roses, and cosmos in orange and burgundy before reciting your promises in front of an arch composed of the same blossoms. You can also implement seasonal arrangements of the same colored blooms to accent the seating chart, bar, dinner tables, and cake display. You can either use these hues in tandem, supplement the two tones with gold, or balance out the color-focused look with white.
Blue, Sage, and White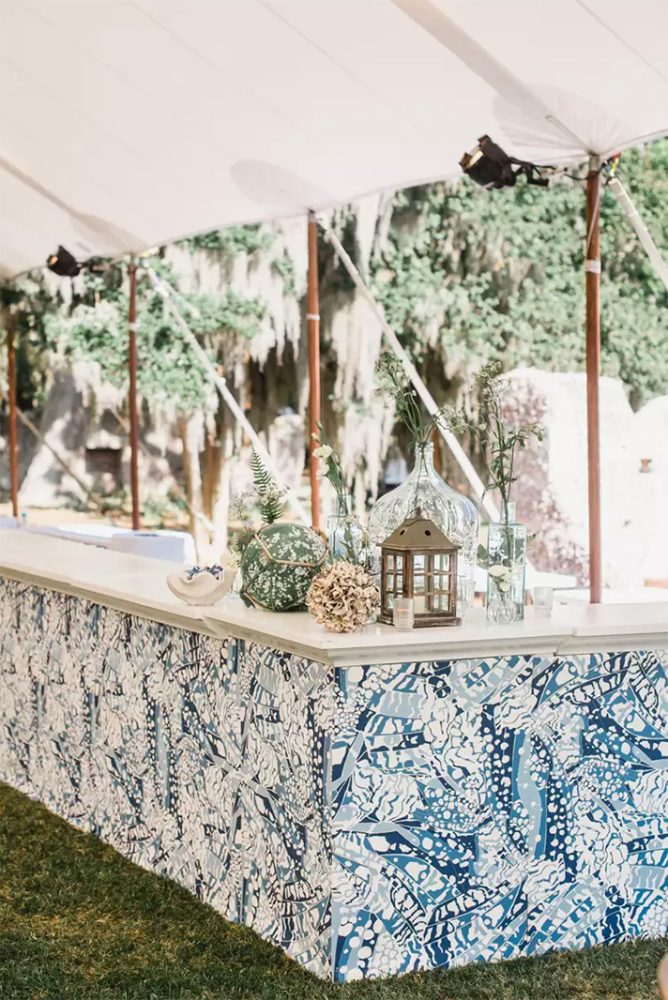 For the last hurrah of summer, look to airy tones of blue, sage, and white as the basis of your color scheme instead of heavier autumnal hues. While this trifecta is timeless and seasonless, planner Adriana Gorman of Adriana Marie Events recommends bringing these hues to your early September wedding taking place on or around Labor Day. By relying on this trio of colors, you'll produce a warm and inviting soirée. "The colors are the base of the story for your wedding weekend… A blue and sage palette creates a calm nature," the planner notes. Since these refreshing colors are reminiscent of a body of water, we love this look for beachside or lakefront fêtes.
To bring these hues to your event, deck out your site with greenery embedded with blue and white flowers. In addition to your typical arrangements, like aisle installations and reception centerpieces, you can also go bold with flower chandeliers. Gorman also suggests working sage into your bridesmaids' attire. Then, implement blue and white prints, whether it's the linens, the chargers, the bar design, or all of the above. To complement the colors and the venue, Gorman suggests incorporating texture, like rattan. Perhaps you suspend rattan lanterns above your tablescapes, or maybe you fill rattan baskets with blooms to place at the entrance of your tented reception.
Merlot, Navy, Dusky Rose, Ivory, and Mustard Yellow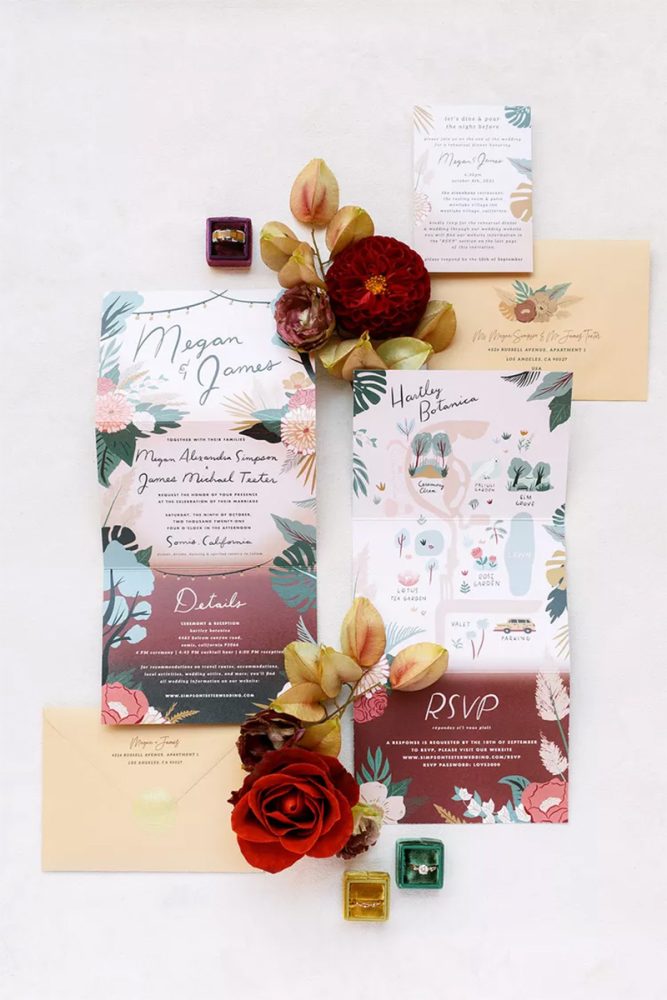 There's no limit on the number of colors you can decorate your wedding with. One of Gorman's favorites for a celebration that takes place near the end of the month is merlot, navy, rose, ivory, and mustard. "This feels like a great balance for a later September wedding as a nod to the fall, but it has areas of muted lightness as well," she shares. While merlot and mustard mimic the colorful treetops that epitomize autumn, navy and rose are unexpected accompaniments that will give your event an edge. If you're getting married at a vineyard, farm, or barn with a rustic aesthetic, this color scheme is particularly fitting.
Flowers are an integral component of any wedding, so Gorman advises using buds in these hues to form the foundation of your design. "Dusky rose, ivory, and mustard yellow with pops of merlot in the florals throughout will create a rich and inviting space," she says. You can also incorporate fall leaves, golden fern, and dried grasses for added texture. To bring navy to the mix, the planner suggests selecting velvet furniture in the dark blue shade for your lounge area or choosing a statement navy design for your bar.
Amber, Emerald, Cognac, Eggshell, and Black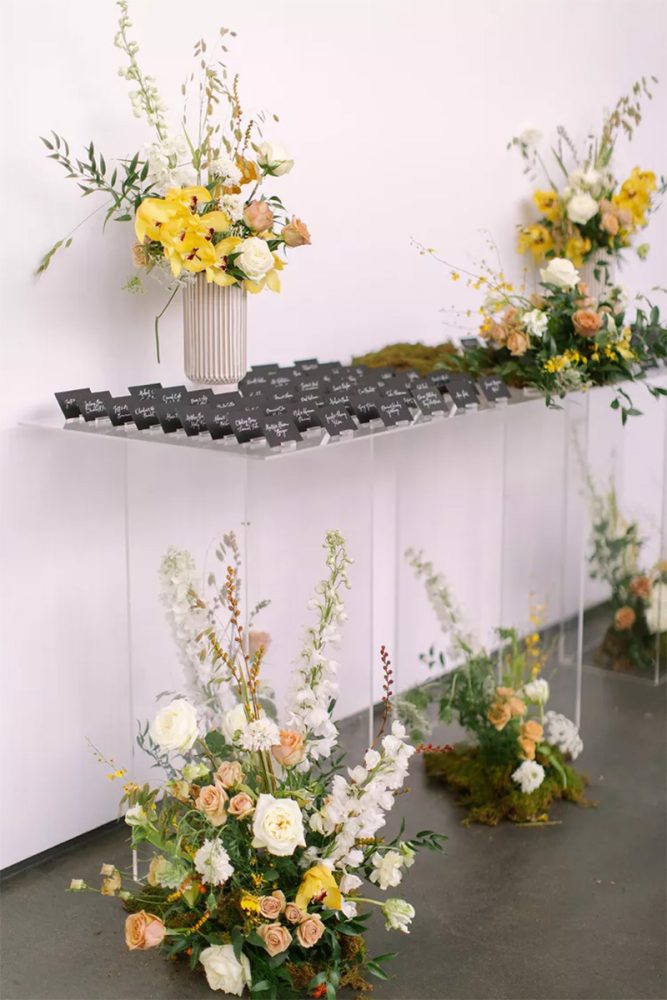 As another alternate color scheme for a late September wedding, consider amber, emerald, cognac, eggshell, and black. Black and white is a classic pairing that can be used at any time of the year, but by adding amber, cognac, and emerald, you'll give your big day a unique autumnal twist. Using amber and cognac will duplicate the colors of leaves found outside of your venue, while emerald is a jewel tone that couples often turn to in the fall. Incorporating black details will give your décor a moody, dramatic flair.
For some ideas, set the expectation for your event with black and white invitations featuring your custom crest or a sketch of your venue in amber, emerald, and cognac tones. Then, embellish your site with arrangements of greenery, textured grasses, roses, and delphinium using every hue from your palette. You can place these arrangements at the entrance of your aisle, at the base of your escort card display, and at the foot of your sweetheart table. Another fun way to bring amber to your big day is by ditching the traditional flower petal exit-toss or send-off in favor of golden leaves, according to Morgan. You can also incorporate the bright yellow hue through light fixtures. "Amber is the perfect flattering lighting tone, and it mimics candlelight," she says.
Berry, Butterscotch, Tangerine, Ivory, and Black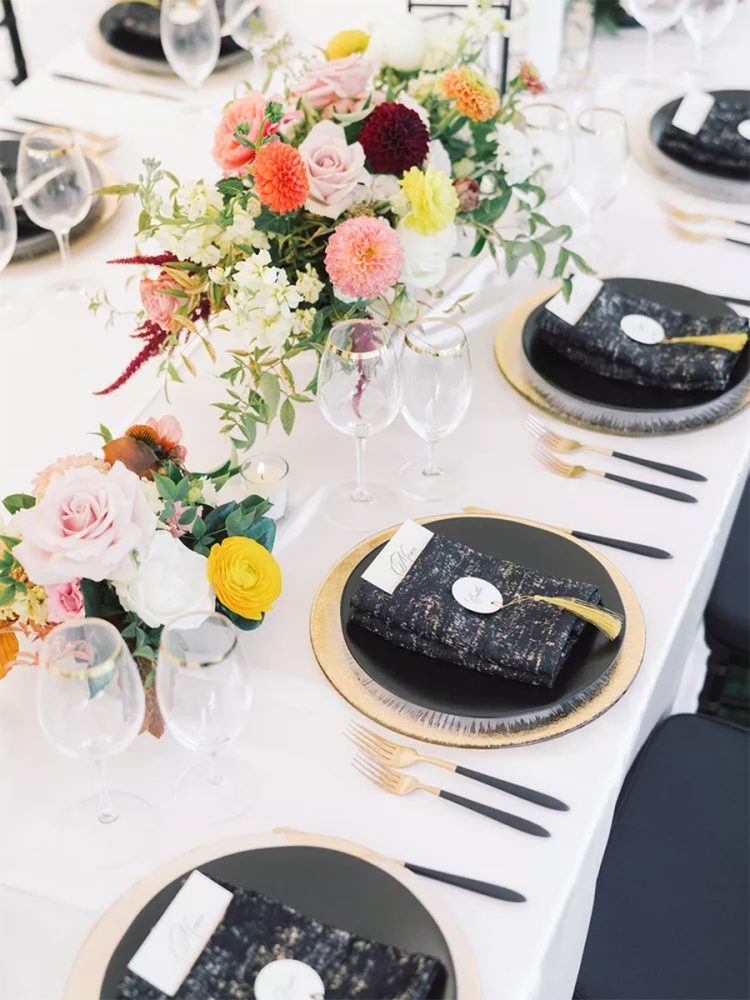 If you love the timeless look of a black and white color combination, but you also want to add a pop, bring berry, butterscotch, and tangerine to your palette. These hues work well for the beginning, middle, or end of the month and in any locale. The vibrant shades of berry, butterscotch, and tangerine are reminiscent of summer, but including dark details will introduce the upcoming fall season. "With September being the bridge from summer to fall, we often pair softer tones with more of a bold hue, like black, navy, or a rich wine tone, to balance the palette," Morgan explains.
Wondering how to make this unexpected array of colors work for your September affair? Focus on vivacious floral arrangements that showcase berry, butterscotch, tangerine, and ivory. Then, implement darker details for juxtaposition. For instance, line white tables with clusters of colorful flowers, and choose black chargers, black napkins, and black flatware with a touch of gold to welcome an interesting contrast.