The outlook appears buoyant: Balloon designs and décor from the past are on trend again, and the pandemic has spawned a new appreciation for these inflatables by consumers.
By Brenda Silva
In today's balloon industry, it seems the adage "Everything old is new again" best describes the latest design trends. Based on current requests from consumers, many of the most popular designs and products look to incorporate ideas from the past into both personal and professional events.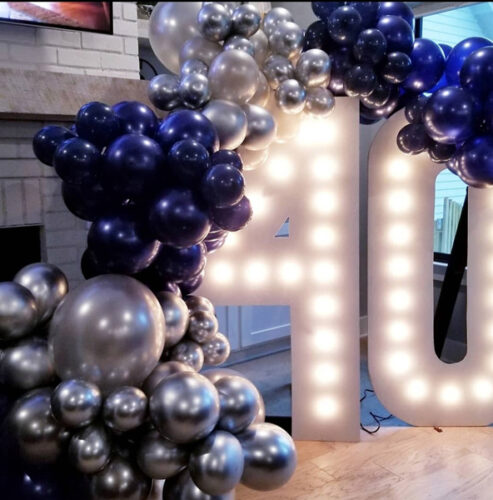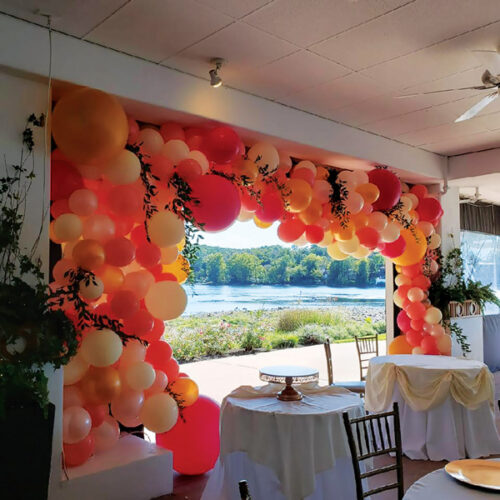 Popular Demand for Popular Designs
According to Georgianne Vinicombe, president of Monday Morning Flower and Balloon Co., in Princeton, N.J., requests for traditional garlands have increased, along with balloon hoops and moon gates. "We're getting more requests for organic and traditional garlands, as well as hoops and moon gates decorated with balloons," she reports, adding details about their DIY option. "We've added a 'hang-it- yourself traditional garland' option to our website. Not everyone knows how to create garlands, but most people are comfortable with hanging them on their own.
Vinicombe continues, "Last year, during the pandemic, we had a few 'outdoor and casual' wedding couples wanting balloon decorations. I've been doing balloons since 1988, and it was common back then for brides to order balloon arches for their wedding ceremonies or receptions. But prior to COVID-19, we had not done a balloon wedding in quite a few years. I'd love to see a return of balloon decorations for weddings."
Neutral-palette balloon garlands and décor is a trend that Holland Muscio, CBA, owner of Balloonacy in Atlanta, Ga., is seeing. "The boho-chic look is not new, but it's not going away anytime soon, and the demand for neutral- palette balloon garlands is at an all-time high. And with our company, Flowers by Holland, we can add floral design to those garlands."
In terms of other trends that have continued, Muscio asserts, "There is still a demand for 'PDC' (public displays of celebration). We saw a lot of that during the early days of COVID-19 with an influx of yard balloon displays and yard cards, as well as drive-by baby showers and birthday parties. The good news is that people are still doing some of those things to celebrate births and birthdays and even engagements. We love doing the 7-foot-tall yard numbers or creating yard art marquee displays with the birthday number or even a beautiful cascading balloon garland over the front porch."
When it comes to the "driving force" behind requests for today's creative balloon designs and décor, Kacie Carswell, marketing manager at burton + BURTON in Bogart, Ga., points to social media and DIYers as influencing factors for many of the latest trends. "Social media and DIYers have been the driving force for more creative designs and over- the-top balloon décor," she notes. "Flower shops and other balloon retailers are seeing this trend and dedicating more space in their stores to showcase balloon décor that makes a statement."
Carswell also reports that the trend of "personalization" continues and is on the rise, as post-lockdown consumers look to reestablish celebrations of significant events among families and friends. "It's all about personalization these days and making someone feel extra special. Our offerings of specialty shapes and standard foil balloons, which are designed by our in-house artists, are focused on coming trends, and they complement our full array of coordinating balloon and gift products."
Looking to burton + BURTON's past product lines, Carswell adds, "Recently, we revitalized our 'My Own Pet Balloons' line of animal-shape foil balloons with a fun display so stores and customers alike can enjoy these wonderful care-free 'pets.' These innovative balloons are helium-filled and are a blast to 'walk' for people of any age. We are also going retro with everyday designs like our 'Happy Birthday' balloon with black and neon colors. All product creation is done to meet customer demands for on-trend designs and shapes for every occasion."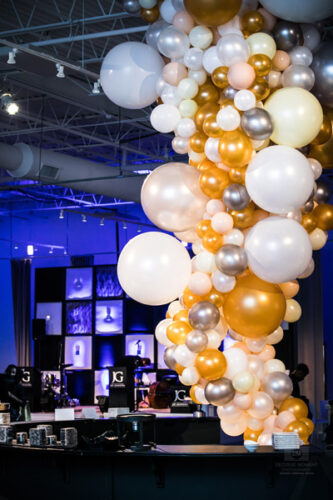 Current Challenges and Creative Solutions
During the last few years, the balloon industry has faced its fair share of challenges—such as a helium shortage and environmental concerns over balloon materials—that played a big part in deflating sales. However, with both issues no longer among the industry's greatest concerns, new challenges have appeared, many of which require creative solutions in order to regain lost sales and balloon enjoyment.
"We are consciously aware that what we do produces waste, and, as a company, we try to be as green as possible and not create litter," Muscio admits. "We recycle all packaging that we can, we make sure that any balloons that get popped are properly disposed of, and we never sell product for balloon releases."
Muscio also points out alternatives to the rising costs of helium. "As of late, we have not seen any shortages; however, the costs have gone up. Long ago—even before there was an official shortage—we learned different ways to do air-filled décor that would still fulfill our clients' wants and needs yet not use as much, or any, helium. Being able to offer such solutions to customers has helped us create loyal customers."
Vinicombe says that despite the current helium availability, she, too, is offering more air-filled options than she did in the past. "We haven't had any issues securing helium, but over the last three years, we've been doing a lot more air-filled decorations such as columns and arches on poles and frames. Also, the organic and traditional garlands are all air-filled, so no helium is needed."
Citing additional challenges within the balloon industry, Vinicombe informs, "Labor continues to be a struggle because creating balloon décor can be labor and time intense. We have not found environmental concerns to be an issue with our clients, but we do educate them, when necessary. We've also had some issues obtaining certain balloons and other supplies because COVID-19 is still affecting the supply chain."
Weighing in on current issues facing the balloon industry, Carswell states, "Availability of helium is not something we have heard about from our customers recently. Helium used in the medical field is a purer grade than the helium used in the balloon industry. As for the environmental impact of balloons, we consistently bring awareness to the proper use and disposal of balloons."
The Inflated Cost of COVID-19
Because of COVID-19, many industries—including the balloon industry—suffered financially during 2020 and still worry about how to reclaim lost income. Many COVID-19- related obstacles, such as product availability and staffing issues, remain concerns today.
Muscio reports, "In the early days of COVID-19, we did a quick pivot from being a 95 percent event balloon decorator to a 95 percent everyday balloon delivery studio. But as events return, we have hired an additional staff person, and we are evaluating our need to hire a part-time administrative person and another set-up crew member."
Citing similar experiences, Vinicombe adds, "Early on during the pandemic, we saw an increase in daily balloon deliveries because many occasions were missed, and folks were not able to celebrate together. Now, we are seeing an increase in event decorations for social, school and corporate events. Clients that normally wouldn't do much balloon décor are using balloons to welcome everyone back. Schools, especially, have been spending more than they did pre- pandemic, and we've also noticed an uptick in anniversary and birthday parties. We believe that this is the result of so many special moments going uncelebrated, and people now want to celebrate in a big way, which often includes centerpieces and other décor."
When it came to her company's bottom line, Vinicombe reports that one way of recouping lost sales because of the pandemic was to increase prices, which had a positive effect on business. "We increased our prices for both products and delivery, and doing so has been a good thing. We have not had any pushback from customers, and the revenue has helped to offset both the increased cost of the materials and the additional labor expenses due to overtime."
Vinicombe offers that another way to lift sales is with creative merchandising. "During COVID-19, we added a section of balloon decorations to our event website, and that has generated quite a few sales. We have also been regularly showcasing balloons in our display window with signage letting people know that we can help them with balloon decorations for their events."
Summing up pandemic-related challenges, Carswell says, "Currently, the balloon industry, like others, is facing many of the same challenges due to the pandemic. Labor shortages, shipping costs and product availability have been constraints for everyone. However, the pandemic has created advantages in addition to the challenges. Balloons have risen in popularity during this time due to their innate ability to bring joy. People are celebrating each other from a distance with yard art for every occasion, including graduations, baby showers, birthdays and more. Balloons enable people to express themselves in unique and personalized ways that are uplifting during these uncertain times."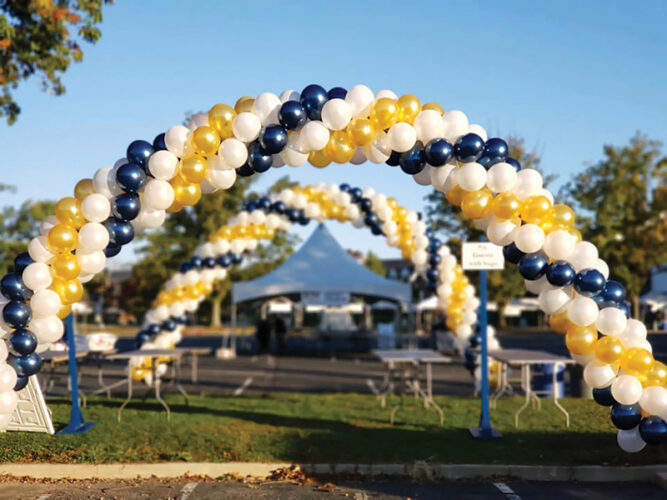 Floating Solutions and Finding Success
The challenges faced by the balloon industry, according to Lorna O'Hara, executive director of The Balloon Council (TBC) in Trenton, N.J., can be summarized into three categories: sustainability, education and legislation.
Sustainability
"The balloon industry, which comprises manufacturers, distributors, retailers and decorators, is committed to reducing our carbon footprint, minimizing waste,and creating sustainable and eco-friendly products," O'Hara notes. "This includes continuing to educate the public and promote 'Smart Balloon Practices' for proper use and disposal, developing innovative partnerships with power and gas companies, and working together to do beach and park cleanups in local communities."
Education
"As an industry, we must continue to educate both industry members and consumers about responsible balloon use and disposal," O'Hara continues. "Our motto is 'Do Not Release: Inflate. Weight. Enjoy!' and we continue to push our national 'Smart Balloon Practices' campaign through public events, point-of-sale (POS) materials, news media and social platforms."
Release: Inflate. Weight. Enjoy!' and we continue to push our national 'Smart Balloon Practices' campaign through public events, point-of-sale (POS) materials, news media and social platforms."

The key messages in TBC's "Smart Balloon Practices" campaign are:
•Never release balloons • Pop, then dispose or recycle • Reuse or repurpose balloons
• Always attach balloons to a weight • Never inhale helium • Adopt an eco-friendly initiative
O'Hara points out that a number of eco-friendly initiatives are taking place or being promoted within the industry. "These include testing balloon recycling programs in stores at the consumer levels, promoting the reuse or repurposing of balloons after they have been used, reducing the manufacturing carbon footprint, recycling scrap and reducing overall material usage," she confirms.
"The industry is also working closely with a major power company in California to research and develop a nonconductive film for foil balloons that will help prevent power outages," O'Hara continues. "We are excited about the initial tests and the positive response we are getting in favor of this new initiative, but we still have a way to go before it is available to the marketplace."
Legislation
"At the time that TBC was established, several state legislatures were considering well-intentioned but ill- conceived laws that would have severely limited a consumer's right to experience enjoyment from balloons," O'Hara remarks. "These legislative attempts were based on rumor and inaccurate news reports and 'expert' assertions. TBC's product labeling, media relations, public awareness and legislative outreach initiatives have curbed this negative trend by diligently setting the record straight whenever possible."
Today, the industry is experiencing a new wave of challenges in state capitals and in the media, O'Hara acknowledges. "These include increased opposition via social media, a pivot from 'balloon release bans' to 'sale and use bans,' and the inclusion of balloons into the single-use plastic conversation, to name a few. These ever-increasing regulatory threats to the balloon industry reinforce the need for all of us, from manufacturers and retailers to balloon artists, to work together to continue to raise awareness and educate consumers about smart balloon use."
One way The Balloon Council is helping balloon companies find solutions to the challenges facing the industry is by using materials that offer more eco-friendly advantages, such as balloon-grade helium. "The helium shortage of 2019 is over, and there is an adequate supply to meet demand," O'Hara explains. "In fact, some experts believe there may be a surplus of helium in the future. The industry has been working with industrial gas companies to extract 'lift only' balloon-grade helium directly from the ground utilizing a new specialized filtration process.
Balloon-grade helium is not usable for most commercial, medical and research applications, but it is perfect for balloons!"
O'Hara also points out that, over the years, the balloon industry has made significant changes by designing balloons that are lighter, stay inflated longer (up to 20 days) and use fewer materials (up to 25 percent). The initial helium shortage also encouraged designers to create new styles of balloon displays and décor that do not use any helium.
Looking at the financial effects of COVID-19 on the balloon industry, O'Hara summarizes, "Initially, the industry was hit hard at the start of the pandemic, but sales have rebounded significantly as people continue to use balloons for all their life celebrations. Balloons were used in communities across the country to lift the spirits of people of all ages during the pandemic, particularly during lockdown. We saw them as part of drive-by birthday and graduation celebrations, adorning houses and lawns, and even on closed storefronts to encourage hope and strength and to bring a little joy to residents."
As for the future of the balloon industry, O'Hara is optimistic. "Demand has been strong over the past several months. However, as with many other industries, there are significant challenges due to supply-chain issues that have impacted the ability of manufacturers to adequately meet the rising demand, but the industry is working diligently to fix these issues."