The capital city of England and the United Kingdom boasts an embarrassment of riches when it comes to luxury florist companies—from revered institutions to newer cutting-edge trendsetters. Here are 10 that are worthy of knowing and following on social media.
By Jill Brooke
Larry Walshe
Larry Walshe Studios
larrywalshe.com
@larrywalshe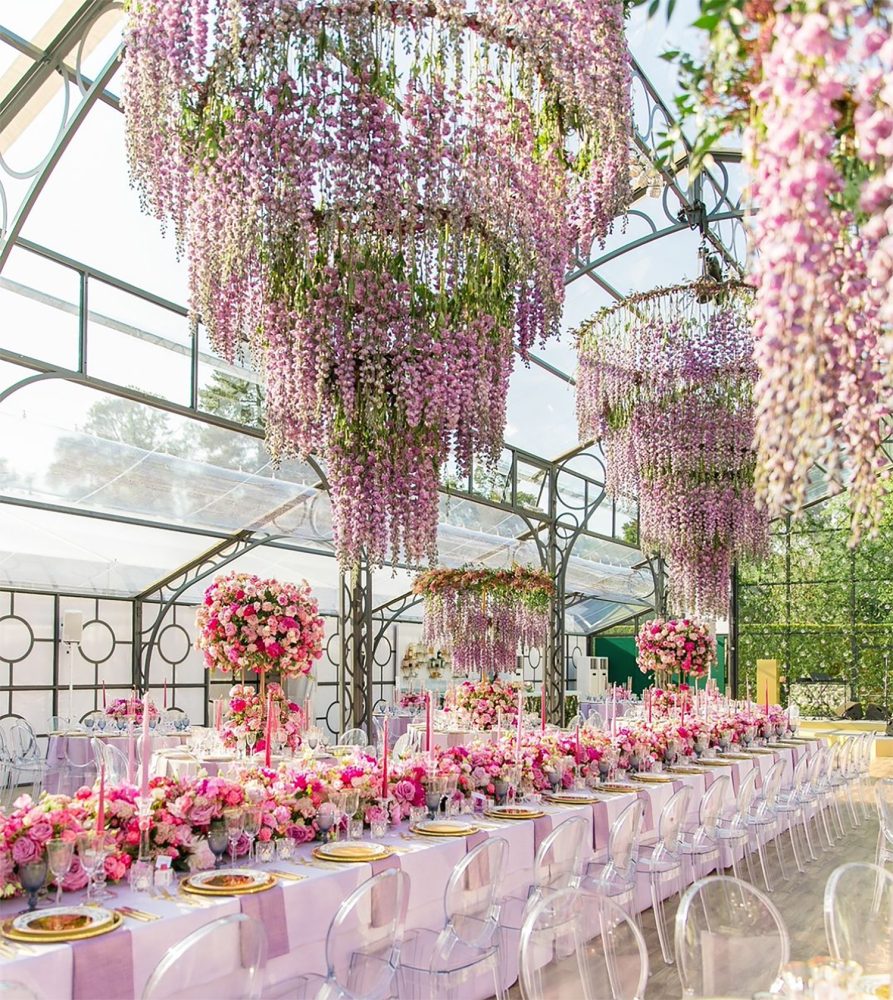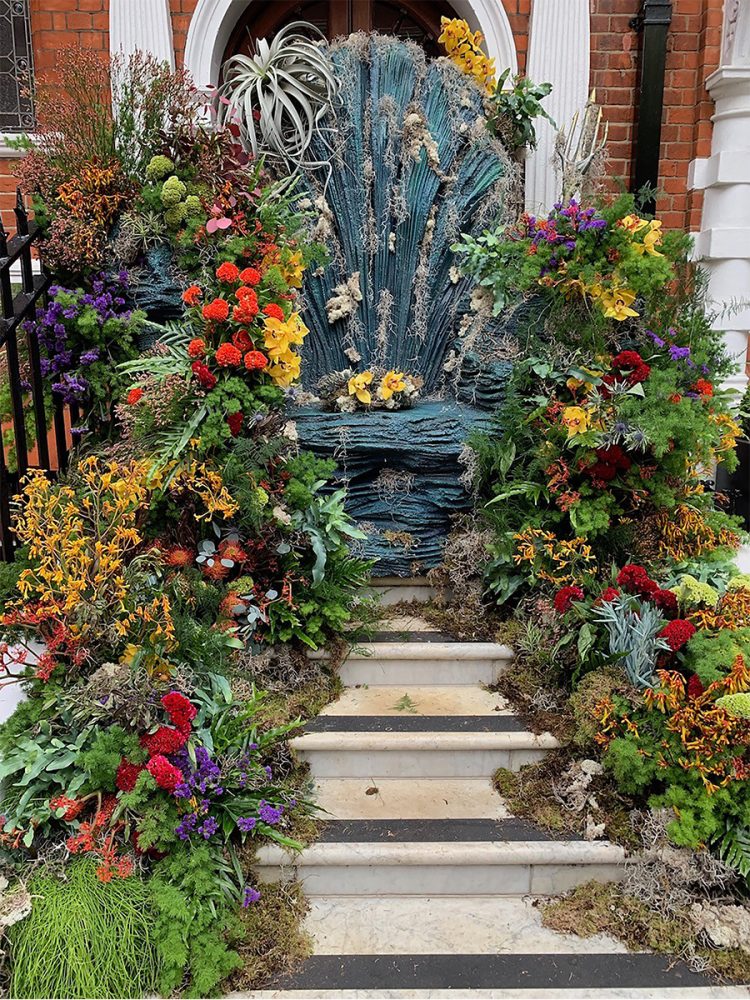 In London, Larry Walshe wins raves for his lush floral designs. He is uber popular with clients including music artists Rihanna and Adele, fashion designer Stella McCartney, cricketer Joe Root, and actors Benedict Cumberbatch and Sonam Kapoor, as well as fashion houses including Elie Saab, Christian Dior and Valentino.
Not only has this florist and event designer won enough prizes to fill any trophy case—including for designs created for the hallowed RHS Chelsea Flower Show—but he also is known for his innovations. And don't forget, the prizes he's winning are from British judges, the most discerning critics and botany-obsessed people on the planet.
Furthermore, he launched Bloom, the U.K.'s first 100 percent plastic-free, sustainable, zero-waste online flower delivery service. "We want to bring a meaningful response to the need for sustainability in the floristry industry," Walshe says. "We want to reduce waste versus recycle it," he explains, noting that the flower industry produces 600 million tons of waste each year just in the U.K. While doing this, he also is the go-to guy for weddings and special events.
Shane Connolly
Shane Connolly & Company
shaneconnolly.co.uk
@shaneconnollyandco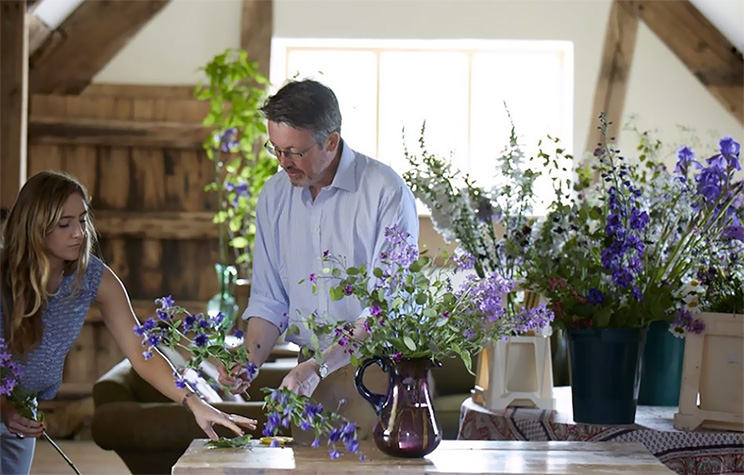 For their coronations this past spring, King Charles III and Queen Camilla, chose Shane Connolly. Since he works in sustainable designs, Connolly created sustainable foam-free floral designs comprising 120 varieties of flowers from around the U.K.
At the grave of the Unknown Warrior, in Westminster Abbey, "echoing the colorful British wildflower meadow seen on the hand-painted Coronation invitations," rosemary, symbolizing remembrance, was part of Connolly's designs. Other flowers, shared Connolly, were "bay, for virtue; forget-me-nots, for constancy of love; daffodils, for chivalry; lilacs, for memories of youth; bluebells and cowslips; and lilies-of-the-valley and auriculas (primroses), which appeared in the queen consort's wedding bouquet."
At the quire in Westminster Abbey, Connolly shares, were hellebores. This flower made an appearance on the lapel of the then Prince of Wales at his 2005 wedding, and is "a particular favorite of the King."
Once you are anointed by the King, others take notice. Though Connolly, who has been a popular florist for decades, is also known for his ability to take classic designs and update them.
Tony Marklew
Tony Marklew
tonymarklew.com
@tonymarklew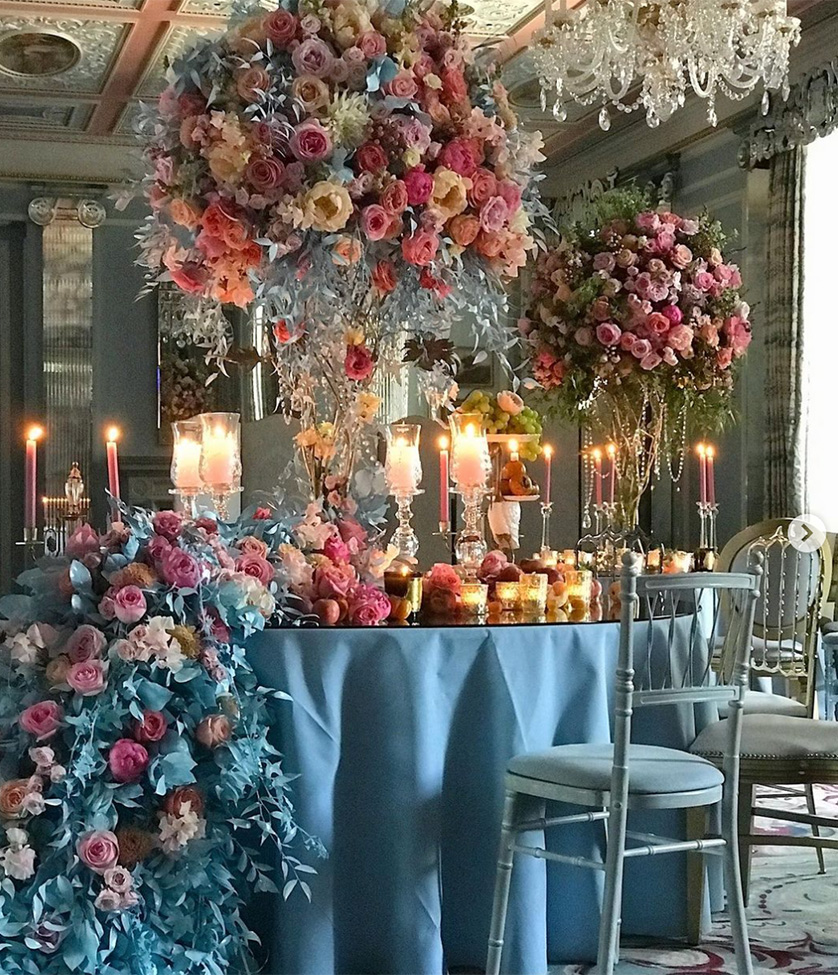 Having worked in theater and fashion, Tony Marklew knows how to make a dramatic entrance. His work is extravagantly dreamy. Clouds of gorgeous flowers float from the chandeliers, cascade over tables, and decorate tables in urns and vases. He is definitely not a minimalist, and he relishes the pillowy peony, the deep pink rose and Hydrangea in an array of dazzling colors. His understanding of color creates landscapes that delight and enchant. Furthermore, with his work, there is an abundance of flowers in every shape and color, and blooms are the stars of any show he creates.
Melissa Richardson
JamJar Flowers
jamjarflowers.co.uk
@jamjar_flowers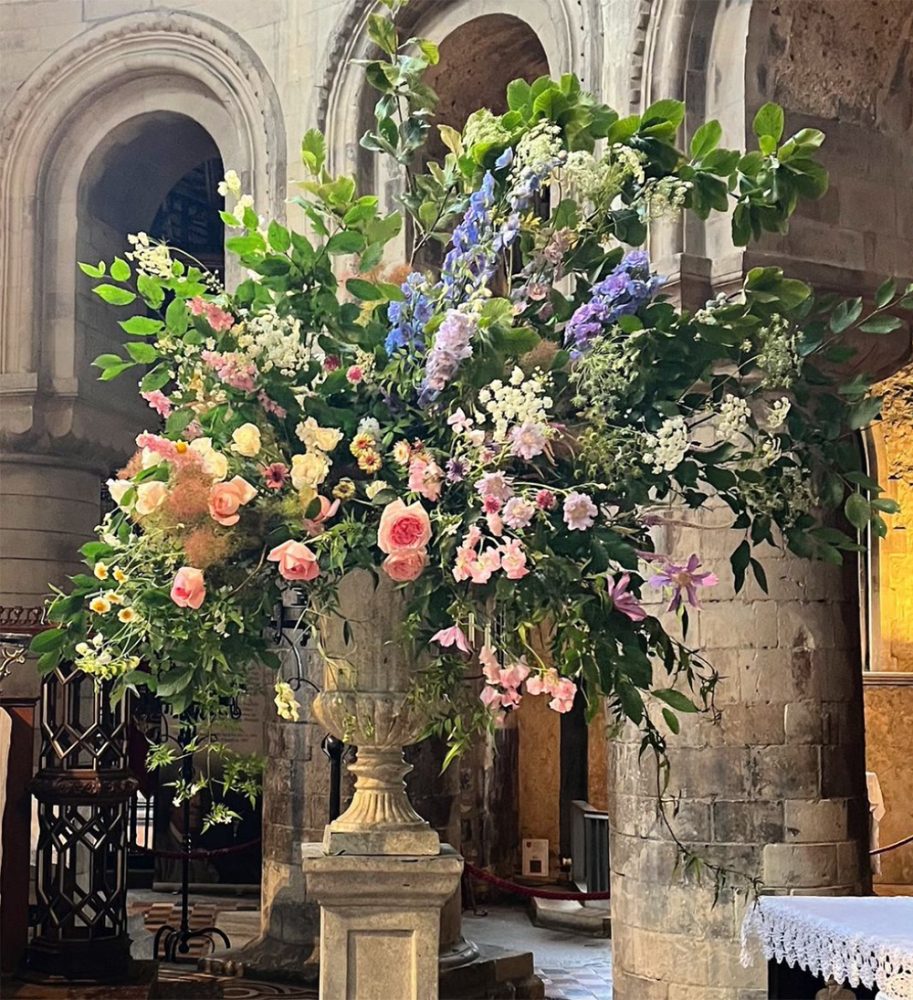 For the art world and fashionistas, JamJar Flowers is coveted for its creativity and unexpected arrangements. Owner Melissa Richardson mixes charm with artistic flair while having an architectural underpinning. She launched her shop in 2009, after running a modeling agency for three decades. Having had a front-row seat to fashion and trends, her work is never conventional but always beautiful. Fashion designers particularly love her ability to understand what their needs are for any given party and how to have flowers make a fashion statement. In 2017, Richardson launched JamJar Edit, a flower-pressing studio and online shop that offers a curated edit of distinctive table, home and garden wares.
Ricky Paul
Ricky Paul Flowers
rickypaulflowers.co.uk
@rickypaulflowers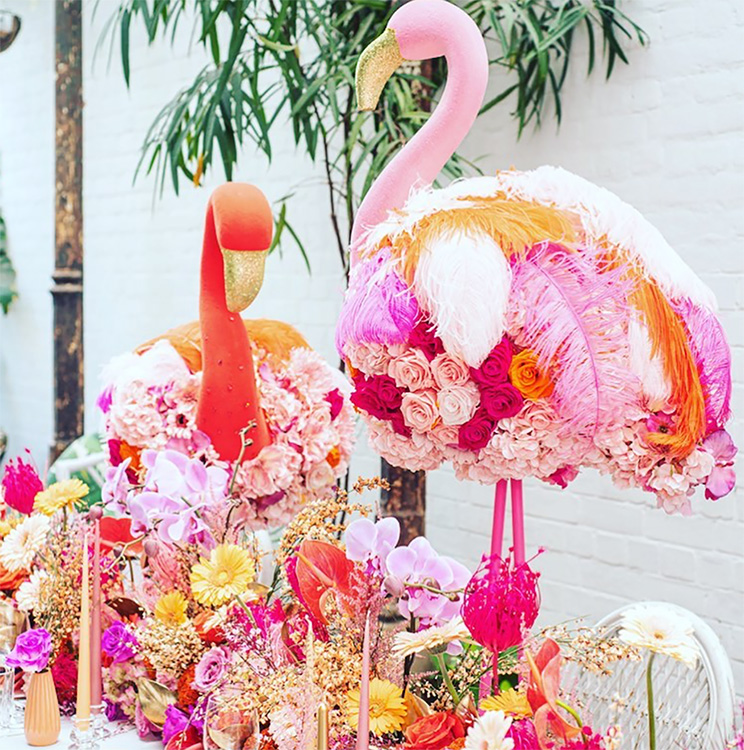 Ricky Paul Flowers is an event and luxury wedding florist located in Loughton, Essex, 12 miles from the center of London. Theatrical is part of the Ricky Paul lifeblood. Add the "w's" as in weird, wild and whimsical. Paul founded his business in 2010, and it has become known for its playful approach to floral design. While working with celebrity clients, luxury venues and bridal magazines, Ricky Paul Flowers can still be counted on to know when a peacock feather or a Swarovski crystal or two is missing. His creations have included fabulous fragrant blooms, floral poodles and hot-air balloons, and his work has been seen on ITV, BBC and Sky One, as well as in British Vogue. His work this year for "Chelsea in Bloom"—an outdoor festival featuring extravagant displays of fresh flowers in London's affluent Chelsea neighborhood—also got raves.
Berenice Rogombe and Alison Lythgoe
McQueens Flowers
mcqueensflowers.com
@mcqueensflowers
@mcqueensflowerschool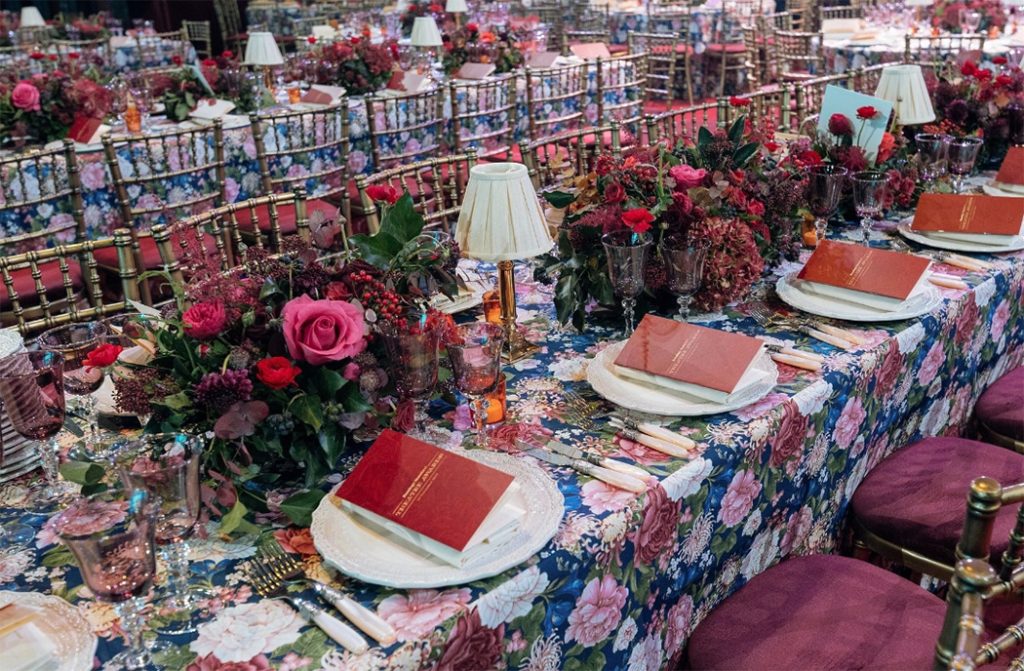 McQueens Flowers, which was founded by Kally Ellis 1991 and sold to a London-based private equity firm in 2017 (Ellis remains founder) today comprises two retail locations and a flower school (McQueens Flower School) in London as well as single retail stores in New York City and Seoul, South Korea. Under the new leadership of Berenice Rogombe, McQueen's Group Chief Financial Officer, plans include expanding locations in other international cities. The company's style is classic and reliable with perfectly appointed flowers.
As one of the world's leading florists, known for its breathtaking and unforgettable designs and installations, McQueens has developed an unrivaled client base of London's leading luxury hotels and restaurants and blue-chip corporations. The company has provided flowers for some of the world's most prestigious events, including Vanity Fair's Oscars After Party (for more than 25 years), the Evening Standard's Theatre Awards, and the All England Lawn Tennis & Croquet Club's Wimbledon Champion's Ball—along with hundreds of other stunning events and high-profile weddings.
Simon J Lycett
Simon J Lycett Ltd.
simonlycett.co.uk
@simonlycett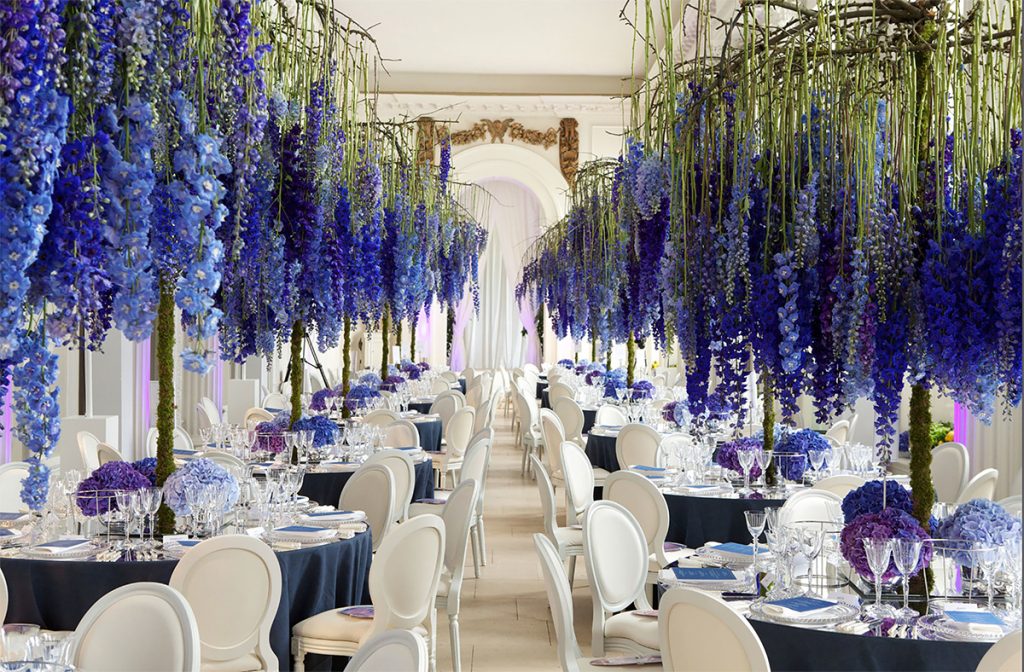 With his mischievous grin and contagious enthusiasm, Simon Lycett says the words "can't do" aren't in his vocabulary. He is one of a handful of florists who are popular with the Prince and Princess of Wales (William and Kate), Lycett also created floral décor for HRH Princess Eugenie and Jack Brooksbank's wedding in October 2018. He established his floral design firm in 1993, which prides itself on creating colorful stylish events whether for modest parties or decadent dinners and extravagant weddings. Furthermore, Lycett is one of the select "cross-palace suppliers" for the Historic Royal Palaces. He also became well known as a guest judge on Netflix's The Big Flower Fight and a co-judge on HBO Max's Full Bloom.
Rob Van Helden
Rob Van Helden Floral Design
rvhfloraldesign.com
@rvhfloraldesign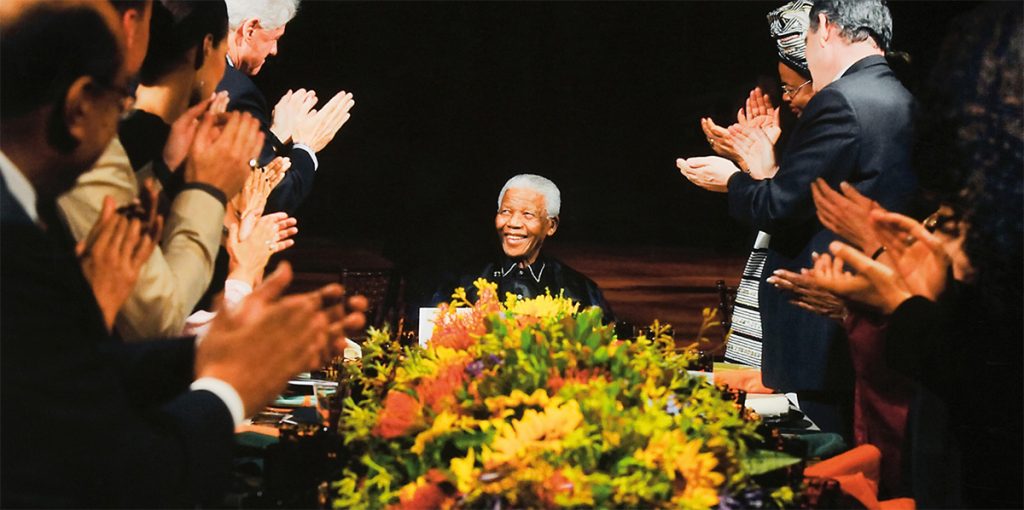 Rob Van Helden's flowers have sparked endorsements from everyone from famed British perfumer Jo Malone to actor Pierce Brosnan, who called him "the best flower guy I know." Originally from Holland, Van Helden not only did Pierce Brosnan's wedding but also is on Sir Elton John's list of fave florists. That is quite a feat because John is a connoisseur of flowers and spends boatloads of money on fresh flower arrangements, which he says are his "greatest extravagance." Van Helden is the floral décor artist for Elton John's annual "White Tie & Tiara Ball," as well. "Shapes of arrangements are important to me," Van Helden tells us. "I am a perfectionist and pay great attention to detail, but I also like designs to look natural and not contrived."
Mary Jane Vaughan
Mary Jane Vaughan Designs
maryjanevaughan.co.uk
@maryjanevaughan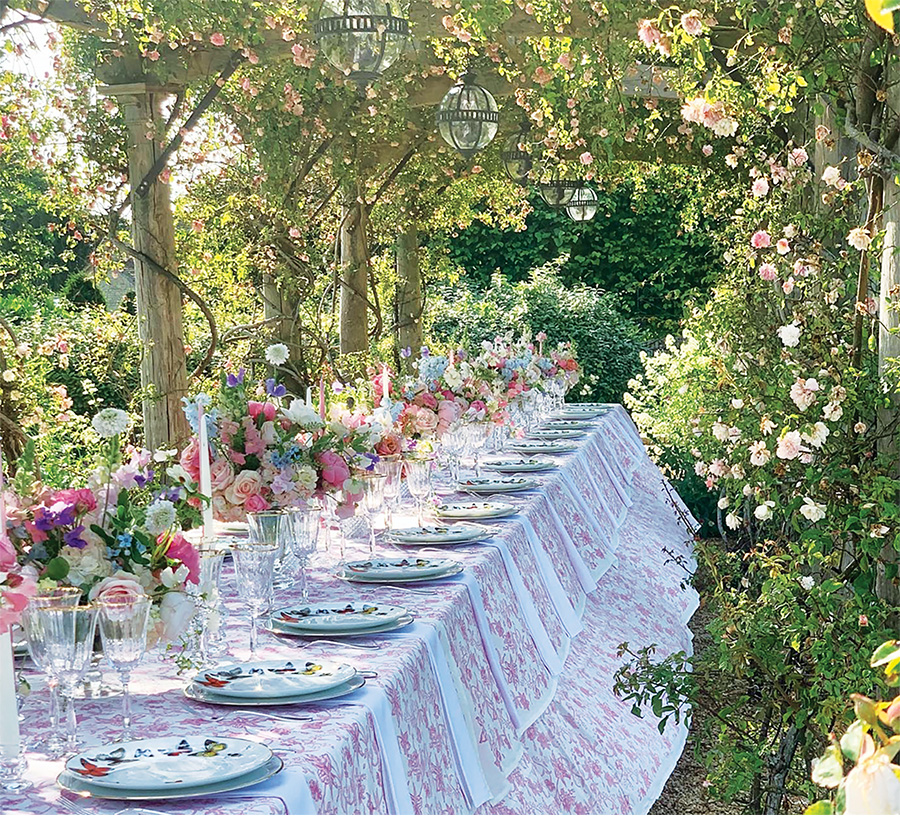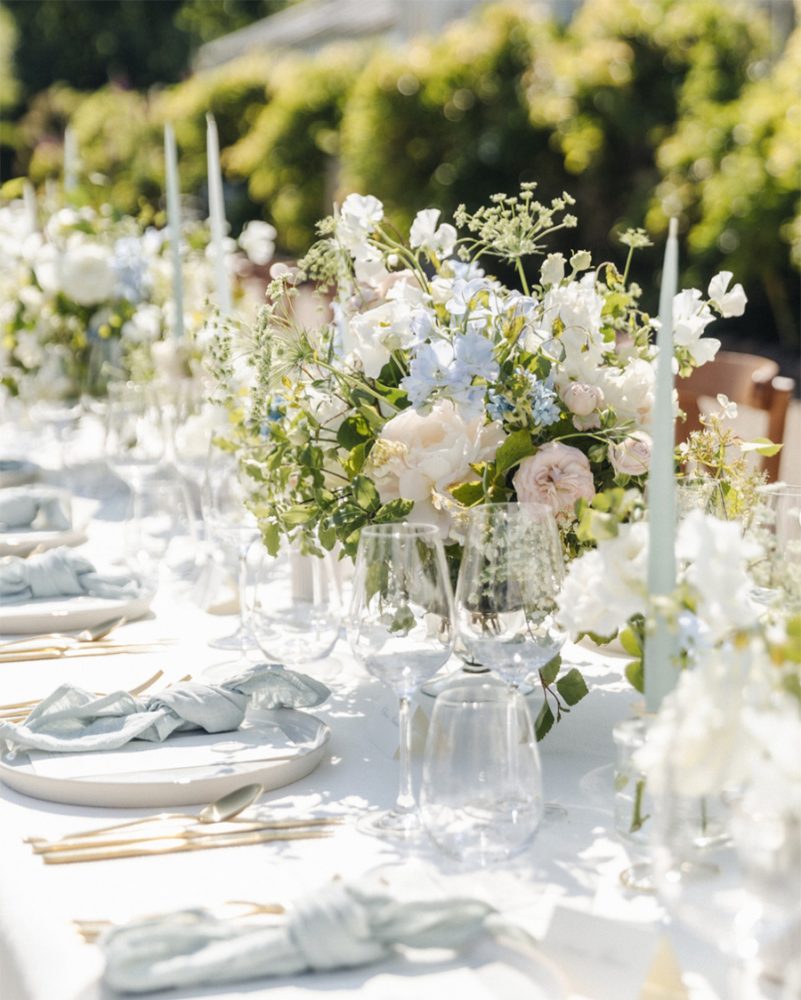 Mary Jane Vaughan is a perfect choice for quality and simplicity. And, she says, her cut flowers and plants are all locally sourced and British grown, whenever possible. Her company also uses environmentally friendly methods in its work, including minimizing the use of floral foam. Vaughan's area of interest and skill is experiential event design, large-scale installations and weddings. She understands all aspects of flowers, having spent holiday breaks from school in England at her father's flower farm in Colombia. She joined her brothers in the flower business before opening her first flower shop in 1982.
Leanne Roberts-Hewitt
Wildabout
wildabout.co.uk
@wildaboutflower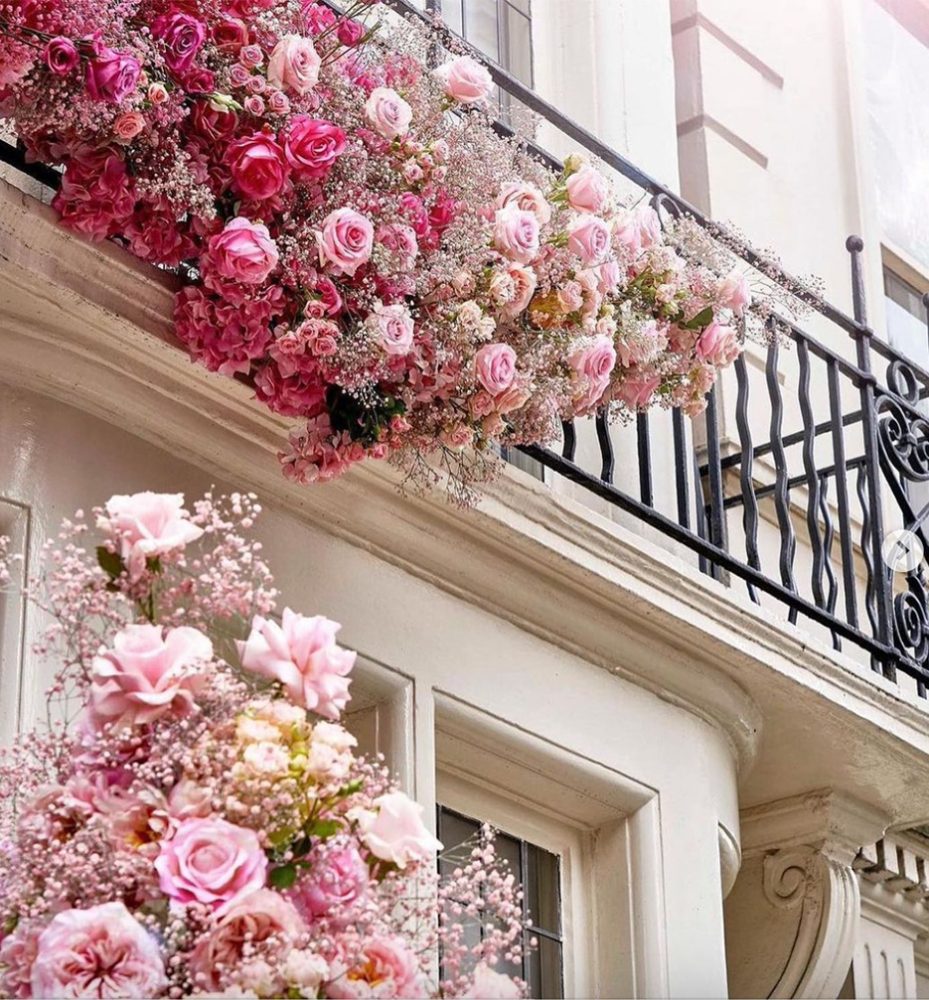 Leanne Roberts-Hewitt was in the luxury hotel business in Australia before starting Wildabout in 2008. Her experience in the hospitality industry not only trained her to care about attention to detail but also gave her a perspective of the importance of grand entrances and floral arches and installations. She has done flowers for Annabel's, the posh private club in London known for its innovative and over-the-top flower arrangements, and Harry's Bar, one of the most elegant private clubs in London, famed worldwide for its beautiful décor. Wildabout also has a robust business providing flowers for weddings and events, hotels, corporate offices, and at-home celebrations.