By Nita Robertson, AIFD, CFD
Contributor: Angela Desveaux, founder and editor-in-chief of WedLuxe Media
The bridal bouquet is one of the most important accessories for a wedding. Having the right bouquet that complements the wedding dress is so important. A wedding bouquet should not only represent the personality of the bride but also complement the dress and allow her to shine.
As with wedding dresses, there are modern and traditional styles for bouquets. For example, round bouquets and nosegays are traditional designs while hand-tied bouquets and free-form bouquets tend to be more contemporary. So, if a dress is traditional or classic, a traditional-style bouquet would be the right accessory. The size and shape of the bouquet should also complement and highlight the details of the dress.
This year, we collaborated with WedLuxe Media (wedluxe.com, @wedluxe) founder and editor-in-chief, Angela Desveaux, who gave us the scoop on the hottest wedding dress styles for 2023. Launched in 2006, WedLuxe celebrates fashion, art, design and love, through print, digital and social media and luxury events. It is a multifaceted and established luxury wedding media brand, recognized by consumers and professionals as a global industry leader.
"The WedLuxe Show" (wedluxeshow.com), widely regarded as the best wedding show in the world, recently made an exciting return after a three-year COVID-induced hiatus. The spectacular event welcomed more than 1,500 consumers and industry professionals to Hotel X Toronto in Toronto, Ont., Canada, in late January. One of the many experiential areas within the show is the "WedLuxe Runway"—essentially a show within a show during which some of the most beautiful luxury wedding gowns are showcased. This year featured looks by Hermione de Paula, Andrew Kwon, Sari Elyani, Sareh Nouri, Viktor&Rolf, Pnina Tornai, R. Mayer Atelier and Chic Bridals.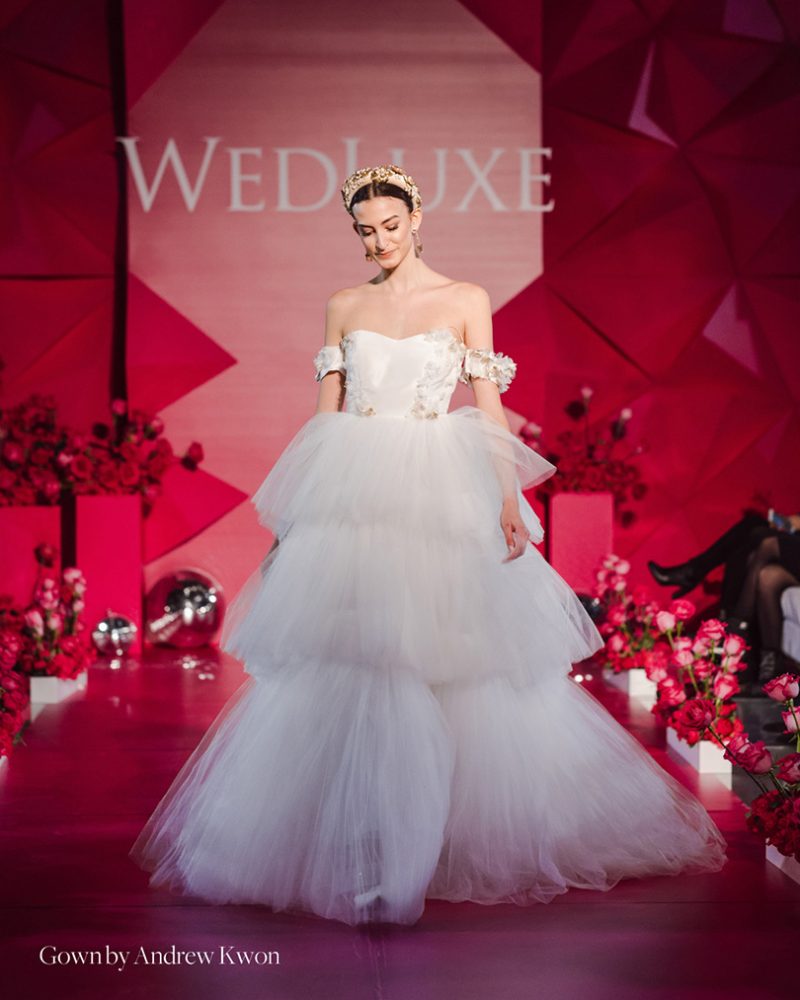 On these pages, Desveaux shares five of her favorite bridal fashion trends for 2023, which were highlighted at this year's event. We have paired each of the dress styles with fabulous bouquets that complement each style.
"All in all, gown designers are showing that it's about having FUN this year (making up for lost time, I suspect), and I'm DEFINITELY here for it!" — Angela Desveaux
Trend 1
COLOR, COLOR, COLOR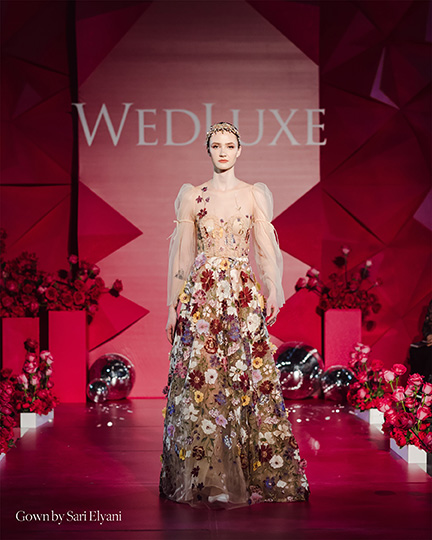 "Long gone are the days when 'shades of white' are the only options for luxe, WOW-worthy wedding gowns. We featured so many colored dresses this year, and it was clear that the crowd loved them as much as I did."
Bouquets to Match This Style:
This is an exciting trend because it opens color palettes to bolder and more exciting and unique designs. Use flowers in hues that will complement a dress and bring out its beautiful color.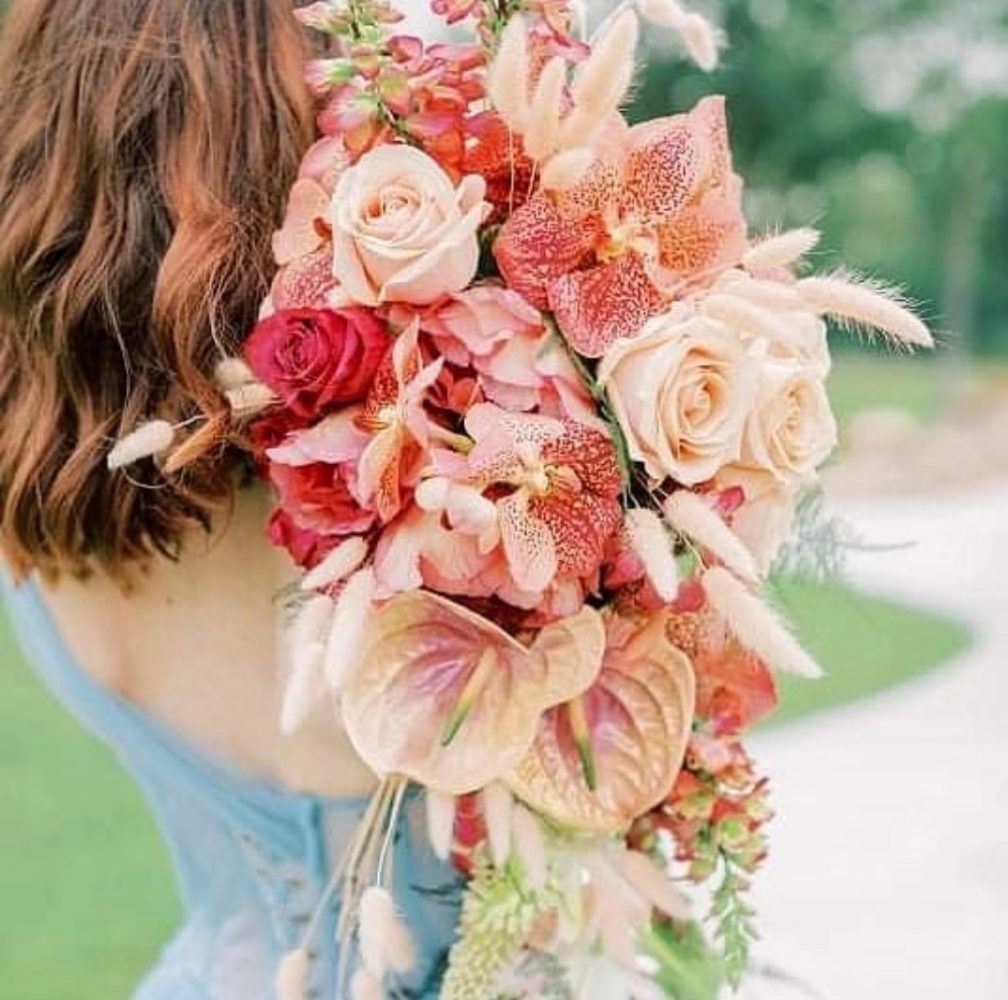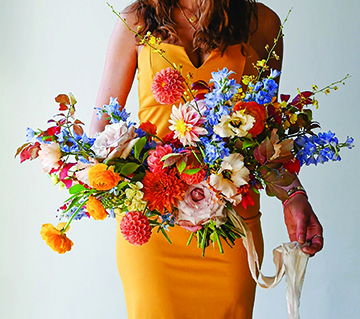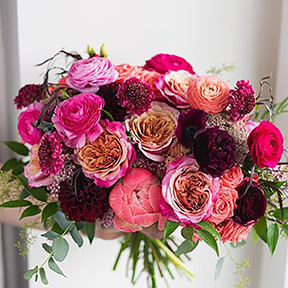 Trend 2
LAYERS UPON LAYERS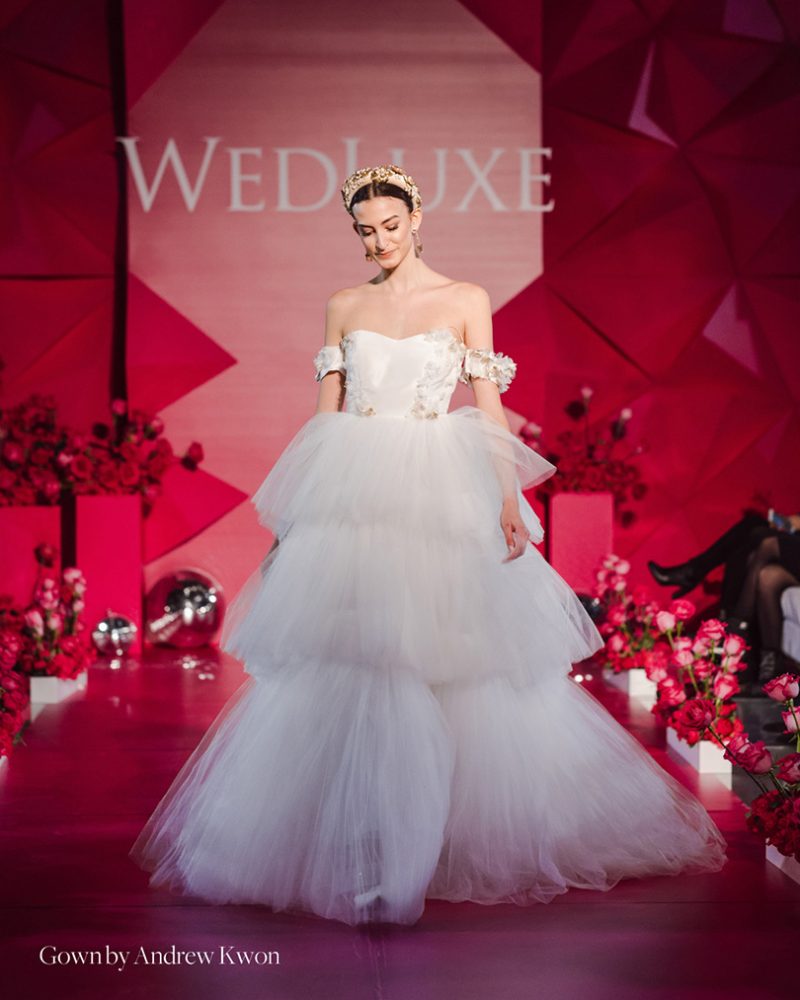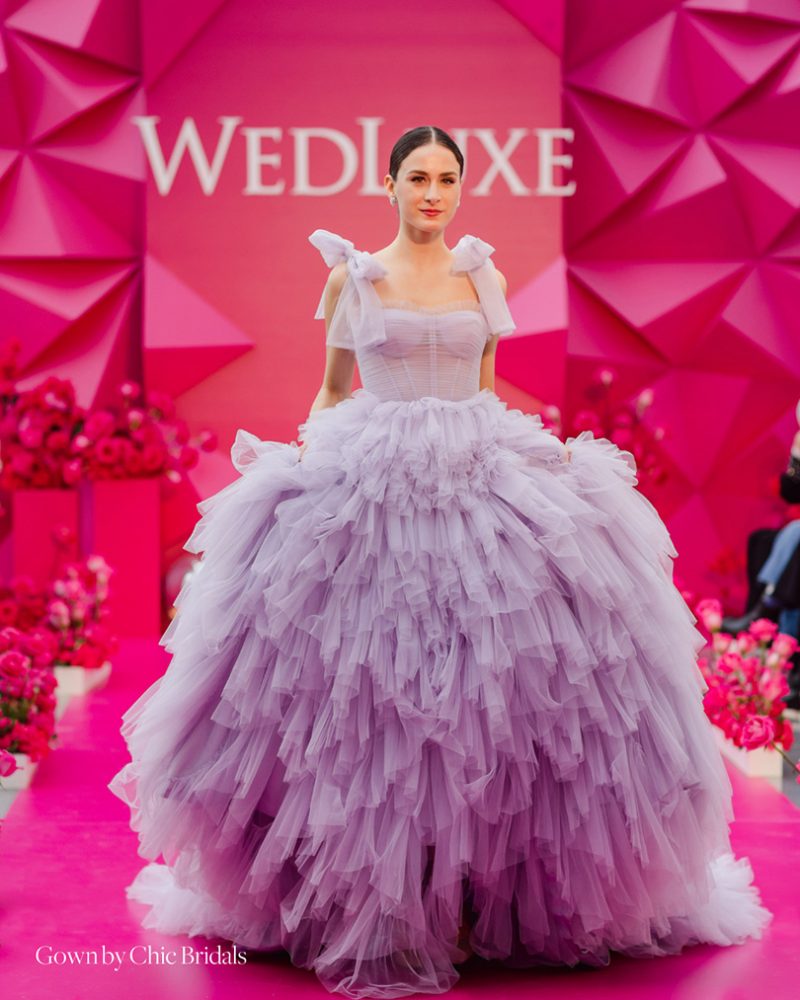 "Right now, I'm totally loving dreamy tulle vibes and the frilly, layered look that so many designers are incorporating into their designs."
Bouquets to Match This Style:
Round bouquets or cascade bouquets with volume at the top would look appropriate with this dress style. A small bouquet would be overwhelmed by a poufy skirt.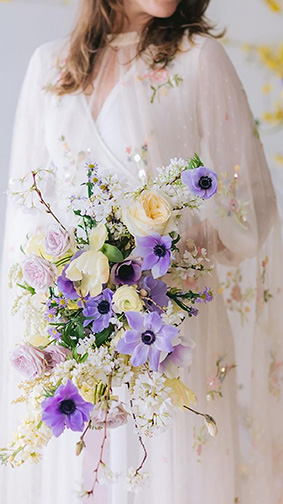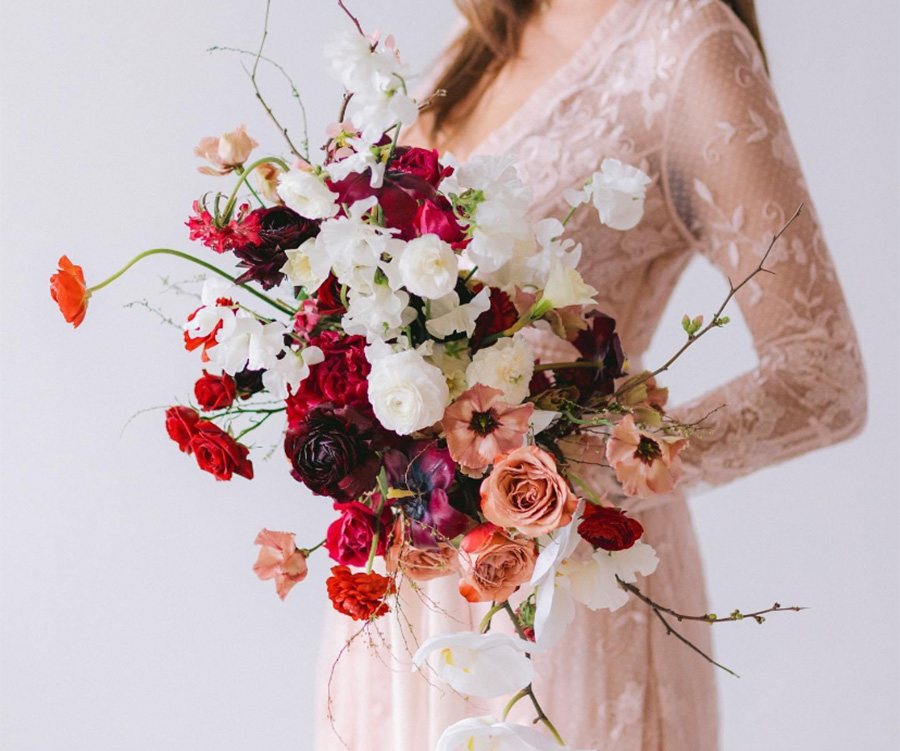 Trend 3
STATEMENT SLEEVES + SHOULDERS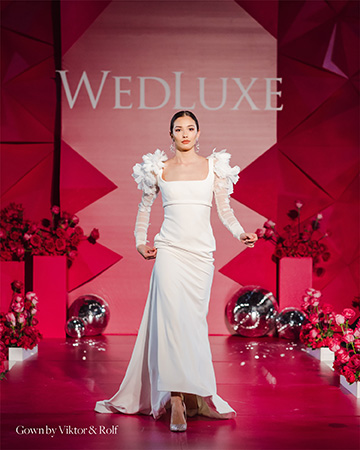 "It's ALL about sleeves and/or shoulder accents this year! Whether they're puffed or balloon-style sleeves OR dreamy caped shoulder 'wings' and ribbons that float down the aisle (or runway!), we saw a lot of these statement-making moments from each designer."
Bouquets to Match This Style:
To avoid competing for attention with the sleeves or shoulder accents, keep the flower focus on the lower half of the torso. Create a bouquet that is delicate and has movement, to match the style of the dress.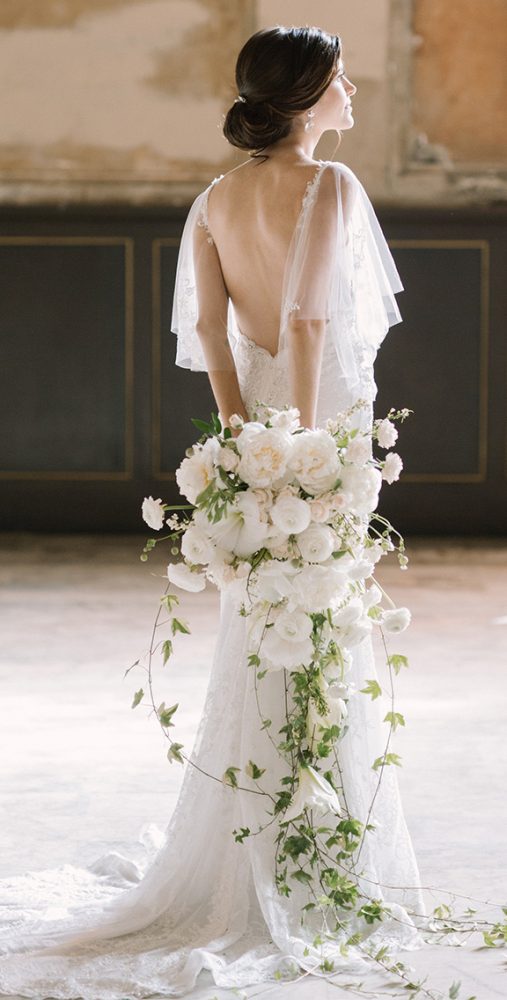 Trend 4
CORSETS & CUPS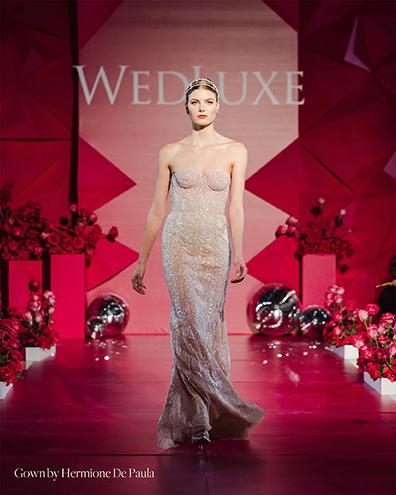 "A strong structural corset with emphasis on cups was also a trend we saw repeated over and over from all of the designers!"
Bouquets to Match This Style:
Because gowns with corset-style bodices typically have a lot of detail from the waist up, create bouquets that will not cover or compete with the corset bodices—something on the simpler side. Also, design bouquets to be carried low or to the side; cascade styles work nicely with these dresses because the flowers are often displayed at or below the waist.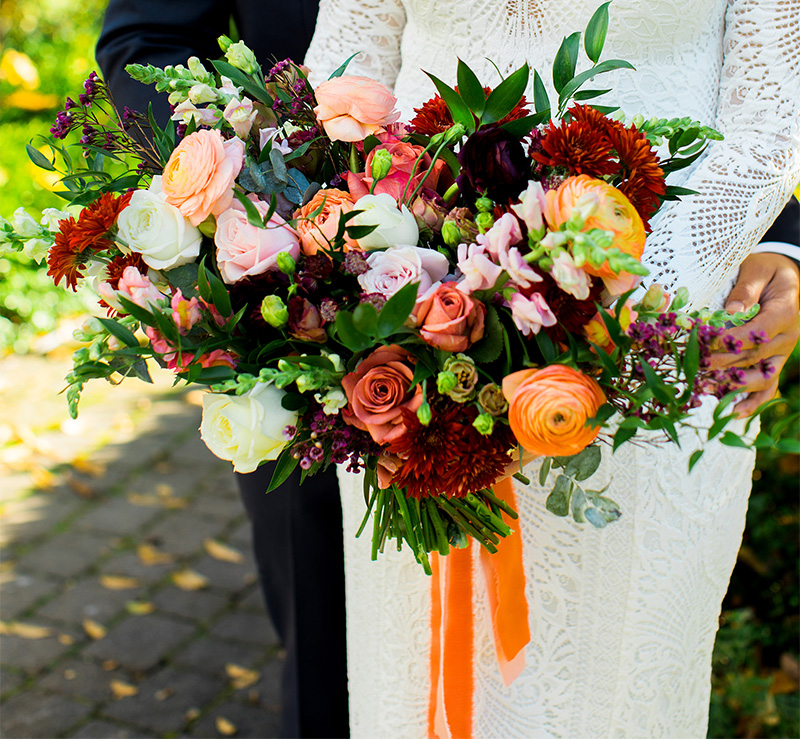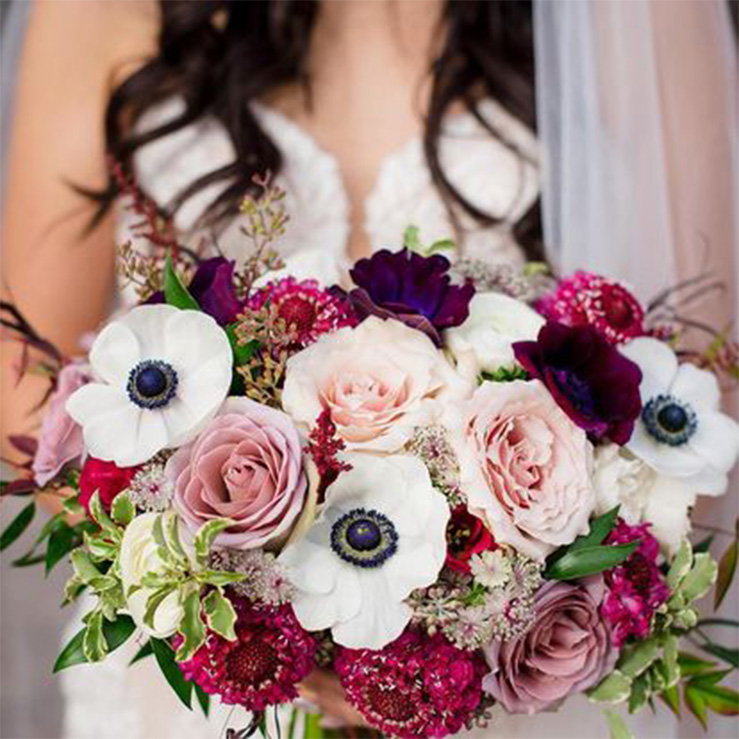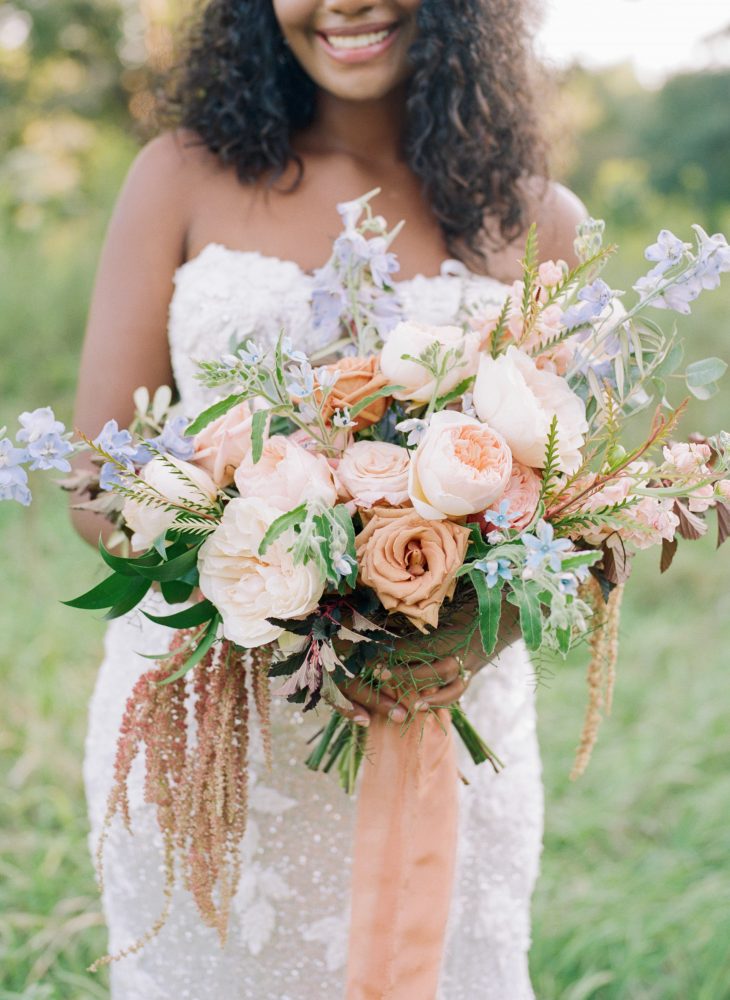 Trend 5
A LEG UP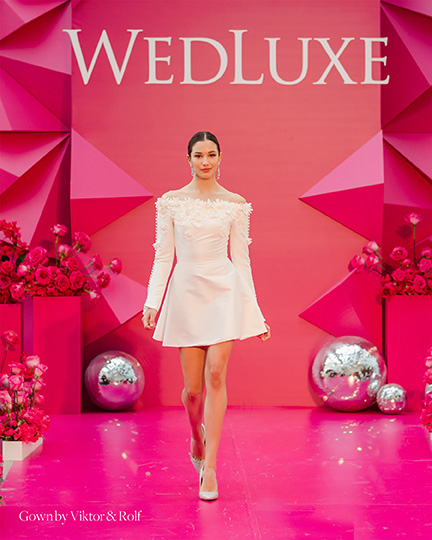 "For the bride who wants to show a little leg or the PERFECT 'short and sweet' look for an engagement party or late-night reception, it's the perfect year for this. Several of the gowns we showcased were ALL about the gams."
Bouquets to Match This Style:
Bouquets for these dresses should also be fun and playful, just like the dresses they accessorize. A smaller-scale design would be perfect to accompany a short dress. It should also be lightweight so that the bride will carry it around. This style dress also offers great opportunities to offer flower jewelry or other flower accents like a head wreath.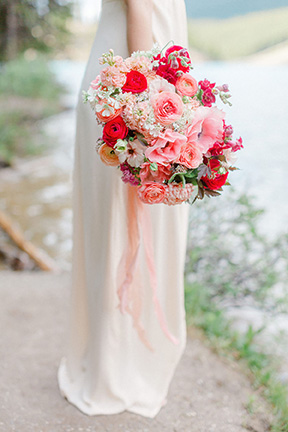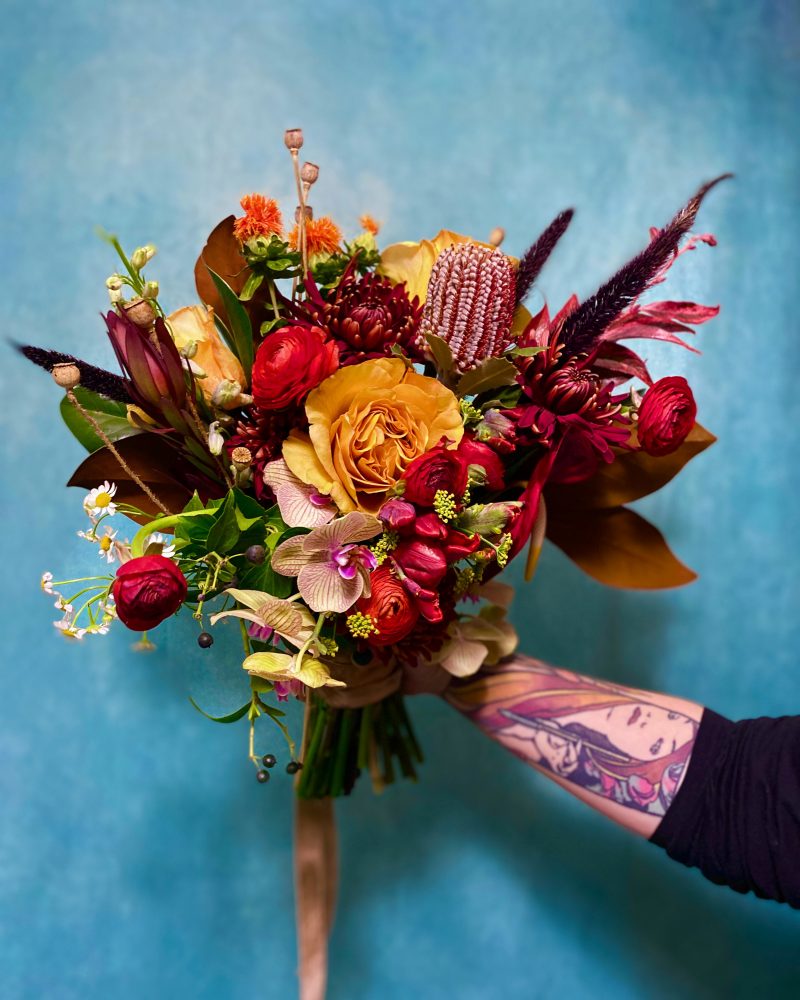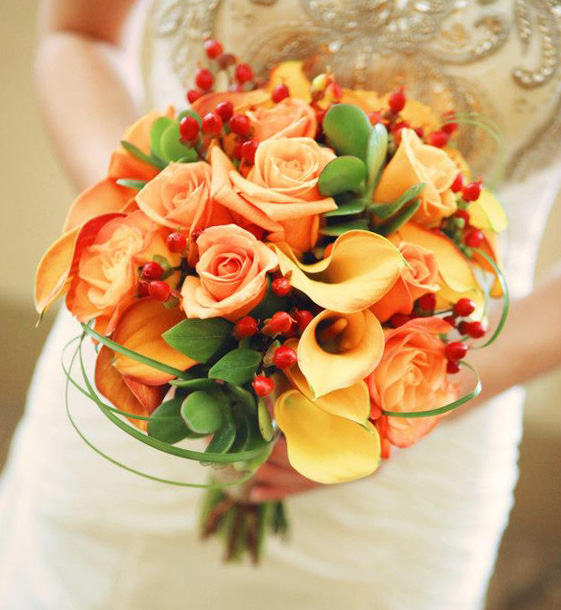 "THE WEDLUXE SHOW" CREDITS
• Gowns from
• Photography
@purpletreephotography
• Runway, Space Planning and Design
@lachicsoiree
• Furniture Rentals
@detailzfurniturerentals
• Printed Décor
@dfdeventsolutions
• 3D Backdrop Structure
(side panels and 3D shapes on middle panel)
@engineeredarts
• Floral Design, Decor Rentals and Draping
@cocobycoverscouture
• Models Hair and Makeup Styling
@radfordstudio
• DJ
@stroyals
• Disco Balls
@glamourous_affairs
• Balloons
@allinonefiesta
• Jewelry and Accessories
• Modeling Agencies
• Host Venue
@hotelxtoronto
• AV Support
@encoreglobal
• Lead Show Planner and Producer
Bella Geraghy @WedLuxe