Museums around the country have found success in hosting Art in Bloom events, where floral artists interpret a piece of art using flowers. Creativity was blooming at The North Carolina Museum of Art from local floral artists. Look to join Art in Bloom events in your area.
See Full Article Below Source
Art in Bloom Dazzles with Creativity in North Carolina
Spread the love
By Jill Brooke
All across the country, museums have found that an Art in Bloom event – where floral artists interpret the museum's existing paintings- are both crowd-pleasers and moneymakers.
Now that the pandemic is waning as a result of people being vaccinated, the museums are finally and happily opening up their doors to visitors.
The North Carolina Museum of Art has its annual event and here are some of the floral artists' interpretations of favored paintings. As spokesperson Kat Harding explained, the museum staggered this great event with two-weekend installments. What a great idea. These are from last week's event and will show you this weekend's series next week. "You definitely see people were enthusiastic and went big," she says.
So get inspired by these artists – both the floral ones and the ones who use paint instead of branches and blooms.
Perhaps consider what to do with your own paintings in your home. It matters. Consider it accessorizing. It's also such delightful eye candy too.
Even those who are advised to buy art for investment are told to "buy what you love" so you can live with it. Therefore, art pieces that are purchased for a home are both treasured and valuable either sentimentally, financially, or both.
But sometimes people don't think of how to enhance these paintings with other objects.
Here are some ideas whether it's for modern art or more contemporary art in how you can learn from these masters and think of accessorizing art with floral designs.
Some of the trends we liked seeing include using structures such as frames to house vases. Clever, right? Also clearly fashion was on the minds of many. of the artists. Another thought to consider. Many of these floral artists are professionals but a large batch is just garden enthusiasts.
"The displays this year were bigger and better than ever," notes Harding. "I think the designers really had some pent up creativity for this event since we had to cancel in 2020 due to the pandemic."
The sold-out event takes place this weekend and next week we will show the other displays and then maybe you will vote on your favorites along with some art critics we have assembled.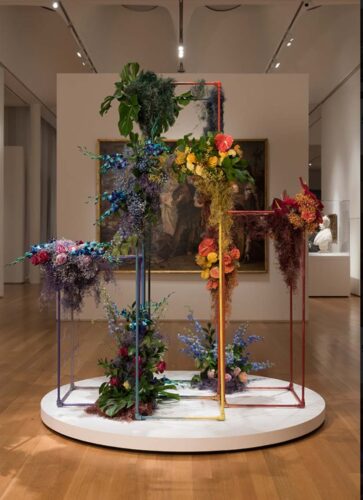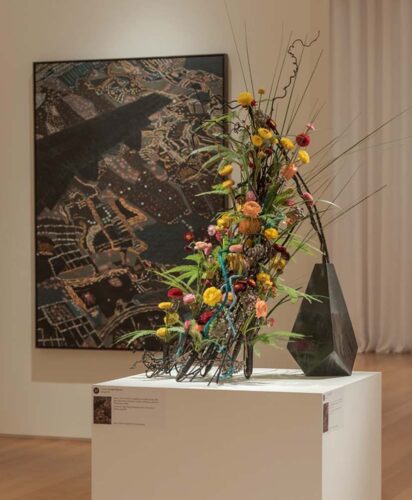 Feature Image Photo Credit:Vicki Thompson, Raleigh Garden Club, inspired by Landscape in Equador by Louis Remy Mignot