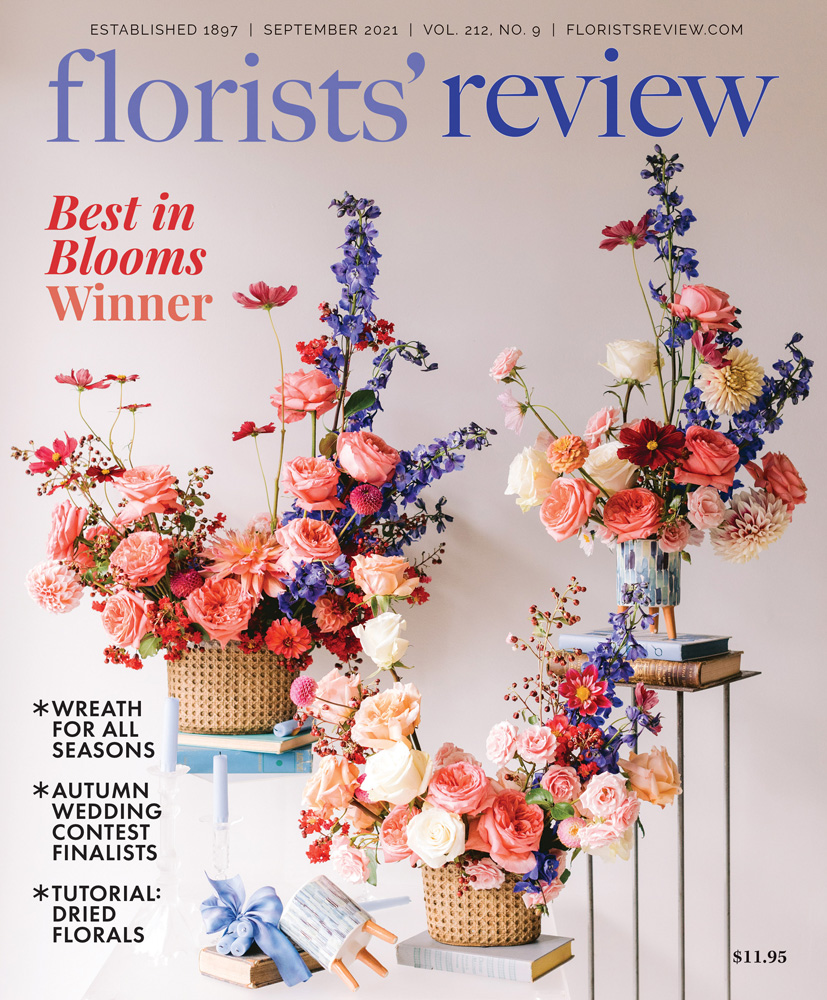 "Best in Blooms"
Meet the finalists and Winner in the September edition of Florists' Review's bimonthly flower design contest.
By Nita Robertson AIFD, CFD
Florists' Review is excited to present the finalists in our September "Best in Blooms" flower design contest. We had entries from floral designers from across North American and even Europe. There were so many beautiful submissions!
The four designers featured on these pages were selected as our finalists. They were challenged to create an inspirational-styled composite design or vignette using gorgeous Ecuadorean roses from Alkavat Group and contemporary containers from Melrose International. Our fantastic four were asked to highlight the complex beauty of the Alkavat roses using three Melrose vessels of their choice, styled in a composite design for a public space such as a posh hotel or other commercial space.
This month's design challenge was to create a styled vignette created to fit in a posh hotel lobby or other modern commercial space. In the floral design world, a vignette is a collection or grouping of designs and props to create a story.
"Vignette" comes from Middle French "vignete," a form of "vigne," meaning vine. In English, the word was first used in the mid-18th century for a design or illustration that ran along the blank border of a page or one that marked the beginning or end of a chapter. Such designs got their name because they often looked like little vines. It wasn't until the late 19th century that the usage of vignette shifted to cover a brief literary sketch or narrative, as we commonly see it used today.
Best in Blooms
September Winner
Paulina Nieliwocki
Blue Jasmine Floral
Berkeley Heights, N.J.
@bluejasminefloral
Photography by Jessica Gallo, @fineandfleurie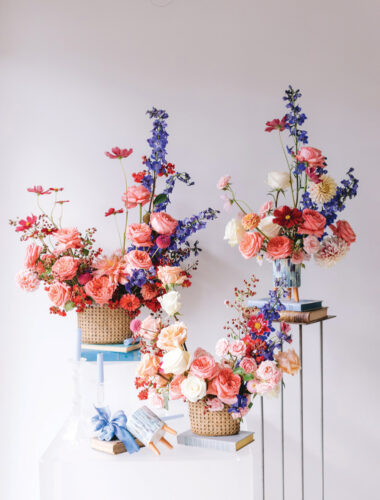 Paulina Nieliwocki started her journey in flowers while she was a high-school teacher. Falling in love with flowers as a medium, she left teaching foreign language and opened Blue Jasmine Floral in 2014. As a floral designer, she loves dainty accents, color and texture. "Highlighting the nuances of nature inspires and allows designs to tell unique stories, communicate specific tones and elicit feelings," she remarks.
ABOUT HER DESIGN, NIELIWOCKI SAYS:
"Asymmetry and structure are at the heart of these designs. Playful pinks flow throughout the vignette, creating movement and a journey from piece to piece. Blue Delphinium echoes the blue in the accenting vessel and allows for a vibrant high contrast to the corals and pinks. Vintage books and a few blue accents styled among the floral pieces highlight the bloom hues and overall design."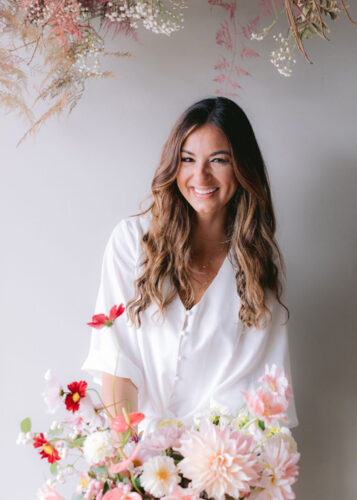 BOTANICALS (Roses from Alkavat Group)
Rosa x hybrida 'Mia' (hybrid tea rose)
Rosa x hybrida 'Shimmer' (hybrid tea rose)
Rosa x hybrida 'Pink X-Pression' (garden rose)
Rosa x hybrida 'Pink Majolika' (spray rose)
Dahlia spp.
Cosmos bipinnatus (garden Cosmos, Mexican aster)
Delphinium elatum (candle larkspur, English larkspur, alpine Delphinium)
Lagerstroemia indica (crape myrtle)
CONTAINERS (from Melrose International)
Cement Pot Set (82228)
Blue Pot with Legs (82844)
---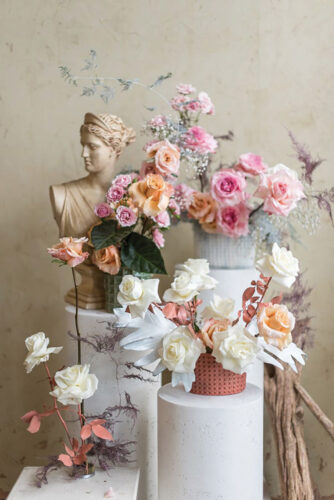 Daylen Rivera
Sweet Root Village
Alexandria, Va.
@daylen.dsgn
Daylen Rivera works as a floral installation and brand activations specialist for Sweet Root Village, a luxury floral and event creative company based in Alexandra, Va. He joined the Sweet Root team in early 2020 to design and dream up fantastic installations.
"I believe in creating art that stops people and becomes a conversation," Rivera remarks. "I build these installations in the same way I create a ballet. Each element on its own is beautiful, but the real magic happens when everything blends and moves together. I am a self-proclaimed creative Energizer bunny, and for as long as I can remember, the arts, design and creativity have been a huge part of my life."
ABOUT HIS DESIGN, RIVERA SAYS:
"Inspired by the 21c Museum Hotel, this artful collection features hand-painted elements with a juxtaposition of Old World charm. I chose to feature the roses in a modern vignette fit for a modern hotel. A piece meant to stop people and become a conversation. All three elements work together to form a gravity-defying installation comprising three vase arrangements. I started by painting the vessels and foliage to coordinate the bold color story of the roses and to help transition the color. I chose to feature only the roses as a challenge to myself to rely on a singular medium."
---
Stacey Bal, AIFD, CFD, EMC
The Flora Culturist
Forest Park (Chicago), Ill.
@thefloraculturist
Stacey Bal, AIFD, CFD, EMC, is a second-generation floral artist and art educator. She celebrates the vast diversity of the floral industry by wearing many hats including educator, author, consultant, event designer, magazine contributor and product developer.
As the owner of The Flora Culturist, Bal energetically expresses her ever-evolving point of view with unexpected materials and distinctive combinations of botanicals. Color is her love language, and photography and floral design are her favorite art forms. Bal released a floral art book titled Impermanent in 2020.
ABOUT HER DESIGN, BAL SAYS:
"Fresh blooms meet plant cuttings in this blooming propagation wall perfect for a boutique hotel, co-op work space, showroom or home entryway. Vases aren't just for beautiful flowers but can be vessels to root cuttings for a living wall. Techniques used in this design include Hana Kubari, reflexing roses, editing or removing excess foliage for a refined look, and binding grasses."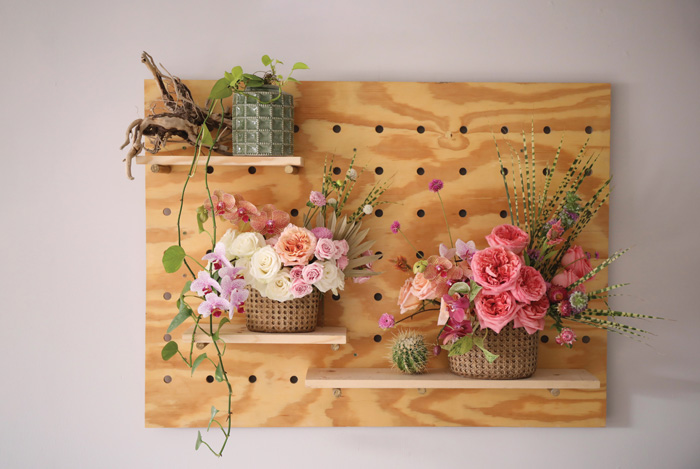 ---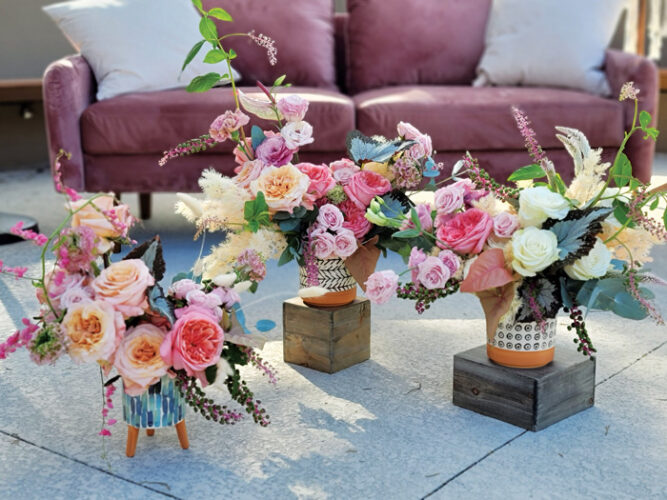 Fabian Salcedo
Monarch Florals
Austin, Texas
@monarchfloralsatx
@f2floral
Fabian Salcedo is an event florist in Austin, Texas. He is the creative director at Monarch Florals as well as the owner/operator of F2 Floral Design. He has been in the floral industry for 16 years, and his journey began with him washing buckets at flower shop just after completing studies at the Floral Design Institute. He was the "Texas Designer of the Year" in 2008. His passion for flowers is reflected in his wonderful designs.
ABOUT HIS DESIGN, SALCEDO SAYS:
"I designed the flowers in each vessel using only chicken wire as the mechanics," Salcedo explains. "In addition to the roses provided by Alkavat, I used pokeweed, carnations, Eucalyptus, rex Begonia leaves, Ranunculus, Anthurium, preserved and tinted ming fern and leaves from a pink arrowhead plant. The compositions were designed to coordinate with the rose-colored velvet sofa in the pictures."