Meet the winner and finalists in FR's latest bimonthly flower design contest.
By Nita Robertson, AIFD, CFD
Florists' Review is excited to present the winner of and finalists in our May "Best in Blooms" flower design contest. We received more than 80 entries from floral designers across North America.
Four of those designers were chosen to then create a floral design in a container of their choice from Accent Décor, using fresh, faux, dried or preserved flowers and greenery that inspire them most.
In honor of "National Small Business Week," May 1-7, the four finalists were challenged to create an arrangement to honor a small business they adore, and they were encouraged to gift and document the "surprise and delight" moment of delivery or to photograph their arrangements at the small business they chose.
The winner receives a "Florist Spotlight" feature in a future issue of Florists' Review and a $750 credit from Accent Décor.
Winner
Marie Danielle Vil-Young
À Votre Service Events
Franklin Park, N.J.
@avsevents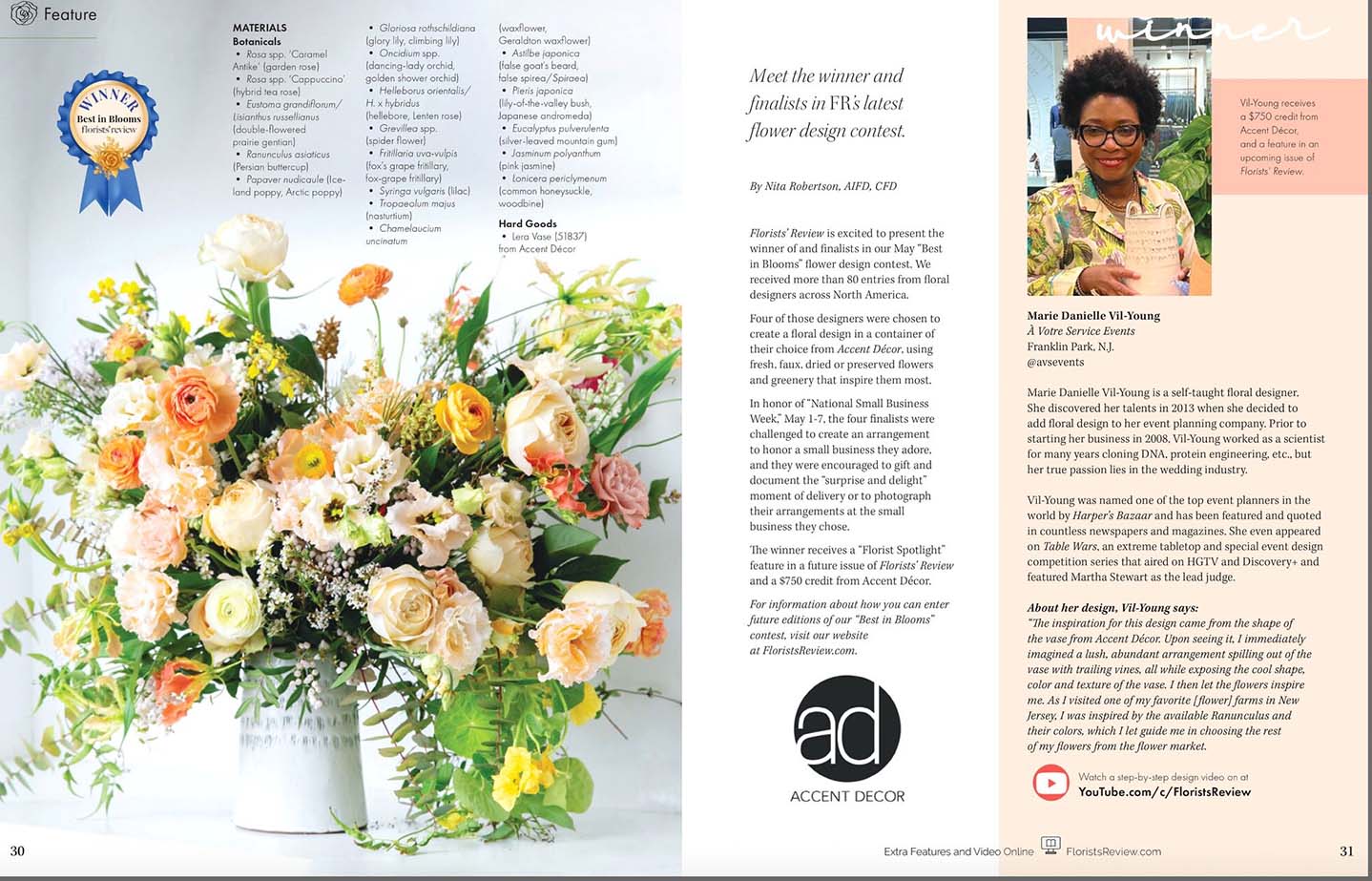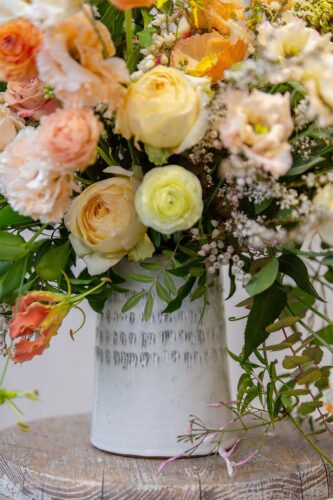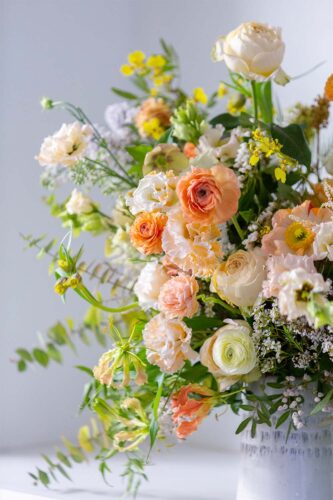 "In honor of small business week, I gifted my floral creation to Ayzia James, a blogger/influencer who leverages her platform and following to support small businesses like mine and so many others. I thank her all the time, but I wanted to, once again, show my gratitude and appreciation for her." Shared Marie.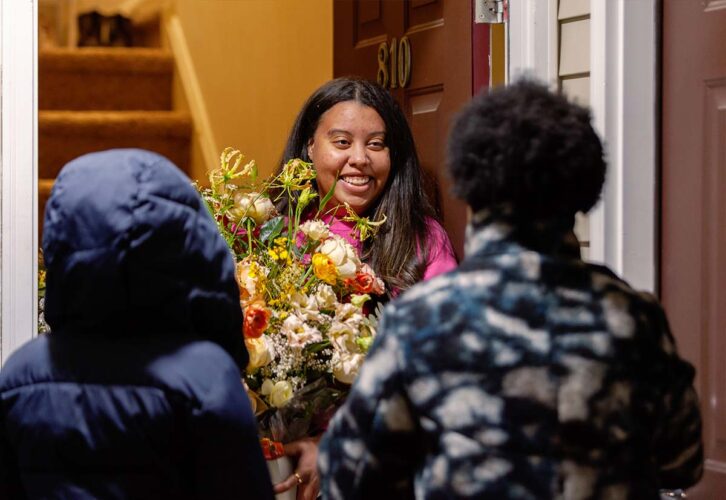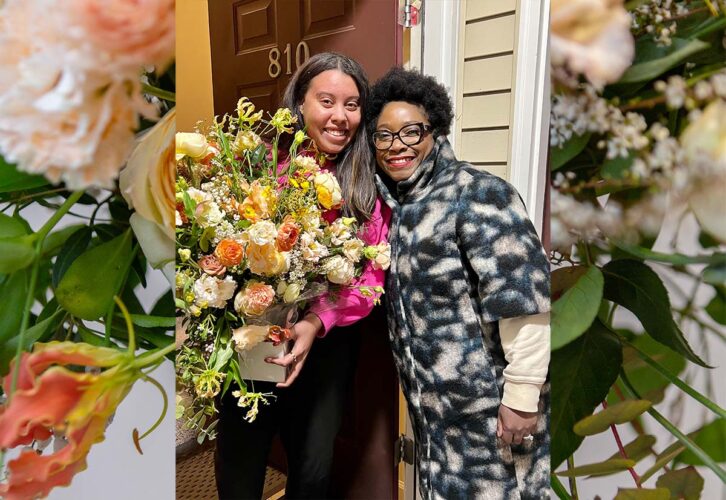 Our Other Three Fabulous Best in Bloom Finalists
Antonio Valente
Antonio Valente Flowers
Thornhill, Ontario, Canada
@antoniovalenteflowers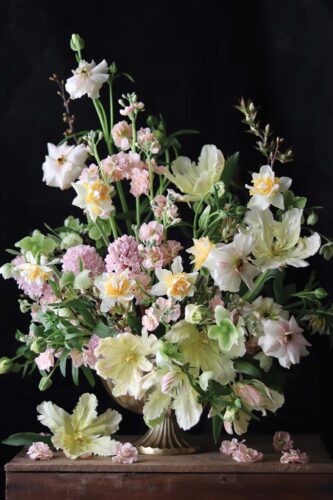 A small-scale flower farmer and floral designer, Antonio Valente grows specialty flowers that florists wouldn't typically find at a traditional wholesale florist. Many of the flowers are heirloom or pollinator-friendly varieties, and Valente is committed to growing his flowers in a completely sustainable manner. Gardening without chemicals is one of the most important virtues his father instilled in him.
About his design, Valente says:
"I typically take my inspiration from 17th-century Dutch still-life paintings. I love the juxtaposition between the formal brass compote and the garden-inspired flowers. I used 100 percent locally sourced blooms and chicken wire as the mechanic. I gifted this arrangement to my neighbor who runs a small wedding cake business. As with so many of us, her business was hit hard during COVID, but as things return to normal, my intention for this gift of spring blooms was to inspire renewal and joy."
MATERIALS
Botanicals
• Tulipa spp. (parrot tulip)
• Helleborus orientalis/H. x hybridus (hellebore, Lenten rose)
• Hyacinthus orientalis (hyacinth, Dutch hyacinth)
• Ranunculus spp. Butterfly™ series (butterfly buttercup, butterfly Ranunculus)
• Narcissus spp. (daffodil)
• Matthiola incana (stock, gillyflower)
• Foraged branches
Hard Goods
• Scallop Compote (73351) from Accent Décor
• Florist netting (chicken wire)
Carrie Wilcox, EMC
Carrie Wilcox Floral Design
Milford, Conn.
@cwfloraldesign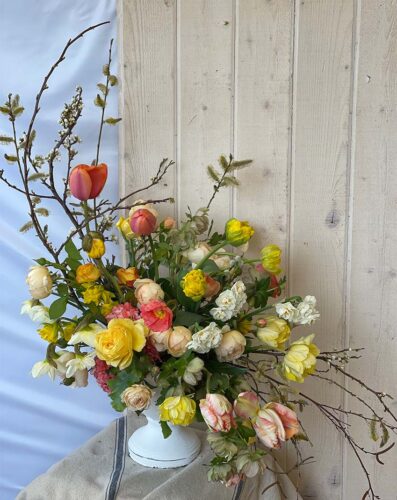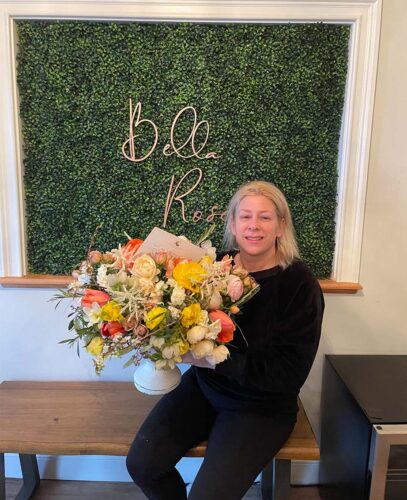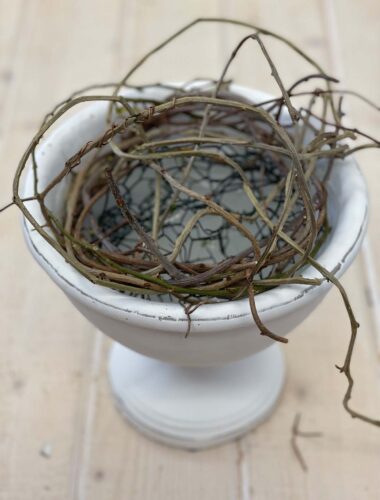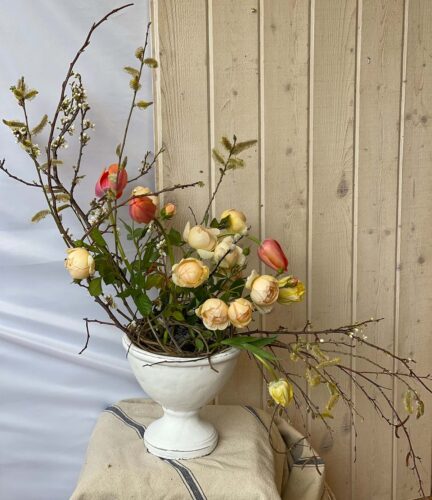 Carrie Wilcox is the owner of an event floral design studio exploring new, natural and inventive ways to make people smile with beautiful flowers. With a desire to learn more about the floral design world, Wilcox earned the European Master Certification (EMC), which led to the creation of her signature look of natural, loose, organic, textural floral design.
About her design Wilcox says:
"I first decided to create a classic Hogarth curve shape, and then I chose the color palette, working with a color wheel. I used all locally and American Grown flowers, including plants purchased from local nursery. I presented this floral gift to the owner of a small business, Bella Rose Beauty, who has always helped me feel as beautiful as the flowers I work with."
MATERIALS
Botanicals
• Rosa spp.
'Honey Dijon' (hybrid tea/grandiflora rose)
• Rosa spp. 'Carding Mill' (English garden/shrub rose)
• Rosa spp. 'Crown Princess Margareta' (English garden/climbing rose)
• Tulipa spp. (double-flowered tulip)
• Papaver nudicaule (Iceland poppy, Arctic poppy)
• Narcissus spp. (single- and double-flowered daffodil)
• Helleborus orientalis/H. x hybridus (hellebore, Lenten rose)
• Primula vulgaris (English primrose)
• Salix caprea or S. discolor (pussy willow)
• Prunus serrulata (Japanese flowering cherry, Oriental cherry)
Hard Goods
• Benoit Compote (96742) from Accent Décor
• Florist netting (chicken wire)
Quynh Nguyen
Pink and Posey
Seattle, Wash.
@pinkandposey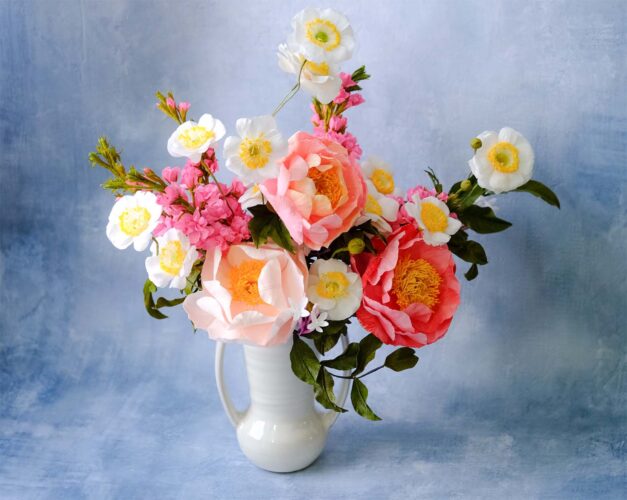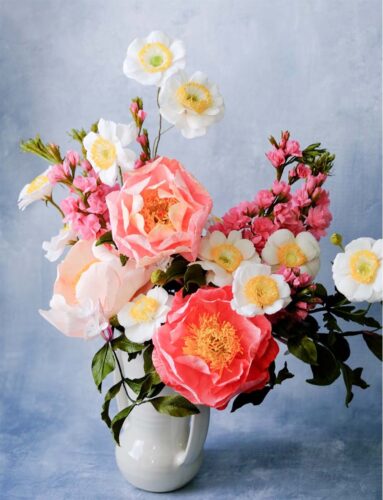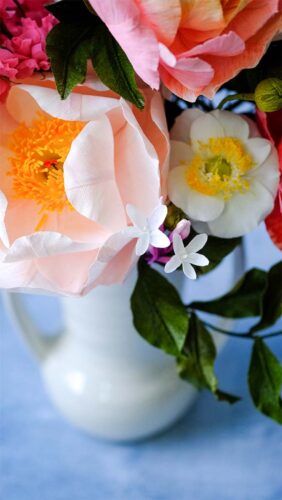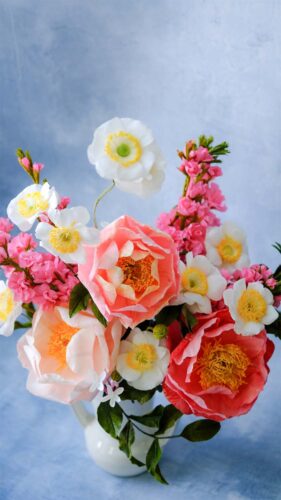 Quynh Nguyen is an artist specializing in creating paper flowers, from small realistic blooms to larger-than-life blooms. She uses mainly Italian and German crepe paper to create her flowers. Nguyen has collaborated with companies from Nordstrom to Fran's Chocolates. In addition to creating paper art, she also teaches others how to make paper flowers via The Posey Box and her podcast, Paper Talk, which has more than 100 episodes.
About her design Nguyen says:
"My arrangement was inspired by spring and the warming temperatures. All of the flowers, which I handcrafted, are made entirely from crepe paper. I replicated 'Coral Charm' peonies, which are the stars of my design, along with star jasmine vines, stocks and Japanese Anemones, and I chose the Zara Vase because of its beautiful shape and neutral color, letting my paper flowers shine. The only mechanic I used was The Pillow, designed by Holly Heider Chapple for Syndicate Sales. I love that my flowers will forever be in bloom."
MATERIALS
• Zara Vase (94695) from Accent Décor
• Holly Heider Chapple Exclusively for Syndicate Pillow (4")
• Italian crepe paper
• German crepe paper
• PanPastel Colors (assorted)
• Aleene's Original Tacky Glue
• Floratape® Stem Wrap (Light Green)
• OASIS® Clear Tape
• Florist wire (18, 22, 26 and 30 gauges)