Meet the winner and finalists in FR's latest flower design contest.
By Nita Robertson, AIFD, CFD
Sponsored by Melrose International
Florists' Review is excited to present the winner and top two finalists in our March 2023 "Best in Blooms" design contest. We received dozens of submissions showcasing the spectacular design work of floral designers across North America. Hearty thank-yous to all who shared their creative talents with us.
The three finalists featured on these pages were invited to create an imaginative design to honor a mother on Mother's Day, highlighting an everlasting gift generously provided by our sponsor, Melrose International. Each semifinalist received a stunning circular lantern and a variety of permanent botanicals with which to create their designs.
The winner receives $500 worth of products of their choice from Melrose International and will be featured in an upcoming issue of Florists' Review magazine.
For information about how you can enter future editions of the contest, visit our website at FloristsReview.com.

WINNER
Shelayne Hammack
Twist Flowers
Reno, Nev.
twistflowers.com
@twistflowers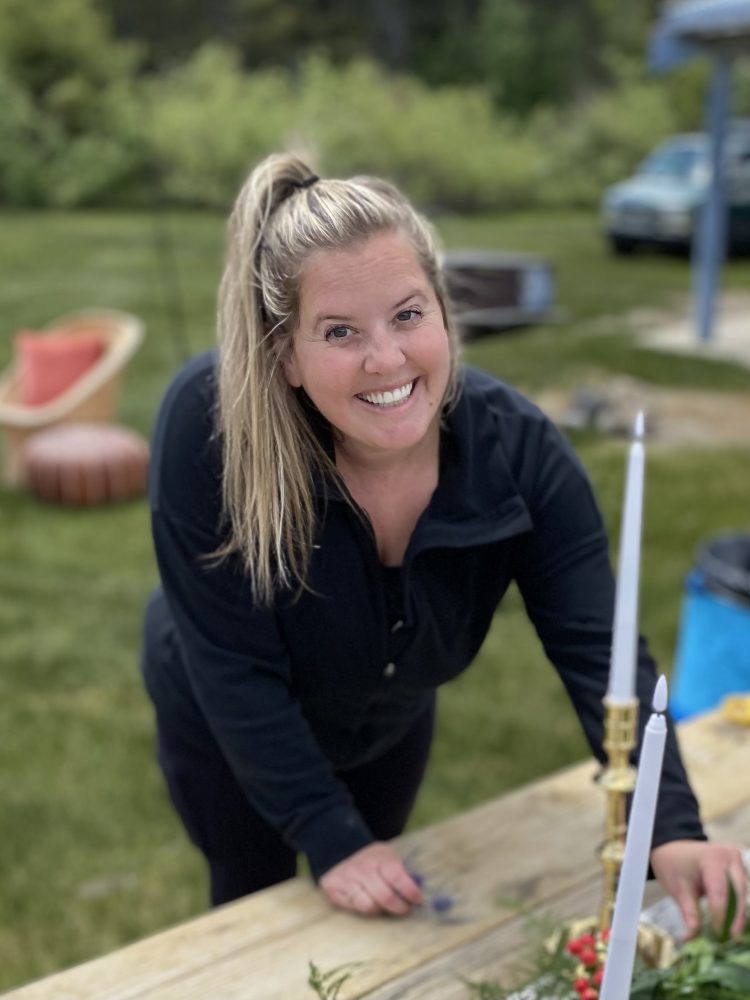 Shelayne Hammack found her passion for flowering in college when she took a floral design class for fun. That class lead to a part-time job as a floral assistant and then to starting her event business in 2013, Twist Flowers, a wedding floral design company serving the Lake Tahoe and Reno areas in Nevada as well as Plumas and Santa Cruz counties in California.
About her design, Hammack says:
This everlasting Mother's Day piece was inspired by the circular shape of the lantern: a wreath of permanent botanicals that can be used as home décor through both spring and summer seasons. For this presentation, I also incorporated fresh cherry blossoms and Pittosporum, and inside the lantern, I created a small arrangement of fresh edible flowers as a holder for the macarons. My final touch was monarch butterflies, which remind me of my mother and provide a wonderful a pop of contrast to the pastel florals.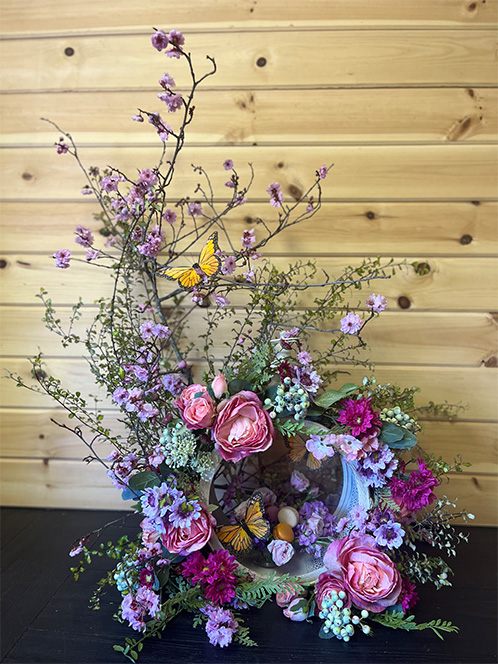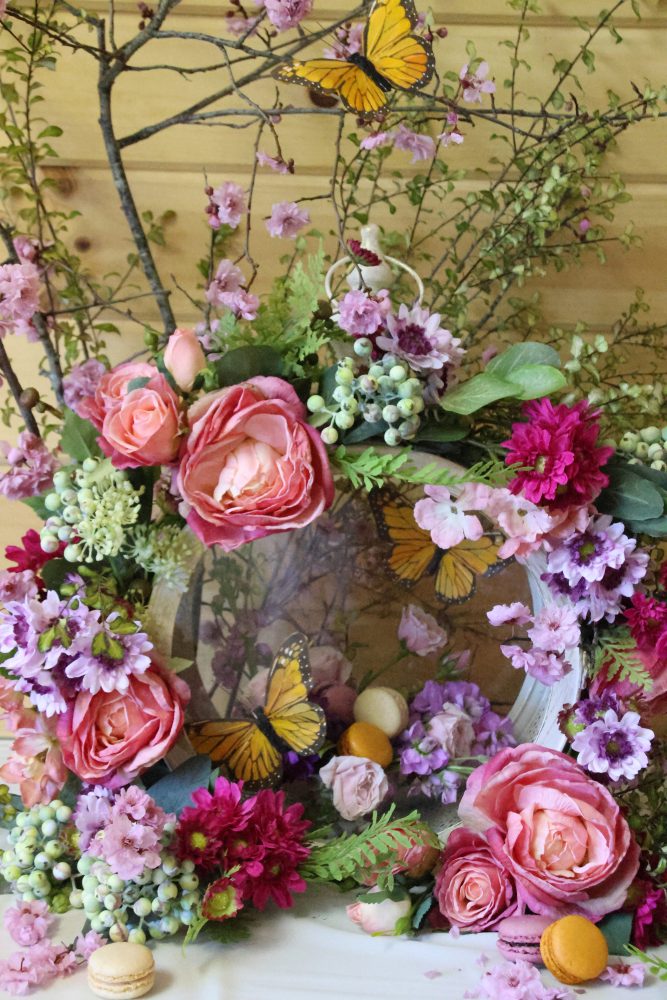 MATERIALS FROM MELROSE
• Lantern—17.5"H, Metal/Glass (#70783)
• Rose Bundle—12.5"H, Polyester (#88859)
• Mum Spray (2 Asst.)—31.5"H, Polyester (#88841)
• Queen Anne and Foliage Bush—20.75"H, Polyester (#85586)
• Berry Spray—26"H, Polyester (#88677)
OTHER MATERIALS
• Fresh cherry blossoms (Prunus spp.)
• Fresh Pittosporum
• Fresh Matthiola incana (stock, gillyflower)
• Fresh spray roses (Rosa spp.)
• OASIS™ Rustic Wire
• Paddle wire
• Monarch butterflies
• Fresh macarons
FINALISTS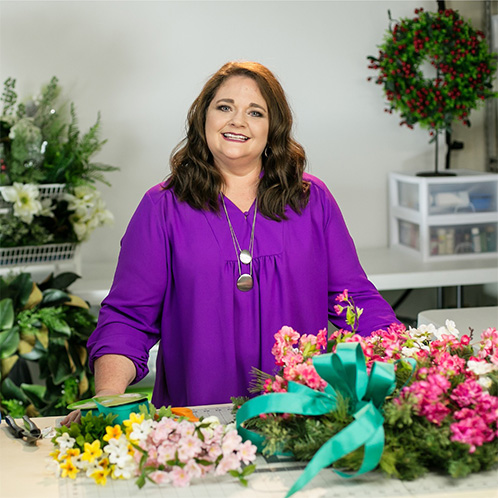 Julie Siomacco
Southern Charm Wreaths
Chapin, S.C.
southerncharmwreaths.com
@southerncharmwreaths
Julie Siomacco is considered the queen of wreath making and do-it-yourself permanent-botanicals florist. A master of producing quality works of art on the fly, with the heart of a teacher, Julie has turned her passion for faux floral design and holiday decorating into Southern Charm Wreaths, a thriving faith-based business that inspires hundreds of thousands of crafty people every day. She's trained in several product lines and stays up to date on trends, products, techniques and online selling strategies, in order to give her extensive online audience the best advice. She's been featured online at Martha Stewart Living, Better Homes & Gardens and BloomTV and is the co-founder of "Wreath Makers Live, a conference dedicated to educating wreath sellers all over the world.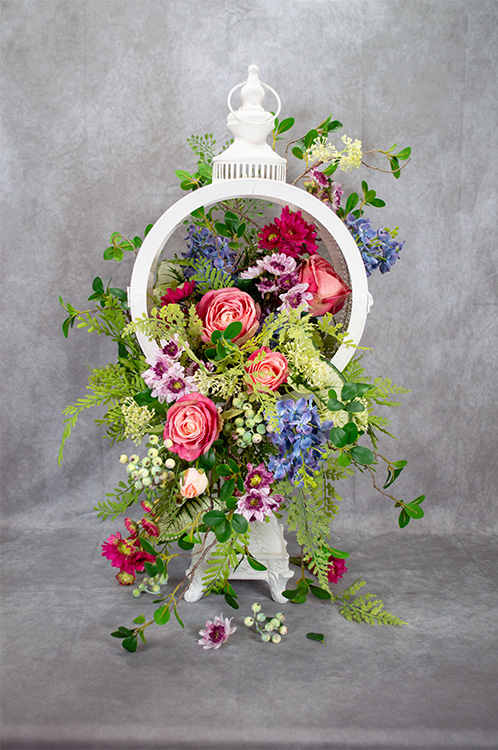 About her design, Siomacco says:
The inspiration for this design was a focal piece for mom to display on her vintage buffet. Once I saw the spacious lantern, I knew I wanted to create a multidimensional arrangement that cascades out from inside the lantern and from front to back; therefore, I chose not to use the glass inserts. I also wanted to elevate the lantern to allow more space for the flowers to drape, so I attached it to the top of a candlestick. I painted both the lantern and the candlestick to look like one cohesive piece. I was allowed to incorporate other permanent botanicals, so I chose blue French lilacs with pink and lavender veining, which pull the colors of the other flowers together nicely, and a bonsai Ficus branch, for movement and texture.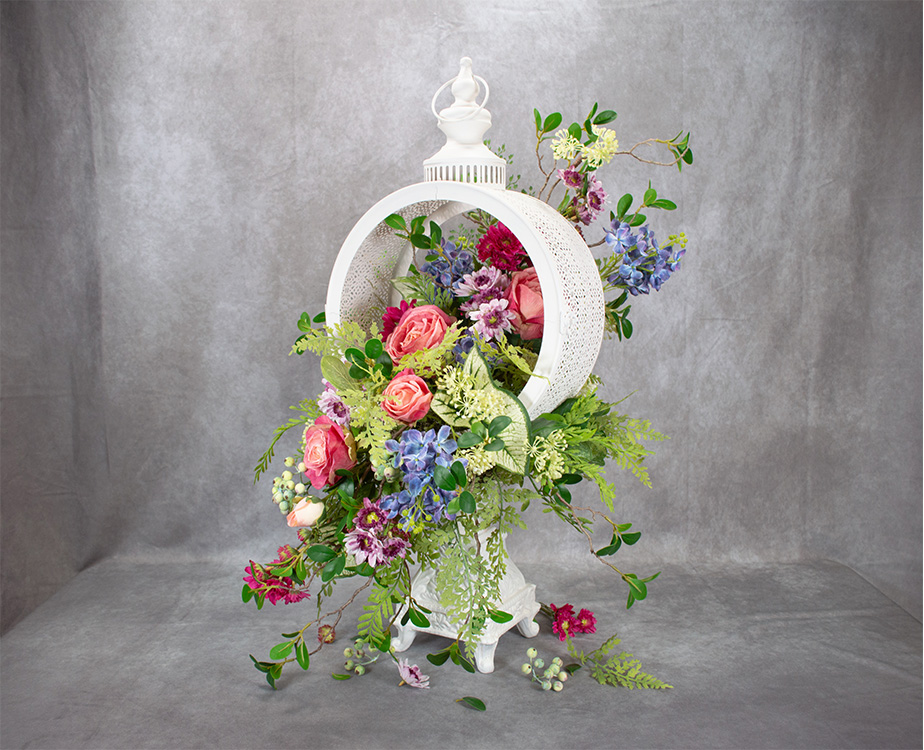 MATERIALS FROM MELROSE
• Lantern—17.5"H, Metal/Glass (#70783) (glass removed)
• Rose Bundle—12.5"H, Polyester (#88859)
• Mum Spray (2 Asst.)—31.5"H, Polyester (#88841)
• Queen Anne and Foliage Bush—20.75"H, Polyester (#85586)
• Berry Spray—26"H, Polyester (#88677)
OTHER MATERIALS
• Permanent French lilac (Syringa vulgaris)
• Permanent bonsai Ficus branch
• Ceramic candlestick
• DESIGN MASTER® übermatte "Crema"
Araks Sarkisyan
AY Flowers
Glendale, Calif.
ayflowers.com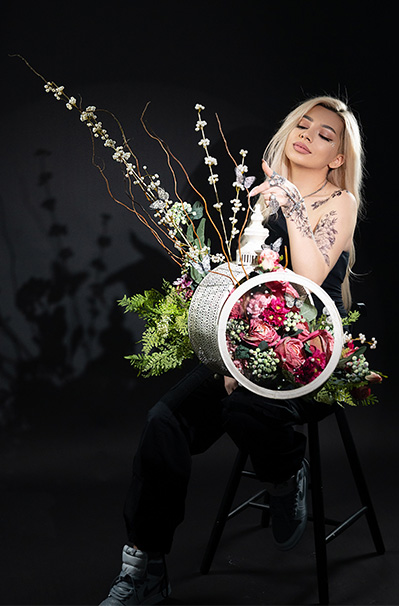 Thirty-five-year-old Araks Sarkisyan was born in Yerevan, Armenia, but now lives in the Los Angeles, Calif., area. Her floral journey started some 14 years ago. The Anemone is her favorite flower—that's if she has to choose one because she loves them all.
About her design, Sarkisyan says:
I created this design to celebrate a mother's love, which has a permanent reflection on one's life. She is, perhaps, the one person who loves you no matter who you are!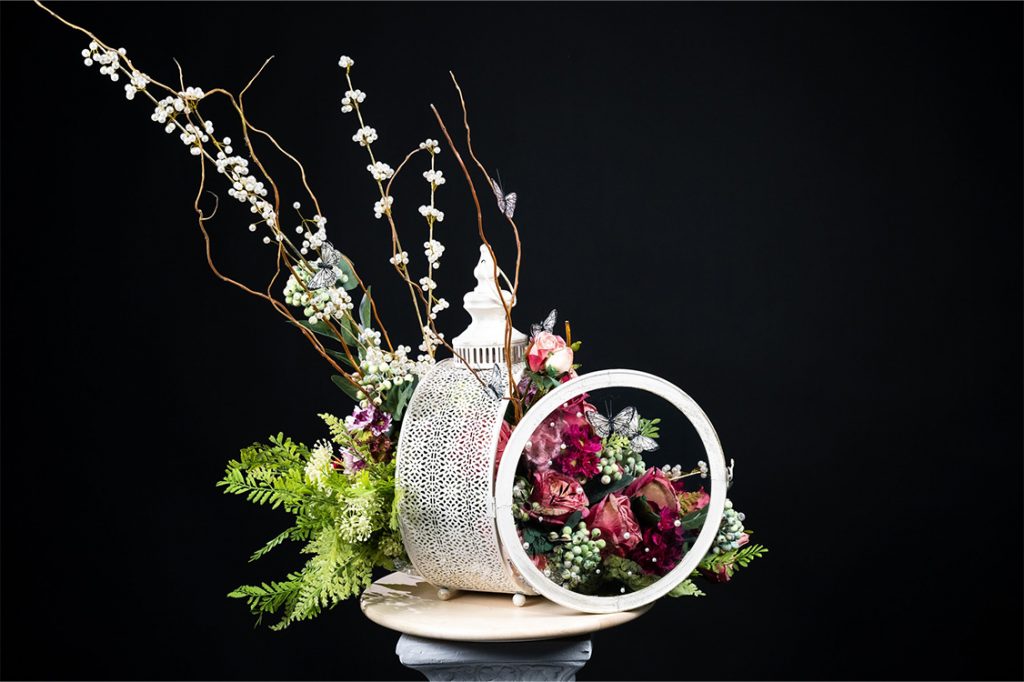 MATERIALS FROM MELROSE
• Lantern—17.5"H, Metal/Glass (#70783)
• Rose Bundle—12.5"H, Polyester (#88859)
• Mum Spray (2 Asst.)—31.5"H, Polyester (#88841)
• Queen Anne and Foliage Bush—20.75"H, Polyester (#85586)
• Berry Spray—26"H, Polyester (#88677)
OTHER MATERIALS
• Fresh Salix matsudana/S. babylonica 'Tortuosa' (corkscrew willow)
• Pearl spray branches
• Butterflies