Here are the four talented women selected this year by Danziger to excite and empower florists in 2023.
Full Article Below Source
Danziger continues to celebrate and empower women florists in 2023
Danziger was happy with the results from last year's International Women's Day campaign and delighted by the wealth of positive feedback and compliments coming from floristry industry colleagues. So, the company invited Alison Bradley to reach out to four very different and successful women in the floristry world. Each woman has their own story to tell and their own perspective on the position of women in floristry. Their views are very different and there are some common bonds, but each woman reveals just how determined and strong they are to have achieved success.
Betty Finkelstein, Global Brand Manager at Danziger, described the motivation and purpose of this unique campaign and the Danziger Live Facebook community that we've built. "We believe that building a platform where the florists' community can share their knowledge, exchange thoughts and ideas, find inspiration and network, can promote the entire flower industry. We feel that our International Women's Day campaign is a gateway for those who are starting out or who want to grow to learn from women who have achieved success. The Danziger Live page includes tips on business management, marketing strategies, and even design techniques."
Here are the four talented women selected this year to excite and empower florists:
Moniek Vanden Berghe
There has been much debate about the difference between a florist, a flower arranger, a floral designer and a floral artist. In the case of Moniek Vanden Berghe, she blows all the arguments right out of the park because she is without question – all of those. Moniek is an artist who became a florist and then, through her books, revealed to the floral world a fresh approach to design. In turn this led to an increase in contemporary, chic bridal floristry. Read more>>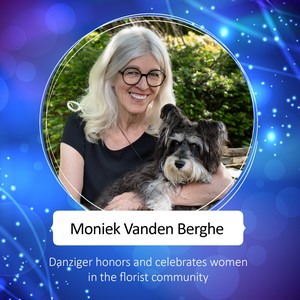 Hanneke Frankema
There will be those in the flower industry who think that Hanneke Frankema's success is like a fairy tale, but nothing could be further from the truth. Hanneke's dedication to her craft and hard work is legendary in the industry. She thrives on a challenge. Like all of us, she has had her disappointments, but she has used them to help her 'grow'. She embraces everything as an opportunity to learn. Together with her partner Nico, she is building a large studio where she will teach. Read more<<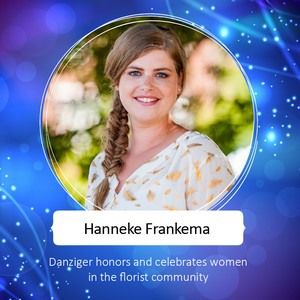 Deborah De La Flor
For those who do not believe that taking part in competitions encourages participants to 'grow,' they need look no further than the international career of Deborah De Le Flor. She has not only had the privilege of representing her Country in the World Cup, but has gone on to become a judge, and, together with her husband Gus, founded the Gateway to the Americas International Floral competition in 1996. This is now considered to be the premier floral competition throughout the Americas. Read more>>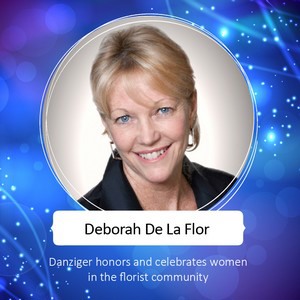 Linda Johnsen
There is something special about a florist who has the respect of those who know and work with her but is also the 'mother of invention'. How many of us I wonder use the handmade wire armatures fashioned out of stub wire? But do you know who was the first to invent them? Linda Johnsen is the person behind the world-famous 'Linda Technique'. More than that, she is co-founder of the amazing Shishi organization. She has a quiet approach to floristry, but Linda is an encyclopedia of knowledge and floral experience. Read more>>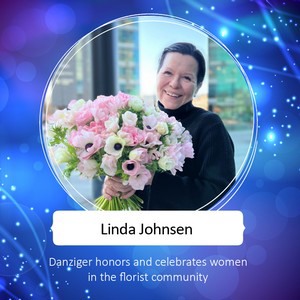 For more information:
Danziger
www.danzigeronline.com