By Jules Lewis Gibson
A visit to the Netherlands is a treat for any flower lover. From June 6 to 9, 14 lily bulb exporters opened their doors to visitors from around the globe for "Dutch Lily Days," and I was invited to be one of those visitors It is the premier event to discover the latest lily varieties. A particular focus this year was on pollen-free and double-blooming lily varieties. Growers were proud to share their innovations of beauty with visitors.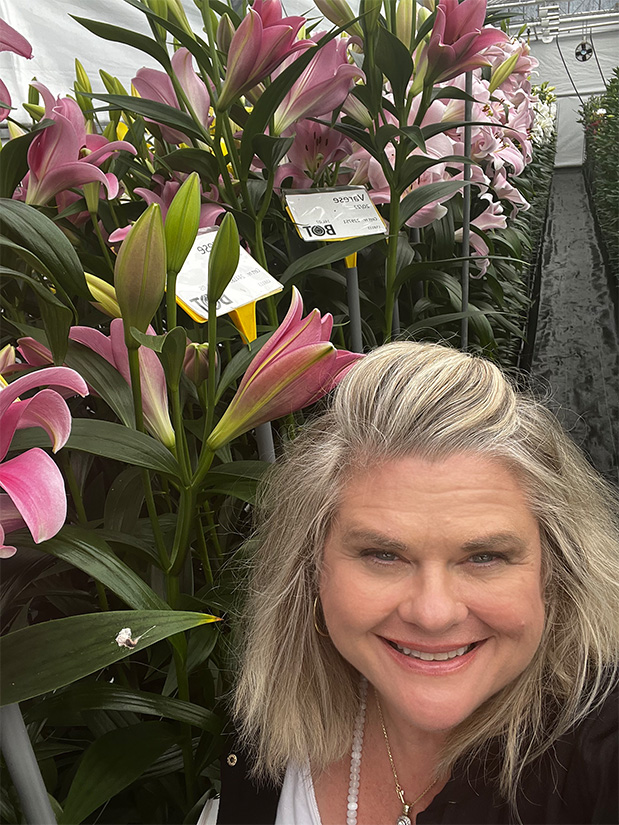 Lilies are one of the most popular flowers in the world. They are available in a variety of hybrids and colors, some of which are known fort heir strong fragrance. The elegant blooms are showstoppers on their own while also serving as the perfect complements in any flower arrangement.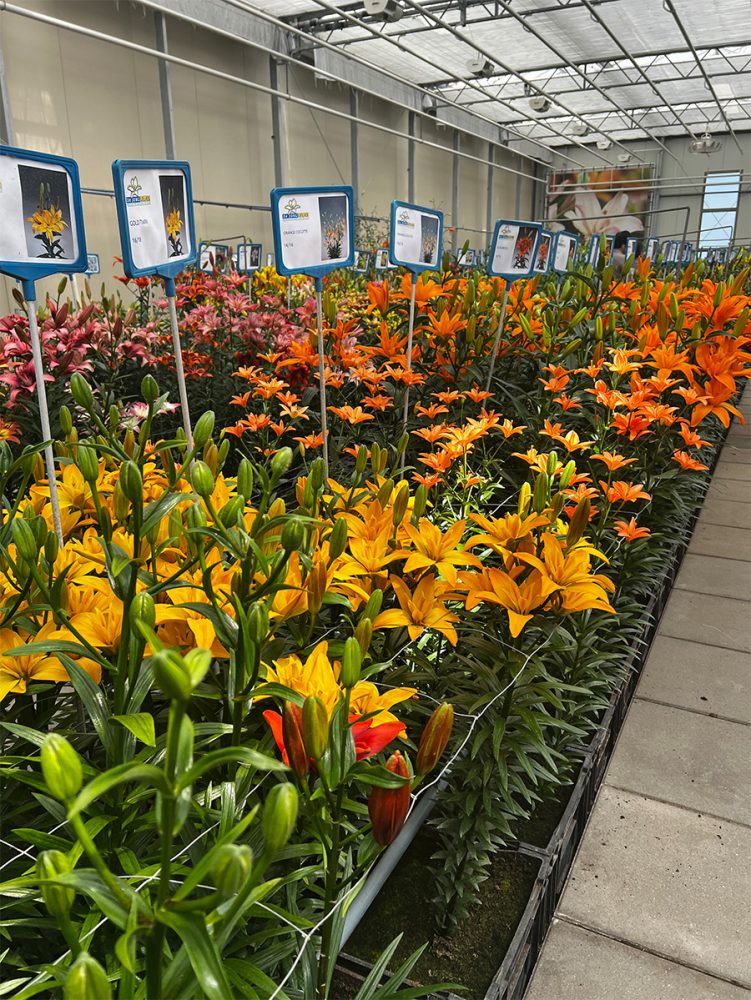 Dutch Lily Days reflects a deep dive into the world of lilies. We were welcomed this year at Boots Flowerbulbs, Bot Flowerbulbs, C. Steenvoorden, De Jong Lelies Holland, GAV Lilies, Gebr. Vletter & Den Haan Lily Breeding, Lily Company, Onings Holland Flowerbulbs, P. Aker Seeds & Flowerbulbs, Royal Van Zanten Flowerbulbs, Van den Bos Flowerbulbs, VWS Export-Import of Flowerbulbs, World Breeding and Zabo Plant. Each stop was amazing, filling our days with flowers, color and inspiration.
During our visits to these flowerbulb companies, we able to not only view the latest assortment of beautiful lilies on display but also discuss new trends and developments in the industry. We gained insight into bulb quality, the various treatment methods and, naturally, the resulting flowers.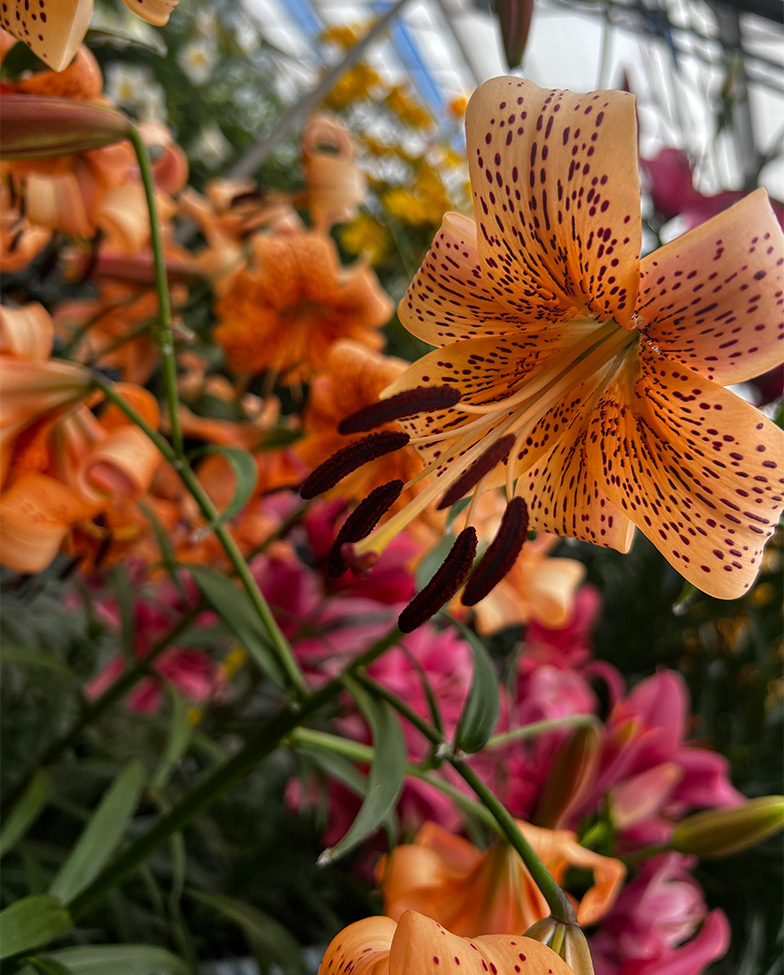 TRIP HIGHLIGHTS
The opening of Dutch Lily Days 2023 was held at Royal Van Zanten Flowerbulbs in Hillegom, a town in the "Dune and Bulb Region" in the province of South Holland. More than 150 visitors were captivated by the guest speaker, Jan de Boer, owner of Barendsen Flowers, an exporter and importer of cut flowers located in the well-known Royal FloraHolland flower auction in Aalsmeer, who spoke about the importance of data collection as a means to get to know customers better. Based on this knowledge, trends can be initiated.
Opening day also featured the launch of nine spectacular single-flowered, pollen-free, lightly scented Oriental-hybrid lily varieties, known as the "Liber Lilies" series, which were developed by Royal Van Zanten Flowerbulbs and De Jong Lelies. With their long vase life and buds that are all guaranteed to open, consumers will be able to enjoy these stunning flowers for a many days, without the concerns of staining clothes or excessive fragrance. Following the introduction of the "Liber Lilies," floral designer Paul Wijkmeijer, owner of Bloemenatelier Klavertje Vijf in Haarlem—who also is a rock musician—worked with the lily's beauty. It was a captivating opening day.
On our visit to Van den Bos Flowerbulbs, in Honselersdijk, we got to see the company's exclusive line of current and future Roselilies varieties—and they are breathtaking! Roselilies are double-flowered, pollen-free, lightly scented Oriental-hybrid lilies, and they are a true innovation in the lily industry.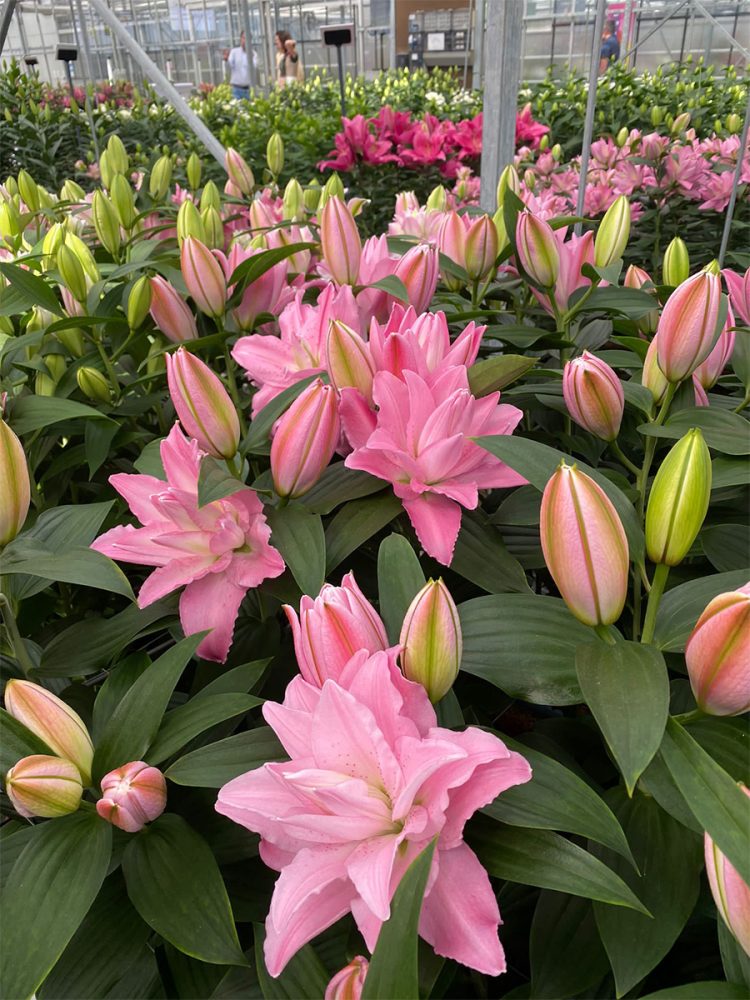 At Bot Flowerbulbs, in Andijk, I found it facinating that the 128-year-old company exports flowerbulbs to 40 countries all over the world—mainly lily, tulip, Iris, Gladiolus and peony. At Lily Company's greenhouses, also in Andijk, we admired more than 180 varieties of garden lilies in all of the hybrid groups.
Also during this year's event, special attention was drawn to a number of new bicolor double-flowered Asiatic-hybrid lily varieties, including 'Double Love', 'Double Nugget' and 'Double Princess'. These new developments were definitely worth coming to see.
Make plans now to attend the 12th-annual "Dutch Lily Days" next year, June 4 to 7, 2024. You can get more information at dutchlilydays.nl or facebook.com/DutchLilyDays.