"Discover what makes millennials tick and how to earn their business.. "
Want to tap into millennial generation buying power? You're not alone. Every retail segment longs to charm this generation, which has surpassed baby boomers to become the largest living generation. This group boasts purchasing power (more than $200 billion annually) that could keep more than a few brick-and-mortar florist shops going – and growing – strong for many years to come. But what's the secret to earning this generation's loyalty?
To turn a midcentury-modern phrase, that's currently the $64,000 question. Marketers in every industry are mulling how to tap into this generation's wallets. The floral world is no different. Marketing to millennials (ages 24-41) in ways that are efficient and effective starts with understand-ing what's important to this generation – and what motivates them to plunk down hard-earned cash for flowers, if they even think about buying flowers (which, according to research, they mostly don't).
With an eye to dwindling flower purchases by younger generations, the Floral Marketing Research Fund (FRMF) (fmrf.org), established by the American Floral Endowment (AFE) (endowment.org), sponsored a study entitled "Marketing Tactics to Increase Millennial Floral Purchases." This research aims to unravel the floral buying habits of millennial customers. The study examines this generation's attitudes toward flowers (they like them but don't see them as trendy, which is vital to this group); barriers to buying flowers (perceived high price ranks No. 1); and where they buy flowers (convenience is king). The study also explores ideas for marketing to millennials, including things like subscription services, loyalty programs (they love these), social media and apps.
Marketing to millennials isn't rocket science, but it does require a different mind-set and approach. Based on recommendations from the research, here are five ways you can woo – and win – millennial customers.
CREATE AN EXPERIENCE
One of the key drivers for millennials is FOMO – fear of missing out. Why? Because they love to participate in events, special deals and anything that makes them feel like they're in the loop on what's happening locally or at large. Flowers provide the ultimate experience, offering sensory opportunities that can involve all fi ve senses (think edible flowers and herbs).
To cater to millennials' desire for engagement, offer fun and/or adventurous activities both in-store and at local hot spots. Tap into artisanal zeitgeist by hosting a build-your-own-bouquet event at your shop. Sponsor seasonal workshops that showcase ways to incorporate flowers into living spaces, all the while touting the benefi ts of flowers and greenery in indoor spaces (millennials love healthy living spaces). Above all, designate a space in your store for relaxing conversation and lingering (cue cozy chairs, cool floral art and mugs of fair-trade brew).
MAKE IT MINE
Millennials love custom products and personalized attention. Customized delivery, designs and discounts ("It's your third purchase, you've earned a discount!") are the kind of services millennials crave. With custom designs, use displays to showcase ideas to inspire. Consider creating a flower bar that provides customers with add-ons, packaging options or local add-ons (food, fillers, wine, handmade cards, etc.). Include a variety of price points so that every customer can personalize purchases. Millennials tend to be frugal, so don't overlook lower price points. Offer real-time tracking of floral deliveries, compatible across an array of devices.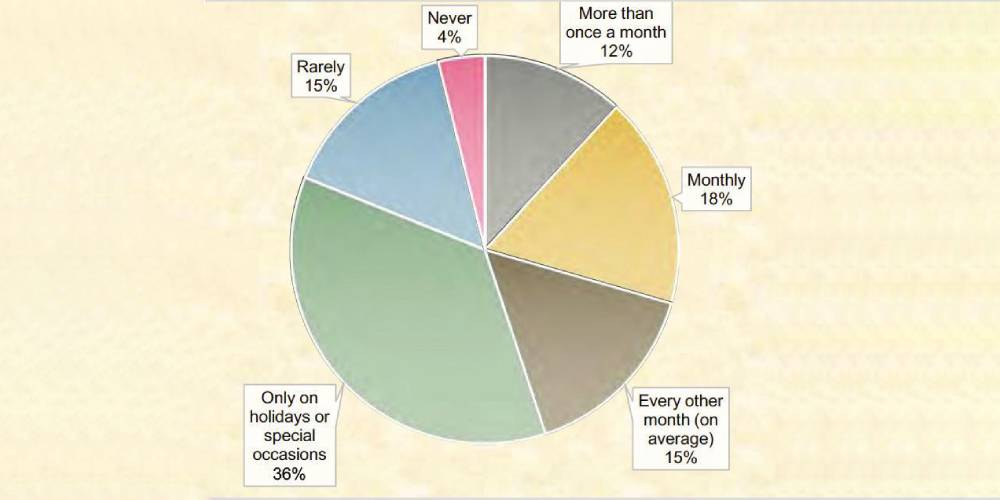 IT'S GOTTA TREND
In the world of millennials, trending is everything. Sadly, in the mind of millennials, flowers are traditional, not trendy. Your job is to reposition flowers in the minds of your target millennial customers as trendy.
One of the easiest ways to do that is to tie flowers into products that are trendy in the millennial universe. For instance, self-care and healthy living spaces are two top trends in millennial circles. Flowers and plants easily fit that mantra, especially when you intentionally promote their health and psychological benefits. Other major trends worth tapping into include products with natural or organic ingredients, pet kibble or treats, and sleep-related items.
In your store, craft an area with selfies in mind, so millennial customers can post beautiful images to social media. Offer discounts and loyalty program rewards for customers who post, tag and share your business on social media.
Team up with trendy millennial hot spots, like a craft brewery, farm-to-table eatery or local winery. Provide flowers for tables, open houses and wine tastings, along with appropriate signage mentioning your shop. Be present at special events at these venues to offer hands-on experiences with flowers, whether it's a flower arranging demo or a bring-your-own vase (to fill) activity. The idea is to connect with millennial customers and begin to build relationships. It's a secret weapon to earning their business.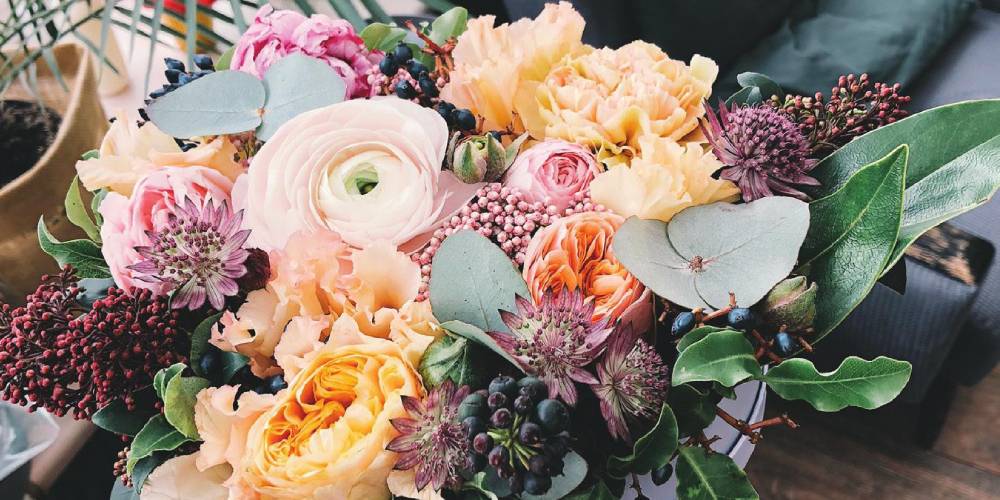 AIM FOR CONVENIENCE
In terms of reasons millennials don't buy flowers, No. 1 is perceived high price, and No. 2 is inconvenience. One way to improve in-store convenience for shoppers is via online services, such as ordering online and pick-up in store. If you're able to do a drive-through pick-up, even better. Or consider developing partnerships with business hot spots millennials frequent, and offer prepaid order pick-up there. Adapt hours of operation to align with nonworking hours for millennials. Do the same with delivery, providing flexible, creative options to accommodate different working schedules (hint: Amazon Locker).
By the way, address the No. 1 barrier to floral purchases – perceived high price – by using discounts, in-store coupons, loyalty reward programs and free items, like a gift with purchase. Promote the value-added properties of flowers, including psychological benefi ts (flowers bring cheer and improve mood), add-ons and customization packages.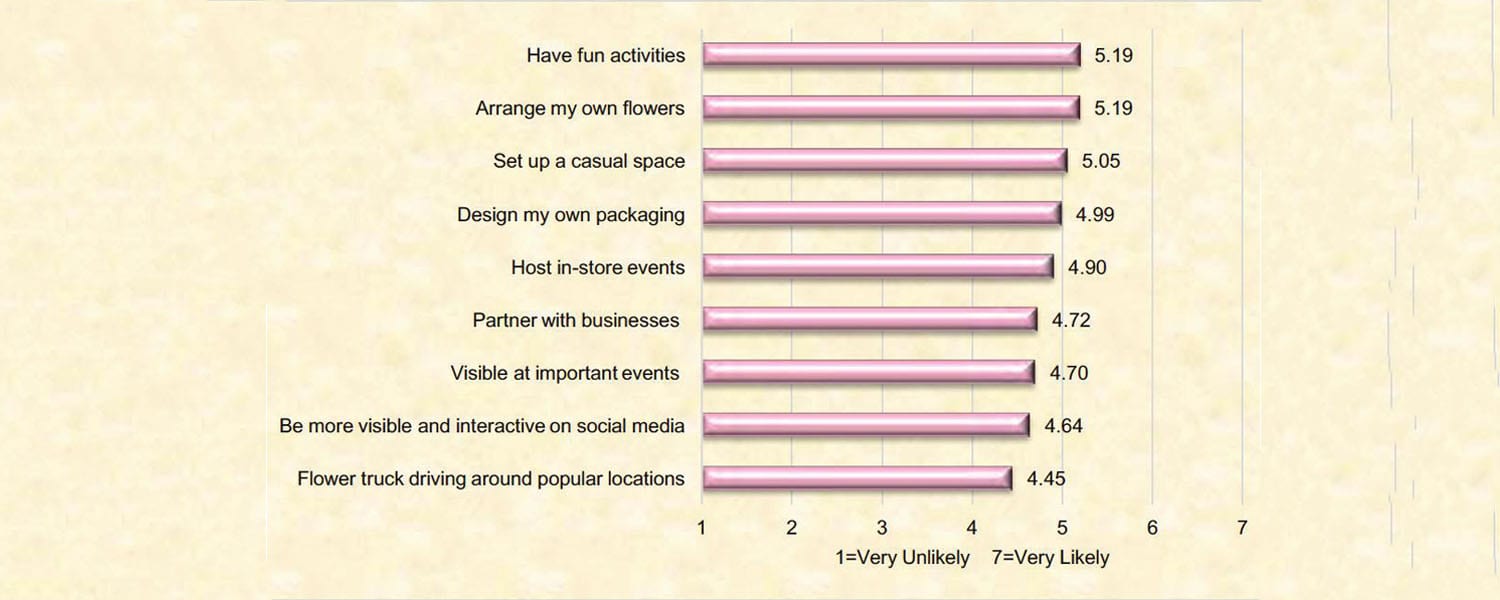 BE AUTHENTIC
Authenticity is millennials' kryptonite. This generation has a fi nely tuned BS meter, and when they detect a message that's authentic, they hone in like bees to honey. How do you achieve authenticity? Communicate openly and honestly with customers across all platforms. Develop your company's story; keep it simple; make it relevant; and share it over and over through signage, your website, social media and storefront. Btw, authenticity isn't just for millennials: Sixty-three percent of global consumers say they would buy from companies they consider to be authentic. When you are perceived as an authentic business, you help your customers feel connected – and authentic, too. That's why it's so key.
Marketing to millennials may take a little creativity on your part, but that's a florist's jam. You make flowers magic without even trying. So when it comes to millennials, relax. You got this.