Sunflowers and the help of floral designer Stefan van Berlo make the Belgian singer shine.
Full Article Below Source
Floral Fashion on the Cover of Pommelien Thijs' Debut Album
Sunflowers and the help of floral designer Stefan van Berlo make the Belgian singer shine.
By: THURSD. | 05-04-2023 |
Pommelien Thijs, Belgian actress, and singer – known for the hits in the Dutch language "Meisjes van Honing" (Girls of Honey), "Ongewoon" (Unusual), and "Nu wij niet meer praten" (Now that we don't talk anymore) (with Jaap Reesema), will release her first album on June 23rd.
Thijs' music often blends pop with elements of electronic dance music. After successive hits and three MIAs (Music Industry Awards, the Flemish music awards), the debut album, entitled "Per Ongeluk" (By Accident) is awaited with excitement and curiosity.
At the end of March, Pommelien already revealed what the cover of the album will look like. A beautiful image of the singer, dressed in a costume full of warm-colored sunflowers, will adorn her first album. Curious how this spectacular image came about? Take a quick look!
The Sunflower Floral Fashion Cover of Pommelien Thijs' Album
The idea for her spectacular outfit came from Pommelien herself and she also designed the trousers made of sunflowers herself. For the jacket, she enlisted the help of the Belgian floral designer Stefan van Berlo. Therefore, they used more than 250 sunflowers.
Pommelien loves outfits like this. At the MIAs, she designed her own top with sunflowers too. Check the next YouTube Video where Stefan and Pommelien show you how this costume works.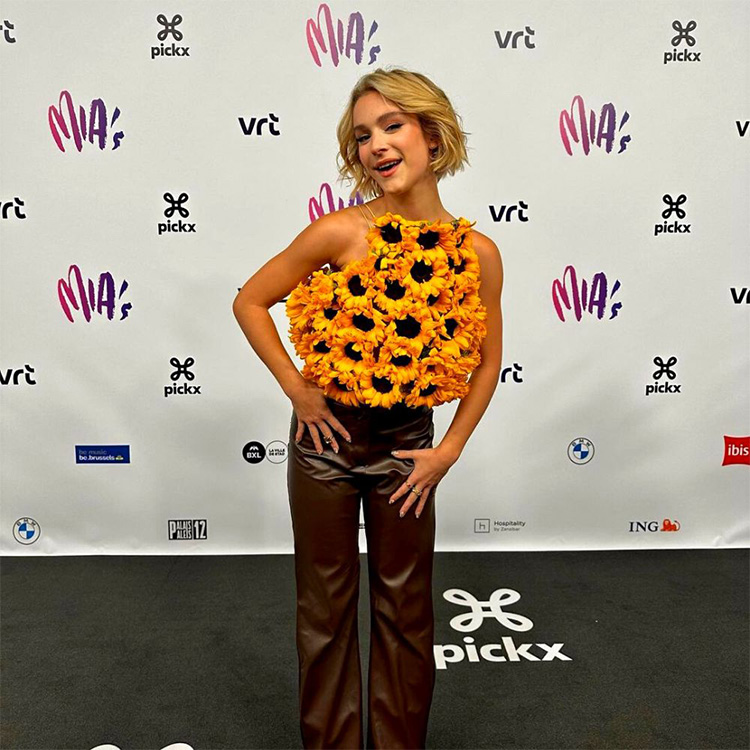 Stefan Van Berlo is an experienced creative and idiosyncratic florist in the middle of his career. Recent years have been promising with several victories, of which the highlight was winning the Belgian Championship in 2010. An achievement that he repeated in 2020. Many of his creations have already appeared in the national and international press. Representing Belgium, Stefan reached the finals at the 2022 European Floral Styling Championships in Katowice, Poland where he finished 5th. Stefan was delighted with this result, through which he definitively profiled himself on the map of internationally recognized floral artists.
Stefan van Berlo:
"As everyone already knows, Pommelien is a creative jack-of-all-trades who likes to make her own outfits, yet I was allowed to lend her a hand with this outfit. Pommelien made the pants and I made the sleeves of the sunflower outfit.

Quite a job to find sunflowers in winter (the photo shoot was in February) but thanks to Groen van bij ons and breeder Evanthia, this became no problem and the top-quality sunflowers were delivered beautifully at Agora Group. Together with KUFB (Belgian Florist Organization), it is my mission to promote our beautiful flower section, and this only results in fun collaborations!"
Sunflowers, Sunflowers, and More Sunflowers
The choice of sunflowers fell on Helianthus Solano® Deep Orange by Evanthia, loved for its very large, pollen-free flowers with a powerful intense orange color and a deep black heart. The well-formed flowers have two to three layers of pointed petals and are available early in the season. For the pants alone, about 400 sunflowers were needed. The jacket contains more than 250.