Orlando's The Floral Way Studio has established two branding "trademarks," both of which have created a unique and instantly recognizable identity for the business and its design work.
Floral design by Johnny Ramos
Establishing a "signature style" for your flower business is an important component of creating a unique identity and a successful, recognizable brand. And that's just what Johnny and Jacob, owners of The Floral Way Studio in Orlando, Fla., have done. In fact, they have originated two style "trademarks" for their flower shop, both of which have come to be instantly recognized by consumers: luxurious hatbox containers and a distinctive crescent-shaped arrangement style, which the duo has christened the "'V'-shape arrangement."
This composition, crafted by Johnny, is quintessentially The Floral Way. It is stunningly appropriate for virtually any type of order or customer, from personal and business gifts to holidays and other special occasions—and more. And bearing The Floral Way's subtle signature/trademark style, there's no guessing which florist this design came from.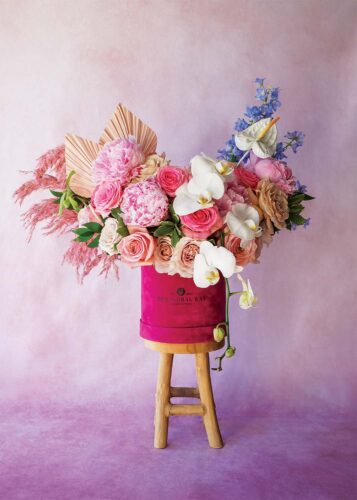 STEP BY STEP
Step 1
Line a hatbox/round storage box container with several sheets of cellophane.
Soak several pieces of floral foam in properly proportioned flower-food solution, and place them into the lined container. Add more flower-food solution into the container.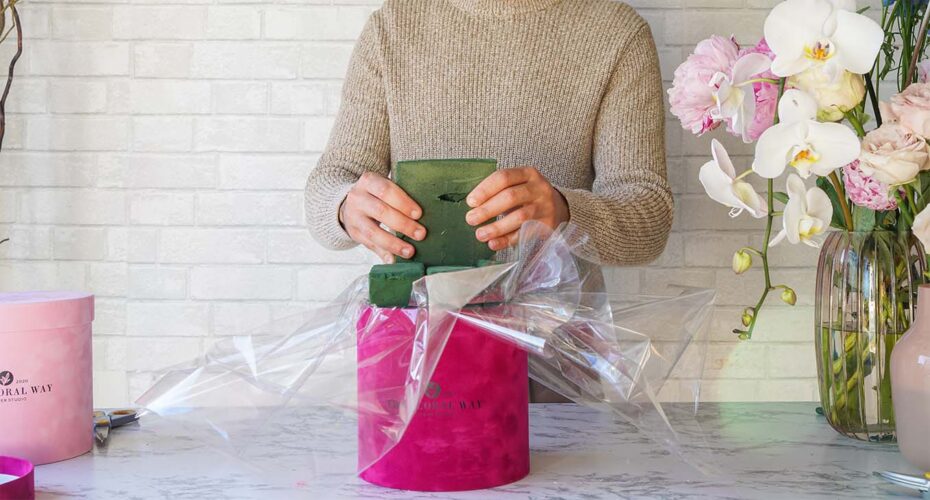 Step 2
Arrange stems of variegated Pittosporum and Italian Ruscus to cover the floral foam and establish the crescent shape of the design.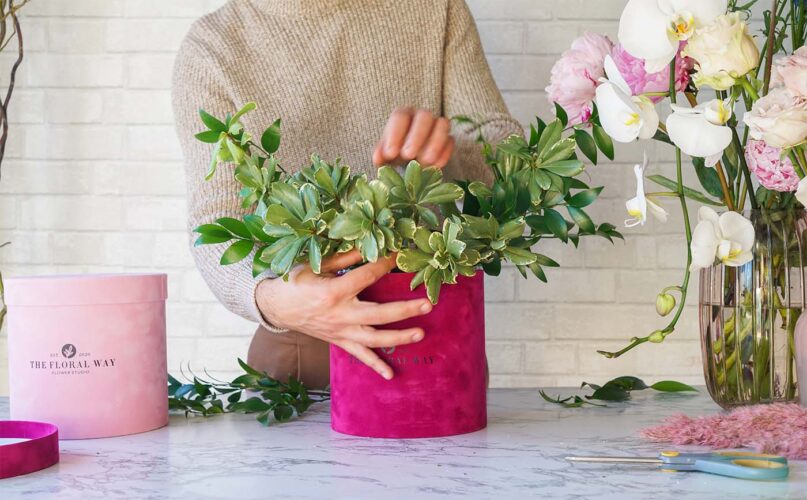 Step 3
Arrange stems of light blue Delphinium in a diagonal manner on the right side of the design, toward the back.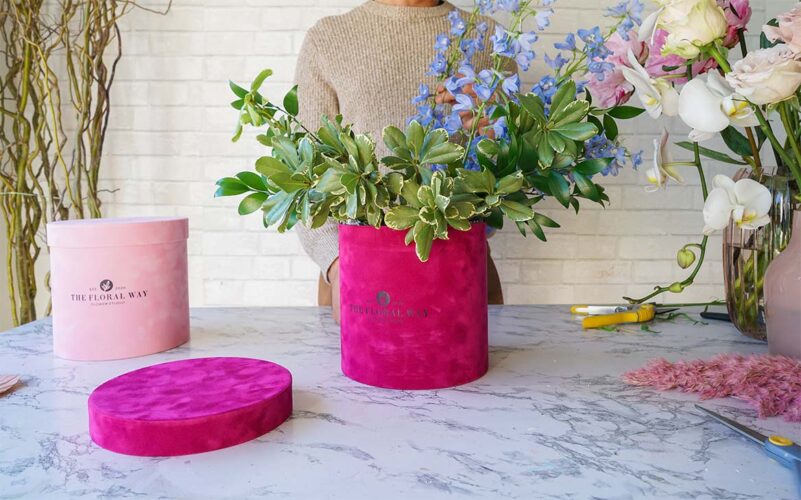 Step 4
Arrange two dried painted palm spears diagonally on the left side of the design, to mirror the diagonal lines created by the Delphinium on the right side.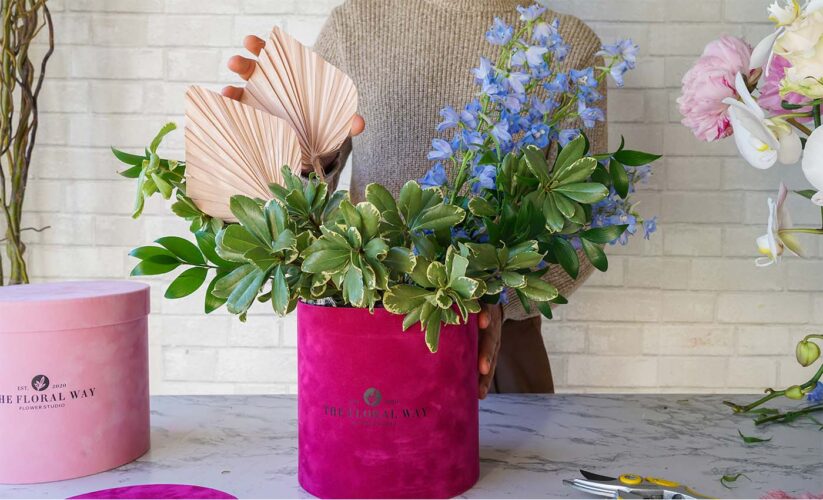 Step 5
Arrange roses to create the base of the design.
Then, working your way upward, add more roses, peonies and Phalaenopsis orchid sprays to complete the crescent-shaped arrangement.
Finally, arrange a single Anthurium bloom into the upper right portion of the design, to mimic the form of the palm spears on the left, and add stems of dyed dried pampas grass to the left side of the arrangement, toward the back.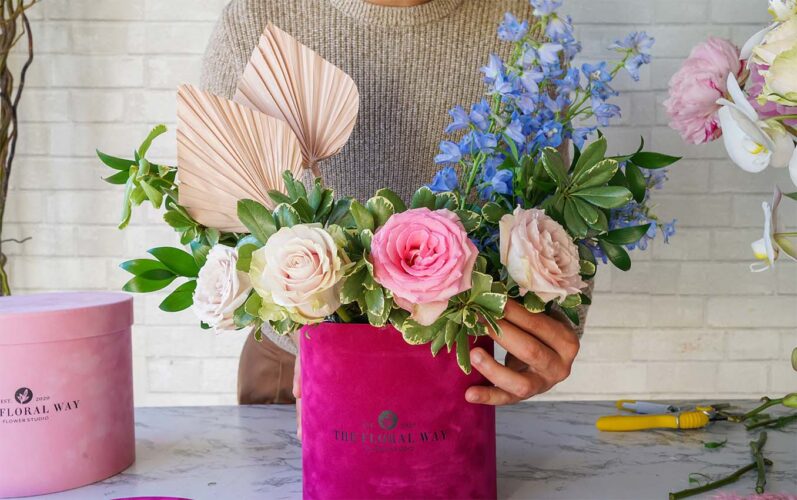 MATERIALS
BOTANICALS
• Delphinium x Belladonna (larkspur)
• Rosa spp. (garden rose)
• Rosa spp. (hybrid tea rose)
• Paeonia lactiflora (Chinese peony, garden peony)
• Phalaenopsis amabilis (moth orchid)
• Anthurium andraeanum (flamingo lily, tailflower)
• Pittosporum tobira 'Variegata'
(variegated Japanese Pittosporum, variegated Australian laurel, variegated mock orange)
• Ruscus aculeatus (butcher's broom, box holly, Italian Ruscus)
• Livistona chinensis, dried and painted (Chinese fan palm spear)
• Cortaderia selloana, dried and dyed (pampas grass)
HARD GOODS
• Hatbox or round storage box container
• Cellophane
• OASIS® Floral Foam Maxlife