Creative craftiness elevates the appeal of the quick-to-produce and easy-to-deliver Valentine's Day arrangement.
Floral design, text and photos by Nita Robertson, AIFD, CFD
Inspired by the holiday of love, I wanted to create a fun design that has lots of consumer appeal yet is quick and easy to produce and easy and efficient to deliver. This concept can be created in smaller and larger versions to suit all customers' budgets.
Using a heart-shaped hole punch, I added a subtle valentine motif to several Aspidistra leaves. I then amplified that with a novel and natural heart fashioned from bear grass, which also adds dynamic lines and movement to the design. Finally, I added pearl-headed pins to the centers of the Gerbera. Small decorative accents such as these can go a long way in elevating the novelty and distinctiveness of your holiday floral designs—plus, customers love them. And don't forget to charge appropriately for these clever touches (i.e., your creativity and talent).
STEP BY STEP
Step 1
Punch heart-shaped holes in three or four Aspidistra leaves using a heart hole punch.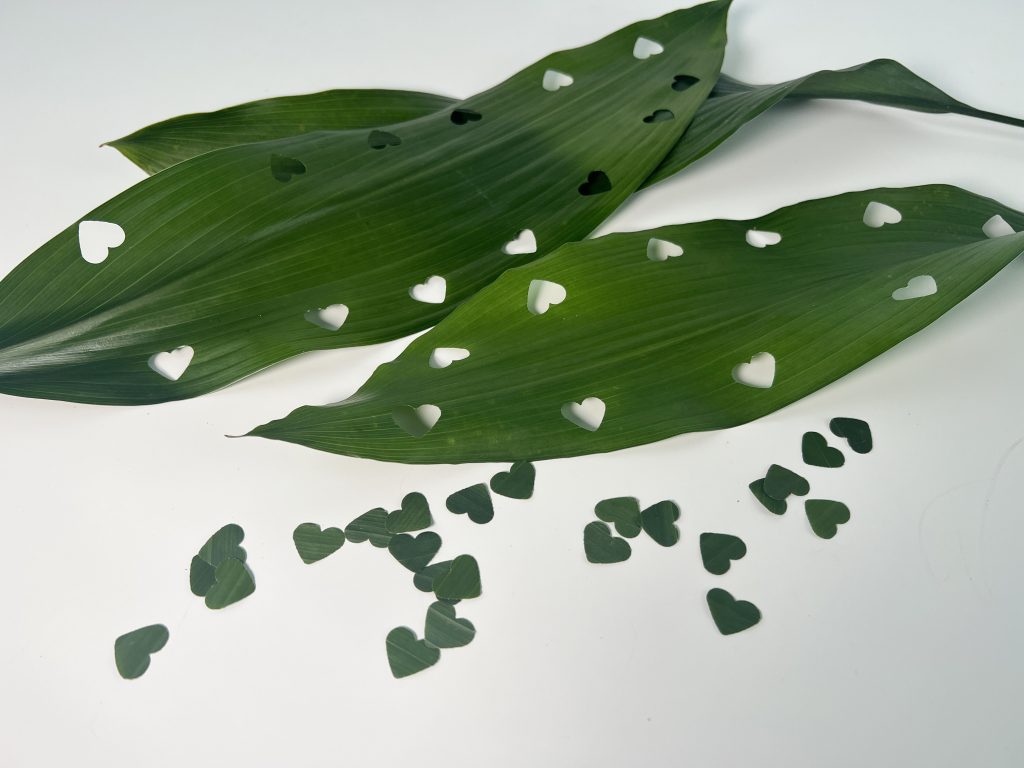 Step 2
Cut off the stems from the customized Aspidistra leaves, and line the interior perimeter of a short, wide glass cylinder vase with them.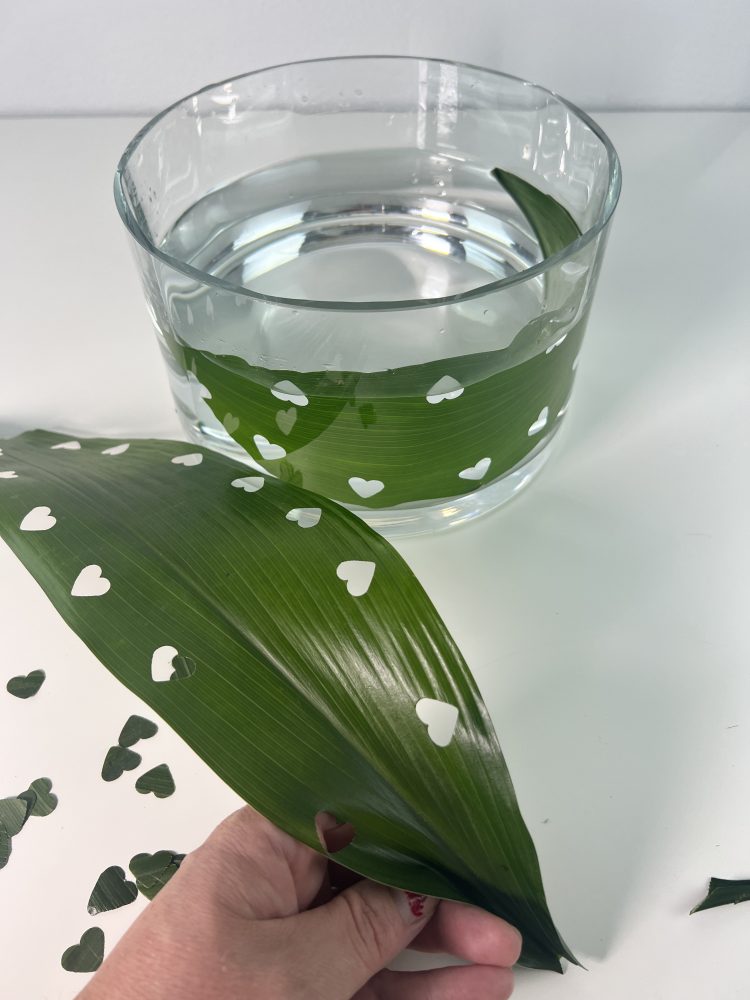 Step 3
Coil stems and branches of fresh curly willow, and place them inside the vase as a mechanic for holding the flowers in place. Next, place a thick stem of curly willow inside the vase, across the middle, to help hold it all together.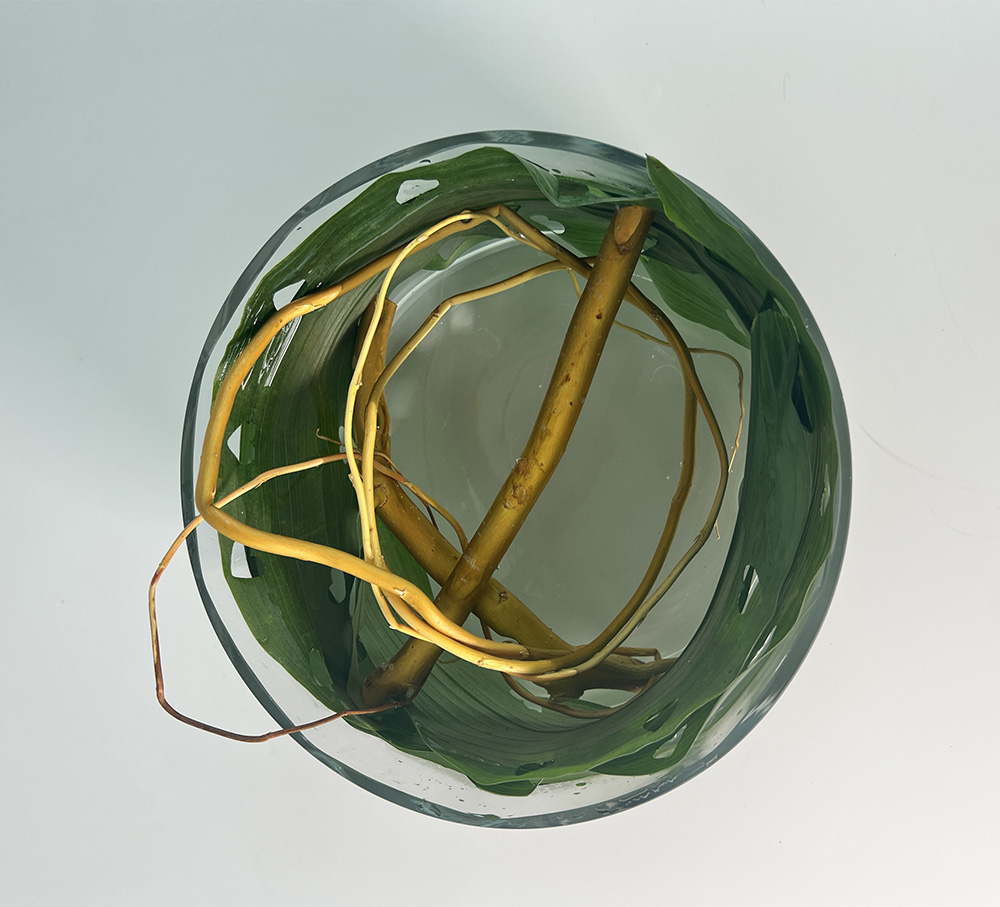 Step 4
Curve an Aspidistra leaf to create a loop, and secure the tip to the stem with red crimped (bullion) wire. Repeat this step with three other leaves. Punch heart-shaped holes in the looped leaves, if desired, for added interest.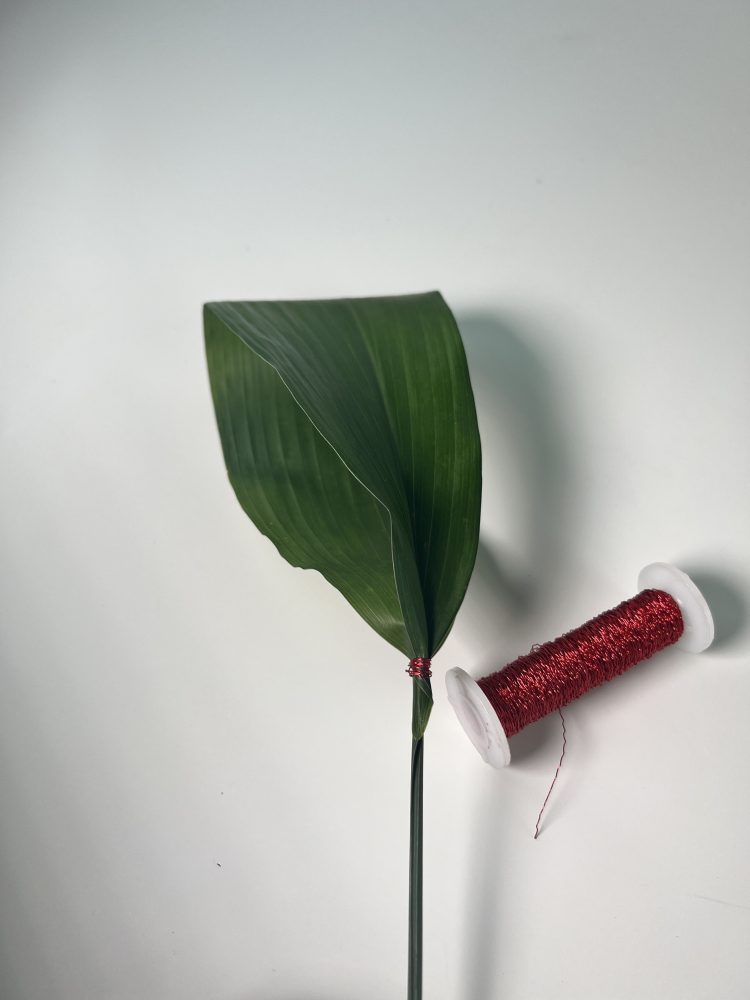 Step 5
Arrange the looped leaves and stems of seeded Eucalyptus into the vase.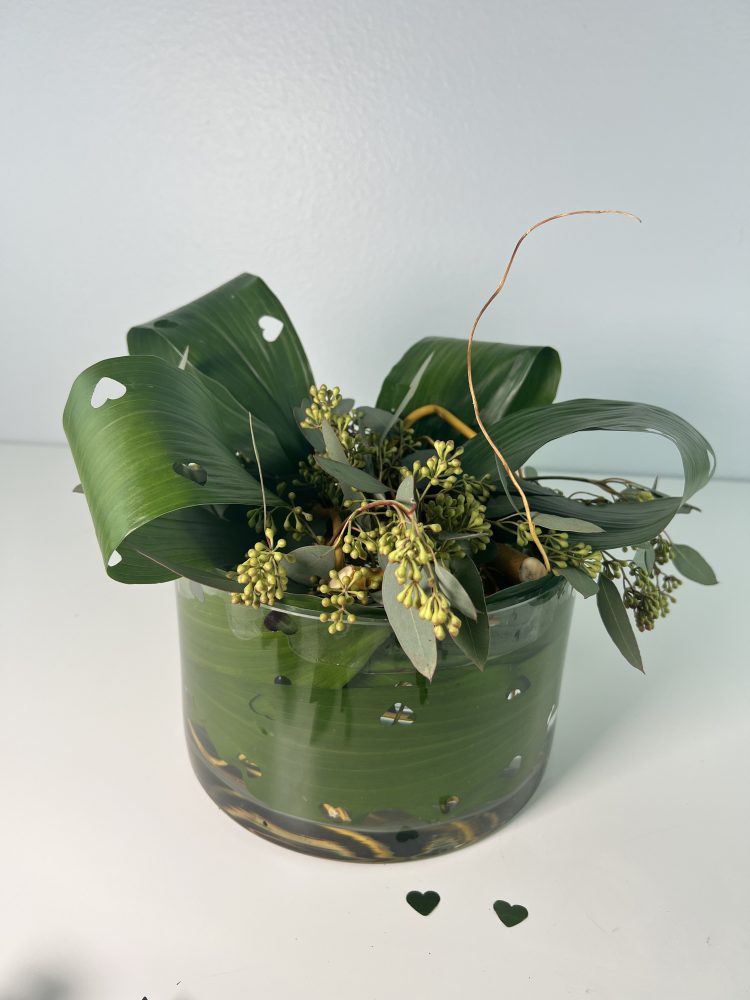 Step 6
Arrange spray roses and Gerbera into the vase, in groupings (spray roses on one side of the design; Gerbera on the other side). Next, arrange stems of Alstroemeria into the vase, toward the "back" of the design.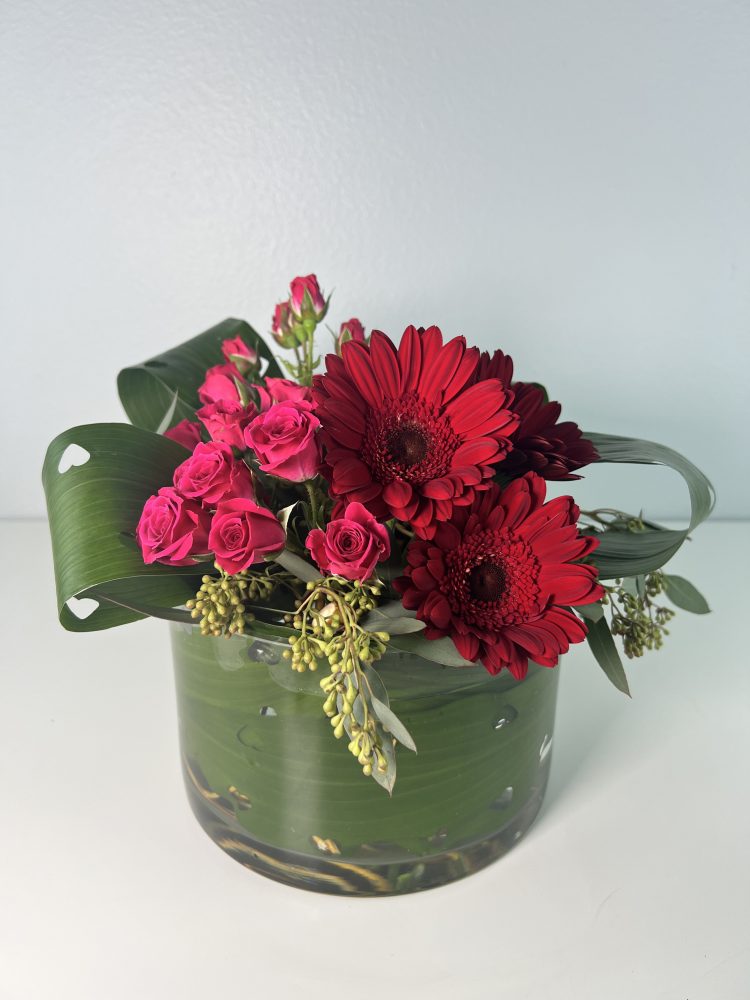 Step 7
Bind the tip ends of two small bundles of bear grass together with red crimped (bullion) wire, and wire a wood pick onto the end of the tips. Next, bind each of the stem ends of the two bundles of bear grass with a wired wood pick. Insert the wood picks into the arrangement so that the two bundles of bear grass form a heart. (You can also bind the stem ends of the bear grass together to form the center of the heart, and insert the wood-picked tip ends into the sides of the arrangement; use whichever method produces a heart shape that you prefer.)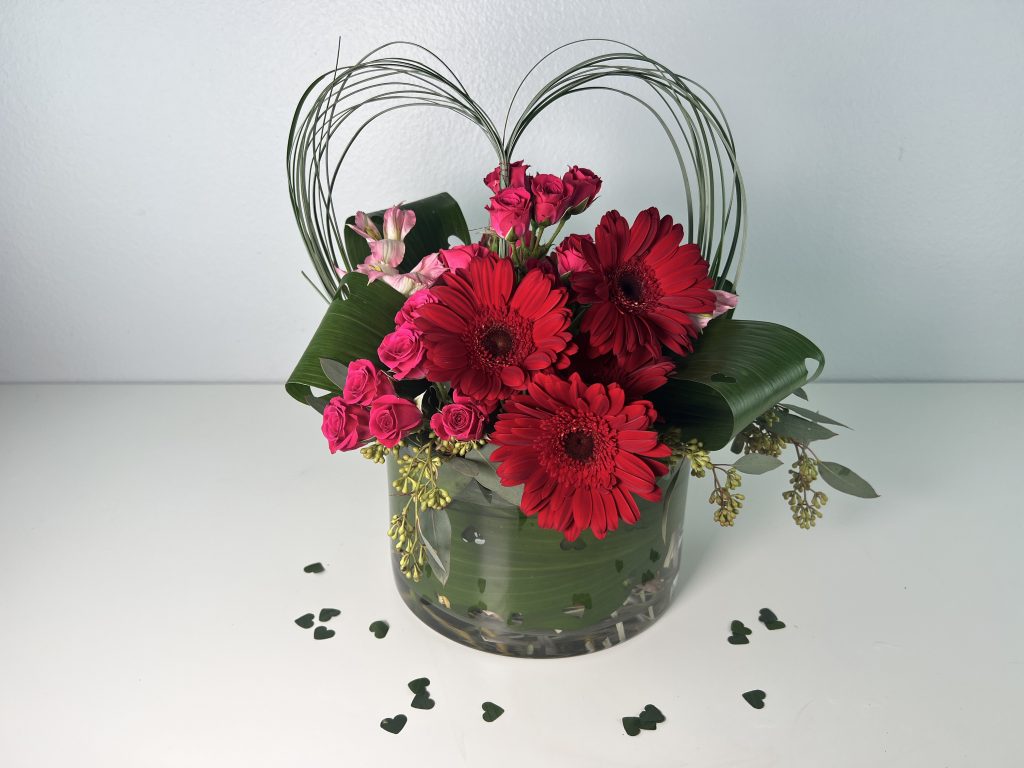 Step 8
Insert a pearl-headed pin into the center of each Gerbera.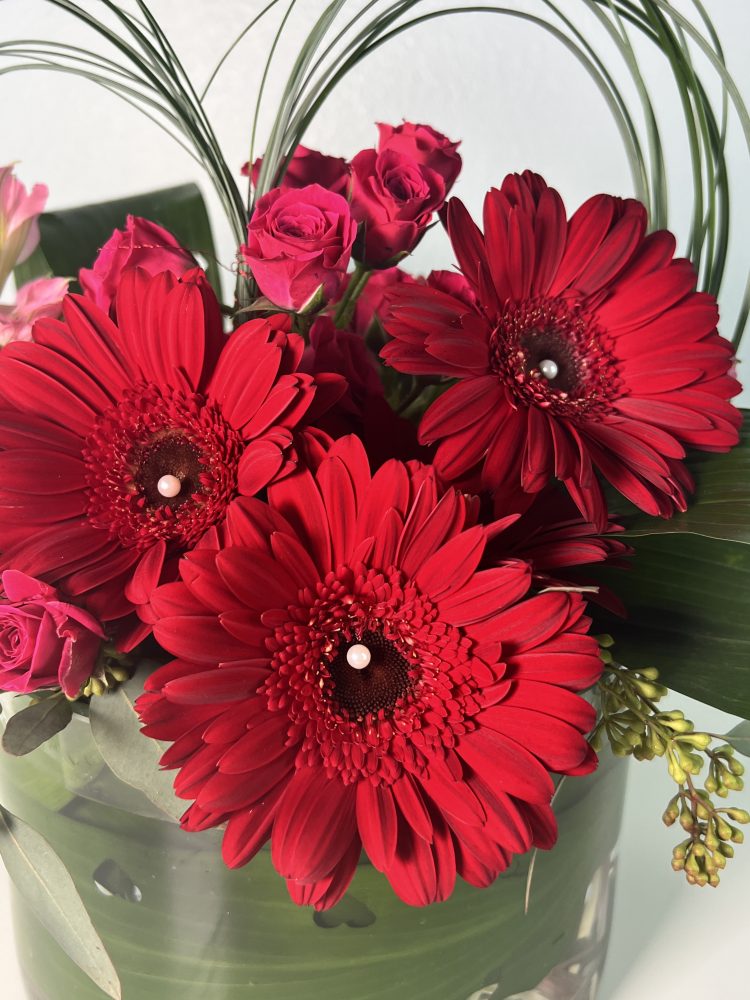 MATERIALS
BOTANICALS
Gerbera jamesonii (African daisy, Transvaal daisy, Barberton daisy, Veldt daisy)
Rosa spp. (spray rose)
Alstroemeria aurea/A. aurantiaca (Peruvian lily, lily-of-the-Incas)
Aspidistra elatior leaves (cast-iron leaf, barroom plant leaf)
Eucalyptus spp., seeded (seeded eucalypt, seeded Australian gum)
Xerophyllum tenax (bear grass, elk grass, Indian basket grass)
Salix matsudana/S. babylonica 'Tortuosa' (corkscrew willow, curly willow, contorted willow)
HARD GOODS
Short, wide glass cylinder vase
28-gauge crimped metallic (bullion) wire, red
Floratape® Stem Wrap
Pearl-headed pins
Wired wood picks