If you are traveling this spring, you may want to consider experiencing something truly unique, beautiful, and inspiring – a tulip festival. Below are eight exceptional international tulip festivals to consider.
Full Article Below Source
The 8 Greatest Tulip Festivals in the World
By Clive Branson
If you are traveling this spring, you may want to consider experiencing something truly unique, beautiful and inspiring – a tulip festival.
Being near any of the following experiences will be a highlight of any trip.
Below are eight exceptional international tulip festivals to consider. To assess these choices, I used the following criteria:
• An amplitude of various tulips.
• How the tulips are arranged in creating an exceptional setting, enhancing a mood and piquing the visitors' curiosity.
• Access to pertinent information about the tulips and the history of the facility/festival.
• Good washroom facilities, food and beverages. Access to accommodations.
• Areas for serious photographers such as myself.
EUROPE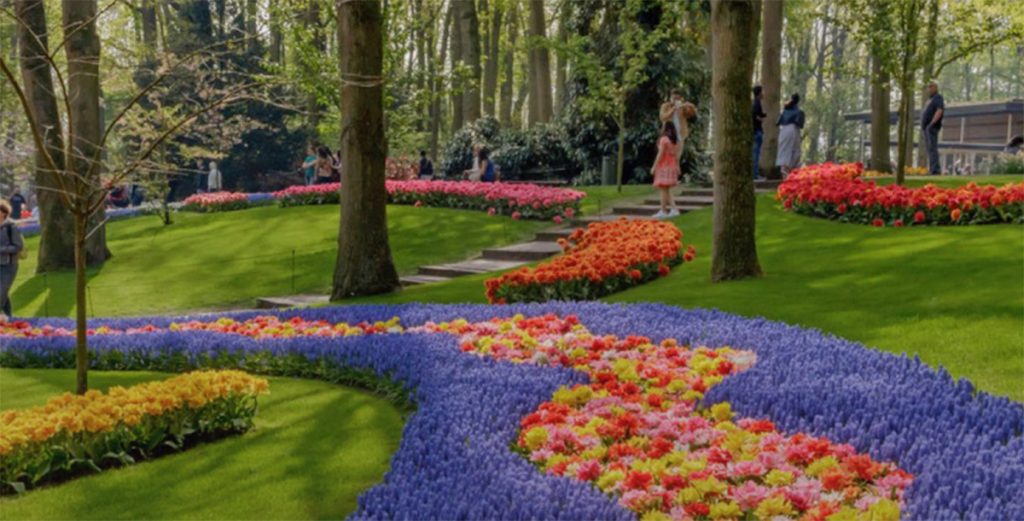 1)Keukenhof, Lisse, Netherlands
Open from March 23 – May 14 (tickets available from October onwards)
Access by bus from Amsterdam or by car. Lisse is a half-hour drive southwest of Amsterdam in the heart of one of the country's major flower-growing regions.
Recommend booking several months ahead through their website
There are over 1 million visitors so expect long line-ups to the washrooms.
The park closes every day at 8 p.m.
It dates back to 1950 and is classified as the most beautiful spring garden in the world.
If possible, avoid taking the bus. It is a long, tiring ride.
Keukenhof is like a deep-hued floral tent under a foliage canopy of regimented trees. It is the Netherlands' most popular tourist attraction during the spring. The undulating paths of the park epitomize a sense of tranquility amongst a kaleidoscope of breathtaking colors. Keukenhof is like entering a secret garden. Perfectly manicured beds of bloomed tulips, of every assortment, artistically arranged in a perfect sense of complementary color pallets, punctuated with 'specialist exhibitions' and even a boat ride that winds through the park's canals at a gentle pace. If you love flowers, particularly tulips, Keufenhof should be on your Bucket List. There are various ways to experience Keufenhof:
• Day Trip to Tulip Gardens of Keukenhof from Amsterdam (private and personal)
• Drive it Yourself electric tulip and flower fields GPS audio tour.
• Keukenhof and Zaanse Schans Guided Tours with Amsterdam Canal Cruise.
• Private Keukenhof Tulip Fields and Millions of Flower Sightseeing Tours.
•  Holland Spectacle (Keukenhof Tulips Garden & Giethoorn).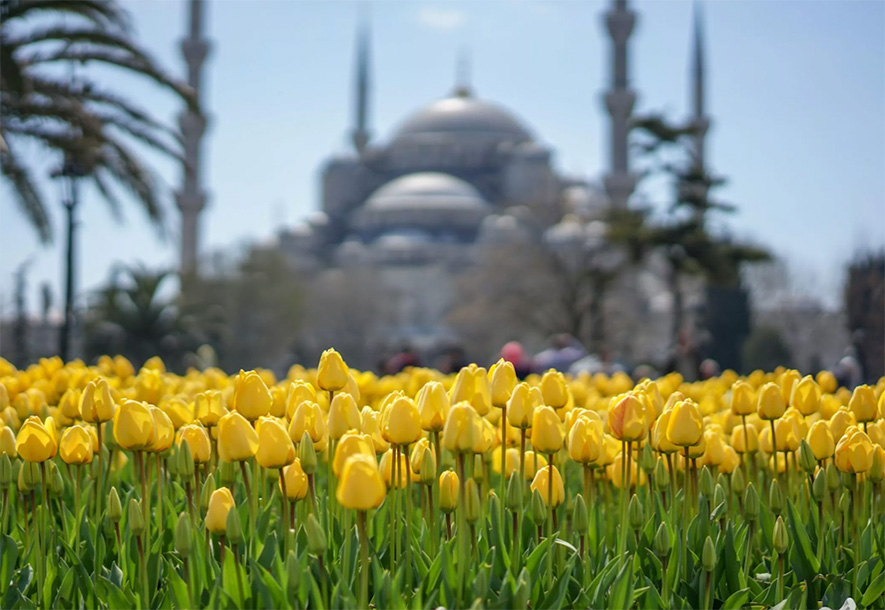 2) International Istanbul Tulip Festival, Istanbul, Turkey
Open from April 1 – 30. Depending on the weather, it might extend into May. There can still be snow on the ground in March, so investigate the best weeks to come in the later weeks of April. Try to get your tickets in advance.
Free of charge. Open 24/7.
Visit the parks during the weekdays to avoid the crowds. On weekends there are often traffic jams around some parks.
It dates back to 1945.
Try to plan a visit of three to four days if possible. This allows you enough time to visit a number of different locations (and to see other attractions in Istanbul).
Traffic can be heavy, so it is recommended to use public transport. A metro card can be purchased at metros, tram and ferry stations and kiosks around the city.
The Istanbul Lale Festivali opens in spring to rapturous local fanfare. This is hardly surprising since tulips originated in Turkey during the Ottoman Empire dating back to the 12th century (tulips originally grew wild in the Asian steppes). It is the national flower of Turkey. The whole city becomes a botanical garden of millions of tulips wherever this is open space. But for a real tulip treat, it is imperative to head to Emirgan Park. It is one of the largest public parks in Istanbul and has several tulip gardens. The park is open daily from 07:00 until 22:30 and can be accessed by bus or ferry. Below is a highlight of each key tulip location.
Emirgan Park
This large park is the main hub of the Istanbul Tulip Festival and overlooks the Bosphorus Strait, and features stunning views. There is a promise of pleasure. The köşk mansions within the park host traditional craft demonstrations such as paper marbling, calligraphy, glass blowing and painting. Musical performances are dotted around outside on pop-up stages. The park is manicured and a patchwork of over 120 different varieties of tulips with radiant colors and explosive sharpness. One display is shaped like the Turkish flag.
Gulhane Park
This is the most relaxing park on the historical peninsula. It runs around the lower old walls of Topkapi Palace in Sultanahmet. The park is a picturesque portfolio to wander in with gorgeous gardens, serene promenades, outdoor cafes and incredible views of the Bosphorus Strait. This park alone features 2.5 million tulips. When you visit Gulhane Park, make sure you take in the Topkapi Palace and the Blue Mosque.
Sultanahmet Square
Sultanahmet Square is alongside the impressive Blue Mosque. In previous years nearly 700,000 tulips have been planted in a world-record-breaking 'tulip carpet,' measuring 1,400 square meters (1,674 yards), resembling a traditional Turkish rug.
Camlica Hill
Camlica Grove is on the Asian side across from the Old City. It's about a 20-minute casual walk uphill, but don't let that discourage you. Thousands of tulips line the path, but it's worth the hike as you will be rewarded by the charming journey up the hill to be greeted by a jaw-dropping scene – the best and highest view of Istanbul. Take advantage and combine your trip to the tulip garden with an excursion to Turkey's largest mosque, Camlica Mosque.
Yildiz Park
As picturesque as a railway tabletop layout, Yildiz Park is perfect for nature lovers and families to enjoy its enchanting realm. It is dotted with old pavilions, gardens, cafes, two artificial ponds, waterfalls, streams, picnic and playgrounds in this spacious natural environment, formerly the imperial garden of Yildiz Palace. And of course, it is complemented by thousands of tulips clothing the perimeters of the paths and ponds.
BRITAIN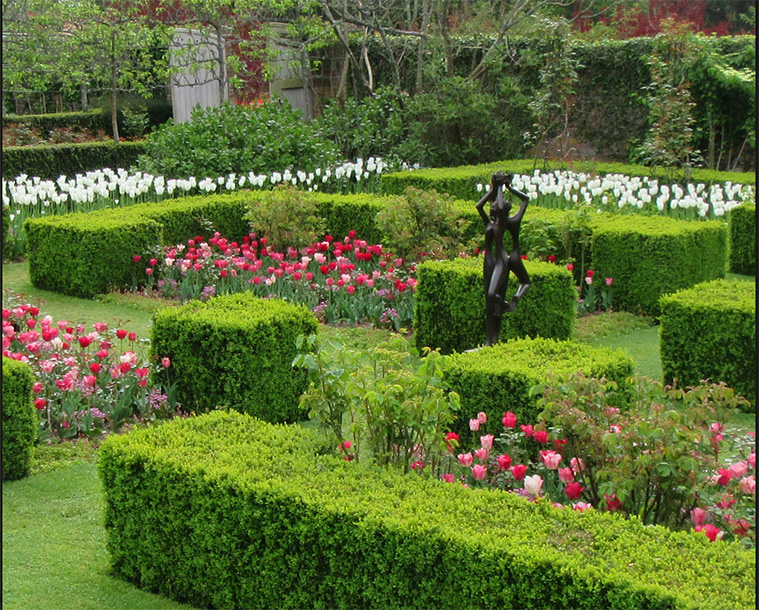 3) Pashley Manor Gardens Tulip Festival, Ticehurst, Wadhurst, East Sussex, England
April 22 – May 7 (check the website to confirm dates)
Opening hours: 10 a.m. to 5 p.m.
There is an entrance fee and no group concession price during the festival.
No pre-booking.
Free parking.
On-site cafe/restaurant, picnic site.
Less crowds during a weekday.
Unlike some of the mentioned tulip festivals adorned with millions of tulips, what British gardens lack in numbers, they make up for in quintessential English presentation, usually in the confines of medieval castles, extraordinary manor homes or opulent gardens. Such is the case with family-owned Pashley Manor Gardens in East Sussex.
It is a Tudor manor home (1550) but extended during Queen Anne's reign (1720) and decorated by 11 acres of award-winning gardens dating back to the 16th century. It has been claimed as 'one of the finest gardens in England,' and a former winner of the Christie's Garden of the Year Award. What you eat in the cafe is freshly produced from one of the gardens. If you like strolling through romantic landscapes with vine-covered arches and innovative planting schemes, including an infusion of 500 old trees, trickling springs, fountains, a decorative pool, and other water features, then Pashley will be a delight. The Pashley Manor Gardens Tulip Festival is a perennial favorite as visitors come from all over the country to see more than 48,000 tulips of 105 varieties (all clearly labeled) planted in color-themed garden 'rooms' throughout the grounds. Each year, the Festival introduces 'special tulips'.
NORTH AMERICA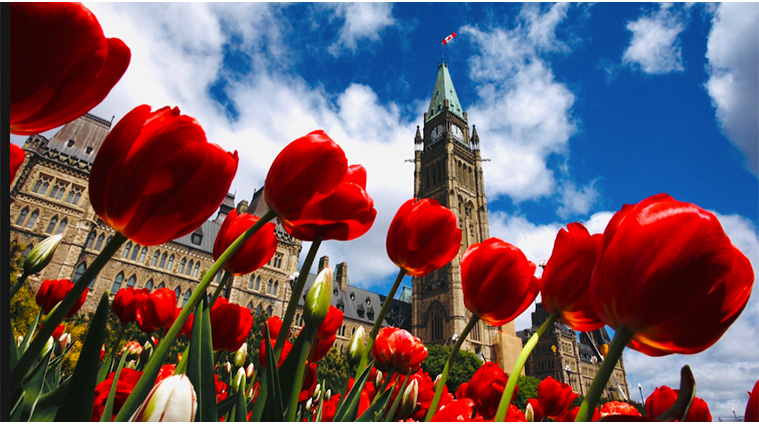 4) Canadian Tulip Festival, Ottawa, Ontario, Canada
Open from May 13 – 23
Centrally located both at Dow's Lake at Commissioner's Park and on Major Hill's Park beside the Chateau Laurier. Access by bus, car, bicycle or walking.
Free of charge. Open 24/7.
500,000 + visitors
It dates back to 1945.
It is considered the world's largest tulip festival.
Weather in May in Ottawa can be unpredictable so be prepared for intermittent rain.
For eighteen days each May the city transforms into a celebration of a multi-million tulip extravaganza that decorates the city in translucent color. Ottawa, the capital of Canada, is an attractive city with the Rideau Canal, one of the longest canals in the world. The tulip festival makes the city bloom. Each year, the people of the Netherlands presented Ottawa with tulips as a symbol of gratitude and lasting friendship in appreciation of Canada's dual role of harboring the Dutch Royal family members and aiding with the liberation of their homeland from the German occupation during World War II. It was whilst the Royal family's refuge in Ottawa that Princess Juliana gave birth to Princess Margriet at the Ottawa Civic Hospital. Princess Margriet, the younger sister of the recently abdicated Queen Beatrix, is the only royal ever to be born in North America. The Dutch monarchy fled to Canada in 1940 after the German invasion of their country. Among their problems was that the expected royal child needed to be delivered on Dutch territory to be a Dutch citizen, so Canada ceded a hospital maternity room temporarily as Dutch soil at the Ottawa Civic Hospital. There are up to 5 million tulips and 60 different varieties on display, each in pools of beds decorating Parliament Hill, Confederation Boulevard, along the Rideau Canal, pathways, parkways and en masse at the Commissioner's Park beside Dow's Lake. Included in the festival are outdoor concerts, international food fests, games for children, auto shows, a tea party, and a grand finale fireworks display over Dow's Lake. It's fun for everyone.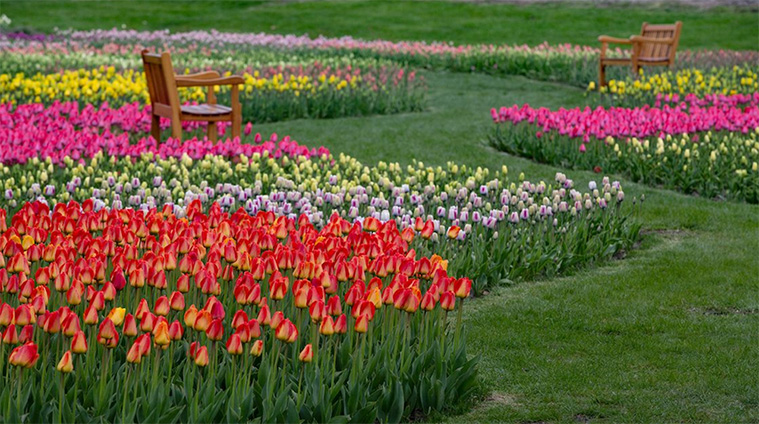 5) Tulip Time Festival, Holland, Michigan, U.S.A.
May 6 – May 14
Advisable to book your tickets and accommodations well in advance.
There are three major events to discover: Windmill Island Gardens, Nelis' Dutch Village, and Veldheer Tulip Garden.
Tulip Time Festival is the largest tulip festival in the United States. Nearly six million tulips are planted in city parks, at public attractions and along the streets. It has three parades during the festival: Volksparade, Kinderparade, and Muziekparade. The Festival has been going strong for 92 years with a rich Dutch history dating back to its settlement in 1847 by Dutch Calvinist separatists escaping the dire conditions in the Netherlands. In 1950 Vern Veldheer started a hobby farm with a meager 100 red tulips and 300 white tulips. Today, Veldheers plants over 4 million tulips! About 1 million visitors come to explore, gaze and be enthralled by the dazzling array of colors and activities.
The most popular endeavors are Nelis' Dutch Village, the replica of an 1800's Dutch village and living museum with a 250-year-old working windmill that produces flour from wheat and the only operating windmill in the United States. It defines veritable cuteness as a canal circuitously meanders through the hamlet. Windmill Island Gardens features Dutch horticulture and floriculture tulip gardens set against the backdrop of the windmill, while Veldheers Tulip Farm is a plethora of mesmerizing row upon row of blooming tulips. Purchase some handmade shoes from DeKlomp Wooden Shoe Factory or chinaware at the Delft pottery factory as a lasting and memorable souvenir.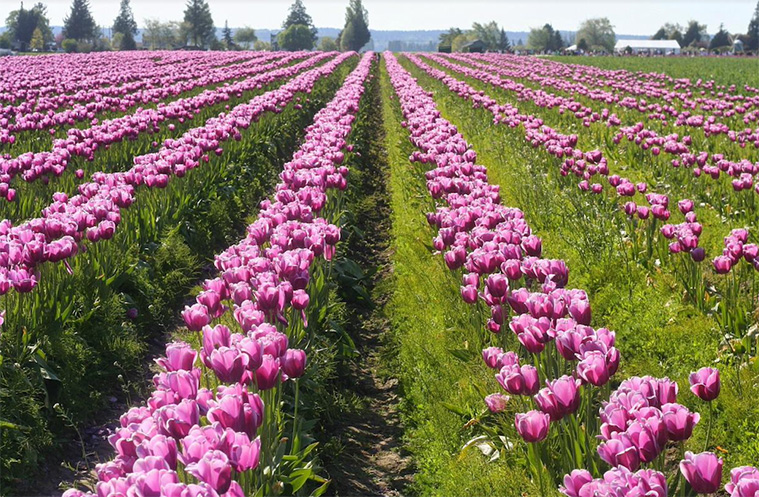 6) Skagit Valley Tulip Festival, Mount Vernon, Washington, U.S.A.
April 1 – April 30 (depending on the weather)
Opening hours: 10 a.m. to 5 p.m.
The Skagit Valley is 60 miles north of Seattle and 70 miles south from Vancouver.
You will need the festival map of the tulip fields to locate the locations since they don't have fixed addresses.
Due to popular demand, it is best to reserve tickets and accommodations well in advance.
Could you imagine anything more breathtaking than a tulip festival with a mountain range as a backdrop? Usually associated with winter activities, the Skagit Valley Tulip Festival in Mount Vernon, Washington has become a prime destination for the Pacific Northwest to witness millions of iridescent tulips. Debuted in 1984 by the Mount Vernon Chamber of Commerce, it broke off from the Chamber of Commerce in 1994 and became an entity of its own. Starting as a tulip festival, it has blossomed, excuse the pun, into a multi-faceted month-long spectacle with an amazing assortment of activities, shows, headline-concerts, exhibits and a crowd-pleasing street fair. Due to crop rotation, the fields associated with the tulip festival are in different locations each year. Three distinct tulip gardens are RoozenGaarde, Tulip Town, and Garden Rosalyn. It is a marvel to see ribbons of multi-colored tulips stretching as far as the eye can see.
The history of the festival dates back to 1883 when English immigrant, George Gibbs moved to Orcas Island to grow apples and hazelnuts. Though he only had five dollars worth of flower bulbs to plant, he witnessed how the bulbs had multiplied and, with assistance from Dutch flower farmers, learned about the business of cultivating tulips, gradually making it into a successful enterprise. Fortunately for us, we have benefitted for it has become the leading tulip production area in the Northwest region of the United States.  
ASIA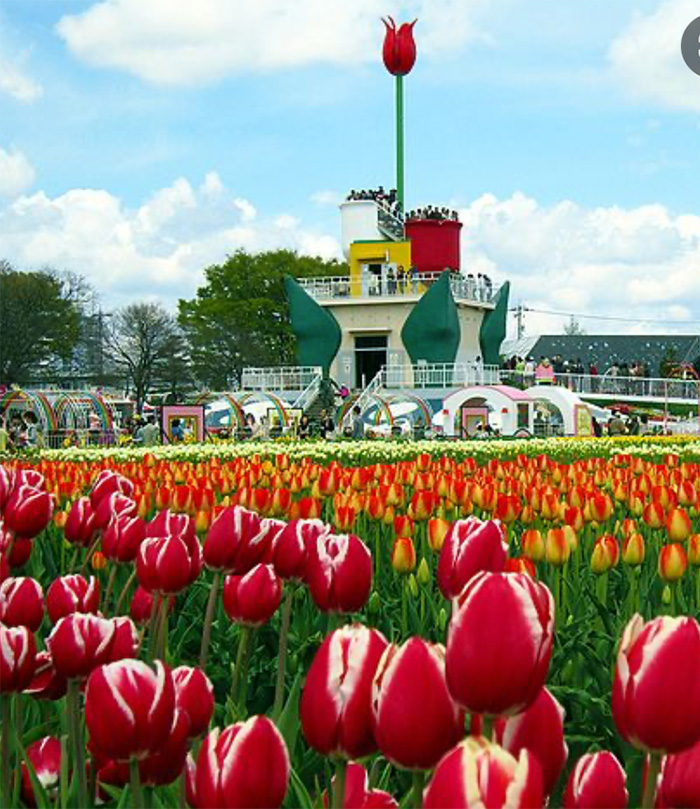 7) Tonami Tulip Fair, Tonami Tulip Park, Tonami, Japan
April 22 to May 5
Opening hours: 8:30 – 5:30 p.m.
The Tulip Festival's duration is limited, but the Tonami Fair is open all year round to enjoy the other assortment of flowers, including cherry blossoms.
You can purchase tickets online (though this is not essential) or on-site.
Access by car, taxi or train. Tonami is directly west of Tokyo close to the west coast.
A magnificent festival of tulips seems so appropriate in the land of the rising sun. Delicacy, grace and discipline are Japanese virtues. It is an ideal family retreat featuring a combination of 2.5 million tulips in 600 varieties in this floral epicenter, kid's fairground, and adult leisure wonderland. Today, Tonami City, directly south of Takaoka, is the leading producer of tulip bulbs in Japan since 1918, growing over 250 varieties of the flower. The park has an assortment of towers, walking paths, fountains, ponds, observation decks, garden bridges, exhibitions, amusement rides, cafes, live stage performances, a mini bullet train ride, a tulip museum, and a gallery/workshop offering a cornucopia of information about tulip cultivation. The layout is aptly designed for flower photographers.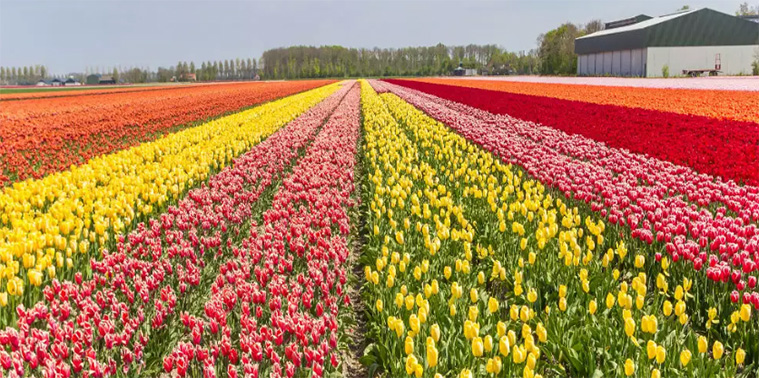 8) Srinagar Tulip Festival, Kashmir, India
April 3 – April 30
Opens at 8 a.m. and closes at 7 p.m.
Very reasonable entry fee.
Srinagar is accessible by train, plane, bus, car or taxi.
Srinagar tulip garden is located 8 km (5 miles) from Lal Chowk (the main city center).
In 2007 an attempt was made to bolster revenue in Srinagar, a small town near Kashmir, India. The Chief Minister of the Jammu and Kashmir state decided to try something unconventional, a tulip festival. It has since become one of South Asia's most popular and cherished events. Spread across 30 hectares, 12 million tulips of 62 varieties decorate the gardens of the Botanical Garden, Chashme Shahi, Nishat Bagh, Mughal Bagh, Shalimar Bagh, Pari Mahal and the Zabarwan Park. Visitors have said the streets and fields in and around Srinagar are blanketed like floral carpets. In fact, your trip to Kashmir would not be complete without visiting Asia's most extensive Tulip Garden. While you're there, stop by the many folk dance performances on the street, kiosks and craft shows, and, of course, ample local dishes that confirm why Indian food is so irresistible. Another reason why Srinagar is so memorable is because of the natural beauty that surrounds it, including the foothills of the Zabarwan mountain range reflected off Dal Lake. This famous lake is so pristine it is described as "paradise on earth." Take a Shikara Ride, a traditional Gondola-type rowing boat, to truly experience such a pleasure. Overall, it's a beautiful way to celebrate the arrival of spring.
As Elizabeth von Arnim noted, tulips may be "called bold and flaunting, but they seem modest grace itself— always on the alert to enjoy life as much as they can and not be afraid of looking at the sun or anything else above them in the face." Any of these trips will certainly be an opportunity to enjoy and enhance your life.

Clive Branson is a writer/photographer based in Canada