It is with a sincere feeling of joy we share that "change" is in!
Much like the dominant social themes we have seen play out within the media landscape, floral design is shifting in radical directions both toward and away from traditionalism. In the midst of this great wave of creative change, many trends that dominated 2020 through 2022 are heavily waning. On the chopping block have been trends from skinny jeans to the modern farmhouse aesthetic. To even utter the words "shiplap" or "subway tile" will now garner a "Mason-jar"-like reaction from trendsetters. Examples of this radical shift can be seen everywhere. From retail fashion to interior design, consumers are tired of the stagnation that surrounds them. The 2020s are no longer new or lacking inspiration; this decade has found its way.
After carefully assessing the latest collections of containers, look-books and flower-adjacent industries, we are seeing clear trends emerge. All of the looks in this trend report can be funneled back to two root feelings—the first of which can be described as the feeling of missing what is no longer here. For example, as of the week of Dec. 10, 2022, pop musician Harry Style's hit single "As It Was" had spent an incredible 35 weeks on the "Billboard Hot 100" (a number we feel confident has since grown). In the song, Styles spends nearly three minutes crooning about his longing for a bygone era. We see this mood especially well-illustrated by the unforeseen rise of the "Coastal Grandmother" style, which swept the internet in summer 2022. Alternatively, the second root mood we have seen emerge is a deep desire to improvise and push boundaries. Nontraditional textures, colors and contrasting use of opposing aesthetics within the same field are all fair game in 2023. This feeling is most vividly illustrated in the look we have titled "Palm Springs," in which wild maximalism plays set to crisp white modernism.
Each of our 2023 trends—like the cities that inspired them—has its own unique spirit and culture, and each can be adapted into your own creative practice. It is important to mention that any style influences called out as waning in desirability should not be viewed as strictly off-limits but rather as an opportunity to evolve in calculated measure as the spirit and culture of your region will allow.
Trend 1
PALM SPRINGS
Inspired by the West Coast's marriage between "mid-century" and "modern" as set to the backdrop of California's iconic desert oasis Palm Springs, this look captures the duality of what is timeless and what is timely. "Palm Springs" exhibits an unexpected fusion of wild flower arrangements and installations saturated with color, partnered with strict clean-line modernism hearkening back to the contemporary luxe design trends of the 1990s.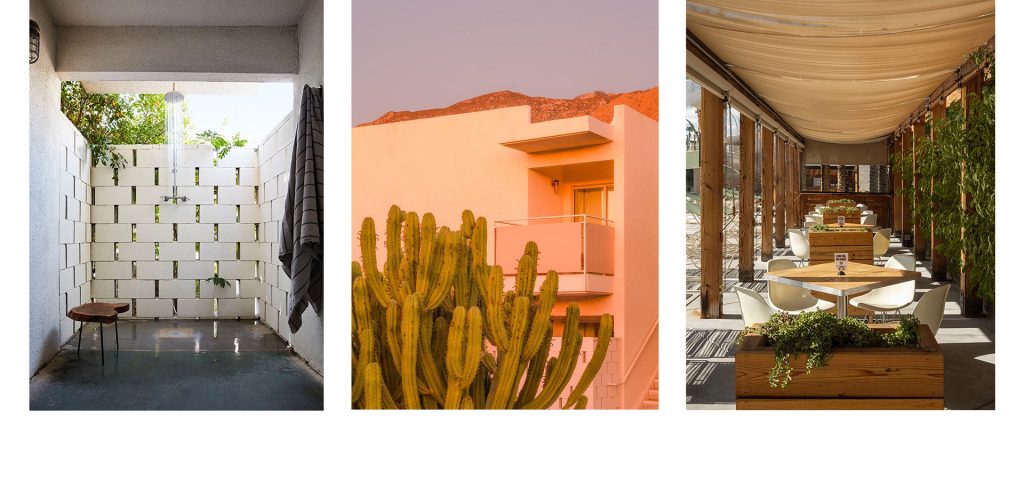 "Palm Springs" is perfect for clients with big personalities. To fully understand this look, you must first understand it as something born from an inherently noisy world. Tightly packed flowers with limited greenery are used in excess to create an immersive space for the viewer. All colors are welcome, but combinations of green, powdery pink and brick red accented by light blue flowers lead the look. When adding foliage or greenery to this look, it is important to keep in mind that green foliage should not upstage the impact of similarly hued flowers. To ensure the "Palm Springs" aesthetic is maintained, we suggest employing broad-leaved and extra-large tropical foliages, which will not interrupt the visual field created by the flowers.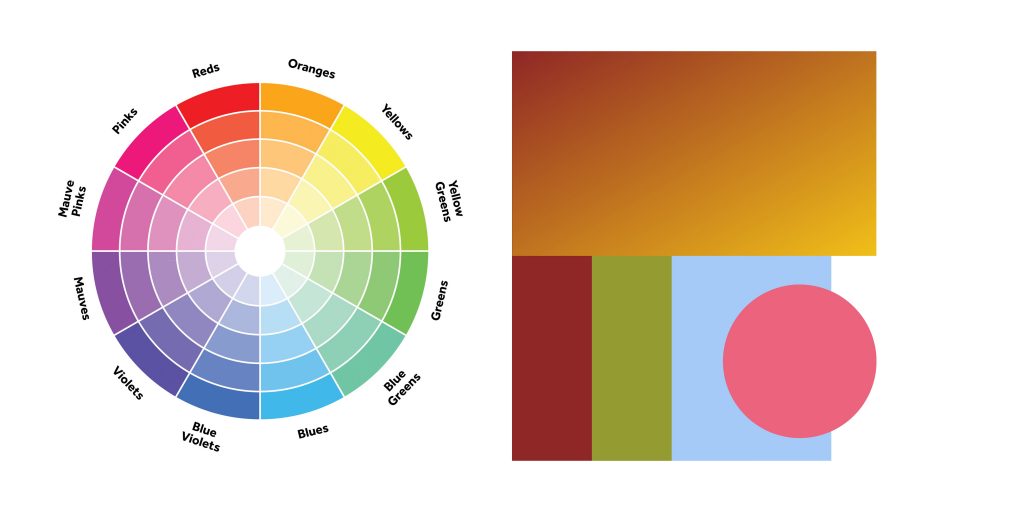 Favorite flowers for this look include green Anthurium and orchids, rust-toned Chrysanthemum and pink carnations. Color-enhanced palms, baby's-breath and Asparagus ferns soften the line between your creation and reality. When crafting installations for this look, forgo heavy wood or metal archways; instead, in terms of floral altars and set styling accents, this trend performs best as a "cloud," suspended in gravity defying splendor.
While impressive, these things alone do not define the "Palm Springs" look. To fully realize this trend, contrast is required. This contrast can be most easily visualized in wedding floristry, with the introduction of a sleek white bouquet styled to match a modern bride or groom. Flowers such as white Phalaenopsis orchids and all-white Anthurium work especially well. The contrast between visually rich, statement-making, polychromatic floral architecture and a bride or groom styled in all white demands attention and gives pause to the viewers. As a bonus, this look can act as an excellent opportunity to create compromise between a bride or groom who craves the opportunity to make a trendy statement at the reception but may be experiencing pressure from family members to create a timeless look that will age well in photos.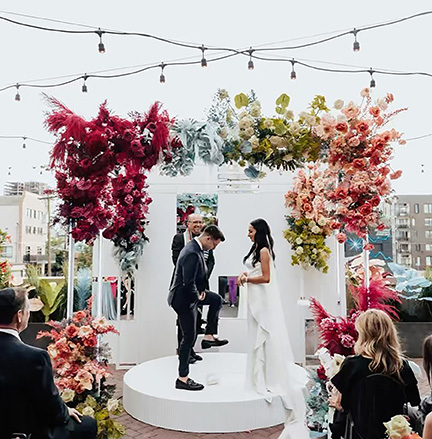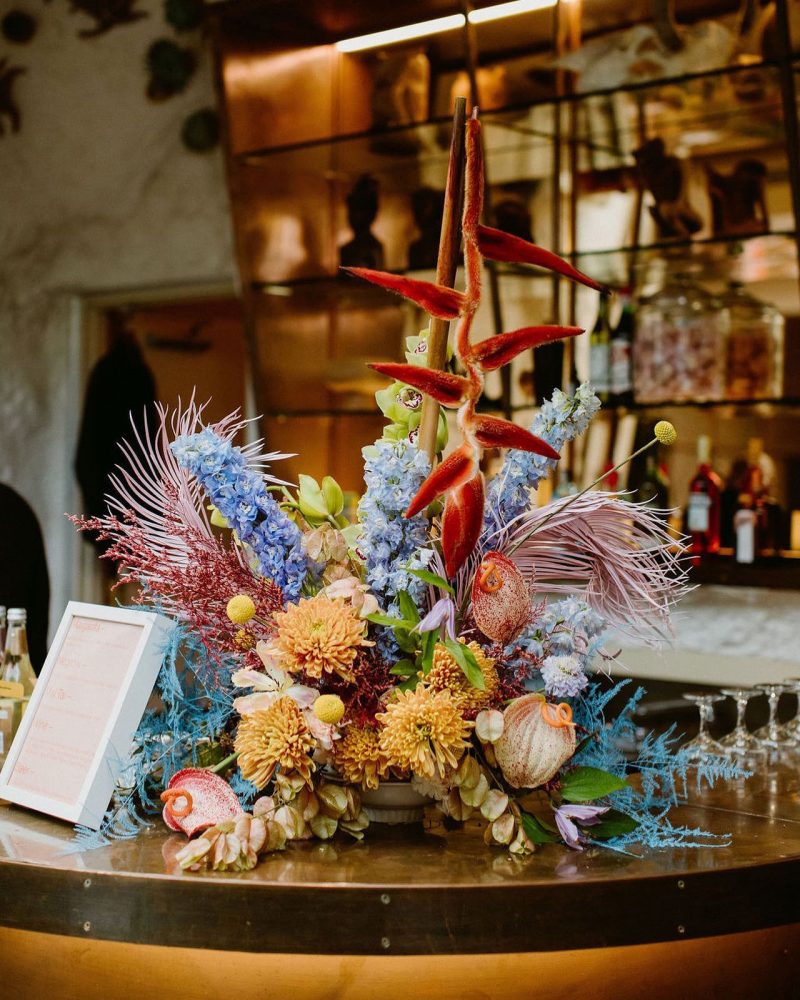 EVOCATIVE OF THIS TREND
Flowers: Orchids, Anthurium, Gypsophila (baby's-breath), Chrysanthemum, Dianthus (carnations)
Rose Varieties: 'Menta', 'Pink Piano', 'Princess Midori' (Alexandra Farms)
Foliage/Greenery: Asparagus ferns, palm leaves, Alocasia/Colocasia (elephant's-ears) leaves
Vessels: clear glass cylinders with invisible mechanics, rattan
Cultural References: Donald Wexler architecture, Art Basel, Panic! at the Disco, Alex Perry bridal couture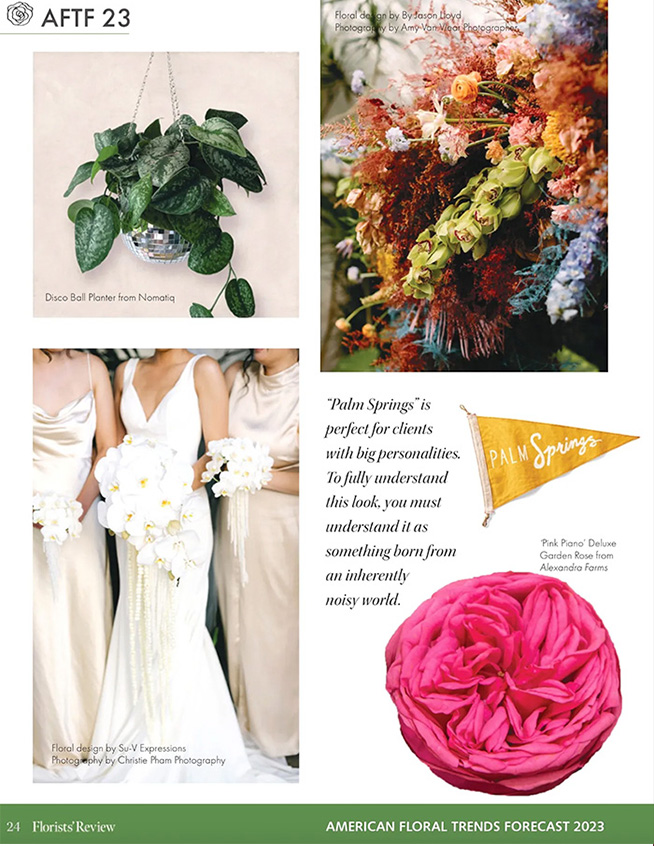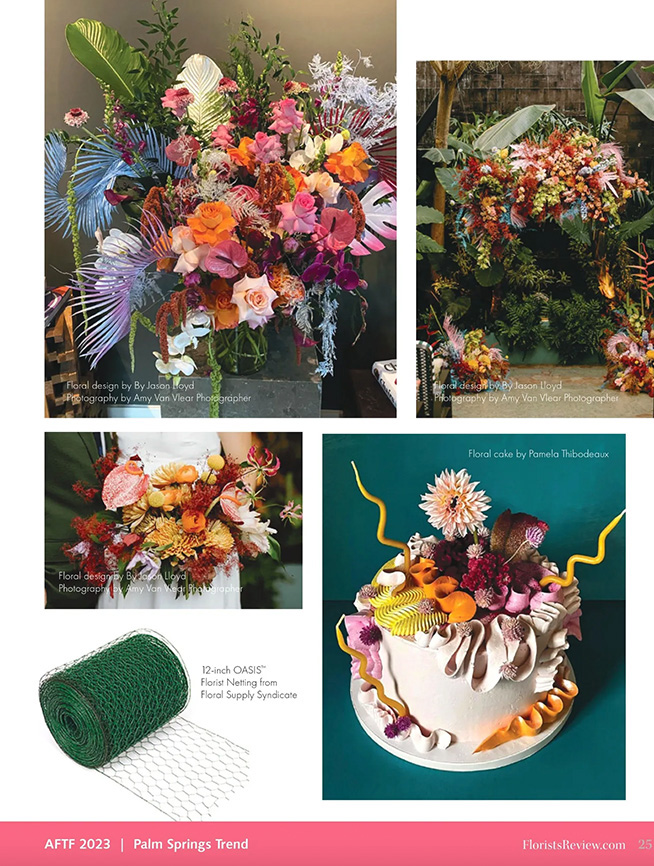 Trend 2
SANTA FE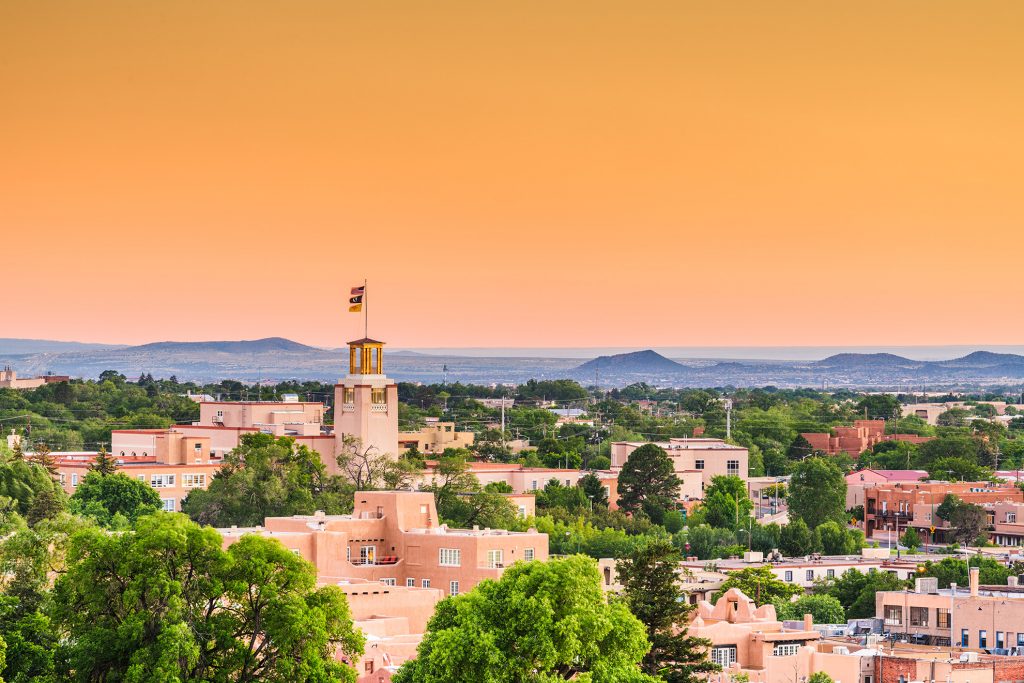 Inspired by the serene beauty of an arid winter day interpreted through the artistic lens for which the American Southwest has become renowned, our "Santa Fe" trend balances natural color and texture with a sculptural sense of control. Built to spark a calm sense of wonder, the "Santa Fe" aesthetic is ideal for clients who place value on craftsmanship. To properly execute this look, you must first understand that continuing education is key. For those who are inspired by this look, we recommend seeking a design mentor trained in the art of ikebana, who can challenge the preconceived habits we sometimes become entrenched in as retail or event floral designers.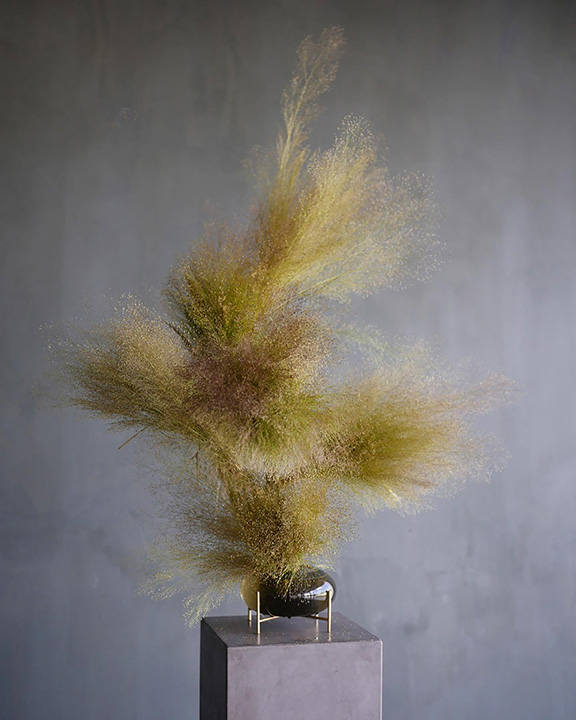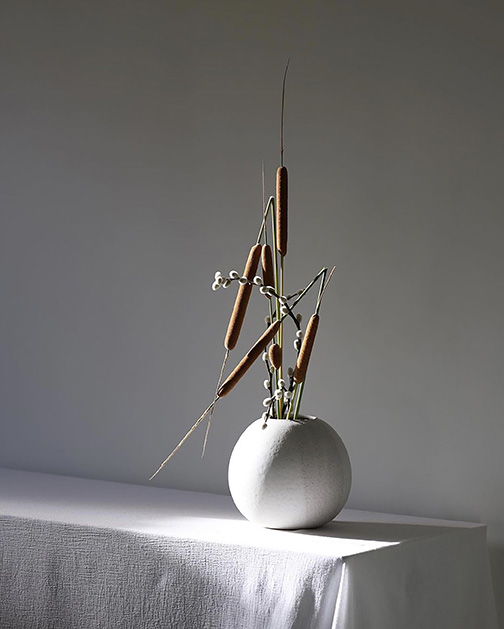 With the "Santa Fe" look, a muted color pallet of taupe, sage and vital green gains a laser-like focus through intentional use of warm gem-toned focal points. For these focal points, a high value is placed on emphasizing premium and hard-to-acquire flowers such as imported specialty orchids and Gloriosa lilies. Round container forms made from raw materials such as stone, earthen clay and concrete add an extra feeling of visual harmony that makes them ideal vessels for the trend. Purposely soft-shaped, earth-toned fresh botanicals such as grasses and smokebush (Cotinus) are composed together, assembled and trimmed to create the main body of the arrangement. Alternatively, this trend can take a different direction shunning soft forms and, instead, employing the use of line to create visual interest with materials such as pussy willows. The "Santa Fe" trend performs especially well in retail, hospitality and residential spaces looking to convey a mood of effortless luxury.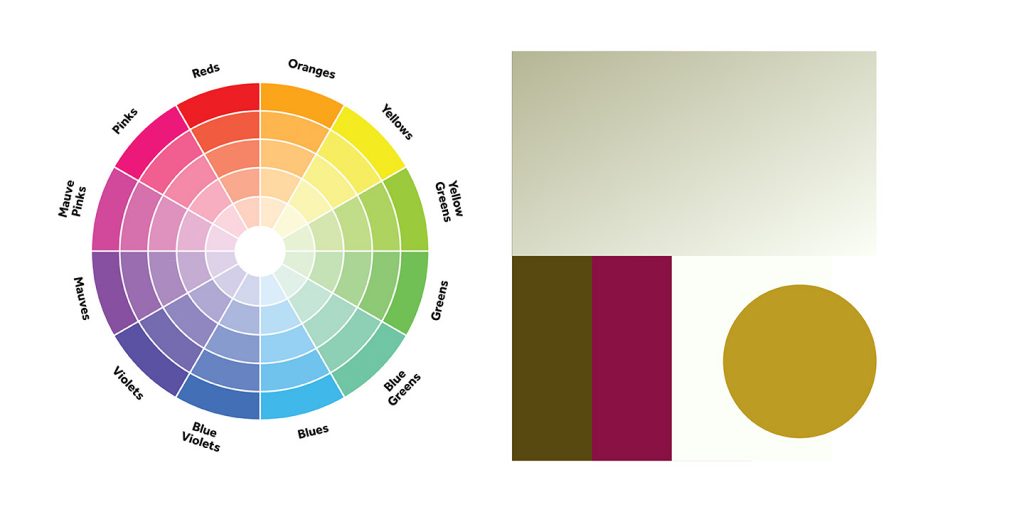 EVOCATIVE OF THIS TREND
Flowers: Phalaenopsis (moth) orchids, Cypripedium/Paphiopedilum (lady's-slipper) orchids, Gloriosa lilies (Florabundance)
Foliage/Branches: Cotinus (smokebush), Xerophyllum (bear grass), palm leaves, Salix caprea/S. discolor (pussy willow)
Vessels: terra-cotta amphoras, unglazed ceramics, raw metal bowls
Pop Culture References: John Gaw Meem architecture, ikebana, Brian Eno, Andrea Iyamah fashion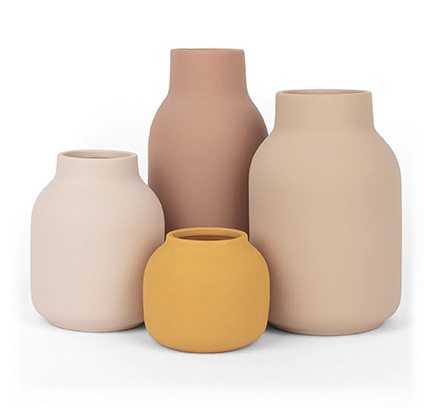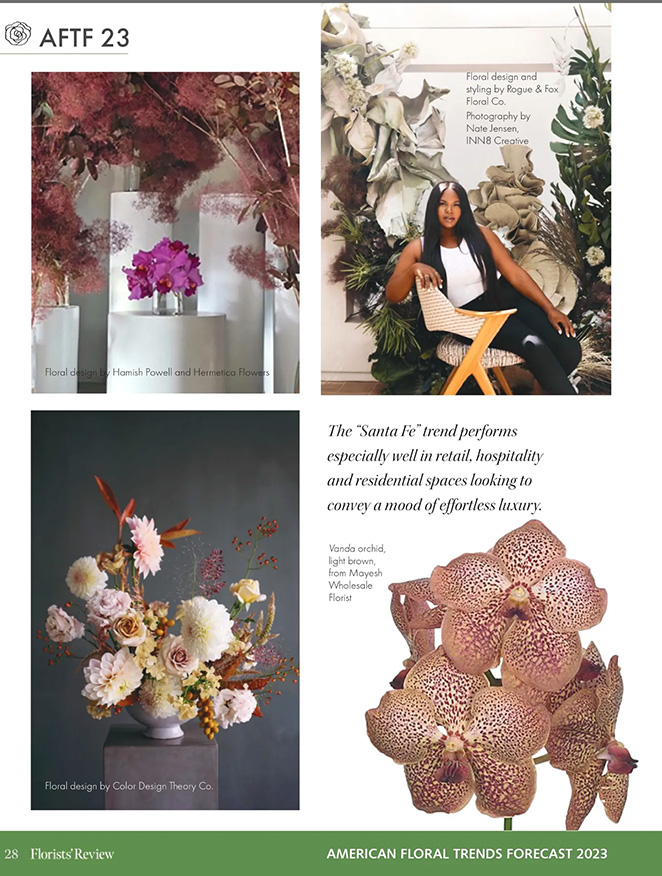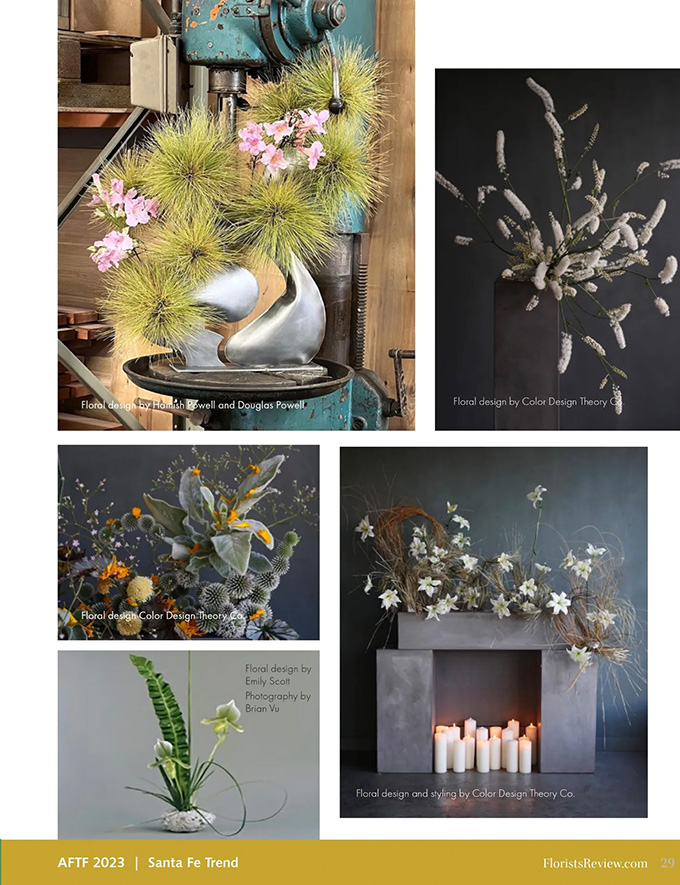 Trend 3
CAPE COD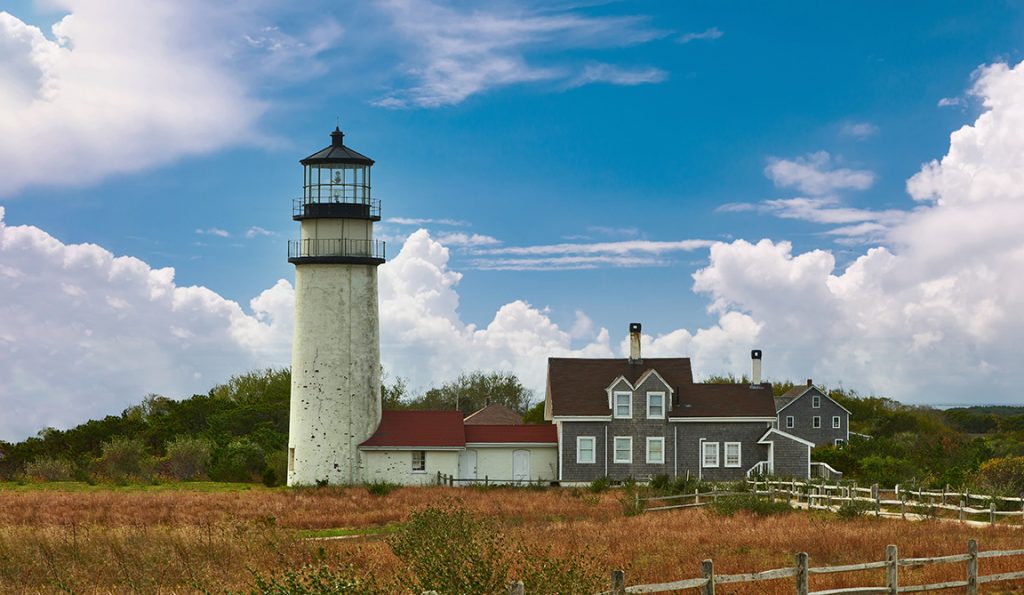 This trend, aptly called "Cape Cod," leans into traditional floral design color palettes and décor motifs but utilizes contemporary flowers to bring a refreshed feel that resonates with the younger clientele dominating the wedding industry.
In 2023, we expect to continue to see a rise in google search phrases for styles like "Coastal Grandmother" and "Old Money" in relation to the decline of fatigued styles such as "Cottagecore." This reactionary swing of the fashion pendulum will sweep wedding style back to a place of cheerful tastefulness. The "Cape Cod" aesthetic showcases exciting new cut flower varieties such as spray Delphinium to deliver a new spin on classic garden favorites. David Austin Wedding & Event Roses and premium Alaska-grown peonies also play an important role in this trend, enveloping flower customers in the power of their pigment-packed petals.
Influenced by the conservative yet never-stale style of New England, this trend plays as well at the tennis clubhouse as at black-tie weddings. Perhaps most favorable about the rise of this style is that, while born from the inside the walls of the prestigious family compounds, it is surprisingly scalable to the budgets of everyday Americans. When designing tablescapes in the "Cape Cod" aesthetic, heirloom blue-and-white china, crisp white table linens and the good silver are all on theme.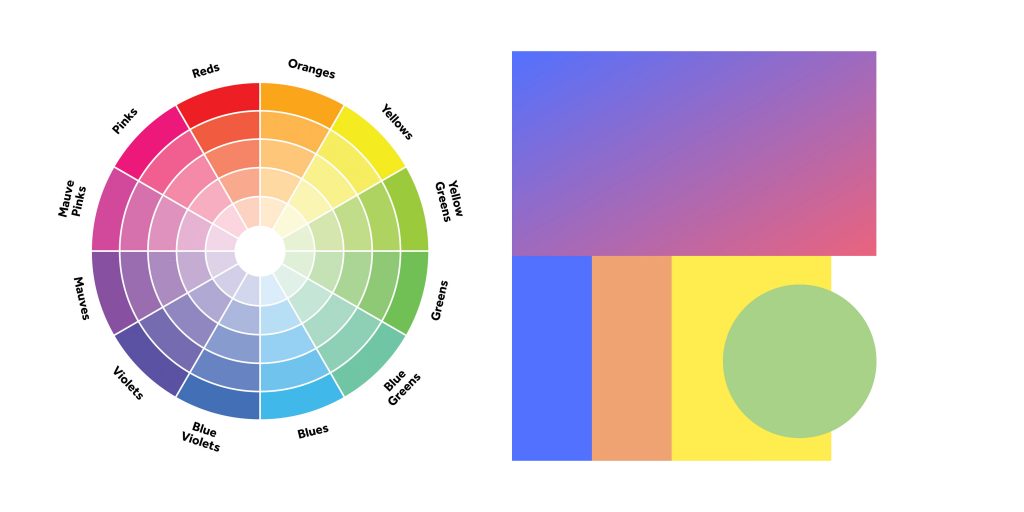 Color palettes for this trend comprise coral, sunshine yellow and indigo. Pale pink and powder white are welcome accents and will assist designers when filling out the look for larger table flowers and installations. Fresh natural foliages such as Gardenia, Camellia and cascading ivy vines create a lovely effect reminiscent of the happiest summer days. With this trend, we expect a resurgence in demand for round and posy-shaped bouquets, modernized to accommodate the natural form of garden roses and peonies in peak bloom. Satin and silk ribbons will make for a perfect "something blue." Similar to the way feathers and fruit have appeared in past trends, foraged seashells will supply refreshing props when creating styled photography shoots showcasing this look (responsibly sourced conch and blue mussel shells make for a stunning fit).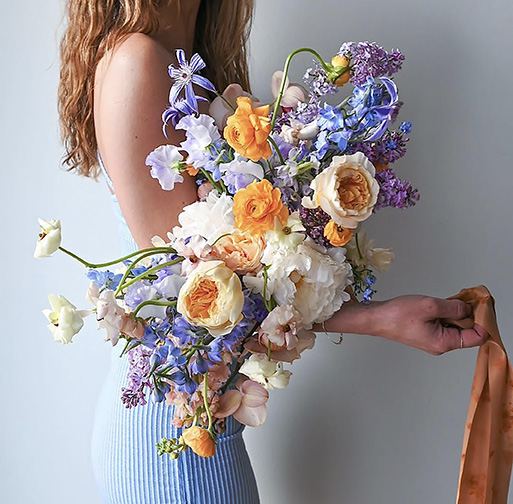 EVOCATIVE OF THIS TREND
Flowers: Paeonia 'Coral Charm' (Chinese peony), Delphinium, Hydrangea, Tulipa (tulip), butterfly Ranunculus
Rose Varieties: 'Capability', 'Effie', 'Constance' (David Austin Wedding Roses)
Foliage/Greenery: Camellia, Gardenia, Hedera helix (English ivy), Ruscus
Vessels: blue-and-white china, glazed white pottery, compotes
Pop Culture References: Taylor Swift; Nantucket, Mass.; Ralph Lauren fashion; Antiques Roadshow; the Camelot era (JKF, not King Arthur)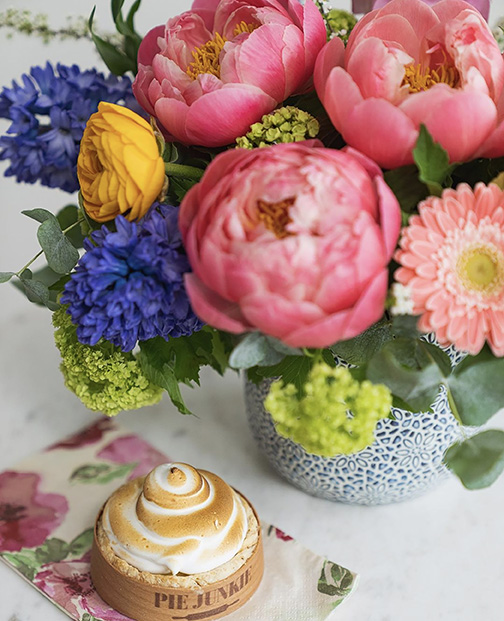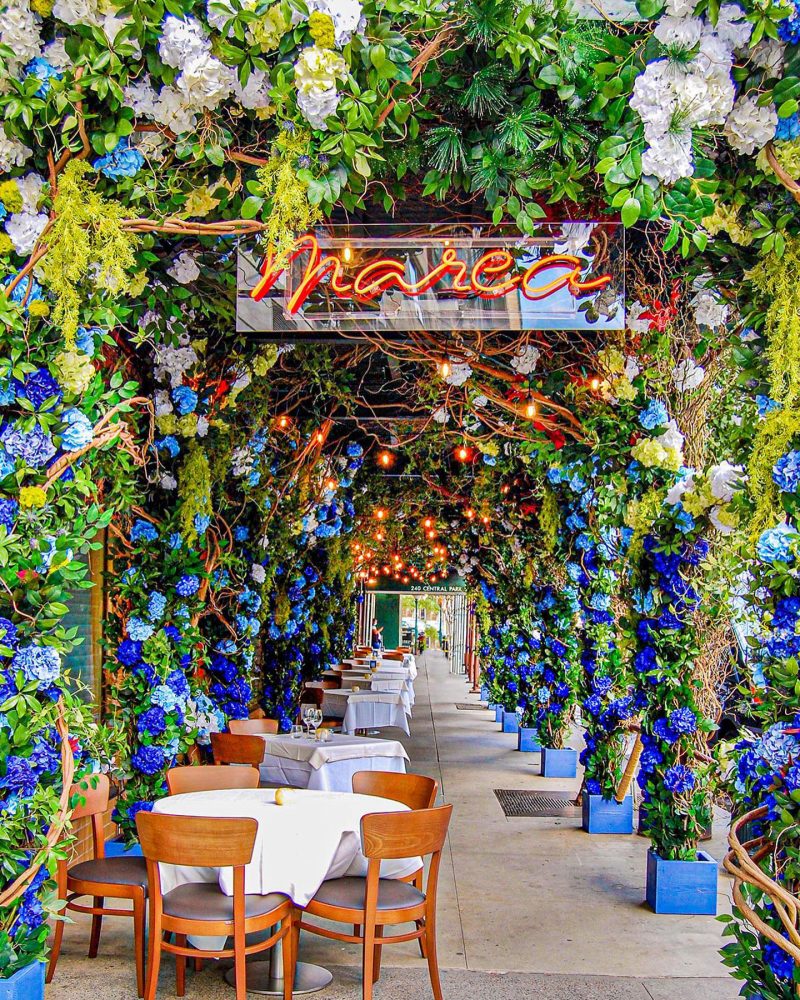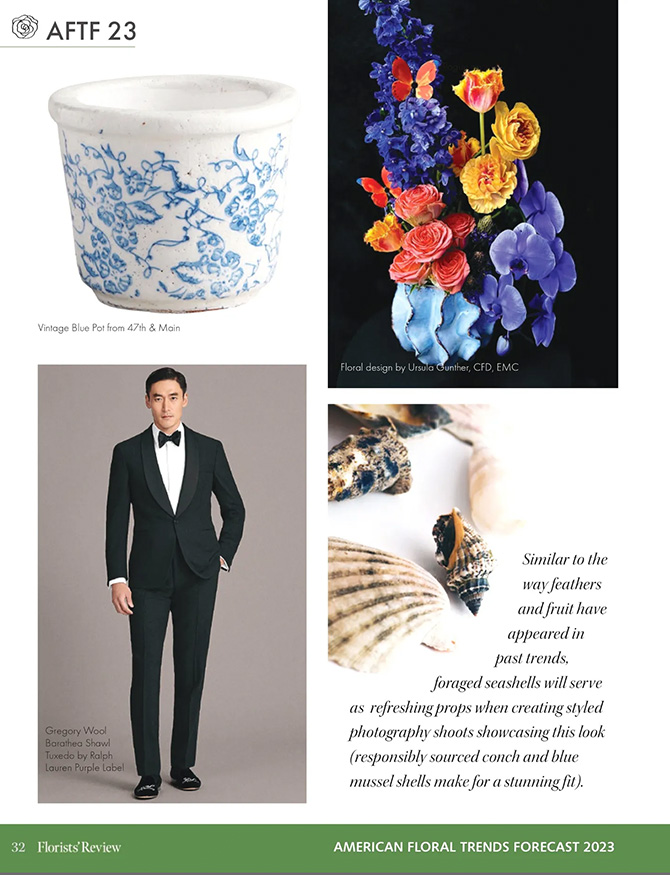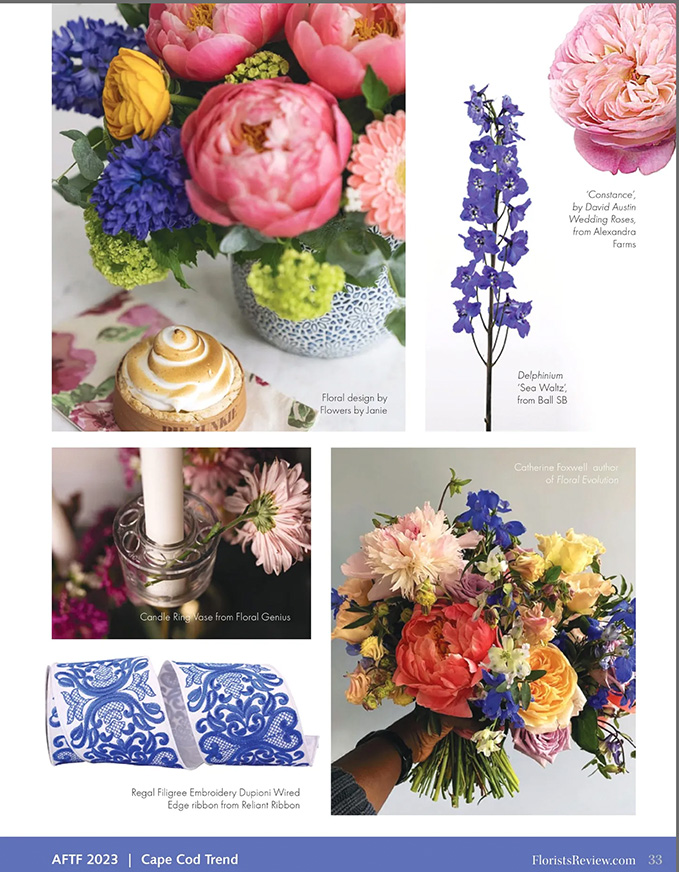 Trend 4
CHARLESTON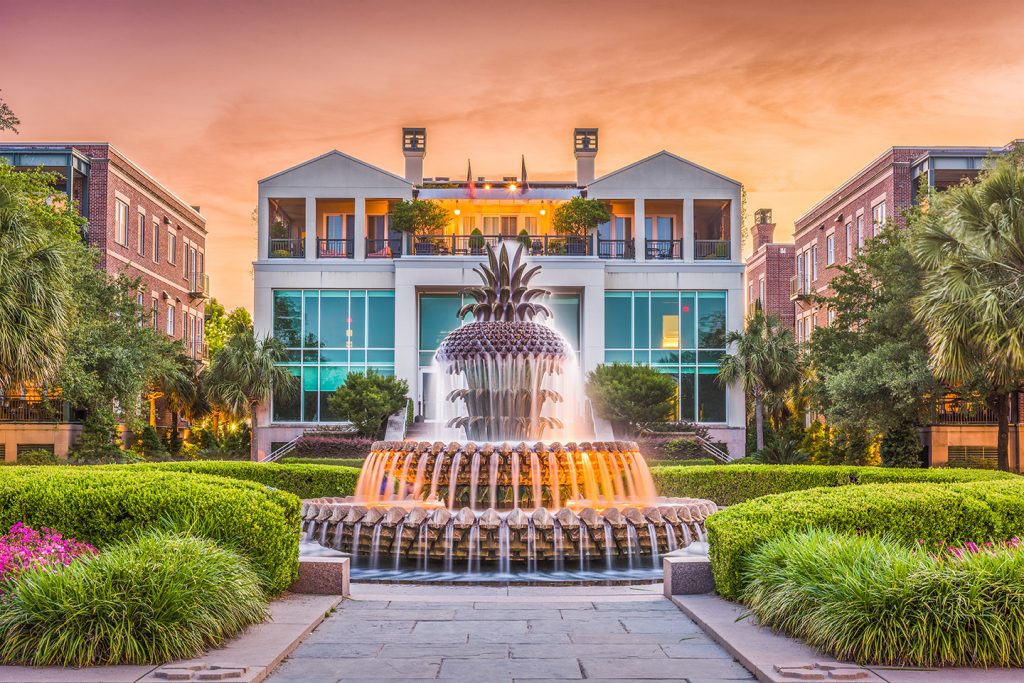 When life gives you lemons, cut it with a glass of cool Carolina sweet tea. In our "Charleston" trend, florists are invited to reject the moodiness of the early 2020s and say hello to happy vibes by embracing this aesthetic's radiant palette of yellow hues, soft lines and joyful optimism expressed through the language of flowers. One trait that particularly stands out with this trend is its agile versatility to fit whatever the needs of the day may bring. For the retail florist, "Charleston" can say "congratulations" and "feel better soon" just as well as it can say "I do."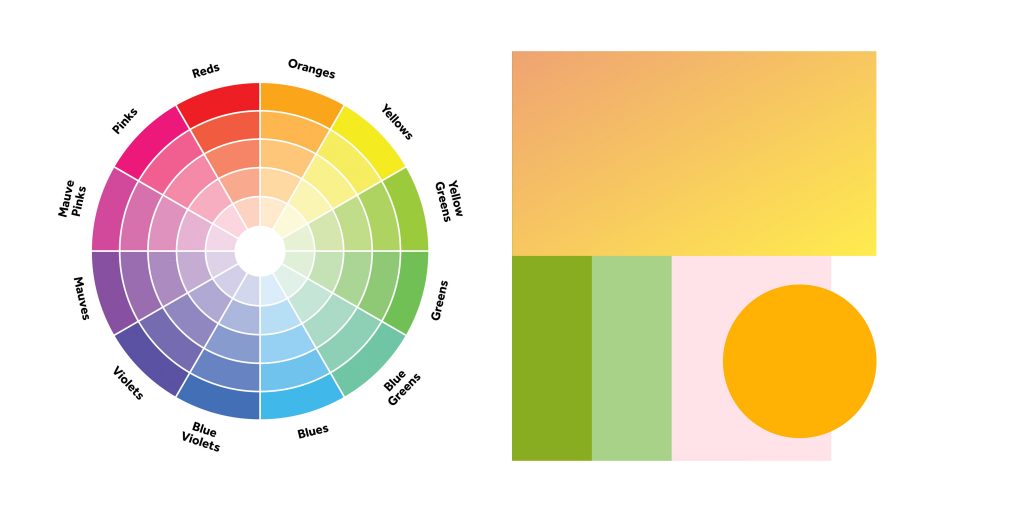 When selecting flowers for "Charleston," focus first on roses. Utilize garden-style, hybrid tea and spray roses in varying hues of soft yellow and peach when styling this trend, to build a feeling of complexity into your compositions. In addition to roses, Iceland poppies, Ranunculus and carnations all add to the joyful appeal of this look. Seasonally, Narcissus may also be incorporated.
Both footed compote bowls and handled vases will be big trends in 2023, and to create the "Charleston" look, seek vessels in lush green hues and warm white glazes. Filling vases for this trend is easy, especially with reusable hairpin-style flower frogs, which also add weight to arrangement containers that can become top heavy with blooms.
For banquet tablescapes and styled floral still-life photography, pearl accents, juicy sliced citrus and tapered candlesticks further set this look apart. Installations in the "Charleston" style will delight clients when affixed onto existing architecture including outdoor fountains, arbors, pergolas, doorways and so on, and they should be constructed with a strong foundation of greenery to blend with the foliage of the surrounding landscape; this mimicry will create the illusion of authentic belonging with the existing space enhanced by the beauty of flowers.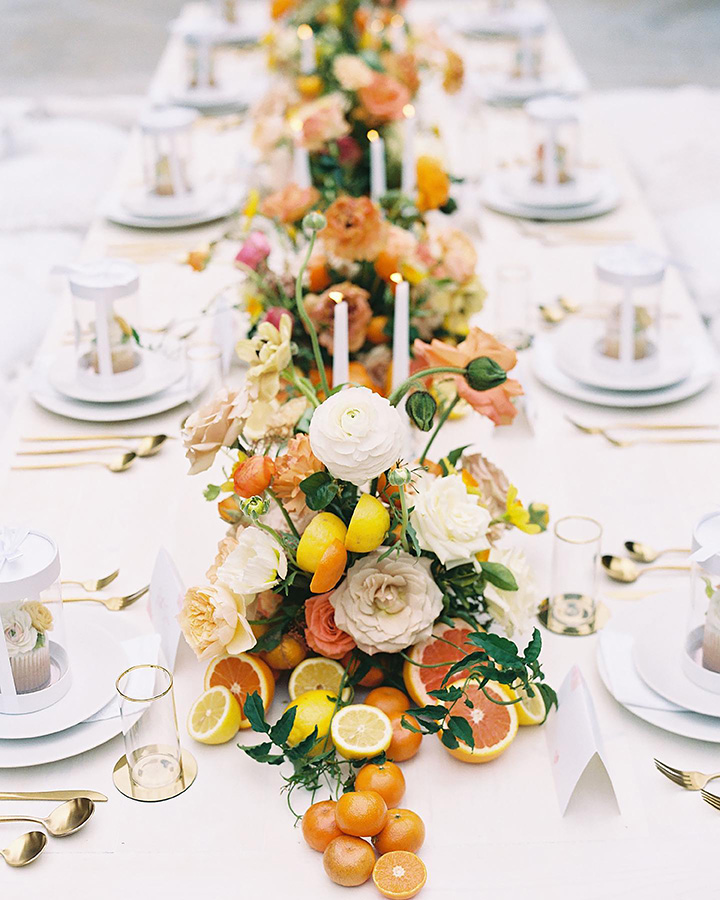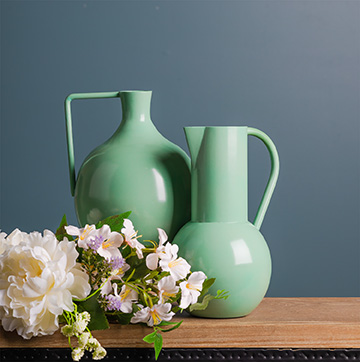 EVOCATIVE OF THIS TREND
Flowers: Papaver nudicaule (Iceland poppies), Ranunculus (Persian buttercups), Dianthus (carnations), Narcissus
Rose Varieties: 'Phoenix', 'Caramel Antike', 'Lemon Pompon' (Florecal)
Foliage/Greenery: Jasminum (jasmine vine), Hedera helix (English ivy), Smilax, Magnolia
Vessels: jade pottery, milk glass, footed bowls
Pop Culture References: Darius Rucker, Charleston Renaissance art movement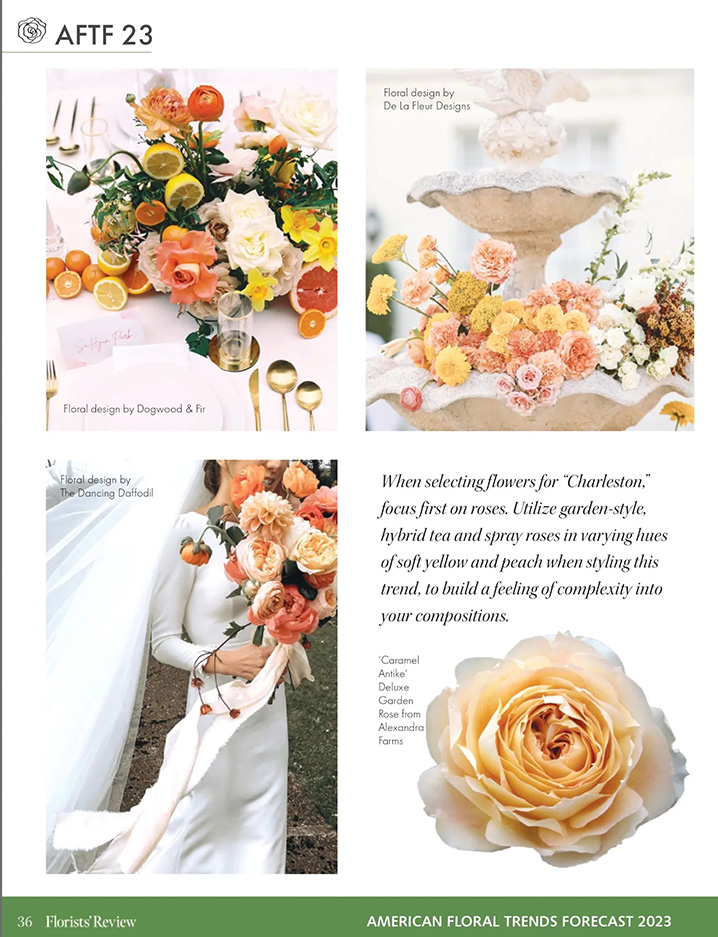 Trend 5
TOFINO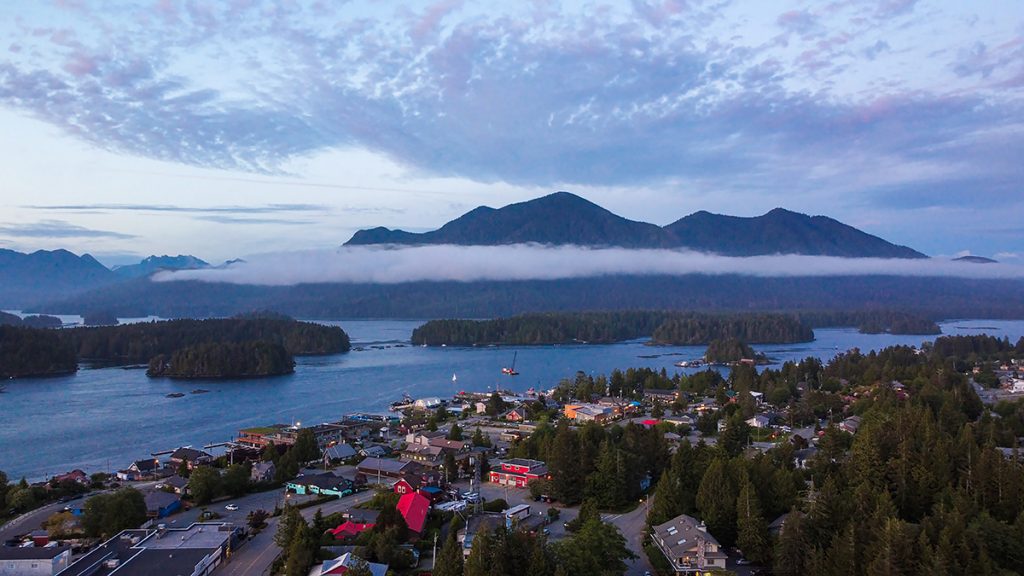 This trend pays homage to nature in its purest forms. Inspired by the lush landscape and eco-futurist ideals that run strong along the West Coast of Canada, we call this look "Tofino." Named after a sleepy little surfing town nestled at the top of Vancouver Island, "Tofino" marries a deep appreciation for the environment with the human urge to choreograph the spaces with which we interact. Pulling inspiration from the ancient forests and misty tide pools of Tonquin Park, this trend utilizes accents of snipped shrubbery and herbs, including flowering Bupleurum (thoroughwax), rex Begonia leaves and responsibly sourced evergreens. Embracing the rich, deep hues of the region, lavender roses are perfect pairings with Ranunculus and Dahlia in Pantone's 2023 Color of the Year, "Viva Magenta."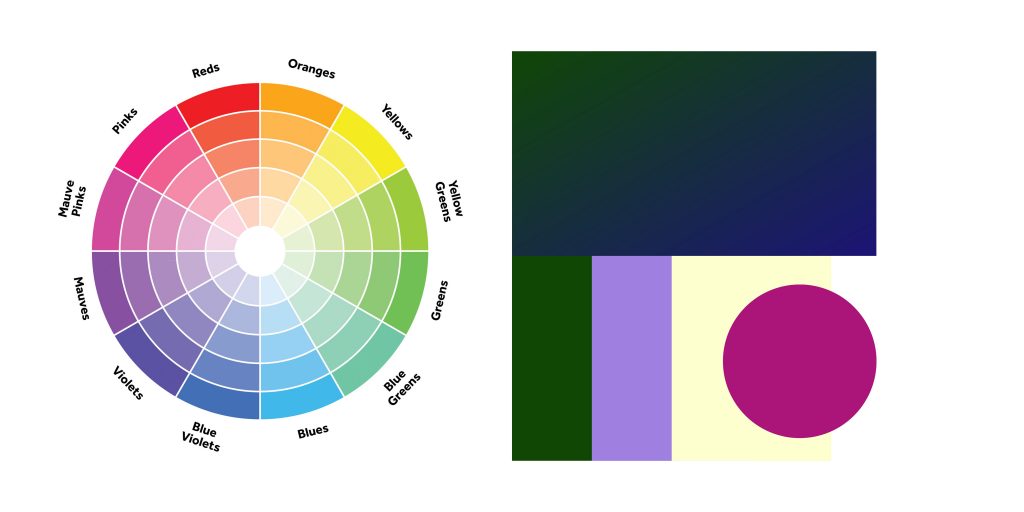 More so that the other looks in this 2023 trends forecast, "Tofino" is uniquely suited to the needs of artists making botanical couture and wearables. Flowers that grow many small blossoms along a stem, such as Delphinium, hyacinths and orchid sprays, can be trimmed to create entirely new forms, as regularly demonstrated by Portland, Ore.-based floral educator and artist Françoise Weeks. Flowers with great vase lives but usually excluded from event design due to short stem lengths, such as the pansies, will find a welcome home in this trend.
Containers for this trend include clear glass terrariums and antique tarnished silver paired with natural wood platters and risers. To achieve the lush aesthetic of the designs that inspired "Tofino," OASIS® Floral Adhesive is a valuable tool when creating a forest floor effect with small florets, petals, and bits of moss and bark. For styling larger arrangements and installations, the introduction of large branches and furled driftwood embellished with moss provides an ideal canvas for clustered Dahlia and roses.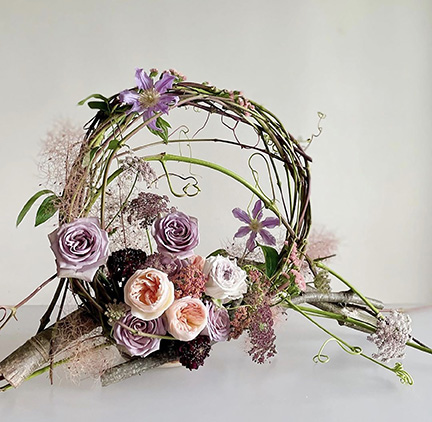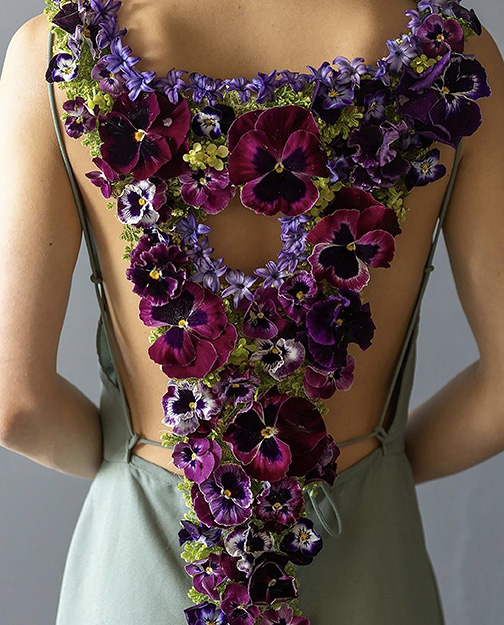 EVOCATIVE OF THIS TREND
Flowers: Clematis, Viola (pansies), Helleborus, Dahlia, Ranunculus (Persian buttercups), Bupleurum (thoroughwax), Lysimachia(gooseneck loosestrife)
Rose Varieties: 'Tiara', 'Mamy Blue', 'Earl Grey' (Rosaprima)
Foliage/Greenery: Begonia rex-cultorum leaves (rex Begonia)
Vessels: antique silver, pewter pitchers, bark-wrapped vases, clear glass terrariums
Pop Culture References: The Twilight Saga, foraging, sustainability, eco-futurism, Nick Cave