Certified American Grown is excited to launch the 2023 award-winning Field to Vase dinner tour dates and locations.
Source: Certified American Grown Press Release
FOR IMMEDIATE RELEASE
16 January 2023
Certified American Grown Announces the 2023 Field to Vase Dinner Tour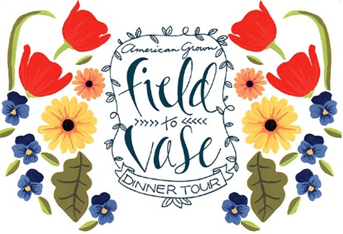 Los Angeles, CA – Certified American Grown is excited to launch the 2023 award-winning Field to Vase dinner tour dates and locations. Spanning the country and various farms the American Grown Field to Vase Dinner Tour, brings a unique experience for guests to dine among the exquisite fields of America's most stunning flower and foliage farms. The tour is an exclusive and immersive experience welcoming guests onto farms to enjoy the beauty, learn about flower and foliage farming firsthand, and build a community of like-minded American Grown fans. Experiences and tablescapes are imagined and created by top U.S. floral designers and include dazzling American grown blooms and foliage. Coupling the feast for the eyes and soul provided by the farms and designs, artfully prepared multiple course meals are presented by well-known, local farm-to-table chefs, and accompanied by wine, micro-brewed beers and good company. Through the accompanying farm tour and design demonstrations, guests will make a further hands-on personal connection to the art and science of flower farming and the importance of America's floral landscape and heritage as part of U.S. agriculture. Guests, seated at community tables, will share lively conversation in the company of newfound friends building passion for preserving and supporting American Grown farms. While enjoying the seasonal meal, guests will be drawn to the botanical beauty of petals, branches, foliage, vines, buds, and berries – all arranged to bring multi-sensory pleasure to the dining experience. The attention is on the farmers, their flowers, their beautiful farms and on the floral designs they inspire. "Our American flower and foliage community is so robust and the Field to Vase dinner tour is such a special and unique way to experience the bounty grown on some of our farms," says Camron King, CEO & Ambassador for Certified American Grown Flowers. "Attendees have the good fortune to build community, have a once in a lifetime floral and foliage experience, and celebrate our homegrown community in such an incredible way through this tour."
 The 2023 Field to Vase Dinner Tour locations are as follow:
Fern Trust in Seville, Florida will launch this year's tour on March 4, 2023: dining amongst age-old oaks on a lush fernery farm, guests will be enchanted by a very special foliage focused experience.
The Flower Fields in Carlsbad, California on Thursday, April 20, 2023: overlooking the Pacific Ocean, guests will dine amongst a sea of brightly colored ranunculus.Scenic Place Peonies in Homer, Alaska on July 23, 2023: guests will be wonderstruck by panoramic views of the rugged natural beauty coupled with the soft and delicate peony farm that surrounds them.
Harmony Harvest Farm in Weyers Cave, Virginia on August 12, 2023: guests will be tantalized by the heritage and beauty of the family run farm growing a bounty of flowers and foliage varieties to be enjoyed. In addition to an incredible experience and wonderful meal, attendees will leave with fresh, seasonal American Grown bouquets, a treasure of unique memories, and a greater understanding of why fresh American Grown Flowers and Foliage in the home – and on the table – are important to health, well-being, local economies and good conversation. 
These special destination dinners sell out quickly. Seating and tickets are limited. For more about participating farms, floral designers, and chefs – as well as to purchase tickets, please visit americangrownflowers.com/fieldtovase, and be sure to sign up for the e-newsletter. For up-to-the-minute news, visit the American Grown Field to Vase Dinner Tour on Instagram and Facebook. To learn more about the Field to Vase Dinner Tour, please visit our Media Kit.
About Certified American Grown. Certified American Grown is a diverse community of cut flower, cut foliage and potted plant farmers from across the United States. As the voice for domestic farms, CAG works towards sustainability and prosperity through a unified voice, effective advocacy, and strategic promotion. Certified American Grown farms participate in a certification process to verify both origin and assembly of the flowers and foliage grown. When it appears on bouquets, bunches, pots, packaging or signage, the iconic brand mark instills consumer confidence in place of origin. For more information about Certified American Grown, visit americangrownflowers.org.