Tips for decorating residential and commercial spaces in the latest styles.
By Jill Brooke
Holiday 2023 is fast approaching, and hopefully you have already ordered your holly, juniper, boxwood, Oregonia and Magnolia for garlands, wreaths and other holiday décor. Nothing is more magical at Christmas than a dining table, mantel or office draped in streams of leafy and/or coniferous evergreens.
The secret sauce, says David Yacaginsky, owner of Woodfern Florist in Binghampton, N.Y., is to "incorporate many textures of evergreens and holly." Braid them, twist them, embellish them. Luckily for florists, multiple types of foliage are available, and this year's faux options are better than ever.
As many as 80 percent of Americans use artificial trees now, and the $1 billion market of faux trees has been growing by 4 percent per year. Additionally, garlands are also available in a range of faux versions.
"The romance of a fresh tree is beautiful, but they are very unsafe and very dirty," says Jim Osburn, co-owner of The Bridgehampton Florist in Bridgehampton, N.Y., noting that the faux versions are not only recyclable but visually attractive. Furthermore, you can always add fresh greenery and flourishes to any faux item, to elevate the overall design. A wreath or garland becomes an expression of art when fruit, ornaments and/or colorful ribbon are added. Styles can be simple, elegant, traditional, modern, boho or dramatic.
Dried flowers also should be in your repertoire because many clients appreciate long-lasting items. Also offer several color waves of poinsettias.
In anticipation of how busy they will be during the holiday season, some florists say they earmark several hours a week to prepare bows in a variety of colors and ribbon types to have on hand, as well. Using luxurious ribbons in holiday décor is an easy and surefire way to differentiate your design work from that of your competitors.
Some traditions will always remain for holiday décor, but here are some 2023 trends to consider, offering even more design possibilities.
HOME AND COMMERCIAL DECORATING SERVICES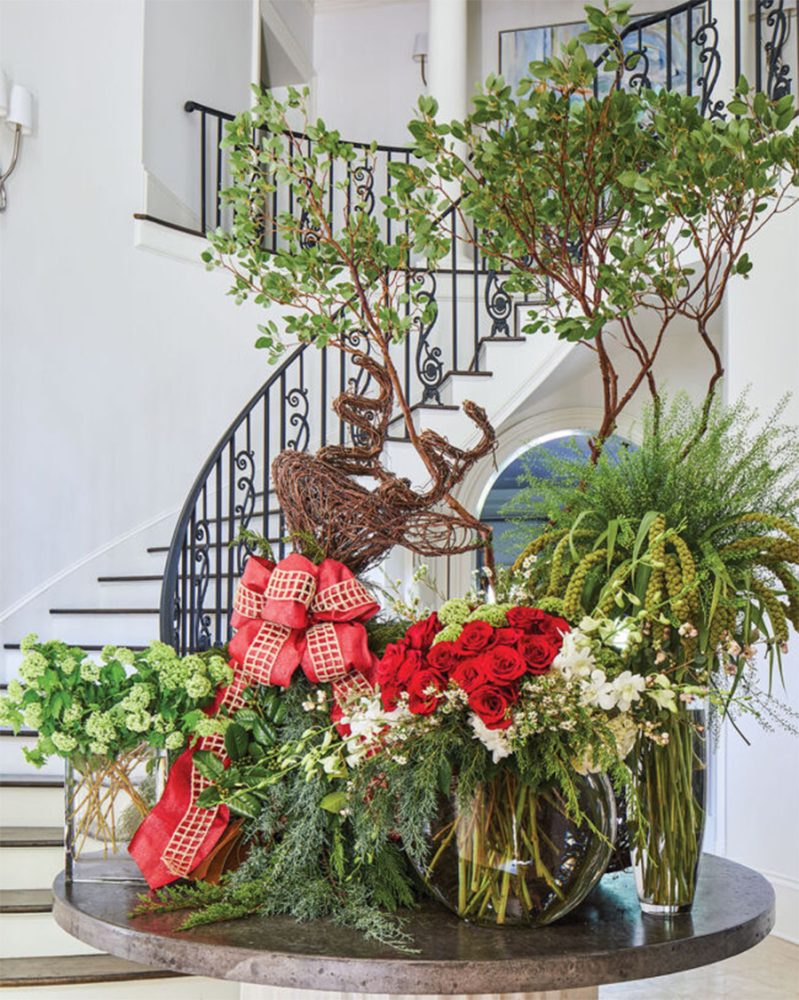 Make sure you offer in-house decorating services because doing so creates an opportunity to establish more intimate relationships with your clients. This is a smart strategy for several other reasons, as well.
First, you will you get to see those clients' particular decorating styles. Knowing specific clients' personal styles will save you time in the future when creating other arrangements for them. A client can come into your store, and you can say, "This would be great for the dining room with your Scalamandré wallpaper." Or, "Here's something for the foyer that will pop with the gray wall." Having this knowledge adds another layer to fortifying personal relationships and loyalty.
For example, The Bridgehampton Florist co-owner Michael Grim knew that a client collected 1940s-style antiques for her home. Osburn recalls, "For her holiday décor, Michael found all these '40s ornaments on eBay, for her Christmas tree. The client loved it and appreciated the thoughtfulness." Natch, this client always uses Osburn and Grim for all of her floral and decorating needs.
Offering home and commercial decorating services also gives you the opportunity to call clients to seek their seasonal décor business. Tell them that you are planning for the holiday and saw something that would be great for their mantel, dining table or front door. Or, ask clients what significant personal experiences happened to them during the year that they may want incorporated into their holiday décor planning. It gets them thinking early to hire you. Water the relationships of top clients, and then also carve out some time for newer clients.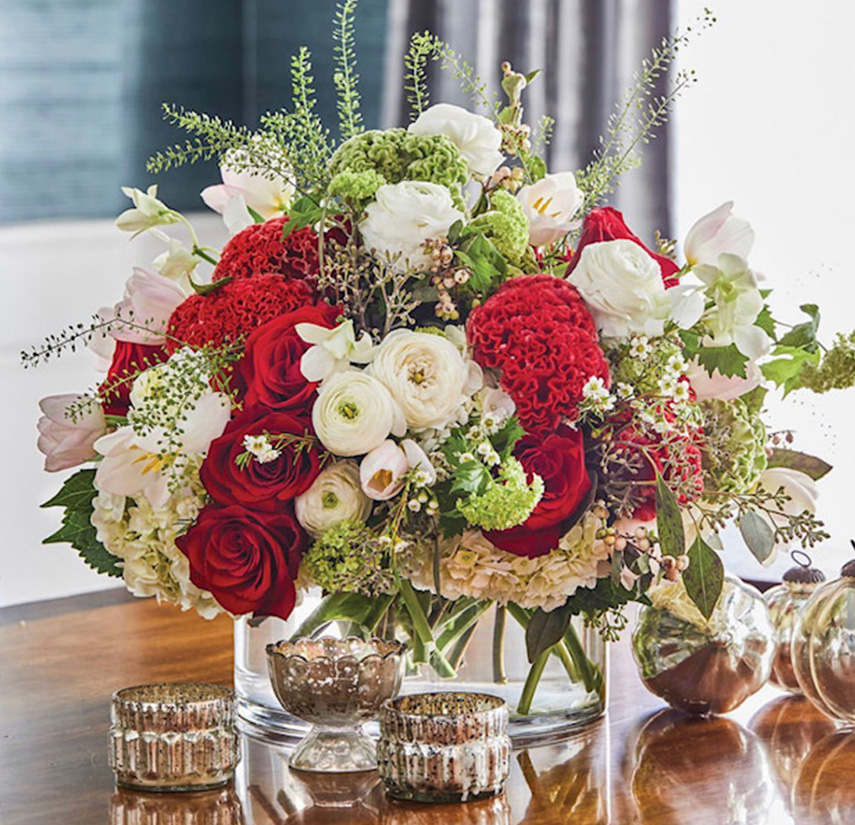 Bert Ford, AIFD, CFD, PFCI, who owns Ford Flower Co. in Salem, N.H., does at least 150 off-site jobs each year. His advice for florists: "Value your time!" he says. "For starters, establish a minimum price for off-site visits. I won't go out for less than $500," Ford says. Also offer a range of options and prices. For example, when assessing how much a tree will cost to decorate, he offers this suggestion: "I can place a tree in a corner and use less décor and save a few hundred dollars versus placing it in the middle of the room where it will be more expensive because it will have to be decorated all the way around."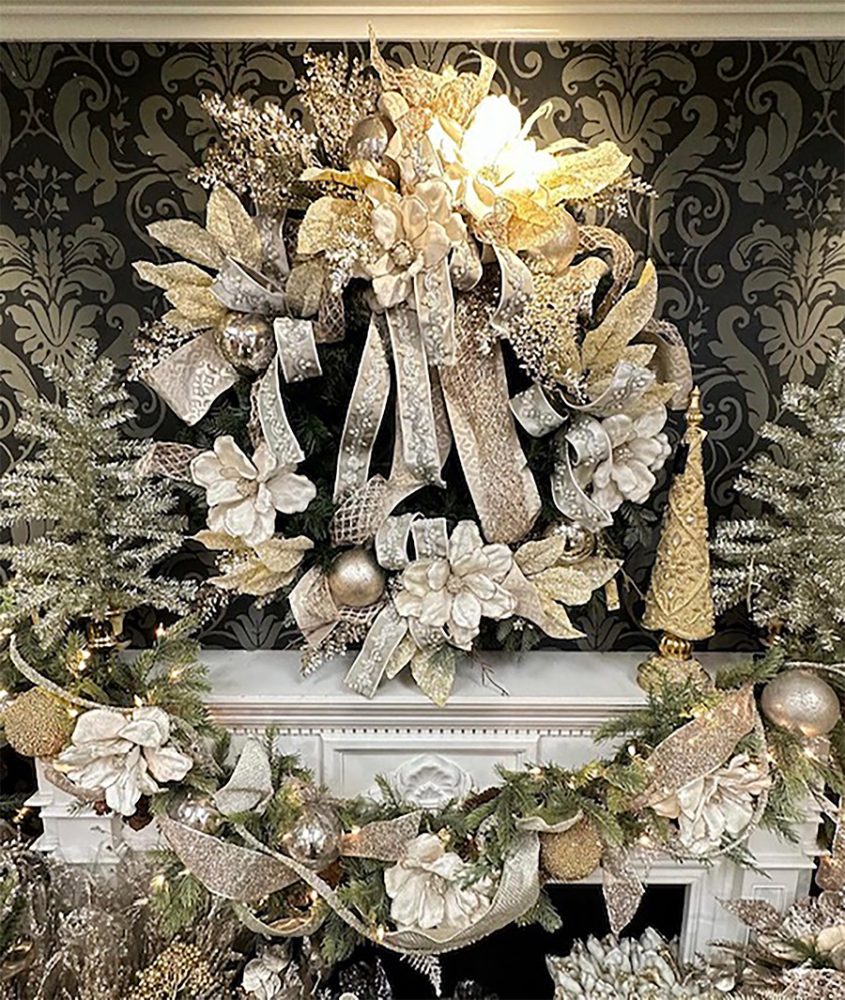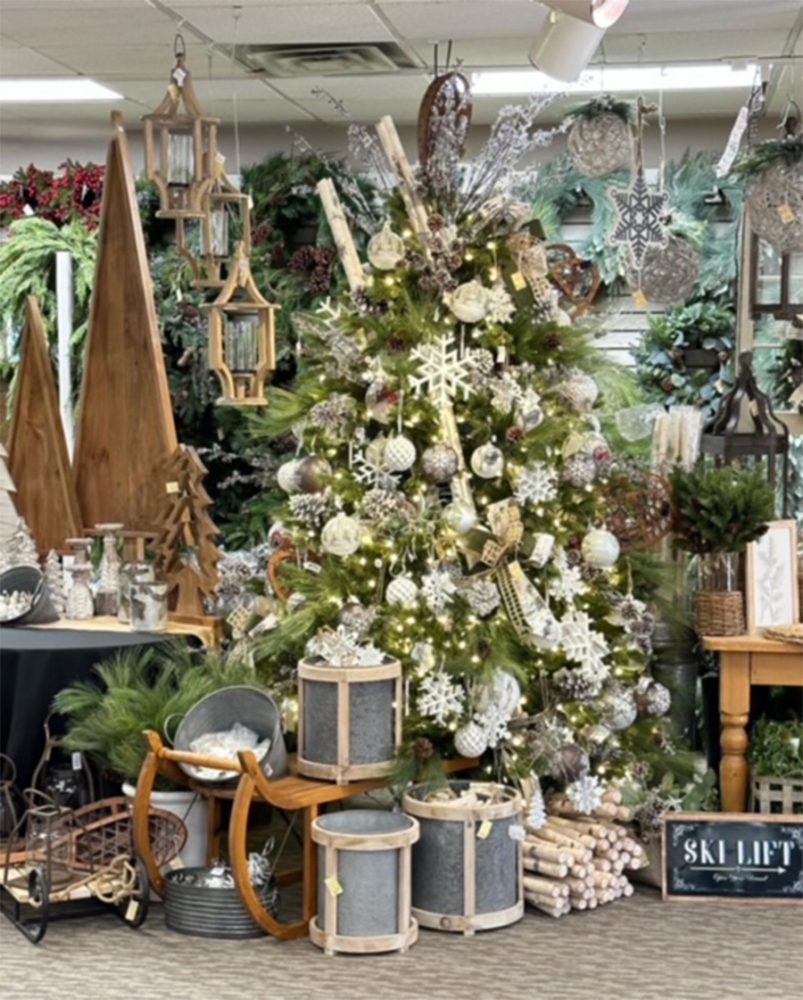 Regarding commercial decorating services, florists report that advance planning is essential. "The floral and décor industry has many great sources for permanent product, each with a fairly good selection; however, finding product for larger-scale commercial decorating jobs is still a challenge," says veteran designer Cindy Anderson, AIFD, CFD, PFCI, who services clients in Aspen, Colo., including The St. Regis Aspen Resort, The Little Nell and Hotel Jerome. "When you do find product, it is often very commercial looking" Anderson continues. "Being able to add great texture and movement with various product is often how we differentiate the look. When designing commercial décor, it is requisite that it contains light, color and movement. Movement can be visual and not actually physical. This is what attracts the eyes."
Anderson says she likes to use unconventional elements in holiday décor, to create "outside-of-the-box" designs. "For example, I have used copper tubing to create a garlanding-type of look for a Christmas tree, giving it visual movement, color and light," she says. "I have also used scrunched up window screen to fill in a not-so-great artificial tree. This provided bulk and another texture to reflect light."
Designs for commercial entities are also trending toward less traditional Christmas with Santa Claus décor. "Many properties choose to remain neutral in their décor so as to include all cultures," Anderson notes. "Often, we use colors that highlight the existing décor or a neutral white and/or silver wintry theme as opposed to the traditional red and green, Santas and candy-cane-types of looks."
So how do floral decorators provide for clients who expect and want some Santa and reindeer cheer? "Most will have me decorate small areas with a traditional look, for children's areas or events, etc., but, in my experience, traditional looks are rarely the main focus," Anderson shares.
Many florists also say the effort to create sketches, mood boards and/or photos of what you can produce helps clients consider your services. Don't assume that they know what you can do, and visuals can tell the story.
ORGANIC AND WOOD OBJECTS
Nostalgia remains a strong trend for this holiday season; perhaps it is a desire for home, hearth and harmony. Ford says that when he canvassed the Dallas and Atlanta markets during buying trips earlier this year, he bought tons of wooden ornaments and decorations. "Beiges and browns create an organic look, along with dried materials and pine cones," he says.
"The affordability and availability and varied selections of décor also make the nostalgia trend popular," adds Daica Skrobala, owner of Polycarp Flowers in Summit, N.J. She is decorating trees with wooden ornaments and cozy textures in garland. It could include wooden ski chalet ornaments lining up a mantel or wooden sleds welcoming guests outside the door. You can also incorporate wooden toy soldier nutcracker dolls—brought to life in Tchaikovsky's The Nutcracker ballet, another holiday classic—that are most likely in a trunk somewhere. They will be popular this season.
PETS
With pet popularity continuing to soar, florists can and should capitalize on offering pet products. The American Pet Products Association reports that two-thirds of American households own at least one pet and that those pet owners spent more than $136 billion on their pets in 2022, up 10.7 percent from 2021. How do you make it work for you?
This can be a specialized holiday collar for your client's dog or cat, perhaps fashioned with fresh botanical materials for a holiday party. Or it could be ornaments featuring popular dog and cat breeds or offering to create a floral installation of a pet with fresh, permanent or dried materials that can be placed on a sled inside the home or outside a door. Tina Barkley, co-founder of Fleurs de Villes, which has several Christmas-themed holiday shows, says pet installations are always "crowd pleasers." Offer a series of options. Promise: These will be winners.
METALLICS
For modern design, metallic ball ornaments in sparkling colors are quite popular. David Lawson, owner of David Lawson Design in London, England, created a beautiful display by literally filling large clear-acrylic boxes with metallic gold ball ornaments and tying the boxes with big black-and-white-striped ribbon. "The 'bauble boxes' are so simple, yet they work so effectively within the space," Lawson says. "They are one of my all-time-favorite decorations."
This kind of permanent décor not only creates a wow factor but also is not as expensive as fresh flowers and will through the entire holiday season. You can change the ribbon post-Christmas, to still add light and levity to décor into the new year. Also, spray pine cones in metallic colors to pull in this contemporary trend.
Beth O'Reilly, AIFD, CFD, TMF, a freelance floral designer based in Houston, Texas, says a great foliage for holiday design is painted Lepidium (a.k.a. peppergrass, pepperweed, pepperwort or peppercress). "Add a little glitter to it, and you have a new botanical in your repertoire for adding holiday glam to any design," she says. "It dries beautifully and will look real for the entire season. It also adds value and fills in with a nice pouf."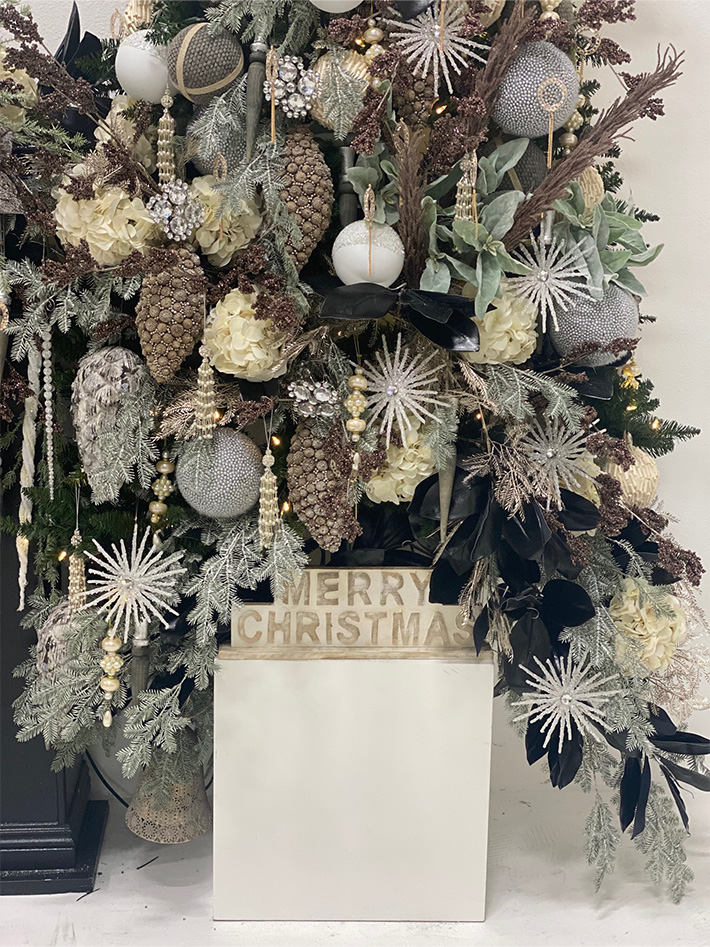 Brandy Ferrer, who owns Simply Beautiful Floral Company in Gilmer, Texas, likes to mix "natural elements with metallic" including adding "a metallic finish to evergreens in flower arrangements."
"One of our favorite techniques is adding a touch of shimmer to evergreens," she says. "By delicately applying a metallic finish to the tips of evergreen branches, such as pine, fir or cedar, we create a stunning effect that combines natural beauty with an elegant touch."
Ferrer also recommends doing this with pine cones and seedpods. "By using metallic spray paint or applying metallic leafing, we transform these elements into eye-catching pieces," she explains. Furthermore, adding gilded pine cones and seedpods throughout the arrangements adds a "touch of enchantment and visual allure." Ferrer also incorporates accents such as metallic ribbons; decorative wire; ornaments; and permanent berry and leaf picks. "Small metallic accessories, carefully placed among the flowers and foliage, add a dazzling touch of sparkle and texture," she adds.
In addition, metallic-finish vases and other containers add a "modern and glamorous twist." Says Ferrer, "Vessels in gold, silver or rose-gold tones really enhance blooms and plants."
Metallics are also timeless. O'Reilly notes, "They take on a natural role and can be paired with any color palette. Blending materials and finishes that complement each other creates a cohesive statement. They can bridge myriad decorative surfaces."
CANDLES
Companies have definitely upped their game in offerings of holiday-themed candles. MacKenzie-Childs, for example, has a fabulous selection that is worth the investment. The company's "Noel," "Holly," "Harlequin," and "Jester" collections of taper and pillar candles feature patterns and motifs in a bevy of color combinations from traditional red-and-green to contemporary black-and-white, all with touches of metallic gold. The "Check" collection of candles also introduces a modern fanciful holiday touch to virtually any décor.
Display candles in your store for individual sales, and also add them to your designs, to create greater value and sales. It doesn't matter if they are tapers, pillars, balls, floating or scented container candles, these holiday must-haves increase creative opportunities to personalize each client's décor. These are also wonderful options for business gift baskets.
Consider all these trends as possibilities to light up and ignite your holiday sales. And, last but not least, make sure your storefront is full of holiday décor to entice customers to come in and avail themselves of your seasonal products and services. Offer hot cocoa or cider—which, of course, you also have available for sale, along with holiday mugs, in a "DIY" display from which customers can assemble small personalized gifts for co-workers, neighbors, hairdressers, postmen and other delivery people, teachers and school-bus drivers—you get the idea.
According to the National Retail Federation (NRF), Americans planned to spend an average of $998 each on holiday gifts and decorations last year, and you want part of it to be in your store. But be prepared: 40 percent of that spending—especially gift purchases—occurs in a 10-day span, between Dec. 15 and 24, so be sure you are adequately staffed and stocked, to avoid disappointing and frustrating shoppers!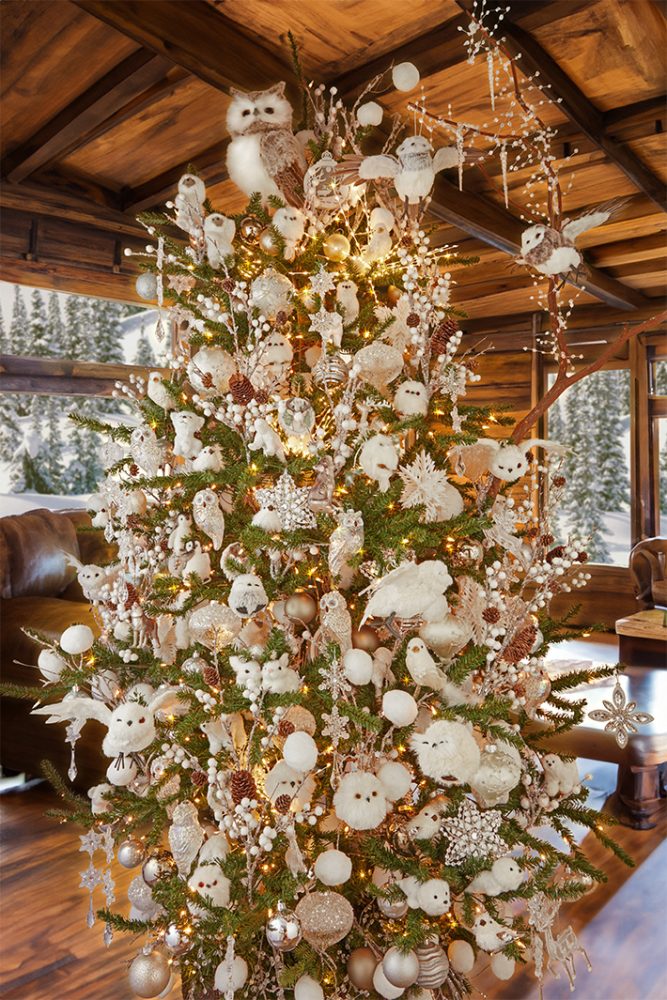 TIPS AND TRICKS FOR HOLIDAY FLORAL DESIGN AND DÉCOR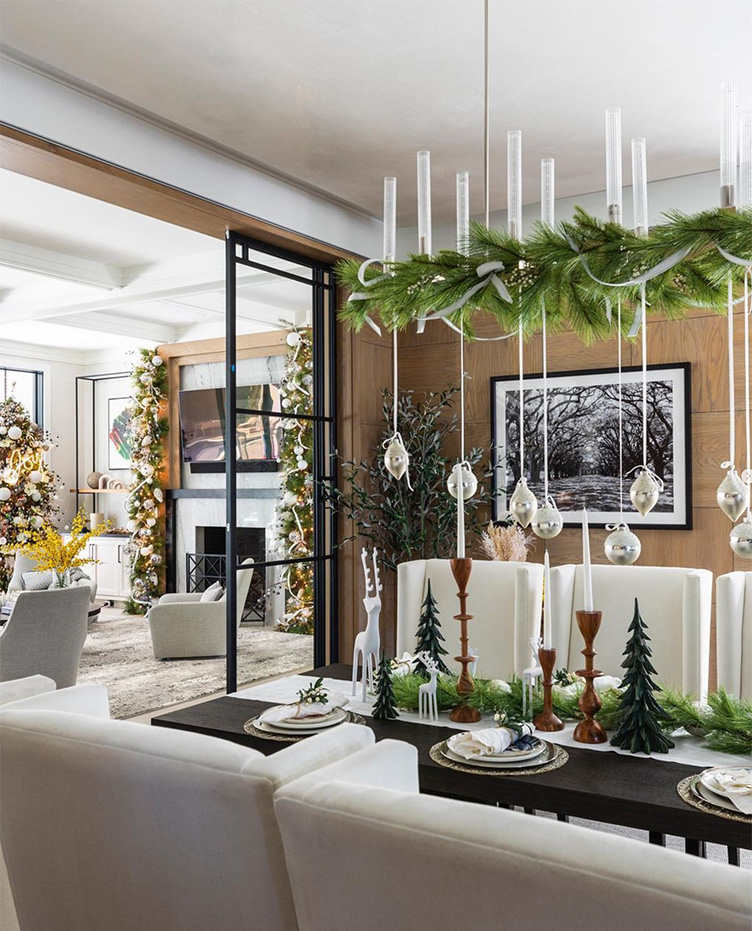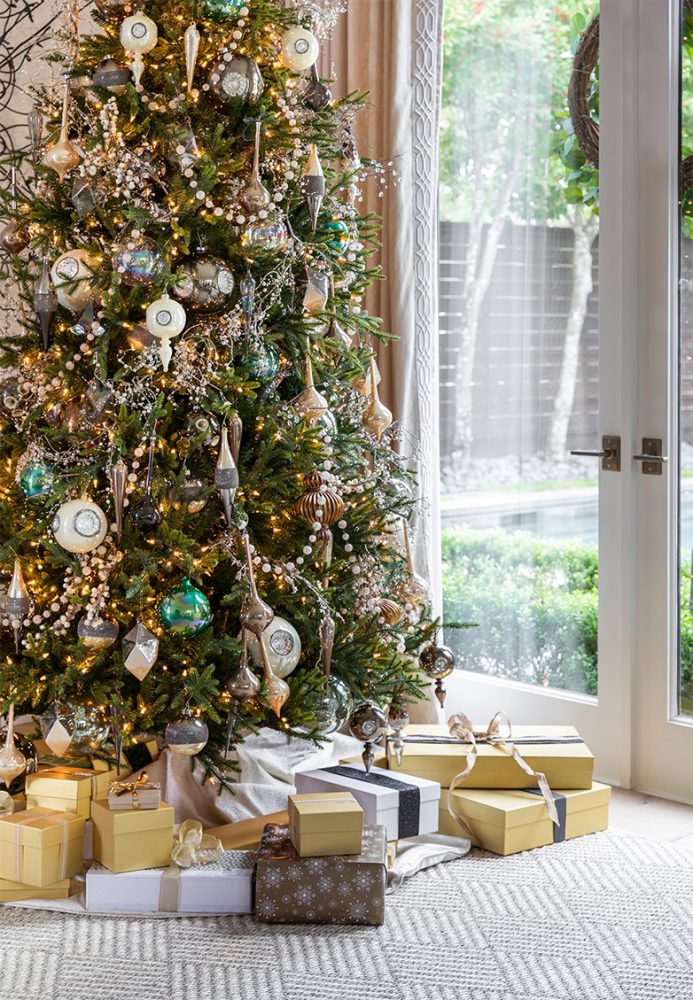 Regina Gust Designs is the home of luxury holiday interior and exterior décor for homes and businesses in Houston, Texas. For the last 30 years, Gust—known as "The Queen of Christmas"—and her design team have navigated the ins and outs of keeping their approach elegant while balancing what's trending in the creative space. Inspiration can be pulled from any corner you turn, and it is what's keeps her company on the cusp of every new trend. We sat down with Gust to get her take on holiday floral designs and what keeps her two steps ahead of the curve in all of her design work.
Gust has a great love of adventure. Her natural sense of curiosity has led her across the globe where she has been inspired by and fallen in love with all kinds of design—from architecture to couture collections to the natural lifestyles of cultures abroad. Travel has enabled her to curate and home in on the direction she has taken her business and influenced how she tackles her design projects. Here, she shares her top tips and tricks for the upcoming holiday decorating season.
• TWINKLING LIGHTS: A design tip straight from Paris. Just like the Eiffel Tower sparkles every evening for five minutes at the beginning of each hour, small twinkling lights can be added to any garland, wreath or tree, to enhance a look and create enchantment.
• COLOR PALETTE: When working with color, it's important to have a base to build off of. Neutral spaces provide the most options. A traditional color palette in a neutral space makes décor look crisp and vibrant. Neutral spaces also allow you to add modern pops of color, such as teal, pink and even neon brights.
• NO MANTEL, NO PROBLEM: Most people love the look of a decorated mantel, but not everyone has one. Solution? A beautifully decorated linear vertical garland. There are so many options on how to create these, based on the style you're going for, from traditional to contemporary.
• TREE VARIATION: Want to change the look of an existing tree? Add neutral, frosted, or fun and festive picks, such as foliage, berries, grasses and more, to add more depth and fullness to a tree and to upgrade the look without the expense of a new tree.
• REAL TREE SMELL WITHOUT THE PINES: You know when Christmas is near when the aroma of evergreens presents itself. But the upkeep of a real tree can be a full-time job. One trick for adding the nostalgic holiday scent to faux trees, garlands and wreaths is to incorporate sprigs or branches of fresh cedar, fir or pine into them. These can be added or even replaced close to the big day for maximum enjoyment at the height of the season.